His Last Major Interview Revealed
Before his death in 1998, late Archbishop Benson Idahosa, was well respected within the Pentecostal fold. He was the founder and head of the church of God Mission International Incorporated, Benin City. And since his dealth his wife Margaret has been running the church with her son.Interestingly, 18 years after his death, many can't remember the story of this respected man of God who shook christendom in his time. Below are excerpts of late Archbishop Idahosa's last major interview in which he told his story.
How did you get the inspiration to start your ministry, which is one of the largest in the country?
Well 39 years ago, (57 years this year) I heard the gospel of Jesus Chnst and I accepted Him as my Lord and personal Saviour, Not quite long after that, the Lord appeared to me in a vision and told me that he has called me to preach and I accepted the challenge to preach, but the problem was to know why he wanted me to preach, because one, 1 wasn't white and I haven't seen any black person that has done any remarkable thing in Africa. I felt I shouldn't join  the society and other club of those people who cannot even shave their hair and put on shoes just walking around the streets in the name of gospel. God assured me in, that vision that If I was going to preach. he was going to bless the work. Next thing, l asked him in that vision who was going to pay the bill and He said If you do the preaching, I will be responsible for the expenses.
So I agreed and I am grateful to God. I wasn't very bold to leave my job at that time so I still worked for 10 years until 27 years ago (1971) when 1 decided to go full-time. and since that time. we've seen the great change.
Where were you working then?
I was working in Bata Shoe Company. I had 10 years of meritorious service With Bata Shoe Company.
After you got the vision, did you start preaching immediately?
Well. I started Immediately, going from Village to Village around Benin. Actually, from Forestry Road to Akpakpava Road to Maslon Road, Benin City and Its environs, until I started gomg to places like Ajagbodudu, Ughelh: Iguobazuwa, Ekehuan and the places that I felt they needed to hear the message of salvation. And I wouldn't forget the first time I had a crusade at . Akpakpava Street and about 50 people came to listen to me and I made out a call for those who want to follow Jesus. When I prayed, God  began to honour His words with miracles. Even when I was working, I was giving a very small time to my lob and that was what eventually made me to resign. Because I felt I wasn't putting enough working hours into what I was-being paid and of the job I was doing for God.
Before you got the vision, were you a religious person?
Yes, I was a Catholic for a few years, in the Anghcan Church for a few years. I was a choir member in the Salvation Army for many years. had a background except that my own parents were not Christian at that time.
Yes, that is one of the fascination a lot of people have for you. They look at your background, and being an Edo-speaking man, who are generally regarded as conservative and tradition bound, and here you are from that kind of background leading a different lifestyle, imbued with the spirit of Christ and preaching his word not only in the country but all over the world. So we can describe your ministry as a rags-to-riches story?
Well, whatever you want to call it. I have found favour in the Sight of God, I know that I have a calling which I have responded to unreservedly and I am glad that, to the best of my knowledge, I knew that if I was going .to leave everything to follow Jesus, I was going to pay a price for it, especially by the custom and tradition of my people. They did not believe it, that time, that an Edo man could be a genuine Christian, and as an Edo man, they were not also sure that I would not compromise and conform 'to the instigation of the people of the city. But I proved them wrong that you can be an Edo man and don't be in Iwegbe or Ogboni or any secret society and serve God whole- heartedly and don't also have people playing oracle for you. you can do that and I have done it.'
To what extent do you think your ministry has imparted positively on the lives of the Bini in general?
I would tell you that 7 out of every 10 Edo man now goes' to church. I would tell you that all those sacrifices in junctions and goats and cowries and smelling dogs that you used to find in Oba market and all the areas in Benin were stopped through our message, and I am happy to say that it is becoming one of the most amazing miracles in the world because of the power of the gospel and what it has done here. I am
very happy about this.
What factors will you ascribe to the success of your ministry?
There are 3 essential factors. One, I am committed to what I have come to do. Two, I am connected to God who called me to do the job, and I believe that when I was called to do this lob, It was a job of life and death of vision. Yes, I am ready to preach .: Yes Lord I am going to do what you asked me to do, no matter what .happens. No matter the trials, persecution and tribulations, I was going to preach. And God told me He was going to honour me if I stood my ground, I believe that commitment is the first key. Secondly, knowing what I  was called to do.
Third: thing, was setting goals in my life in what to do that I believed God asked me to achieve for the welfare and benefit of the people. We have over 3,600 churches in the country, out of which 81 branches are in Benin-City alone. It is because of team work. God showed me the vision that we can be better than land I can stand as we With you; then we can do it more singularly than what one man alone can do. It is said in the scripture: one person can put 1,000 to fight but two can chase 10,000 and I believe that two chasing 10,000 is easier than one man trying to chase 1,000.
When you went into it full-time 28 years ago, did you at any moment envisage, you would have this kind of worldwide connections?
I knew from the onset, from what God told me that He was going to take me round the entire universe. But when visible, practical things you see now beginning to happen, it can be scary. If God had shown me what was ahead of me, I would have run back. Too big to face, too much to lead. You can't have two million members or more and think that's a small thing. So I am so happy he didn't show me all in detail before now, that that was what I was going to face otherwise I would have run back. I am glad that progressively and step by step, he made it known and I am glad that today, this is the result.
Now that you have such all extensive  network of churches and large followership, are you comfortable enough in coping with the demands of the ministry?
Well, It's difficult to say. You've been here and seen, for instance, from Anambra, Kane, Sokoto, Lagos, Bauchi… everywhere. I am just one person, but the leaders we have 10 in the 19 states plus Abuja are able to help, and I am one person that believes in the distribution of power and so with those people who work
with me, who are also strong enough to help to share the work load, it makes it easier for me.
But I think we do more than what ordinarily, we'd have done if we were only dependent on our human strength. There is no way I can interpret waking up at 3.30 or 4 am to go back to bed again 11 or 12 midnight, talking from morning till night, both at home and abroad, in 81 countries in the five major continents and travelling between 7 and 9 . months of the year, talking all the time. It's above human comprehension and interpretation. I have to say it's God's gift. God's call and God's grace.
You just, said you have had the opportunity of traveling to 84 countries in 5 continent. In the cause of your crusade, have you ever had the task of performing the dual role of an ambassador for Christ and your country?
I have carried the flag of Nigeria into these 81 countries that I have been to. Every crusade I hold in any nation, they have to hang the flag of my country first, and where it is possible, I notify the ambassador I am around and I pay courtesy calls.
Which clearly shows also that you don't see any conflict between patriotism as a citizen of this country and your religious pursuit as a minister of God?
No, no, no … ·If coming to the ecclesiastical and canonical role that I play, if the Pope were to come to the Nigeria, he is not just coming to the country as a Pope with the gospel, he is coming as an ambassador of his ministry. Anywhere I go, I see myself as playing a role of representing over 25 million people that are Pentecostal believers in the world.
From watching your TV programmes, especially your gospel crusades abroad, one has observed that from the huge crowd, you always stand out because of the mode of your dress. You always put on Nigerian traditional dresses. Is that a deliberate attempt to further project the image of your country in addition to raising the flag wherever you go?
Well, first and foremost, If I am in the midst of those who wear suit and I put on suit, who is the Nigerian?
That's the first thing. I think I try my best to project the Image of our country. I also try my best to distinguish from who is the preacher among them and who is a Nigerian.
In all your evangelical and healing crusades, what has been your most fulfilling experience?
Well. for instance, a place like England or America from where they brought us Christianity and I am now going back to them as a missionary sent from Africa to give them the true gospel of Jesus Christ as a living proof that God is alive, its one of my most fulfilling moments in life when they now respond in tears to Jesus Christ and receive Him as their Lord and Saviour. They brought us Christianity but we are sending to them reality.
How do you fund your ministry then?
I fund my ministry through those who believe in what we are doing.
Apart from the donations from members, for instance, I remember the time you preached in Lagos at Tafawa Balewa Square, it was a huge audience. And at every sage during your preaching, people came forward and voluntarily gave what they could afford. Apart from such donations, what are the other sources through which you fund the activities of your church?
Well, you whom I would regard as a matured adult on a salary knows how hard' it is for people to make ends meet. in this country. A man on level 08 can barely eat and take care of himself. So out of the little, they make sacrifice. But because we are plenty. the little 10 kobo-one naira, 15 naira. 20 and 100 naira donated by everybody is what we put together to maintain a balanced ministry. So you find that the bigger the church becomes, the more are able to make it. because of the commitment to that ministry.
A lot of people, maybe because they tend to look at the life of the ministers of God from a distance, tend to have this critical altitude towards the opulent lifestyle of most ministers of God and to contrast it with the simple life Jesus Christ led. How do you reconcile the way most ministers live amidst much poverty in the country in contrast to the led, and he's the same person you are all preaching about?
The only way you can know the type of life Jesus lived is for you to open the scripture and the scripture is
the work of God. Now, If for instance, you really know the Bible, 'then I will ask you to read a simple
scripture like John 10:10. Wealth is not how many houses you have. Wealth is not how many cars you have. The life Jesus lived was the life of sufficiency, the life of abundance and grace, the life of health and miracles. Jesus was the first preacher to take from the owner, the upper room for supper. Jesus was thefirst preacher in this world to ride on an ass. wherein no man ever sat. Jesus showed us " the example. Jesus was the first preacher, that men and women pulled off their  garment and spread on the road and when he finished, they began to cut palm leaves and spread on the road for him to walk over. Jesus was the  first to hear Hosannah, song of David. The king that cometh In the name of the Lord. Jesus was the first preacher that came to this world and choir came from heaven to sing on earth and God accepted
It. There's nothing that any man will get today that will be one over one millionth of the honour Cod bestowed on Christ. Jesus came that you may have a better life than the one you already have before accepting him.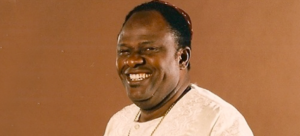 You have a lot of charisma, especially in the persuasive way you speak  and your very resonant voice, and people have been wondering that apart from that vision you had, were these qualities in-born in you? And what was your educational background like before going into the ministry?
Everything that one attains or achieves in life is to the credit and the glory goes to God. What I am doing today is  not as a-result of my personal influence, eloquency or oratory. It's gift of God to my life and hard work
as well. I believe in burning candles in the night to achieve what you want. believe you can change the standard of your life if you choose to. I also believe that you can demean yourself instead of esteeming yourself. I believe that you can promote the cause of blessings of God in your life and let your life radiate as a light to other people and let your life bring joy and peace and blessings to more life if you choose to. If you want to demean your life, you start demeaning your life. If you want to esteem your life, you start to glorify God and exalt him. Jesus said if I be lifted up will draw men high me, So you lift God first and he will draw you high himself ten plus.
There's no one that God made a dunce and a nuisance. It's like poverty; poverty is not as a result of want In this country. It's as a result of lack of sense of direction and unwilling ability to be creative and purposeful and be forceful and hard-working. Many preachers are sleeping. So many Bishops, who are not even my rank In the gospel, they are In their various bishop's court now sleeping. I woke up since 10 minutes to 3.00am I go to church at 5.00am. You were at the lobby and saw how many people have come to see me.
I have to talk, I have to solve their problems, meet their needs, help them relate to what their problems are and If I help to solve their problem, my joy is fulfilled. The purpose of my being born is then achieved and attained. That's how I look at life, and the eloquency and grace of speech' is Just as a result of a little hard work everyday. Well, if I am addressing parliament in different' nations and talking to houses of senate and going to presidential breakfast and other things, you shouldn't expect me to keep the level of ordinary intelligence, but ask God for extra grace to be a bit more stronger academically. I believe In mental soundness and spiritual soundness. I believe in development too.
Your style of evangelism and eloquence all make you stand out from the crowd. Do you think this makes you a role-model for other evangelists in this country?.
Whatever you admire in life, desire It, and whatever you desire in life, require It, and whatever you require,
in life, aspire for it, don't retire, but refer; when you refer, then acquire" that which you desire that you admire in  life. So If your life can be light to someone else, why not let it be, bearing in mind that all your problems are attackable, all your needs God is able to supply them, every problem you have, every need you have in life is double. God is a doer and all who follow God have to have  the example of God and the image of  God themselves.
The Bible says that God sleepest nor slumber, so why should a child of God? I also believe in living youthful life, I believe in living in usefulness, I believe in useful, useful life, I believe that you can force yourself to age away and ebb away unnecessarily. I believe that you can force yourself to look like 60 when you are still 40. 1 believe that you can overthink and grow artificial grey hair when there is no need or necessity to let you have it. 1 also believe that you can lead a life of inadequacy by your choice but if you want to make a mark in your world I say stand to the test of time. Start believing that every lack you have in life is attackable. As far as God is concerned, there is no need in your life that he cannot supply, there is no problem that God cannot help you solve and if you begin to solve the first smallest one, you can solve the bigger one. You learn by what you experience. I wrote here (a diary): "All your life's needs are all less than God's supplying power." And I believe that you can become a possibilitarian when you take the first step of making It possible what you have desired in life to make possible. You can have a life of fulfilment, rather than a life of fear. You can set your life's goal and take out of your head every negative training you had before now and put into your brain the real truth instead of dogmatism and all the negative teachings you have received before. Put it off to put on the new life, then start to admire things that are good and God will fulfil it for you ..
You have a pastoral college here and I think a few years back, you announced you were going to start training pastors in the college to run the expanding branches of the church. How well 'has the college been. doing?
Well, the college has trained nearly 4,000 students and we have now got a B.A. in Theology. Our students now have the opportunity of offering degree programmes, they have associate degree programme, they have diploma. they have certificate programme, but we' have gone into full university education now. We are attached to Oral Roberts University, U.S.A. and we are attached to Tile International Correspondence Council, ICC, another school in Brussels, so we are doing our best. We have students now from various nauons, from Central African Republic, Ghana, Togo, Liberia, Uganda, Kenya and so on.
What is the present strength?
A little under 500.
Where do you get the academic staff from? .
Majority of our staff who started the school with me are volunteers from  England, Australia, from America. They take two years off. You know there used to be peace corps. ESO and so on. So we have all of them still. Then we have people who are resident missionaries whom God gave a call to come to Nigeria and assist they don't get salaries.
Do graduates of the college remain with your ministry or they can go out on their own to work for other ministries?
Those who come on independent basis go back to establish their own. Those who carne through our own persuasion and encouragement, who answered the call in the midst of our ministry, remain with us in our branches.
In most of your crusades in and outside the country, your wife is always with you but a lot of people have wondered about your kids. Nobody seems to know much about your. private life. I don't how if that is deliberate. You are a very public figure, but very little is known about your private life?
There is no other Nigerian beginning from Awolowo, Zik or any politician in the country, who has made his family known like me. The only difference between me and the rest is that my children are still young.
I take all of them to crusade as I said in one of the personality programmes. I said all of them are going to preach, why hurrying them. Five percent of my trips, we are followed by our children as soon as' they have holidays. All of them will go with me to all our crusade in different parts-of the world, but while they are at school that's another thing. Rather than . sending all of them abroad. I have sent other people's children. My own are still here. I want them to start university before they leave the country so that they can know enough of my culture, my people than others.
How many children have you got?
Four
Send Us News, Gist, more... to citypeopleng@gmail.com | Twitter: @CitypeopleMagz