On Thursday 16th and Saturday,18th of February, Queen of Juju Music and President of AJUMN, Queen Ayo Balogun's son, Ayojimi got married in Lagos.  He married Jennifer Nwaiwu, daughter of Late Anthony and Mrs Christiana Nwaiwu.The lovely wedding solemnisation and classy reception took place at Glitz Event Centre, Lekki. It had in attendance celebrity men and women who love to listen to Queen Ayo Balogun any day, anytime. City People Society Editor, TAYO FAJORIN OYEDIJI was there and brings you juicy gists.
WHY THE CHURCH WAS MOVED TO THE RECEPTION VENUE, GLITZ EVENT CENTRE
The church service for the wedding was to take place at Christ Healing Word Church, Dews Cinema Complex, Festac Town but it was moved to the reception venue, Glitz event Centre, Lekki due to family reasons.The solemnisation which started by 10 am was presided over by 3 ministers, Rev Femi Amoo, Pastor Sam Onubogu-special and pastor Rich Solomon with other anointed men of God.After the closure, photographs were taken and guests moved to the other side of the hall neatly decorated for the reception. Popular event planner 2706 events were in charge.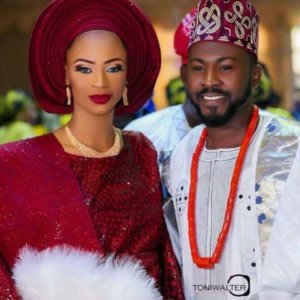 THE COUPLE'S MOTHERS LOVE FOR RED COLOUR
The choice of red coloured outfit was what the couple's mothers wore for the wedding.It is generally not a commonly used colour, it takes only someone that has style to wear the colour red. Give it to these 2 women, they are both stylish the red Aso Oke, sewn into top and Wrapper sat well on their trimmed frame body.They did a full silver embellishment on the Aso oke and they matched with it a silver jewelry.
CHIEF OLU OKEOWO WAS THE CHAIRMAN
The chairman of the occasion was Chief Olu Okeowo, the Chief Executive Director of Gilbratar construction company.He was at the event early and gave a beautiful but short speech about his longtime friendship with the groom's uncle and his mother and also enjoined the couple to build their matrimonial home on Christ and love. He also urged them to be best friends. He came with his beautiful wife, Ajoke.
BETWEEN LEKAN OSIFESO AND JIDE ADEKUNLE
These 2 popular socialites, Lekan Osifeso and Jedi Adekunle are very close and we can tell you authoritatively that they have been friends for over 20 years.To further solidify their friendship, they wore the same outfit at the wedding and was seen handling the task of coordination, moving to and fro to make sure guests were fine. It is also a fact that both of them share a close friendship with the groom's mother, Queen Ayo Balogun. They also took part in supervising the cutting of the cake.
LAGOS SOCIALITE, JIDE ANDRE AND WIFE PARTY HARD
You will virtually see them at most parties every weekend, they are a celebrity couple who partyhard.They were at the wedding and had fun till they took their leave. They sure know how to enjoy themselves at any party they attend. Andre's wife wore the gold aso ebi with the matching purple gele and a cute gold jelwery.
LIKE FATHER LIKE SON- TOLU OBEY ON THE BANDSTAND
What many talked about at the engagement was who is going to be on the band stand for Queen Ayo Balogun's wedding? Many guessed several artistes but all were wowed when Tolu mounted the stage. Tolu is one of the sons of Evangelist Ebenezer Obey, he has been doing music and following his father's step since his growing up days. What really tripped all the guests was that he sings in same way his father sings, he got all the beats and he sang praises of all the important VIPs, the way his father used to. He mesmerized the audience with his father's evergreen songs, and guests were kept on their toes, dancing for hours.It was gathered that his dad also had a show that same weekend.
5 CELEB WOMEN WHO PARTYTOGETHER
There were 5 celebrity women who were at the party, and it's now a custom that anytime,y ou see one,y ou will surely see the rest,w why?because they love to party together.The celeb women are Nana Yakubu, Ola Aladesuru, Lara Akinsanya, Betty Elegba and Queen Ayo Balogun.They have same circle of friends,w ear same aso ebi and support each other greatly. They are doing well in their respective fields.Nana Yakubu is a top shot at Nigeria Port Authority, Lara Akinsanya is a big time textile merchant who owns affordable shopping mall.she also runs a catering firm, affordable caterers who catered at the engagement ceremony. Ola Aladesuru is into hospitality business. She owns one of the big hotels in Amuwo Odofin, Betty Elegba is a business woman while queen ayo balogun is a prominent juju musician.
NOLLYWOOD STARS, FATHIA BALOGUN IYABO OJO, And LIZ ANJORIN MADE IT
We sighted some of our TV darlings and popular actresses at the party.They also wore the gold aso ebi which was picked for ladies. Those who came and sat on the same table were Fathia Balogun and Iyabo Ojo, Funke Etti was not left out, Liz Anjorin wore embellished Ankara with fuschia pink head gear.  Also at the party was Foluke Daramola, Funmi Elegbeleye and Larrit.
FEMALE JUJU MUSICIANS WERE THERE TO SUPPORT THEIR BOSS
It is expected that many juju musicians will grace the event especially the female ones.They were at the party to support their boss.The likes of Titi Oguntoyinbo popularly called Titi Alayo and Seun Aransiola led others.
WHEN IBADAN WAS BROUGHT TO LAGOS
It will interest you to know that the groom's mother, Queen Ayo Balogun is a woman of many parts. As she holds sway in Lagos, the same thing is for Ibadan because she is always their preferred choice of musician whenever they are having parties.No wonder, Ibadan big boys and babes trooped in to Lagos to honour her.Popular socialite, Jide Odekunle led the park, celebrity designer, Bashy Kuti was spotted, Alhaji Okesanjo Abiodun, Remi Talabi, Alao Lateef, Dele Abiodun, K Gold and many others.
LAGOS CELEB MEN WERE PRESENT
Lagos socialites were also not left out at the party, They are lovers of Queen Ayo Balogun's music and that is why they stormed the venue to honour her. Amongst them were Yinka OropoRotimi ishola, senator gbenga Ashafa,Segun Oniru,Shina peller,Jide Andre,Lawrence Akinsanya,Dele Bankole, Chief Olu Okeowo,Otunba Laide Okunola of citizens suites,Yemi Lawal,Oba Sowemimo,Femi Ambode,Hon Yinka Esho Kazeem,Kayode Ojo,Basorun Jaiyesinmi ,Hon Taiwo Adeyemi and others
SEGUN ONIRU'S TABLE BUBBLED ALL THROUGH
One table that was not devoid of various delicacies and exotic drinks, like champagne and cognac was Segun Oniru's table. His table bubbled all through the party and all his friends especially Oba Sowemimo who sat with him had their mouths and throats watered throughout the event. Aremo Segun Oniru was the commissioner for Lands in Lagos and also one of the heir apparent of Oniru of iru land, Oba Idowu Oniru.
SHINA PELLER WAS NOT LEFT OUT
At the party was the king of night club, Shina Peller who has just been given a chieftaincy title as Otunba in Lagos. His table was also well attended to and he had fun all through. He wore a lovely black suit.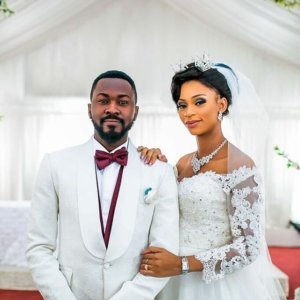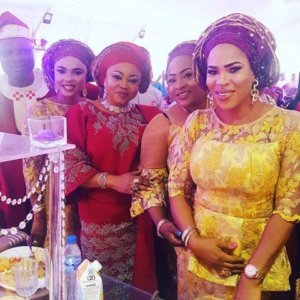 Send Us News, Gist, more... to citypeopleng@gmail.com | Twitter: @CitypeopleMagz