Aare Adetola Emmanuelking, one of Nigeria's top real estate players and Group Managing Directot of Adron Homes and Property, fondly referred to as Akile, turned 46 in April 2, 2021, and he recently was celebrated by family, and friends at his Ilishan mansion on Saturday, April 3, 2021
The birthday celebration was a small, but classy type, as the celebrant was treated to a memorable event by his staff and loved ones. The guests who were no more than 50 at the event were all dressed glamorously in honour of the great man whose tribute inspired many as a humble, kind and loving husband, father, boss and friend.
His story and journey are an inspiration to many. At a time when getting lands and property was a luxury that cannot be afforded by the low income earners, he fought against the odds to take up the responsibility in 2012 to establish Adron Homes with his beautiful and intelligent wife. Adron Homes has since been putting smile on the faces of the poor and making them house and land owners.
He has bagged many high-ranking traditional title from many communities and states in the southern Nigeria. Speaker after speaker credited him with laying the foundation for life changing experiences.
And so it was, therefore, worthwhile on this remarkable occasion of his birthday, as guests from all walks of life, show gratitude for his noble contribution to humanity, turned out to celebrate the astute pillar of support and businessman. Aare Adetola who donned a glittering brown native pleated with silky embroidery was visibly elated all through the evening.
Glamorous in their resplendent outfits, the guests were quite appreciative and cautious of the event plan trickling in at exactly 7pm the scheduled time to honour a trailblazer. The dignitaries were successful men and women from various sectors: banking to judiciary; politics, culture, arts, etc.
Overwhelmed with joy, Akile, as most people call him, was pretty much at hand to receive the personalities from far and wide as they glided through the Emperor mansion entrance on to his warm embrace. He was showered with praises, prayers, and testimonies. The host was described in glowing words as iconic, kind, loving, caring, unassuming, and disciplinarian, trailblazer, courageous, visionary, achiever, role model, hardworking, dogged, titan, and mentor.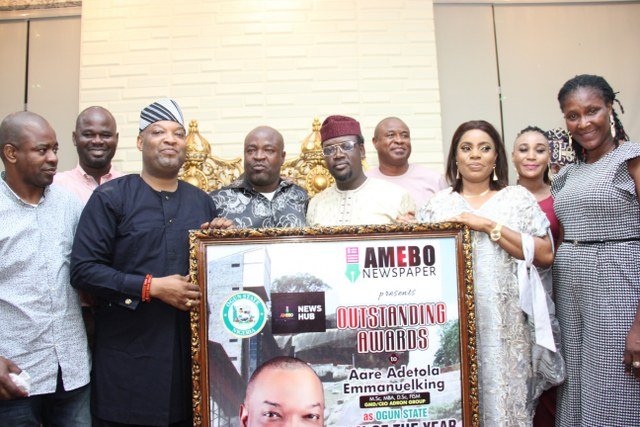 The Akarigbo of Remo, who sent his royal greetings through his media aide, maintained that Aare Adetola Emmanuelking's success story will be difficult to beat, considering his numerous landmark achievements as in the real estate sector within and outside Nigeria
Yeye Akile, Aderonke Emmanuelking, shares a congratulatory message to the celebrant that aptly captures the sentiments that flowed from the testimonies of his impact through his role as a husband, father, friend, and support system through the trying time.
She rendered a long, emotional tribute to Aare with a narrative that described him as a rare gem and a builder of the home. The narrative captures his biography, challenges, crossroads, and doggedness in the heat of social and economic struggles.
There was music from the famous Unstoppable Groove Band, as Aare and wife danced to the rhythm, and his loved ones joined him on the floor to make up the beautiful scenery. The merry would then trip over as classics of the past wafted through the speakers, momentarily reminiscing the host's and his friend's youthful days. Finger foods and exotic drinks complemented with local and intercontinental dishes were on offer.
Amebo Media also took time to felicitate with the celebrant and seized the opportunity to present the Ogun State Man of The Year Award to Aare Adetola Emmanuelking who polled over 8,000 votes in the Ogun Man Of The Year Contest.
Aare, in his usual philanthropic and benevolent gesture gifts fast rising singer, AKinsanya Isiaka Adekunle, also known as Olu Corper, a brand new Toyota Camry. The music act who could not habour his delight, fell flat before Aare to appreciate the good gesture
And then a toast to the celebrant followed by picture sessions. Thrilled and overwhelmed, Aare Adetola Emmanuelking was left speechless when asked to say a few words to the gathering. In the end, it was a time well shared together celebrating a man who has distinguished himself over the years in educating and inspiring Nigerian youth
Send Us News, Gist, more... to citypeopleng@gmail.com | Twitter: @CitypeopleMagz