Talk of one property firm in Lagos today that offers genuine documentation on its properties, affordability of its  products and integrity of its managers, the name Revolution Plus Property Development Company Limited will be mentioned. This real estate firm is one of the fastest growing firms in Lagos State at present. The MD/CEO of the company is Mr. Bamidele Onalaja, while his wife, Titilayo Onalaja, is the Executive Director of the firm. The company  celebrated 3rd year of robust business in April with many activities. Weeks ago, the handsome real estate tycoon told City People's Senior Property Reporter, ISAAC ABIMBADE, how he started real estate business with nothing, how his beautiful wife has helped the company built a remarkable reputation and how he makes Properties affordable to Nigerians, both home and abroad. Excerpts.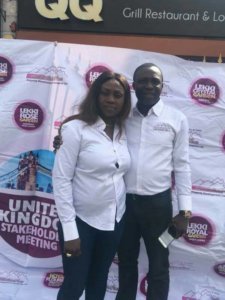 Tell us how you floated this firm, Revolution Plus Property Development Company Limited.
First, Bamidele Onalaja is my name, the MD of Revolution Plus Property Development Company Ltd. I conceived the idea to float a real estate firm when I was working in a bank. The last bank I worked was Sterling Bank, where I was a Manager of  a branch. It was actually a mortgage bank and it gave me opportunity to know more about real estate. As at the time I wanted to start the business, I had no money. I registered the firm with zero naira. Though, my story is the story of God's grace because I started with zero naira. When I approached banks, every bank turned me down. They were not ready to support my vision, but I made up my mind that, nobody would stop me from the vision I have. So, I started talking to friends, telling them to lend me some money. Many of them turned me down because they could not believe in my vision. But with God on my side, one of my wife's uncles, I told him about my project/land and I took him there at Mowe. I pointed out the land to him and he said ok! Mr Bamidele take this and that was my breakthrough in real estate. No bank agreed to lend us money and when I was leaving the bank I left with zero naira, in fact I was indebted, but because I was focused, determined and I have a wife who supports my vision from the scratch to finish, I have realised my vision.
Every milestone achievement in my life is because of my wife.  She pushes me, telling me you can do it. So, we started our real estate business from Mowe's project. I think the first set of land we sold then went for 200 thousand naira and it was later increased to 350 thousands naira, that was in the year 2014. I left bank April 2014, April this year makes it the 3rd year. Revolution Plus is celebrating 3rd year and I can tell you authoritatively that, we have moved from zero to hero, from nothing to something big. Our turnover has skyrocketed far beyond my imagination. We are hitting billion naira now in turnover. It can only be God because when I started, many people didn't believe in my vision except my wife and my immediate family members. But I told myself that I wanted to provide affordable housing for people. Now, we have some products you can pay as low as 25 thousand naira every month in Mowe, and Agbowa Ikorodu. We have one that you can pay 50 thousand naira every month. In Ibeju Lekki, we have project you can buy/get at as little as 750 thousand naira, and 850 thousand or 1 million per plot. So, we provide affordable properties and we have grown big over time.
We still have other projects that we are rolling out at Bogije, Bogije is beside Coscharis motors, on the road to Eleko junction, it's one of our latest projects. So, we are moving to other projects around the Shoprite in Shangotedo.
How much does a plot of land cost at Shangotedo?
The Shangotedo product is about 8 million naira per plot, while the products at Bogije is 5 million naia per plot. The Shangotedo product is actually 10 million naira, while the promo price goes for 8 million naira. All these can be paid by instalment and we are now developing. We have started with the construction of building bungalow (for the low income earners) at Shoprite and Lakowe, we are building a Royal Court there, it will come in duplexes, bungalows and so on. God has blessed me with wonderful staff,
Tell us what stands you out from other real estate firms
Our estates stand us out. We don't only deliver, we also provide roads, drainages, fence, electricity and we also allocate accommodation to those who have fulfilled their payments obligation. I know of companies, if you buy from them, they won't allocate to you your property for up to 3 years. I tell people that, I'm not a land seller, but I am a developer. I develop and I stand with you till you start construction. We do allocation every 90 days on all our projects. We have done allocation of Lekki Royal Garden. Lekki Royal Garden is a beautiful estate in Ibeju Lekki, very close to Dangote refinery and Free Trade Zone. We also have Lekki Crystal Garden and Royal Flourish Park at Ibeju Lekki Eluju town, by Bogije, Ibeju Lekki. What stands us out is integrity, trust and total commitment to believing this project and because of the experience in the corporate world before I started this work, I have learnt to put in the right structures in all the right places. Without me, the company still runs because I can't be in the 10 sites of the projects at a time. I have many people, who work with me, I have more than 500 consultants, these people go out everyday to sell Revolution Plus (products) and they are very happy doing their jobs. We have many people from America, UK and other European countries calling to thank us for our integrity, trust and dedication because we are not one of those firms that collect money and disappear, and some of these people have started building (personal construction) on their land. We allocate to you and make sure you are happy with us.
How do you deal with some of your customers who default on payments?
Because of the uniqueness of the business we do, the land business, issue(s) will arise, either with patrons or land grabbers, that is why our people are so comfortable with us. I don't talk to them anyhow. They are my friends and I resolve issues with anybody who has a grouse with any of my staff or with me immediately. I will make sure you leave happily. We appeal to customers because we are not the only one selling land. If you don't treat them well , they will go to others. I do training for all my staffers every month on customer service. I always tell them not to be rude to customers and they are not allowed to talk to them anyhow. My customers are my no 1 fans. So, we are customers oriented.
Talking about your wife, what role does she  play in the company?
I can't even express how much she has been able to support me. Prior to this time, she was not working with us at Revolution Plus. She was running her business. She was into facility management, which she still runs. She joined us late last year and she has added much to the company. 'I'm a site man', most of the time I am on site with Engineers, Project Managers and I also go out to bring products for the company to sell.  I also take care of how to deal with land grabbers and government. So, her own (my wife) is to make sure that products sell and she also handles administrative role of the company, consultant's welfare, staff welfare and anything that has to do with office. My wife is also a good marketer. She has added tremendous value to the company. I thank God for giving me a wonderful woman and she's beautiful as well.
How did you meet her?
I met my wife when I was still struggling about 12 years ago, October this year (2017) would be 12 years in marriage with her. I met her when I just graduated from University and I was working for one Telecom company then. She just finished service also. She finished from University of Ibadan, while I finished from Lagos State University. I went to sell phone at her auntie's shop at Alausa. So, we met through the course of work. I used to sell phones to her auntie but she was not around the day we met, I asked myself, who is this fine girl? Fortunately, she was holding Pastor Chris Oyakhilome's book and I told her that is my pastor too. That is how we became friends and love grew after then.
Tell us about your brand ambassador. What is their contribution to this firm?
Officially, our brand ambassador is Rachael Oniga. We signed her on October last year and she has been tremendous. She has supported us all the way. Some people will say it is that auntie Rachael's land I want…. She has given us a good identity, and anybody seeing Rachael Oniga would say this is Revolution Plus.
How can an average Nigerian key into some of  your products?
We have products that you can key into for 25 thousand naira every month. If you are disciplined you will be a land owner with Revolution Plus with little money, 25 thousand every month you can become a land owner.
Send Us News, Gist, more... to citypeopleng@gmail.com | Twitter: @CitypeopleMagz