This is 2023, and smart lights are becoming more ubiquitous as more people start to embrace smart devices and smart homes. Even in the real estate industry in Nigeria, more housing developers have been fighting for an edge by providing their properties with smart lights and smart devices to make their homes smarter than the competition. We present to you some of the best smart lights in the market today.
PHILIPS HUE
This brand of smart lights leads the pack in more ways than one. It was Philips hue that started the smart bulbs revolution in the market several years ago. Hence, the brand has become synonymous with smart lighting. Philips hue has some of the most advanced smart lighting in the market. The brand released the first iOS controlled lighting in the market. The ecosystem of Philips Hue is controlled by the iconic Hue Bridge which connects all the lightings in the house on the same network. While it didn't require the internet to be able to be controlled in the house, it required a modem to connect and control all the lights with the apps. However, the latest generation of Philips Hue can also be controlled by Bluetooth.
LIFX
This is one of the most successful projects in crowd sourcing on Kickstarter. After Lifi Labs raised over a million dollars on the crowd funding platform , it launched LIFX smart lighting into the market. The brand has been on the heels of Philips Hue as one of the most consequential in the market. In fact, at point Hue was battling to keep up with some ideas in the design of LIFX. One of the biggest advantage that LIFX has had over Philips hue was that it doesn't require a hub to connect lights in its ecosystem while Hue does. It meant that apart from buying the Hue lights, one is required to buy a hub to make it work. But there is no such requirement for LIFX lights. This was one of the reasons Philips Hue introduced Bluetooth connectivity whereby the Hue Bridge is no longer needed for basic functionalities of hue bulbs. LIFX bulbs are known for rich colours and the iconic shape.
XIAOMI
This Chinese firm has given all the big names in Internet of Things (IOT) a run for their money in the market. Xiaomi has earned its marbles as one of the leaders in the smart devices industry and has further partnered with third parties to produce a whole array of smart products under its name. Xiaomi has made a name as a provider of smart lighting solutions. It also has a smart home hub that competes with the Hue Bridge and Samsung's Smart Things Hub. The advantage of Xiaomi products over Philips Hue and LIFX smart lighting is that it is more affordable. However, it is placed below them in quality.
BROADLINK
Broadlink has taken the smart products industry by storm in the last few years. Broadlink smart bulbs are some of the most affordable in the market right now. It features beautiful colours and can be controlled by broadlink smart remote control as well as apps in iOS and Google Play Stores. Broadlink has also been competing with Logitech Harmony as a more affordable alternative in smart and universal remote controls. Broadlink also allows you to control its smart lights without a hub.
TP-LINK
This name has been known for a long time as one of the leaders in the provision of modem and routers in the market. And its products are very affordable too. As a player in the wireless devices industry for some time, it is only natural that it tries to bite from the smart lighting market. TP-Link is gradually becoming a big player in the industry. TP-Link smart lights do not require a hub to control. All that is required is an app from iOS and Google Play Store.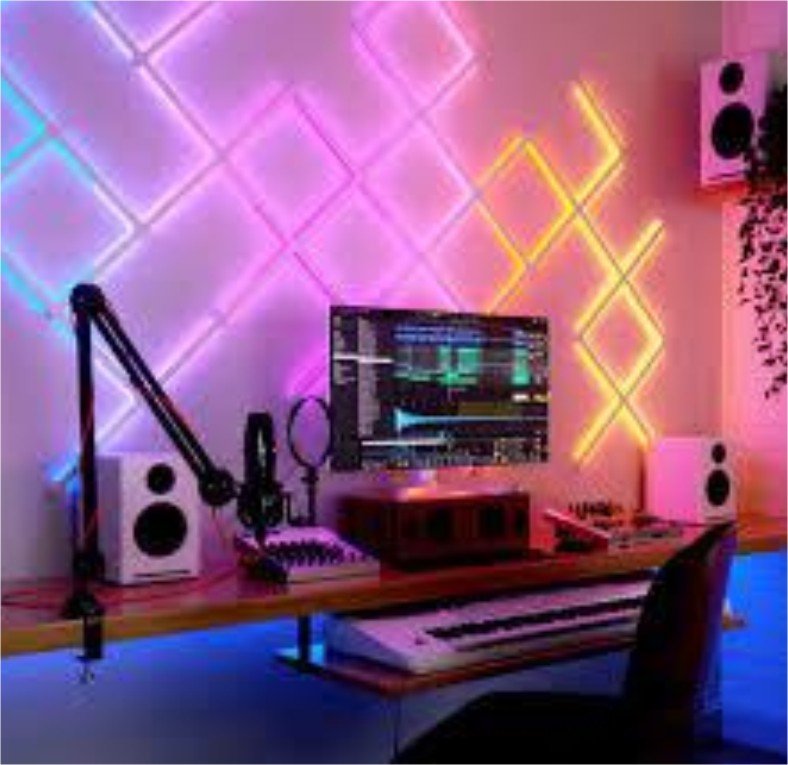 RINGS
As the competition in the smart lighting industry got tougher and new entrants enter the market, it is only common sense that they needed some unique selling points to be able to make an impact in the market. A lot of brands have chosen affordability as a competitive edge, while others chose easy of control without bridge or hubs. Rings has come into the market with a unique design to win hearts. Ring was actually known for door bells but has moved into producing smart products, including the lighting that interacts with each other on the back of artificial intelligence protocols. Rings has a bridge that connects all its smart products. As a player in home security, Ring has smart flood light.
SMALUX
This is another brand coming on strongly in the market right now. Smalux is a brand based in China which has been producing all kinds of smart lighting that are controlled by apps. Since their smart lights are quite affordable, they are making a headway in the market right now. Another selling point is that Smalux does not require a bridge to be controlled. Apps are available to easily control it.
NANOLEAF
There has to be innovative designs even in the budding smart lighting industry and Nanoleaf has taken up the challenge. As the name implies, Nanoleaf smart lights look like leaves and are aesthetically pleasing to the eye. Nanoleaf is known for decorative smart lighting and the starter kits come in various shapes. Unlike the standard smart lights that come as bulbs, Nanoleaf is in form for panels with distinctive shapes and sizes. They are used creatively on walls to make various shapes. And like other smart lights, they are controlled by apps and smart speakers.
TUYA
Tuya is one of the latest smart light brands in the market that are filling the void of affordability. Cost has been one of the factors that has dissuaded people from the smart lights markets and why a lot of people have been unable to deploy it in their setups. Brands like Tuya are changing that as it brings smart lightings closer to the price of regular bulbs. It can be controlled by apps as well as smart speakers.
WYZE
Wyze smart bulbs are made by Wyze Labs located in the United States of America. Originally known for their powerful smart cameras, Wyze is one of the latest entrants into the market when it comes to smart lighting. Wyze has numerous models of smart bulbs and they can be controlled by apps and smart speakers like Google Home and Amazon Echo. Wyze smart bulbs are more affordable than Philips Hue and LIFX and are known for their distinctive form factor.
Send Us News, Gist, more... to citypeopleng@gmail.com | Twitter: @CitypeopleMagz