Ogombo Kingdom was founded and first settled on by PRINCE ABIODUN OGUDU OKE-OSHADI a royal prince of ancient SAKI (SHAKI) KINGDOM in present day Oyo State. Prince Abiodun Ogudu Oke-Oshadi was a descendant of OKERE AKINBEKUN the son of ALAAFIN ORANYAN and PRINCESS EGILOLO, the daughter of the KING OF BUSSA in Ibariba land. Alaafin Oranyan was the son of ODUDUWA the progenitor of the Yoruba race.
Prince Abiodun Ogudu Oke-Oshadi was a hunter, farmer and diviner. On the divination of If a oracle, he left Saki around the 17th century to found his own kingdom. He left Saki with paraphernalia of royalty as a prince with retinue of slaves and deities such as Obaluaye, Ogun, Alaale, Oro, Oluweri, Egun Soodo, Esu etc. with the ambition to settle permanently on a virgin land where he will have his own kingdom.
Prince Abiodun Ogudu Oke-Oshadi sojourned through many creeks and forests while hunting along the line with his entourage till they got to the place known as Lagos Island today. During his journey through the creeks, he found traces of an elephant which he trailed till he discovered its whereabouts and then shot it. The elephant did not die at the spot it was shot but staggered deep into the thick forest around the creek and partially stumbled on a rare tree known as "IGI GOMBO" which then bent due to the weight of the huge beast.
At that point, Prince Abiodun Ogudu Oke-Oshadi consulted with the Ifa Oracle for direction as killing of an elephant in those days was a mean feat by a hunter. It was revealed to him and his entourage that the place he killed the elephant was his final destination and the spot it was killed was to be made the Ogun Shrine which spot still serves as the Ogun Shrine for Ogombo Kingdom till date.
They made their temporary abode under the tent "Igi gombo". As time went by, they cleared a large part of the thick forest around the "Igi gombo", built small huts and it became their permanent place of abode. They hunted deep into the uninhabited thick forest, and returned with proceeds of their hunt to process at their new abode. Often, on returns to their new abode, they said, "a'npada sile nidi igi gombo" which means in English language, "we're going back home under the Igi Gombo". The reference to "Igi Gombo" was later corrupted to "OGOMBO", which culminated into Ogombo Kingdom today.
Prince Abiodun Ogudu Oke-Oshadi along with his entourage extended hunting and farming activities to environs around his settlement which were uninhabited land founded by him too and are presently communities known as MOPO and ONO- ALAJA SI'OSA today. He exercised maximum acts of ownership over these lands by hunting, farming and building dwelling places on them.
Prince Abiodun Ogudu Oke-Oshadi did not stop his hunting expedition still and on one of such occasions, he got to a place known as IBEJU where he met the ruler known as OBA OYEMADE (alias OGIDIGAN ONIWONLU) the then ONIBEJU who on account of his royal lineage accepted him warmly and later, they became very good friends. It was the cordiality and friendship of these two men that resulted into the marriage between Prince Abiodun Ogudu Oke-Oshadi and PRINCESS ADELARU, one of Oba Oyemade's daughters.
However, the marriage did not produce a child for a long time which prompted Prince Abiodun Ogudu Oke-Oshadi to once again consult the Ifa Oracle for solution. The Oracle directed that he should make a sacrifice to a deity known as IMOLE-EKINE which he did and his wife conceived afterwards; bearing him a male child named OGU REM!. Adelaru bore other children for Prince Abiodun Ogudu Oke-Oshadi namely: OGUNDARE, DADA-OMOLARA, KUSHORO and TAIWO.
There was a Significant event that occurred during the lifetime of Prince Abiodun Ogudu Oke-Oshadi in Ogombo. One day, he got wind, of a plot to wage war against him and immediately consulted with the Ifa Oracle which directed that he takes his wife Princess Adelaru into hiding and does no more. Strangely, after complying with the instruction of Ifa, the proponents of the war all perished at a river later known as ODO-OLORI which today serves as the boundary between Ogombo and Ajah.
In another of his hunting expedition around Ogombo environs, Prince Abiodun Ogudu Oke-Oshadi met a fisherman called OGUNSEMO a renowned settler in the present day AJAH town and they became friends. It was Ogunsemo on account of his friendship with Prince Abiodun Ogudu Oke-Oshadi who gifted his friend a piece of land in Ajah to display and sell his wares usually from his hunting expeditions. The spot where Prince Abiodun Ogudu Oke-Oshadi displayed and sold his wares from his hunting expedition is known today as ITA OGOMBO which derived its name in reference to the community founded and first settled on by Prince Abiodun Ogudu Oke-Oshadi.
In furtherance of their friendship, Ogunsemo also invited Prince Abiodun Ogudu Oke-Oshadi to grace a cultural event in IKORODU with him. It was at that event he encountered a woman known a PRINCESS ODUFUWA. Princess Odufuwa was the grandchild of PRINCE OGA OLU a descendant of AKARIGBO, the first ruler of Remo land. Prince Oga Olu migrated from Sagamu with his son OLUMADE, the father of Princess Odufuwa and settled at Ikorodu. Where Prince Oga Olu settled is today called UOMU COMPOUND in AGA area of Ikorodu Town. Prince Abiodun Ogudu Oke-Oshadi was enchanted by Princess Odufuwa and asked for her hand in marriage. After performing all traditional rites of marriage, he took Princess Odufuwa along with him to Ogombo and she thereafter bore him four (4) children namely: SHADIPE, ABEJI, OGUNBO and OGUNLEYE.
It is imperative to state here that Prince Abiodun Ogudu Oke-Oshadi made it a habit of visiting Ibeju to perform rituals to the Imole- Ekine deity as a form of appreciation for making it possible for him to have children in his lifetime. After sometime, during one of his frequent visits to pay homage to the Imole- Ekine deity, his friend the Onibeju gave him the secret and initiated him into the cult of the worship of the deity in such a way that the worship of the deity was replicated in Ogombo and ever since then, the deity has been worshipped in Ogombo till date. Meanwhile, the family of his second wife in Ikorodu, the Odufuwa family also gave him a deity known as ORO IPAKOKO which is exclusively worshiped today by the descendants of the four (4) children Odufuwa bore for Prince Abiodun Ogudu Oke-Oshadi.
Prince Abiodun Ogudu Oke-Oshadi lived a long illustrious life and during his lifetime other settlers came to settle in Ogombo and they include: OWOJE, AKAPO/OGUNLANA, OYEKU LE/BAKARE, AGUNBIADE, NOFIU BAKARE, OPEKETE/ABANIKANDA, OGUNTUGA, being the founder of Ogombo, Prince Abiodun Ogudu Oke-Oshadi became the first traditional ruler of the settlement and appointed chiefs who assist him in the administration of Ogombo Kingdom.
After his demise, his first son, PRINCE OGUNREMI succeeded him as the traditional ruler of Ogombo Kingdom. PRINCE OGUNBO succeeded Prince Ogunremi who in turn was succeeded by PRINCE IDOWU DABIRI OGUNDARE who equally was succeeded by PRINCE TAORID OGUNLEYE PRINCE YUSUF FASHANU succeeded Prince Taorid Ogunleye who in turn' was succeeded by PRINCE AMBALI AMOjA BAKARE. The incumbent traditional head and first Oba of Ogombo Kingdom today is OBA ABIODUN MUSLIM OGUNBO.
Ogombo Kingdom shares common boundaries with Ajah, Sangotedo, Okun Ajah and Okunmopo and consists of several communities with villages and hamlets which includes, but not limited to: OGOMBO, ODO OLORI, IDIROKO, BAOKU, IDI APARA, ALABEKO, IBU OMILA, ALAGBA AGUNTAN, OKO ODAN, ORIKO AGUNGI, OREBIYI, ODEDINA, OWODE, ARAROMI, IBAMO, INUKAN, ODO OLODO, OKO TOOMU, IDI AGBON,OKO ELEMU, AFA NLA, AFA KEKERE, OKO EGAN, etc.
In Ogombo Kingdom, there are several deities with shrines and relics which includes: Obaluaye, Ogun, Alaale, Oro, Oluweri, Egun Soodo, Esu, Imole-Ekine, Oro Ipakoko etc. There are also mosques and churches in Ogombo Kingdom where Muslims and Christians practice there faiths.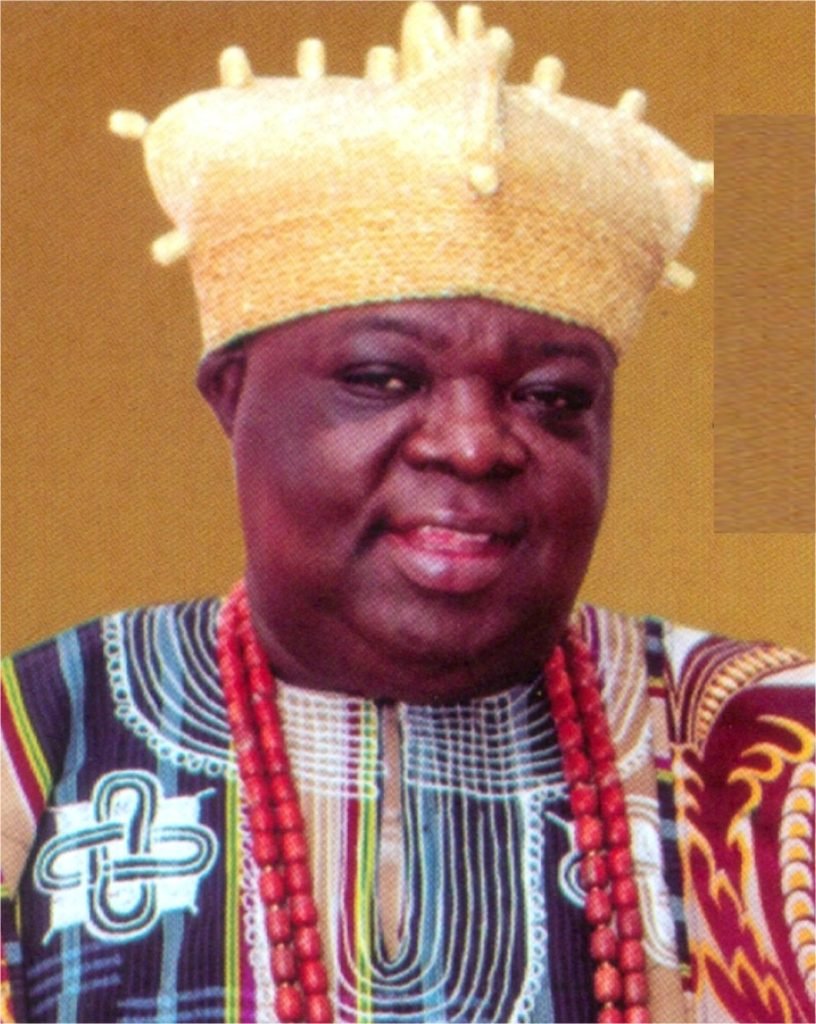 – Culled From Metro News
Special Edition on Oba Muslim Abiodun Ogunbo
Send Us News, Gist, more... to citypeopleng@gmail.com | Twitter: @CitypeopleMagz