•As Their Matriach, Mrs. J. E. KEHINDE Passes On At 93
•Just As OGD, Omisore, BRF, Keyamo & Co. Send Condolence Messages
Over the last few weeks, torrents of tributes have poured in for the Kehinde and Jaiyesimi families over the loss of their matriach, Mama Joanna Ebun Kehinde, who was a retired Ogun State Civil Servant, as at the time she died.
The APC presidential candidate, Asiwaju Bola Ahmed Tinubu wrote a one-page condolence letter, praying that God will give the family the fortitude to bear the loss. "Recall that I attended your dad's burial in Isara Remo 29 years ago. The huge turn-out and encomiums poured on him then showed how many held your family in high-esteem".
"No one can replace a mum and I can only imagine the depth of your grief on the loss of someone so important and special in your life, irrespective of her age," he wrote.
Mr. Babatunde Raji Fashola, the Minister For Works & Housing in a one-page condolence letter, dated 1st December, 2022, wrote, "Your Mum, without a doubt, lived a dynamic and impactful life in the service of her Lord and humanity with you as one of her best accomplshments."
Prince (Dr.) Dapo Abiodun, the Governor of Ogun State, also wrote a one-page condolence letter. The Governor, who is from Iperu-Remo, a stone's throw from Isara Remo, where the deceased hails from, wrote, "This is a glorious home call of an exemplary mother. Mama must have felt pleased at the time of her departure, having seen her progeny do well in life and living by the legacy of hardwork, selflessness and integrity she has bequeathed. Her son, Seye Kehinde is a worthy ambassador of the family and a perfect example of the various legacies she left behind."
Senator Mukhail Adetokunbo Abiru (FCA) who represents Lagos East Senatorial District sent a one- page condolence letter to the family. He extolled her virtues as a top civil servant in Ogun State before she retired. He thanked God that she is survived by accomplished children who are blazing trails in their various endeavours, amongst whom is Seye Kehinde, a successful Journalist and Publisher of City People Magazine.
Former Ogun Governor, Senator Ibikunle Amosun (FCA) who now represents Ogun Central Senatorial District, wrote in his condolence letter: "As much as the pain of losing a loved one, irrespective of age, never goes away completely, I enjoin you not to mourn, but rather to thank the Almighty God for Mama's impactful life and the enduring legacies she left behind".
Former Ogun Governor, (Engr.) Gbenga Daniel sent in his Tribute. "Mama lived a good life and she left a great and indellible legacy," he wrote.
Pastor Femi Faseru, the National Superintendent, KICC Nigeria urged the family to stay strong.
Rt. Hon. Wasiu Eshilokun-Sanni, the Deputy Speaker, Lagos House of Assembly & APC candidate for Lagos Central Senatorial District described Mama as a wonderful woman.
Senator (Dr.) Iyiola Omisore described Mama as a phenomenally great woman. Omisore is the current National Secretary of the APC.
In his condolence message to the Kehinde family, Festus Keyamo, the Honourable Minister of Labour & Employment, said Mama lived a fruitful life and left a vacuum in the hearts of so many that is irreplaceable".
Evangelist (Prof) Ebenezer Obey-Fabiyi (MFR) also wrote to commiserate with the Kehinde family. He revealed that, "while Mama's death is painful to all of us, our hearts must be filled with gratitude to God Almighty that Madam Joanna Ebun Kehinde (nee Jaiyesimi) lived a highly-fulfilled life of service not only to her immediate family but to the church of God, the Methodist Church of Nigeria, her community at Isara Remo, Ogun State Civil Service as a retired Civil Servant, the nation Nigeria, as a whole and to humanity generally."
Queen of Gospel Music, Tope Alabi also wrote a tribute stating that Mama lived a most decent and Godly life.
Otunba Bimbo Ashiru, the Group Chairman of Odu'a Investment Company Limited also wrote a one- page letter on behalf of the Board, Management & Staff of Odu'a Investment Company Limited. According to him ,"Mama was a disciplinarian who raised her children in a Godly way and was a source of strength to those who came in contact with her in her lifetime".
Chief Lekan Alabi, the Maye Olubadan of Ibadanland wrote in his condolence letter how he met late Mrs. Kehinde in November 1997, when City People Magazine was launched at her Felele home in Ibadan then.
Akogun Tola Adeniyi, the Araba Remo & Jagun Oodua Adimula II of Yorubaland, described Mama as an Abiyamo tooto.
"Mama was a mother every child would be proud of", he said.
Traditional rulers were not left out. The Odemo of Isara Remo, Oba Albert Adebose Mayungbe wrote a royal tribute. "Mama had a heart and cared completely… A light from the Isara community is gone"…
Oba Dr. Olufolarin Ogunsanwo, the Alara of Ilara Kingdom (Epe Division), Lagos State, wrote that no matter how old Mama could have gotten, nothing can qualify the pain of losing one's mother".
The Olowu of Kuta, Oba Hammed Adekunle Makama Oyelude wrote that Mama has now become an Angel, watching over her children.
The Gbegande of Ososa wrote that despite how strong the bond between Mama and her children is, God loves her more.
All these tributes attest to the fact that Mama lived a good life. That was the conclusion of many when the news of the passing away of Mama Joanna Ebun Kehinde (nee Jaiyesimi) broke a few weeks back. She was 93 by the time she breathed her last. She died peacefully. She was a strong woman in her lifetime. And a great woman of wisdom.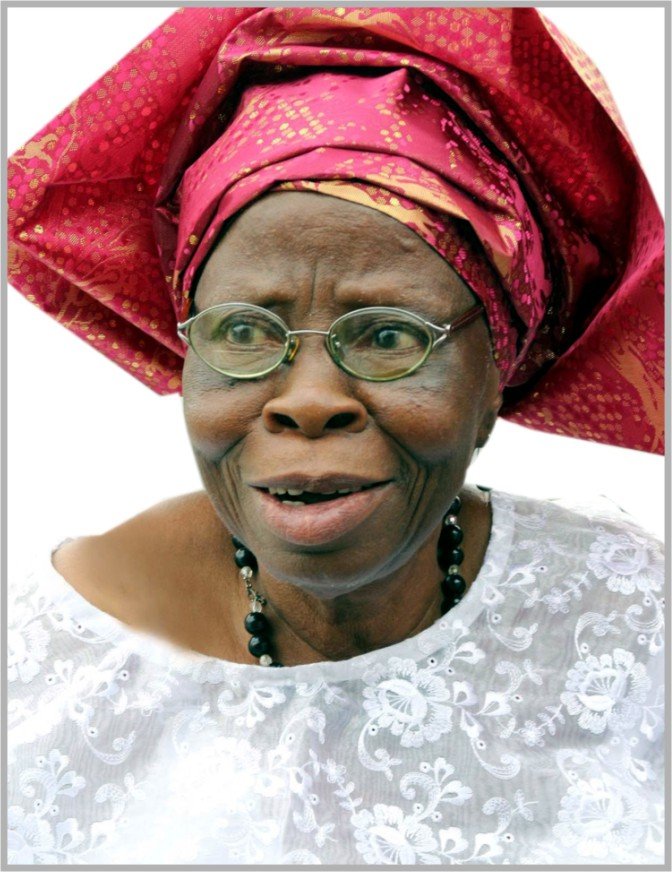 Mama's funeral rites begins this week.
The Service of Songs and Christian Wake will hold on Thursday, 8th December, 2022.
Funeral Service will hold on Friday, 9th December, 2022 at the Methodist Church, Oke Oja in Isara Remo, Ogun State.
Reception will follow at VEO Event Centre, KM 35, Isara-Ago Iwoye Road, Isara Remo, Ogun State.
Her last major birthday party was on Wednesday, 20th March, 2019 when family and friends of this retired Ogun Civil Servant, Mama Joanna Ebun Kehinde celebrated with her, as she clocked 90 on that day.
The birthday party which was low-key, on her request, as a mark of respect for the celebrant's wish, was held at the City People Event Centre, Gbagada, Lagos. It began with a birthday thanksgiving handled by Rev Daramola, a Minister from the Methodist Church of Nigeria, Diocese of Ikeja, Opebi Circuit, Lagos. It was followed by a reception. Pastor Femi Emmanuel also attended the event. Music was by Juju singer, Empress Seun Aransiola, who midway into the party had a joint performance with her boss, the AJUM President, Queen Ayo Balogun. There was a Special appearance by Gospel Star. Shola Allyson who sang 4 of her best numbers. Ace Saxophonist, Segun Oluwayomi thrilled guests before and during the birthday thanksgiving. MC Jimmy Jairo anchored the reception.
Until she retired about 30 years ago, Mama was a top Civil Servant in Ogun State and served as a Social Welfare Worker. Her main areas of concentration were Women and Children. That in fact summarises the story of her life. Mama (Mrs) Joanna Ebun Kehinde (nee Jaiyesimi) was born on March 20th, 1929 to late Pa Phillips Adesanya Jaiyesimi and late Madam Abigail Jaiyesimi (nee Ogunyemi) both from Isara Remo, Ogun State. The first of 5 siblings, Mummy followed her uncle, late Pa Adebayo Jaiyesimi to Osogbo where she started her primary education at Methodist Primary School, Osogbo and later went to the United Missionary College, Ibadan for a Teacher Training Course from 1947-1949.
Mummy was appointed into the Teaching Service in 1945 and she taught at the Methodist Church School, Otepete in Ilesha from 1945-1946, Methodist School, Offa, Ilorin from 1950-1951, Home Craft Centre, Afon, via Ilorin Methodist Circuit in 1952 and the Methodist Girls Secondary Modern School, Sagamu from 1953-1954. Mama got married to her hearthrob, late Gilbert Ademolu Kehinde (Pa Gilly) in 1957 and she relocated to Ibadan to live with him. Mummy taught at Methodist School Agodi, Ibadan from 1957-1959, Mummy then left Nigeria to further her studies abroad. She went for a 3-year Teachers', Diploma Course at Bath College of Domestic Science, Bath, England, from 1959-1962 and later for a Certificate in Education Course at the University of Bristol.
Upon returning to Nigeria in 1964, Mummy taught briefly at the United Missionary College, Ibadan before joining the Western State Civil Service. After the creation of states, she followed her husband to Ogun State where she worked with the Ogun State Civil Service until her retirement.
Mummy took delight in taking adequate care of her children and those of the extended family. Her home was always a beehive of activities. A strict disciplinarian and a devoted Christian, Mama took active role in church activities and was a member of the YWCA of Agbemi Methodist Church, Ibadan.
To God be the glory, all her children have excelled in their various fields. What more can a woman ask for at 93? This woman had a basketful of blessings and was sure surprised at what God did for her, talk of the endless favours. Like the Psalmist says concerning the virtuous woman, she was blessed with kids, grandchildren and great grandchildren, all of whom simply called her Grandma.
Send Us News, Gist, more... to citypeopleng@gmail.com | Twitter: @CitypeopleMagz