It is now official, the trend of style that many are yet to discover about fabrics. Fabrics have since left the realm of plain and unceremonious way of wearing which has left fashionistas without having value and respect for them. Dashing are the styles in vogue which fabrics are now sewn. The popular trends today begins with the choice of fabric such as Ankara, Lace, Velvet, Aso-Oke, Kente, Dashiki etc. These outfits are best worn as official dresses. In fact, Ankara is really evolving in this line of fashion. African fashion styles are getting more diversed and beautiful which gives you a stunning look. Let's take a look at some beautiful styles that can be sewn with any choice of fabric, depending on the occasion you're wearing them to.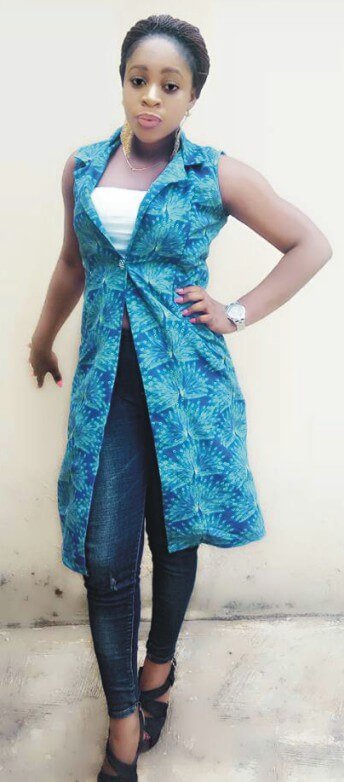 *DRAMATIC SLEEVES AND OFF-SHOULDER BLOUSES*
This is a perfect example of the kind of trend being followed in Nigeria today. This photo shows a beautiful Ankara blouse that is off the shoulder and has long exaggerated sleeves. Check the picture below: This sleeveless Ankara vest that compliments the dress very well and makes the entire outfit complete. This outfit could be official, depending on the fabric used in sewing them.
Consider this to be the second option for the off-the-shoulder dress or skirt. If you find it annoying to be constantly pulling off your sleeves but want to show off your shoulders, then this design is suitable for you. With such a trend, the shoulder is elegantly revealed and meets at the neck. Take a look at the photos below:
*UP NEXT ARE FRINGES*
Fringes have been around since the eighteenth century and have maintained its relevancy up till now. Fringes continue to be syndicated with a flirtatious character and can be described as pastiche.
Some might have seen fringes only being worn on the end of dresses or skirts but the placement of fringes are not just limited to that. Fringes can be worn on shirts and on dresses. When designed on dresses, it can be in a layered format throughout the entire faceth of the dress or at the end of it.
*BLAZERS AND VESTS*
Blazers and vests are light jackets that can transform any outfit. It can transform a plain dress or shirt into something spectacular for church, school, work or a night out. Blazers and vests with African prints, especially Ankara are becoming very popular this season. Their popularity and demand have increased over the past few months, making it a closet essentially because it gives the extra oomph or missing piece you may be looking for. A blazer is an accessory! Take a look at the different kinds of blazers below.
Send Us News, Gist, more... to citypeopleng@gmail.com | Twitter: @CitypeopleMagz