+Exclusive Gists From The Celebrity-Studded Party
Sunday 3rd November, 2019, the ancient city of Ibadan was agog, as the Juju Gospel Maestro and C.E.O of Fresh 105.9 F.M, Dr. Yinka Ayefele hosted the creme de la creme of the society into an elaborate reception. It was a dedication of his Triplets; two boys and a girl, Richard, Raymond and Eniola. Recall Ayefele and his beautiful wife, Temitope welcomed the bundles of joy sometimes in June 2019, in the United States of America. The surprise miracle happened in Ayefele's family after 25 years of waiting.
No wonder the music star didn't leave any stone unturned in throwing a lavish party to dedicate the triplets. It was indeed thanksgiving galore for Ayefeles and their well-wishers.
The dedication program kicked off with a special thanksgiving service at Reverend P.F Owa's Christ Revival Miracle Centre (CREMIC), Adeyemo Layout, Molete, Ibadan. After which guests moved to the popular Jogor Event Centre, off Awolowo Road (old Liberty Road), Ibadan.
The well-arranged, glamorous party was graced by who is who in the society across different sectors; top captains of industries, media personalities, the country's movie and music sectors and more were all represented. It was indeed a colourful ceremony.
City People's Correspondent, DARE ADENIRAN was at the party and brought to you some interesting gists you can't afford to miss. Enjoy it.
THE CHURCH SERVICE
Dedication of the triplets and special thanksgiving service held at the Ibadan's popular prophet, Reverend P.F Owa's Christ Revival Miracle Centre (CREMIC) Church. It was a joyful moment for Ayefele, his family and the well-wishers. With the massive turnout of men of God, important dignitaries, the Church was filled to the brim. The choir and everybody that ministered during the program did wonderfully well. In her short exhortation, Baba Owa's wife, Advised couples as well as people generally to always trust in God in all situations. As He does things in His own way and at His own appointed time. She also used the bundles of joy in Ayefele's family as a point of contact for those who may be looking up to God for such a miracle. Reverend Owa thereafter dedicated and blessed the triplets and the whole congregation joined the Ayefeles in the main thanksgiving. Popular Gospel singer, Evangelist Funmi Aragbaye also blessed the congregation with some special numbers; her performance was as appealing and spirit-filled as ever.
WHY CREMIC WAS CHOSEN FOR THE DEDICATION
For those who might be wondering why Rev. P.F Owa's Church, Christ Revival Miracle Centre (CREMIC) was chosen for Ayefele's triplets' dedication, search no further. During the thanksgiving service, Yinka Ayefele made some revelations as to what he went through before his longtime request was finally granted by God. One of which was his vow to come back to CREMIC for thanksgiving if God could answer his prayer. According to Ayefele, he had gone to the Church about four years ago, to give thanks about his radio licence that was just been approved then. And during the thanksgiving, in the presence of the whole congregation, he said there was one more thing he was looking up unto God for. Though he didn't expatiate on the particular thing he was expecting God to do, but that if it could be granted, he was going to come back to the Church to give thanks. So, in order to fulfill his pledge to God, he went back to the Church for thanksgiving once more.
WHAT BABA OWA AND YINKA AYEFELE HAVE IN COMMON
Though it is a known fact that Reverend P.F Owa is one of Yinka Ayefele's spiritual fathers; he takes him as his role model and mentor. But not many people know that both of them share a very significant thing in common. They both experienced childlessness in their marriages; in fact, the man of God and his wife were said to have waited for over seventeen years as well. His story, according to Ayefele, has always been a kind of encouragement during his trying period.
THE WATERTIGHT SECURITY
For a megastar that Ayefele, the likelihood of the venue being jam-packed with the crowd, both wanted and unwanted, was considered. The security was so tight that all guests were screened right from the main gate of the Hall of Grace, the venue of the reception. So, it was difficult for unwanted guests to beat the three security posts mounted. Private security personnel, as well as men of Nigeria Police and Civil Defence, were all on the ground to provide the necessary assistance. It was indeed an operation show your Invite.
THE BRANDING
As guests were coming into the Hall of Grace Phase of Jogor Events Centre, there high number of billboards, posters and banners branded with faces of Ayefele, his wife and the adorable triplets. There is nowhere you turn to without seeing one of these branded materials right from the hall's lounge. Even inside the hall, the branding was just too colourful and attractive.
THE ELABORATE DECORATION & SITTING ARRANGEMENT
While the branding, within and outside the hall, seemed to be out of this world, the decoration was superb. The hall was transformed into a small paradise with pronounced White with a touch of Gold. The elaborate decoration with flowers that were used to create the walkway and also placed on tables sure complemented the dangling chandeliers and lightings inside the hall. It was a scene to behold and which could be likened to that Hollywood. The beautiful ushers with their nice costumes also added some colour to the event. As they welcome guests to their respective and appropriate seats. Because the sitting arrangement was unique and well planned. Though all quests were well treated, but there were general, VIP and VVIP seats.
THE TRIPLETS' GRAND ENTRY
Shortly before the official take-off of the ceremony at the reception, Yinka Ayefele alongside his wife and their adorable triplets made a grand entrance into the hall. The babies, two boys and a girl, were wheeled into the hall in three uniform prams. There were all glowing and shining, many of those present couldn't but stood up to catch a glimpse of the babies. There hailed and sheered till they got to their position at the VVIP section of the hall.
ABOUT AJIMOBI'S SURPRISE APPEARANCE
Not many would have thought he would come for the party, but the immediate past governor of Oyo State, Senator Isiaq Abiola Ajimobi made a surprise appearance. In fact, he didn't just come but with a powerful entourage. 'Constituted Authority', as the ever-smiling Ex-Gov is popularly called, was in high spirit, as he exchanged pleasantry with other VIP guests. In his entourage were the former S.S.G in Oyo State, Alhaji Olalekan Alli; former Chief of Staff, Soji Eniade; former commissioners for Education and Lands, Prof. Olowofela and Mr. Isaac Omodewu; Mr. Bolaji Tunji as well as the immediate past ALGON Chairman in the state, Prince Abass Alesinloye and others. Recall that Ayefele and Ajimobi, as it were, have been in a kind of 'animosity', which has to do with demolition and reconstruction of Music House and all. But as it is now, it seems all that has been things of the past.
IS AJIMOBI AND KOLA BALOGUN NO LONGER SEE FACE TO FACE
With all indications, it seems the political battle between the immediate past governor of Oyo State and the current senator representing Oyo South in the country's Upper Chamber, Kola Balogun, has been taken to another level. It was noticed that Senator Kola Balogun excused himself from the reception party shortly after his arrival and in short distance Ajimobi surfaced. The big question on the lips of those who noticed the body language was could it be intensional or coincidence, for Balogun to have left the way he did. Senator Balogun of the PDP was the man who defeated Ajimobi in the Oyo South Senatorial District contest in the last election. He has subsequently won Ajimobi who challenged his victory at both Appeal and Supreme courts, to retain his seat.
WHEN TAYE CURRENCY AND AJIMOBI SAW FACE TO FACE.
Politics, indeed, is an interesting venture. And like the popular saying that in politics, there is no permanent friends or foe bit permanent interest. That has also shown that fights among politicians are sometimes over celebrated by electorates or the society generally. If not, who could have believed that the Ibadan's popular Fuji musician and father of the Honourable representing Ibadan South West 1 in the State's Assembly, Alhaji Taye Adebisi aka Taye Currency and Senator Ajimobi will ever talk to each other after all the scornful attacks on the latter, through music during the electioneering campaigns. Behold! They met live, and that perhaps was the first time after the election, at Ayefele's triplets' dedication, and it was a kind of father and son greeting between both of them. That was one major thing Ayefele's party has done, bringing many political enemies under one roof.
WITH LOVE FROM NOLLYWOOD
Top actors and actresses as well as up and coming ones made a good representation at the party. They had their tables carved out of the VIP section and did enjoy themselves while the party lasted. Fans of some of them were had the opportunity of taking pictures and familiarised with them. The list includes Bolaji Amusan aka Mr. Latin; Rose Odika; Femi Adebayo; Muyiwa Ademola; Aderupoko; Ibrahim Chatta; Fathia Balogun; Kunle Afod; Wale Akorede; Monsuru; Odunlade Adekola and Tomoko, just to mention but few out the many actor and actresses who came to celebrate with Ayefele and his family
TUNJI ALAPINI, EVER STYLISH EX-SUPERCOP
Though AIG Tunji Alapini is a retired police officer but he is not tired in any way. He still maintains his youthful looks, and he is as sociable and handsome as ever. It will also be a kind of an understatement to say Alapini is stylish; his style sense is commendable and he has been like that ever since. As usual, he made a good style statement at Ayefele's party. He was seen both at Church service and the reception.
OONI OF IFE WAS ABLY REPRESENTED
The Ooni of Ife, HIM Oba Adeyeye Enitan Ogunwusi, Ojaja 11 couldn't make it to the event but was ably represented by his beautiful Olori, Prophetess Shilekunola Ogunwusi. She did pretty well by delivering Kabiyesi's warm greetings, then thereafter blessed the triplets with a special prayer. She was looking radiant and elegant in her outfit and she was as beautiful as always.
THE ROYAL FATHERS IN THE HOUSE
Quite a good number of traditional rulers were also at the party. Apart from Timi of Ede Oba Munirudeen Adesola Lawal and his beautiful wife, the likes of Oba Sunday Ekundayo. Oluroye of Iroko Ekiti; Olowa of Odo-Owa Ekiti; Oluso of Usi Ekiti; Onijero of Ijero Ekiti and Aleyegunle of Ayegunle Ekiti, all came all the way to celebrate with Yinka Ayefele and his family.
AYEFELE'S EVER SUPPORTIVE FANS WERE NOT LEFT OUT TOO
Trust the ever-supportive big fans of Yinka Ayefele, they came in their numbers and rallied round their own. Some of those who graced the occasion include the Egba Chief, Apostle Rotimi Martins; Pleasant Design boss, Architect Sola Omotoso, he is Ayefele's brother from Ekiti; Chief (Mrs) Toyin Kolade, who, as usual, came with her own special catering (Amala Special); Rotimi Olatunji (Ikoko Obe); the Executive Assistant to Gov. Seyi Makinde on Disability Matters, Barr. Ayo Adekanmbi; Barr. Sunday Idonije; Olaolu Ogunbote; Olusanmi Obembe and many others.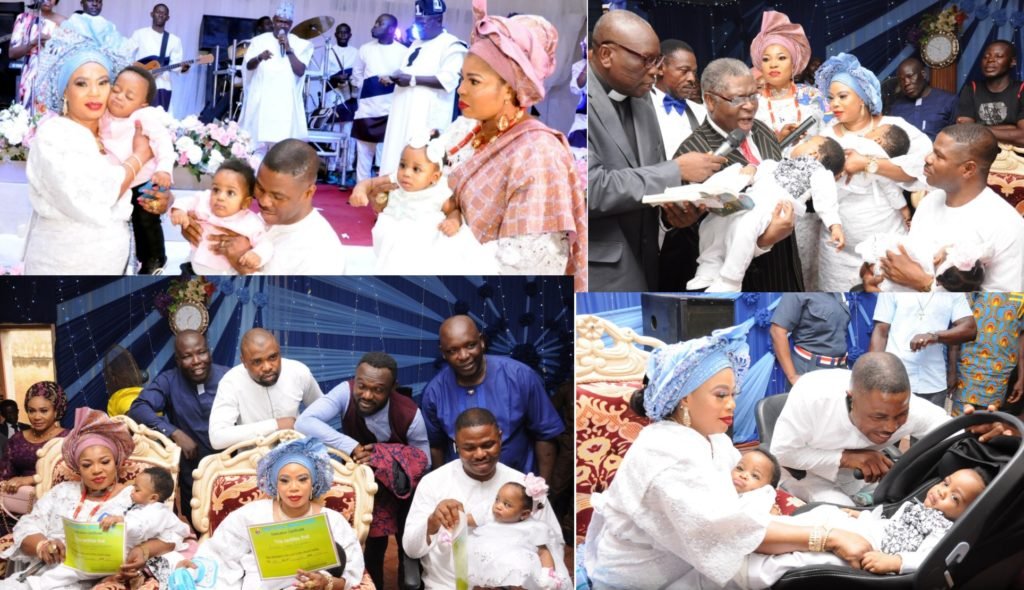 ….KAYROM LEE BOSS TOO
She is the brain behind the popular fitness and gym centre, Kayrom Lee in Ibadan. Chief (Mrs.) Romoke Ayinde also dazzled at the party. She came with her special souvenirs, branded bags for the triplets.
LAGBAJA, AYUBA MADE SPECIAL APPEARANCE TOO
The duo of Bosue Fuji maestro, Dr. Adewale Ayuba and Bisade Ologunde popularly known as Lagbaja came to honour Ayefele too. Though they didn't perform but their presence could be felt as they enjoyed every moment of the paparazzi. Many people don't know that Lagbaja and Ayefele are very close; they respect and cherish each other. That is why Lagbaja would always honour Ayefele's invitation any day, any time.
WHO IS ABBEY LINCOLN?
That was the big question on the lips of many who don't know him at the party. Abbey Lincoln is said to be a young businessman at Agbeni Market in Ibadan. He is into keys business, according to what we gathered. What drew people's attention to him at the party was the way he was spraying naira notes like it is going out of circulation. To those who know him, that his style, as he is stupendously rich.
ASIRI AND EXPLICIT DANCERS PERFORMANCE
Popular comedian, Asiri and the award-winning dance group, Explicit Dancers put up a brilliant performance at the party. Especially the Explicit Dancers, their performance was electrifying and spot-on.
THE ROLE CALL
Chief (Mrs.) Bose Adedibu, wife of the late grand commander of Ibadan politics, Alhaji Lamidi Adedibu; Oloye Lekan Alabi; Mrs. Bola Dohaty, CEO, Bola Immaculate Group of Schools; Alhaji Taofeek Akehugbagold; Fortunate Bread boss, Alhaji Saheed Adejumo; Revolution Plus Property boss, Mr. Bamidele Onalaja; Mr. Diran Odeyemi; Alhaja Kafilat Kaola; Oluso Leke of Aseyori Parish; Princess Olajumoke; Mogaji Akere; Commissioner for Youth and Sports in Oyo State, Hon Seun Fakorede; Apostle Awosafe; former Zonal Director of BCOS, Chief Dapo Omisan and theist goes on. Yoruba movie personality, Jinadu. Olowa of Ido Owa Ekiti, Alayegunle of Ayegunle Ekiti. onijero of Ijero, Olusi of Usi Ekiti Bola Dohaty, Bola Immaculate Group of Schools. The grand entrance of the triplets into the reception, where their mom and father led in trolley. Senator Femi Lanlehin, Ayo Adekanmbi, Tunji Alapinnin, Rotimi Olatunji (Ikokoobe), Sola Omotoso, Taye Currency at the church, Oloye Lekan Alabi, Oluroye of Iroko Ekiti oba Sunday Ekundayo, the watertight security, the elaborate decoration in white with flowers that gave the walkway a kind of Nollywood looks. Kayrom Lee boss was in the house. Oni ably represented by his lovely wife, Evangelist Silekunola. And FUNMI Aragbaye shines at the church service with her brief performance. Former Governor Abiola Ajimobi's grand entry with a powerful entourage. Adewale Ayuba was also in the house. Ayefele and Lagbaja in warmly huge. Alhaja Bose Adedibu. Between Ajimobi and Kola Balogun. Timi of Ede's wife. Apostle Awosafe with the opening prayer. With love from the Nollywood, Fathia Balogun, Oriabunmi, Kunle Afod, Rose Odika, Lekan Alli, Soji Eniade, Olowofela, Isaac Omodewu, Bolaji Tunji, Abass Alesinloye. Midway airline, Apostle Rotimi Martins. Chief Sanya Omisan, former zonal Director of BCOS, Mogaji Akere, Barr. And Mrs Adekanmbi, Barr. Sunday Idonije, Olaolu Ogunbote, Della Olusanmi Obembe, Prince Olajumoke daughter of Owa Ajero. Seun Fakorede, Youths and Sports. Barr. Niyi Odeyemi. Explicit Dancers were in the house too. Alhaji Taofeek Akehugbagold. Ashiri Comedy. Alhaja Kafilat Kaola. Diran Odeyemi, Ounje of Onpetu. Doyin Kukoyi. Richard, Eniola and Raymond. Alhaji Saheed Adejumo, fortunate Bread. Baba Latin. Bamidele Onalaja, revolution plus. Femi Adebayo.
Send Us News, Gist, more... to citypeopleng@gmail.com | Twitter: @CitypeopleMagz