•LAGOS Businesswoman, Hajia IDAYAT BOLANLE MUSE
On Saturday 3rd September, 2022 a big event took place in Kano. It was a grand reception in honour of Kano Governor, Dr. Abdulahi Umar Ganduje, his wife, Prof. Hafsat Umar Ganduje and the official presentation of certificates to confirmed chiefs by the Oba Yoruba Kano, His Highness, Engr. Murtala Alimi Otisese. One of the highpoints of the event was the installation of popular Lagos businesswoman, Hajia Idayat Bolanle Muse as the brand new, Iyalaje, Yoruba Kano. This beautiful woman is a big player in the Maritime and Cargo handling sector of the economy. She is a well known Sea and Air Freight Forwarder in Lagos. She is also the sole founder of Bomarah Group of Companies.
She looked so colourful that day at the Oba Yoruba's palace, at 69 Emir Road, Sabon Gari area of Kano.
How did she feel that day, City People asked her recently. " Alhamadullah! To God be the glory. And I thank Almighty Allah for what he is doing in my life. I felt elated," she explained. "It was a great day of joy for me to have been honoured by the Oba Yoruba Kano and my people, I really appreciate my Kabiyeesi, Eng. Alimi Murtala Otisese, Oba of Yoruba Kano, and all the entire Yoruba family in Kano.
For the benefit of those who don't know much about Hajia Muse and Kano, and you're wondering, what is the relationship? Why would a successful Lagos businesswoman like Hajia Muse be honoured in Kano? "Kano is my base", she said matter-of-factly. "Many don't know this. It is also my 2nd home. Or rather I should say it is my 1st home, because that is where I grew up. After I left my home in Oyo State, I moved into Kano to stay with my grandmother, over there. And all my life, I lived in Kano. My office is in Kano. My entire family and community live in Kano".
Where was she born? Where did she grow up? "I was born in Oyo State, in Oyo Alaafin, ojo pa sekere omo atiba.
My family name is Oyesijuade. We are a bit related to Oba of Oyo, Alaafin. That is my base. After a few years, I moved to Kano to spend most of my growing up and early years there".
When she finished in Kano, what did she do next? "Marriage took me to Lagos," she explained. "Not that I came to Lagos for schooling. I think it is marriage that brought me to Lagos and my work. I am still there, I have my siblings there, everybody is there."
"Whenever I spend a few days in Lagos, I go to Kano to go and rest and see my family. So, it is work that takes me to Lagos basically because I am a Clearing and Forwarding agent. And you know that we have a dry port in Kano. It is only in Lagos here, that you have the port."
"Most of the time our activities are in Lagos. So from Kano, I have to come to Lagos. Leave very early in the morning to Lagos, and return back in the evening. That is tough".
Her job as a clearing and forwarding agent is tasking. How does she cope? How does she survive in that male dominated environment? (Laughs) "I have been a freight forwarder the past 28 years. I have been practising this job, and to God be the glory, I thank Almighty Allah. It is tasking quite alright, because everybody believes it is a man's world, that it is a man's job. But to me I don't believe that. I don't believe there is anything a man can do that a woman cannot do."
"We are even better equipped for such a job because women multi-task a lot. We are born that way. We multi-task ourselves. We can do a lot of things."
"But I believe in killing my ram myself, than for somebody to kill it for me. I am a Lion and I fight for whatever I feel is right for me and that is what really happens. I make sure I get a breakthrough where everybody feels there is no breakthrough or road there. Most of the time, I make sure that this is me and I pray to Almighty God to give me the vision to let me see my way forward. And the moment I get the direction I move in.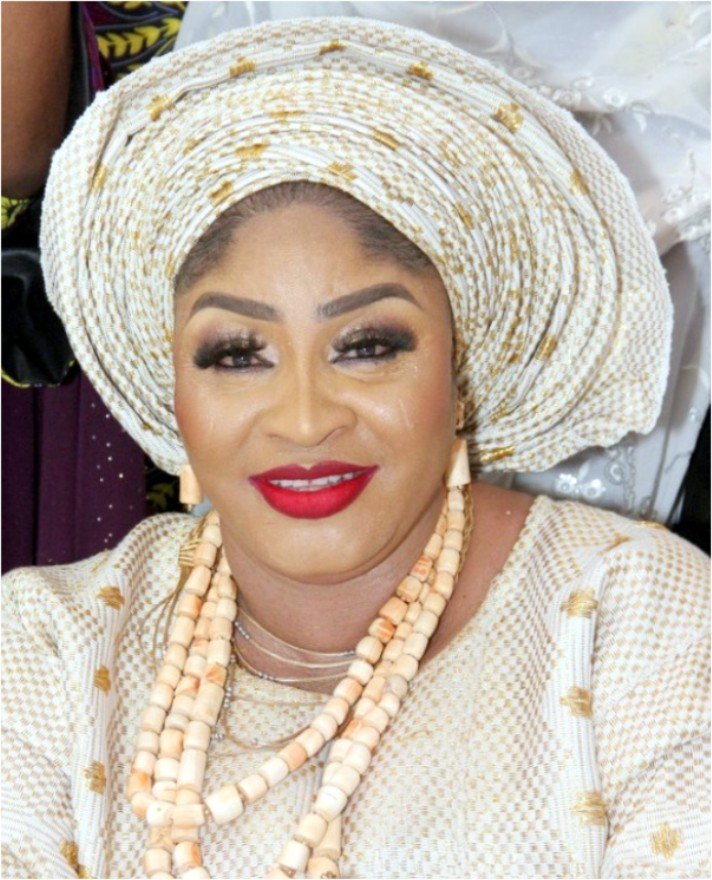 Send Us News, Gist, more... to citypeopleng@gmail.com | Twitter: @CitypeopleMagz