•It's Called AFIA Court Inside AEROMODOME GRA
Some weeks back, a prominent Ibadan chief and the Mogaji of Adanla family, Chief Jelili Adekunle Kareem, popularly called 'Adanla', shut down Ibadan with the official launching of a new phase of his estate "Afia Homes and Properties".
The project, which was declared opened amidst pomp and pageantry, is called 'Afia Court', inside the exquisite Aerodrome G.R.A, Ibadan. Top Fuji act, King Saheed Osupa, who is the brand ambassador of the company lights up the occasion.
As very top important personalities graced the occasion to celebrate the latest achievement of Afia Homes. Adanla has many reasons to celebrate; within eight months in the property business, his company has proved its worth.
Afia Homes and Properties now has eight estates, in choice and serene environment, across Lagos and Oyo states. That is highly commendable! It was as a result of these landmark and glaring achievements that City People's Correspondent, DARE ADENIRAN looked out for the man behind Afia Homes.
In this interview, Chairman/CEO Afia Homes and Properties, Engr. Jelili Adanla didn't mince words, as he explains the magic, strategies that have been working for him. The flexibility in subscription to his estates and his private life. Another unique selling point for Afia Homes is the fact that all their estates service, fully furnished and affordable. Read the excerpts of Adanla's dept knowledge of building and construction and how he has been to build an enviable academic profile over the years.
You recently launched another phase of your Afia Estate, tell us about it?
The most recent of our products is Afia Court which is situated at Aerodrome G.R.A, Samonda, Ibadan. I must also add that Aerodrome is today the hottest G.R.A in the South Western part of Nigeria.
We have few apartments there. We have fully furnished two bedroom service apartment that we are selling for 25 million and one bedroom for 20 million. These are fast-selling apartments due to its exclusivity. I don't joke with quality if you know my antecedents.
We are also embarking on phase 2 of the project, Afia Court Inside Aerodrome G.R.A here. It going to be 3-level service apartments; 2 bedroom semi-detached duplex, which will go for 30 million naira off plan, 3 bedrooms for 35 million naira off-plan and 4 bedroom semi-detached duplex for 40 million naira off-plan. It has been hugely subscribed to as well. We have a very good number of off-takers.
You a top player in the Oil & Gas industry, why did you go into property business?
I have always been in construction. In fact, environmental beautification has always been my life. Even when I left Nigeria for Great Britain, I did Building Survey at the University of Greenwich, London. I also studied Building Engineering at Sheffield Hallam University and has another degree in Construction Project Management at the University of West London. So throughout my over twenty years in Britain, it was always about building or projects. You can see that construction is what I have been doing all along. But some eight months ago, we diversified into real estate development.
What informed the diversification?
I have always been eyeing being a developer. But you don't want to start things until you have the required knowledge. The wise ones described competency as a combination of skill and ability. You must have acquired the skill in the university or any other school of thought but if you don't have the ability, it means you are not competent. So, we waited this long for us to be equipped with the necessary knowledge to make us a big player. That is why we have been getting a positive response within eight months of our existence.
Within eight months, Afia Homes and Properties is proud of owning 8 estates across Oyo and Lagos states. I am talking of estates worth of over 5 billion naira. That shows that we are not doing badly at all, for a brand that came on board eight months ago. That is how far we have gone with property aspect of the business. But Afia Construction has been in existence for more than fifteen years.
How would you describe the experience so far, in terms of patronage and all?
It is been encouraging I must confess. Though challenges are bound to come but we have been able to face some of these challenges and definitely we are on top of our game. Mind you, that doesn't mean we are going to relax. I mean the success recorded so far is just an inspiration for us to do more. No, we are here to profer solution to some of the problems facing the sector. We would not relent until we give that excellent services that people deserve.
The fact that we are doing what we know how to do best has also been a plus for us. My life has always revolving around building and construction. Even my father, my great grandfather, that is what we have always been doing. Its runs in the family.
There was this joke I normal crack with my father whenever he says "when we were in St. Andrews." I always remind him of the fact that he was never in St. Andrew for educational purposes but construction. I will say, dad, you should say when we were constructing St. Andrews. What that means is that we in familiar terrain, and people who have seen our work or subscribed to our estates can testify to that. Eight months, eight estates at choice locations in both Oyo and Lagos states.
The property sector is highly competitive, what distinct Afia Homes from others?
To be very honest, and I like said earlier, it took us many years of planning before coming into the business. We have two phases in any project; the pre-construction, construction and post-construction. The pre-construction is when the idea was conceived, the designing and all. Of course, that has always been the most problematic phase. As soon as that aspect is being taken care of, then taking off is not always difficult. So, when we were at the pre-phase of Afia Homes, we studied the market and the big players. Who are they, and what they offer and all? Like what they called SWOT analysis in marketing (Strengths, Weaknesses Opportunities and Threats). We did that and realized that yes, there are big players but we too can have a share of the market as well.
It is a very huge market. So out uniqueness is what has been helping us. Part of which is that, rather than going into the bush (I am not condemning anybody) I will look at the already developed neighbourhood, like the one we just built in Aerodrome G.R.A, Ibadan here. Buy some land there and develop it into smaller apartments for people who love to live in a clean, serene and highbrow areas but couldn't afford it. Not everybody can afford 100 or 120 million naira to buy a plot of land and spend another 60, 70 million naira, depending on their taste, to build something.
So we did our SWOT analysis on the market and the big players involved and realised we can actually play on their lapses. Afia Homes will not tell you oh! To keen into this scheme you must pay a certain amount. Like the ongoing promo on our Afia Estate Phase 2, if you are paying within a month, which is going to lapse 18th February, you will pay 500 thousand naira. You can deposit as low as 1000 naira but the most important thing is for you to pay up before the expiration of offer. If you want to pay 600 thousand, that is 6 months. If it is a year, you can pay whatever you have now and pay up within the stipulated time. I don't think any other person is doing that.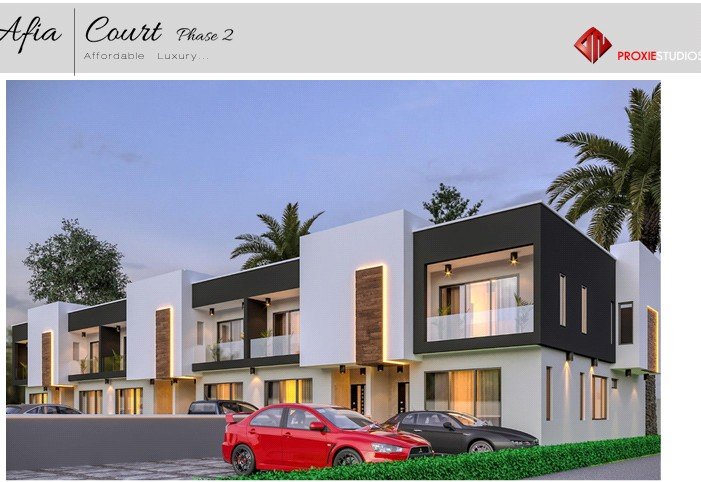 Secondly, my antecedents as an engineer who is been practicing for over fifteen years and the fact that I am the son of the soil speak for me. Because apart from developing properties for commercial purposes, I also build for individuals. I also thank God for the kind of family we come from, it has been making life easier for me. That is why within eight months, we are favourably competing with the big guns in the sector.
Tell us more about your family background and how it has helped your career?
You know many call me Adanla, some don't even know my real name. Adanla is our compound name. My name is AbdulJelili Adekunle Kareem. You also know that Ibadan is like one big family. Maybe that is why I feel more comfortable doing business in Ibadan though we have branch in Lagos. If you don't know my father, you will definitely know my mother. So people tend to trust you and want to do business with you. Like what Yoruba normally say, "Abere e lokun nidi) his antecedent is traceable.
Back to the question, I am an Ibadan proper. Both of my parents are from Ibadan. Our compound is at Oke-Are, my great grandfather is Banjoko. He was one of those running Ibadan back then. He was popularly called Adanla (Banjoko a daso nla bora e bi agba). The alias was what stuck till today, it has even overridden the real name. My mom is from the prominent Fijabi family while my dad comes from Banjoko Adanla. My father was working with one of the greatest contractors of that time, Messr Banjoko of the famous Banjoko & Co. Banjoko and Oni & Son were the very first set of indigenous contractors from the South Western party of Nigeria, during the Awolowo regime. My dad happened to be Banjoko's closest aide, he is a very trustworthy man. To the extent that Banjoko was later to give my dad her daughter to marry. That was how close they were.
Tell us about your other projects?
Yes, in Ibadan here, we have 4 estates. We have Afia Court Aerodrome G.R.A, Afia Court, Omolayo Estate, Akobo, where we are selling fully furnished two bedrooms for 15 million naira. We also have Afia Estate Phase 1 at Iyana-Ofa, which come with a fully furnished semi-detached bungalow for 5.5 million naira. There is also Afia Estate Phase 2 at Iyana-Ofa as well. Where we are selling a plot of land for 1 million naira. There is an ongoing promo to end on 18th February 2020, which brings the price down to 500 thousand naira. In Lagos, we have Afia Court, Royal Palmwill Estate, REMLEK, Badore, Ajah, where we are selling fully furnished 3bedroom apartment for 30 million naira. Afia Court Greenville Estate, Badore, Ajah, which comprises of more than 40 apartments with 3 bedrooms, 2 bedrooms and 1bedroom. There is also Afia Estate Oriyanrin towards La Campaign Tropicana, after Lekki Free Trade Zone, very close to Dangote Refinery. We have lands there for 1.5 million naira; commercial plot for 2.5 million naira. We also have Afia Estate Eleko, which is next to Amen Estate Phase 2. We are selling a plot of land for 10 million naira and half plot for 5 million naira there.
You are many things rolled into one; an engineer, a businessman, socialite and a community leader. How did these phases of your life evolve?
To be honest with you, I don't even know how I found myself where I am today. A CEO, community leader, Olubadan in waiting and all that you have mentioned. But I know my brain can take many things. Flashing back to the former CBN Governor Charles Soludo now, I think he has 7 PhDs. So if someone could achieve that, I don't see why I can not.
I am not giving up, I am still aspiring. Very soon we'll be launching Adanla Farms. The brain can take more. The problem with Nigerians is, we don't use it. Our brain is like a laptop or DVD player. What do you do with a DVD player? Play, forward, rewind and eject. While many people use a laptop for only browsing and typing whereas, a laptop can serve as a calculator, diary, alarm, t.v etc.
We engineers pride ourselves to be the best, we are the problem solvers. We believe without us no other profession can exist.
So the sky is not even the limit for us.
What would say was it in your background that shaped your life to be the man you are today?
Honestly, how I got here I still can't say. But I know that right from my childhood, I don't take no for an answer. And I don't see why I cannot do it if Mr. A could do it.
Mind you, I have some great mentors who I have studied their lives over the years. The number one on the list is the former Governor of Oyo State, Senator Rashidi Ladoja. He started up the same way and he is at the top today. Also, the current Deputy Governor in the state, Engr. AbdulRauf Olaniyan. Like I use to tell my friends that all the engineers I know are all billionaires except Engr. Adanla. Governor Seyi Makinde too has always been an inspiration to me. A guy that hawked bread for thirteen years, became a billionaire and now a governor at his age.
Who is Jelili Adanla?
I was born on Taiwo Street, Polytechnic Road, Sango, Ibadan some decades ago. I compo my primary school education at Army Children School, Mokola, Ibadan. From there to Ijokodo High School, Ibadan. I left Nigeria for Great Britain after that. I did my first degree at the University of Greenwich, where I studied Building Survey. Then to Sheffield Hallam University, where I studied Building Engineering. I did another one in Construction Project Management at the University of West London. I am aiming to do the last one which is going to be Construction Law and Dispute Resolution.
You are a well-established engineer in the U.K, why did you relocate?
I was there for 22 years. I got to the pick of my career, I can't go further. In construction, I don't think there was anything I could have achieved there again. Senator Ladoja was also instrumental to my relocation back to Nigeria. I came back fully 3 years ago and its been a fantastic experience.
There must be something special about you that you came back 3 years ago and became Mogaji of your house?
I was made the Mogaji before I relocated. I don't know why I was chosen. They just called me that I was nominated as the Mogaji of our compound. I was so surprised that I started asking, what of uncle this and that? I think it has been destined. There is no special trait I have possessed that others don't have. Even people that are well-read than myself and more famous were there when I was chosen. Though I have shuttle between U.K and Nigeria but It was after a year they made me Mogaji that I returned back home fully.
Send Us News, Gist, more... to citypeopleng@gmail.com | Twitter: @CitypeopleMagz