Technovation has always been and will be the talk of the town, disrupting the way we think, operate or do business, showcasing new ways of doing things. It has played the role of a controller of everything around us. From the biggest companies around the globe to the change makers, entrepreneurship or innovation, nothing is same as before. This is the thinking of a techpreneur known as Folarin Amosu.
Folarin Amosu is one of Nigeria's tech innovators and digital activists that are shaking up some of the world's stodgiest industries like Transportation. He is the brain behind the much anticipated inter-state taxi hailing service; the first of its kind in Nigeria.
With the pilot launch set to hold in Ibadan, NationRide has already collated 1,250 drivers who are set with the App on their mobile devices to give passenger memorable trip experience with mouth-watering offers that no one can refuse.
He spoke to City People Magazine recently on the need for NationRide at this time of our digital-clime.
May we meet you?
My name is Folarin Amosu, the CEO of NationRide Cab Technology limited. NationRide is the latest riding service in Nigeria, the first intra and inter-city taxi dispatch system, what I mean is, the ones we have in Nigeria only operate in a few cities.
They don't do online app inter-city but with NationRide you can book a cab from Lagos to Abuja which will be scheduled for next day, any trip from 3 hours will be scheduled for next day because of the safety of the customer, you can go from Ibadan to Lagos with about 9,000 Naira with an AC car and vice-versa anywhere else, the driver can travel anywhere such as Kaduna, Abuja making money, as well as customers getting fantastic customer experience.
We are all over Nigeria, we are launching in Ibadan on 18th, December. We have gotten about 1,250 drivers already in Ibadan so we are going to be in Ibadan for a while at Cocoa House, 9th floor, Stargate Workstation, Dugbe, Ibadan Central District where we situate our office. In Lagos, we are at No 5 Isaac John, Ikeja GRA
What inspired the idea to create an inter-State Taxi?
The idea of the whole concept came like a full-blown Nigerian person doing full Nigerian business the way the International have come in here to do it, they don't know the terrain like I would so they have come as a solution to the problem here. I also knew there was still more problem for some other people, I went the extra mile to give an extra value which is they don't have the inter-city app, you find a lot of people that need these services. Take, for example, the women that will buy Aso-Ebi of 50,000 naira and don't have a car that will take them to Ijebu-Ode for the party, they end up at Ojota bus-stop paying one thousand naira each for a vehicle that's not convenient for them and when they get to the destination, its also an inconvenience to come back. That's the solution.
If they can pay one thousand five hundred naira each they will go to Ijebu-Ode with a car that's air conditioned and, go in a style that's the solution. Take the Igbo man that just came back from China and have to take the luxurious bus with risk going to Apapa to clear his container, then taking the luxurious bus, at risk with his money at night, if he can afford fifty thousand naira from Lagos to Onitsha or if they are about four of them can actually book it for fifteen thousand naira each and go very early in the morning and get to their destination by evening.
Do you charge by trip or person?
No, it is a taxi dispatch system so it's already configured in mileage. So it goes as mileage goes, it's particularly configured per km, depending on the distance of the destination. However, the customer would have seen or had an idea of how much it will cost before agreeing to take the ride so there is no way you can be cheated.
As of today the ride-hailing drivers of other platforms only do offline for people and it actually cheating because you can get a cab from Ibadan to Lagos for #20,000 to #25,000, while on the NationRide, it will cost you only #9,000.
So, it's not a matter of maybe two or three people are in the car and each of them pays a particular amount so long they are coming as a team
In some places of the world, India and few places, have what we called pool service where the application is smart enough to pick up four different people at a lower cost that will be nice here but there is a high risk, the security implication of the pool, we are not going to do that. I don't think Nigeria is ready for that, so if you are going to do a combined payment, you must know each other. It will be between you guys. Now the customer and driver's application has an SOS button, which we are trying to plug in all numbers of police or emergency numbers. So if they hit the button, we get the GPRS, we can tell where the location of the car is. We get to know, the police get to know. We can now tell the police of the geographical area. So it protects the driver and protects the customer.
What's your way in selecting your drivers? Do they go through some training or some selection process?
Yes, that's very key to protect us and the customer, I always said to the people who have asked me questions, the level of security on its own is never told, or you won't be secured. So, if I tell you certain things we've used to guide against this then our opponents can dislodge them. However, I will still answer you.
Yes, there will be verification and vetting. We have memorandum of understanding (MoU) with Car45, we are going to be everywhere but we are not God, to see everything at the same time. So we need to outsource certain things. Car45 has certain branches around the nation. All you need to do is go to Car45, get your verification and then send it to us within 30 minutes then once we are good with that we upload as for the driver, the BVN, and certain things will also be taken, we have an HR Company that we are engaged with. They are also having certain partners outside their jurisdiction. We can start outsourcing to different people. We are outsourcing them to do training for the drivers especially in the East and the South.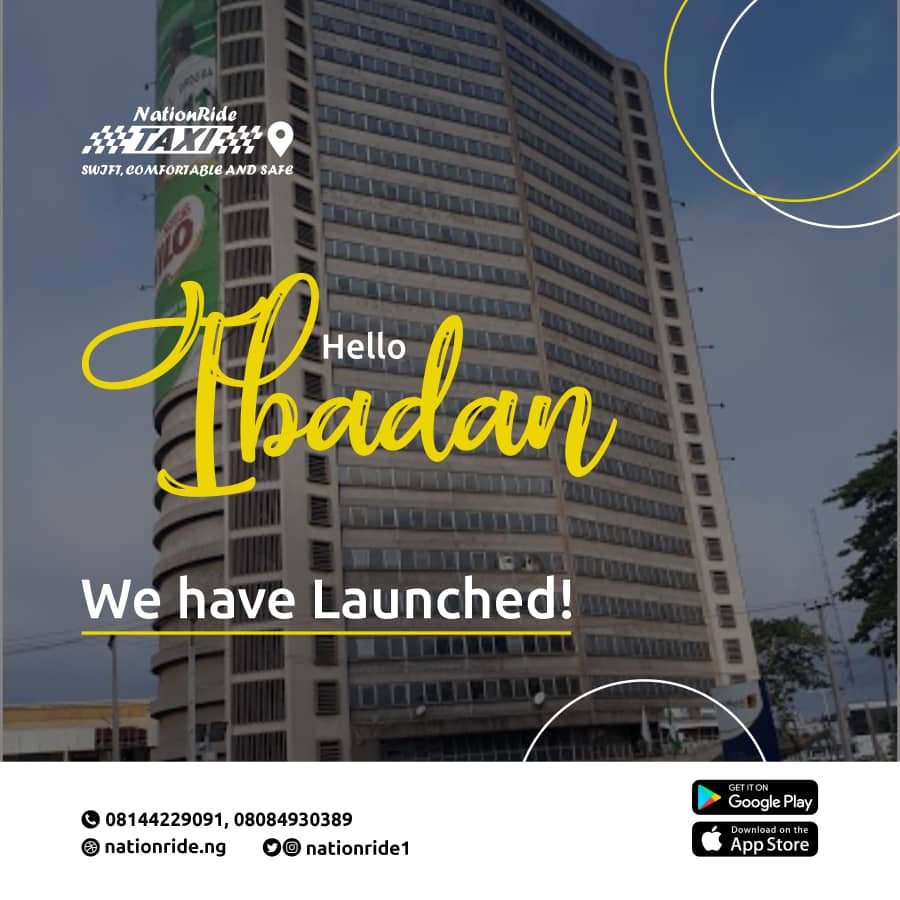 How is the acceptability of NationRide because we are talking about inter-state now that you will be working with many states?
Yes, we will be working with many states. The country is extremely small because the world is small. it's an App. the same way you can talk to someone in America with your WhatsApp, that's the same way we can handle the whole Nigeria as a geographical area. However, we'll block certain places because the system is smart because of terrorism and insurgency so you can't actually see a car that will take you to Borno state for now.
Back to your question again in term of government regulations, in term of Gokada and Opay which was a brilliant idea, it was too early to shut them down, because the government had no other alternative. Now, you can ban Okada because some of them are not trained. Though it's a two Wheeler, so you can ban it from your road, but the road itself was constructed or initiated because it needs the four-wheelers, so you cannot ban the four-wheelers you can only regulate us; tell us what to do, how to do it and we will follow every regulation wherever we are and we also planned to do comprehensive CSR in every state when we start making money that is corporate social responsibility.
What's your? Did you study any course relating to transportation or logistics?
It's funny that God knows all, before you eventually understand things. God knows better than man. I started my higher institution at Ilaro Polytechnic, Marketing. I didn't finish my OND there because I got admission into Ogun State University for Geography and Regional Planning, which I fought my father for, that I wanted Banking. My dream was to do banking, and I didn't get banking. I got geography and regional planning eventually, I did pass out and my project was on modern transportation planning which now, I'm using. I didn't do banking in school but ironically before my NYSC, I joined the bank because I had an uncle who was the MD. So I was working in the banking sector for a lot of years. Eventually, what I did not study but wanted, I got it.
I have about 24 years of experience in and out of the country with different firms. I have gone through banking. Reliance bank, which is part of Skye Bank, Polaris bank, I was AGM Client's coverage Unicapital plc Ikoyi.
I've worked in various places. I worked with Peace Ville Oil and Gas. We managed security vessels for Shell at that time. So I am vast in knowledge; so logistics, banking, finance. Those are interwoven with what I am doing because it's high revenue income based business once it clicks. So you would have to have knowledge of finance not to be cheated, at and the same time you should have the knowledge of geography planning in transportation management which both of them I do now have so is easier for me.
Now, what challenges have you faced in the business?
For me, people thought I was nuts when I decided to go into this business, and I don't why we have a myopic mind today, if a giant does a business, we shouldn't venture into it. Coca-Cola is worldwide. Anybody would be crazy to start up a plan like coca-cola, but Big cola started and has given coca-cola an healthy competition and it's indigenous.
Now hear this, from my research, there are about 30,000 drivers in Lagos sharing both the app of Uber and Taxify. It's about 3 billion naira market they are sharing.
How do I get these drivers off these apps, because the success of this business is the alignment of drivers and customers? Once you don't get that are dead on arrival. There have been other 20 companies that have come and didn't even get to the market so I thought what do I do? So I do what's impossible or anybody will think would be impossible, I created benefits that the drivers can never refuse. So we got the Life insurance policy of 10 million naira, if any driver dies during the service, it will be given to any of his beneficiaries; whether his wife; I mean these drives are working hard to feed their family and get a better life for their family. Eventually, if he dies on any of the two platforms that are existing right now, that is the end. But with NationRide, if they die, they get 10 million naira given to the family. They are under a pension scheme, and because from the informal sector, they can pull out money every 2 years.
Secondly, one child get an education grant where we pay every month and all these services they get SMS to see that we have credited their account. Now, I didn't want to do HMO for the drivers alone because, perhaps, his child or his wife is sick and they call him, and he cannot concentrate. So I decided that we do an HMO family plan, which also cover delivery to the tune of 150, 000 naira. What more can you ask for? They get a Total debit card where we put 5,000 naira monthly in as fuel subsidy and 1,000 naira TGIF (Thank God It's Friday) meal every Friday just to make them happy, then 500 naira recharge airtime for the data from us every week and a few lots more to go with it.
It's enough to get them off other applications. Once they are off first of all we tell them the condition is, you must drive a minimum of 12 hours, but we are bringing it down to about 10 hours per day for three months. Once you do that, then we see your commitment then you are good to go. And why we do this is because they keep sharing Apps, we are not going to invest a lot of money of about 50 million naira for every 1,000 drivers. The family HMO is 60,000 per year so I just pay per month, the 1000, for meal per week become 4,000 naira per month so it come about 47,000 or 48,000 naira per person.
I'm not going to pay you money then you go off my App. I need to see the commitment for the first three months. Once you do that we will engage the HRM and the few others we have spoken to and you get your letter then is going to be difficult for you off my App. So definitely NationRide is here to stay. Why? Because it's a life policy and a life product because I'm paying every month and you are seeing that these companies are giving you receipts once you are off we stop paying, so you are the one that loses the benefits. So if you're never going off, then NationRide is here to stay.
How does the App work?
Is just like the others, we are on Google play store, we will be on Apple, we are yet to be fully on Apple but already in google play store. All you need to do is download NationRide Taxi App. Then it shows the two categories, it shows you the driver or customer. So, if you a potential driver you register if you are a customer you do the same as well.
The first person to download or the tenth gets the phone as a customer in Ibadan gets a phone. Then every 100th persons that download afterward gets a phone, then the 1000th person get the iPhone 7+ but it comes with a condition. It's not just download, but you have to credit your App with a 1000 naira then a virtual 1000 go into your wallet. So, on your App, you see 1000. Now the customer can't pull the 1000 naira back as cash, the customer must use it because the driver is not going to switch off his bolt App and turn on the NationRide App, and not see customers. We will give out the phone, and you will have to credit the app with 1000 naira. So, I see a bright future with NationRide.
What are the packages you have for customers that will make them go for your App?
The USP goes across both borders, the customers they will get the same quality drivers and cars get elsewhere. They will get discounts from time to time, promos from time to time, we will engage continuously, the USP generally for me is two major work, one that is for the drivers and the one for the customers is the solution that I can go anywhere at any time comfortably. You can get a cab from Magodo to Redeem Camp on NationRide. A lot of people that go to Redeem camp, no matter how rich they are if their drivers are not around to drivers them they will be forced to gather money in the church to get a big bus or to be in Danfo. Now somebody that lives in Magodo and husband is in abroad, doesn't have a driver and wants to go to church, she's going to have to Ketu to enter the bus. As of today once we start she can go with an AC car that's used to and she will pay, once she pays and people like her pay, I'm in business.
What is your foresight about the NationRide?
We already have a roadmap, but once will stabilize and consolidate in Nigeria, then we are looking at certain places like the Gambia, Rwanda, and a few other places. I love competition, healthy competition is a fantastic way to succeed, buy lots of people don't know. In an average city in Lagos as of today, there is a minimum of five Churches that are always full. Everyone lives in the neighborhood, some don't live in a neighborhood and are ready to spend 1,000 naira fuel to get to their church.
Now we get a lot of banks in one street and all the ATM have long queues. So, people that will do business with you will do business with you. The most important thing is to be in the market and it's a good thing because when you bring out innovation, you are telling the other businesses is to wake up. Now, who enjoys that? It's the customer because other businesses are like this is the best we can give you, but when there are other businesses giving better services, then they'll have no choice but to give you something better than them. And that's the way development start.
How do you intend to penetrate the market?
The solution to that is just to keep onboarding drivers. Now you can't dictate per se. Let's assume I want a thousand drivers in Maryland, you might see two thousand drivers that want to come on board and it's wherever they live, they live. So you can narrow down you just have 50 drivers, you can't stop that. But just keep onboarding drivers. We have a dashboard that we are going to give hotels around and if you are in a hotel and you need a car, even if that you have not downloaded the App, the hotel has the web App that they can actually get the nearest cab to their destination the same way with various companies whereby some SMEs have to get the option of receipt. The head office can request a cab on their behalf. The staff won't have to pay. We know how we will work our reconciliation and send it to the company.
How do you intend to track down your drivers if there is no network in some areas?
We thought of that before we built the App, Our App was actually built in India and we get like a revenue Share deal with India to take 10 dollars per driver per month that nothing goes wrong, but answering your question, yes there is nothing you can do with that. For some people, they lose the whole track. If you do pass where a base station of any network is not, but don't worry, once you are at the destination, or where there is a network, the App will come with the original price before taking the trip.
Send Us News, Gist, more... to citypeopleng@gmail.com | Twitter: @CitypeopleMagz