The exquisite and gorgeous video vixen, founder of SETWERK and fast-rising actress, Efe Irele is Nigerian model, and TV personality born on September 4. She has graced the Nigerian entertainment scene at the tender age of 15 when she began modeling, a feat that boosted her confidence in front of the camera.
The ravishing model and actress have definitely brought elegance and fierceness to the Nigerian entertainment industry.
She starred in Iroko TV series "Single Ladies" and Emem Isong's advocacy movie "Zahra" where she played the role of Sofia, a Hausa lady who was traumatized in the IDP camp and eventually died while in labour due to lack of medical attention.
She is also the popular face in Adekunle Gold's video for his hit single "Sade" and also starred in Burna Boy's "Like To Party" video.
Efe recently bagged two major awards from the just concluded 2018 City People Movie Awards and the social media is making noise about it.
Speaking with City People Media Team, Efe talks about how she rose through the ranks in the movie industry and what to expect from her stable after bagging the Best New Actress of the Year and Best Upcoming Actress of the Year Awards in one night. Enjoy excerpts…
Let's first congratulate you on your awards at the 2018 City People Movie Awards. How do you feel, winning two awards in one night?
Before I even saw the nomination list I was just checking through my timeline and I saw Rotimi Salami putting up the story and I said I hope one day, someone will nominate me for something and I just decided that okay, let me just go and check the list and I saw my name and I said wow'..it was a big deal for me and I put a story on my Insta-story immediately.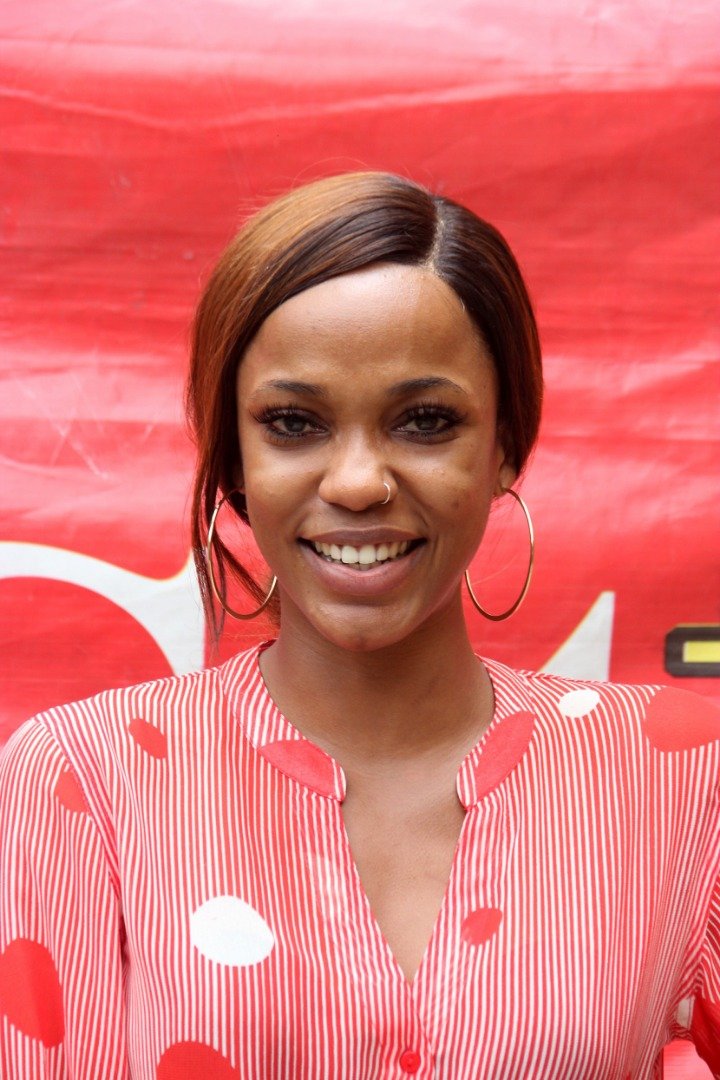 I was just playing that one day I will be nominated and imagine being nominated for four major categories. I was surprised. I was excited. For me it was like, finally, people are actually seeing the work that I'm doing and then it being City People, and I'm like wow… it's different if it was in the movie industry..like someone just chose to do something, but for City People to actually see me, I was out of my mind. I was so excited to see it.
Can you take us through how acting really began for you?
Over the years while I was in the university (I went to Bowen University), even before then, while I was in Secondary school at Queens College, I used to do TV commercials. I was also doing appearances on music videos. So there was this particular video that I did, Sade, with Adekunle Gold. It had a lot of acting it. So, my then manager got a lot of calls from people advising that I go into acting. I'm like.. I can't act, I will be very shy. I'm a shy person naturally but he kept pushing and even my mum encouraged me that I should give it a try.
As of then, I just moved back from the UK because I did my Masters at the University of Chester, I studied Management with Human Resource Management. So when I moved back, I started going for auditions, and I was working at the same time. I worked at a procurement company as HR manager. So I was doing that back and forth until I met Mary Remmy Njoku, the CEO of ROK Studios. I went for a script reading at her studios. There were other people there.
If I was her, I won't give me a chance (laughs), because I really didn't do well. But I guess she saw something that even me I did not see, and she called me back. The production manager called and said go to so-so place..and it was Desmond Elliot production, and he was producing for rock. It just happened to be one of the 5 lead roles and I'm like..how? I did that and it was difficult because I was paired with Ireti Osayemi, Moyo Lawal, Annie Idibia, Belinda Effa, I was the fifth person, and we were supposed to be friends. I just tried my best to look at what people were doing, because I knew nothing.
I have never been in front of a camera. I didn't know anything like continuity. I was just clueless. So many times I will go outside and will just cry, and I will go back because I was clueless, people will shout at me and tell me or sorts. But somehow, people saw what I could do and they believed in me and the kept giving me chances. I kept going for more auditions, I get more calls for work, and those being a period of 3 years. It's been amazing.
What were the challenges you faced in the beginning?
Obviously, one of the challenges then was the auditions. You know when you go for auditions, some people already know people there. so they will come after you and they go in while you are still there waiting to be called. You will just go in and you won't say anything before they will say they will get back to you. They wouldn't even give you that opportunity to actually show what you have, and even when I started. One of the challenges was, I have done films, but they haven't come out. So whenever I do, they ask what have you been in, then I will mention them, and they say they have never heard of them.
When are these movies going to come out? So those, where the challenges, so when the movie started coming out, I could refer and send the link.
And also with my parents, my mom was really supportive from the start, but my dad wasn't having it. They even called a family meeting for me, I had to go and meet one of my uncles in Ibadan one time. But I knew I was doing the work. But there was nothing to show because the movies weren't coming out on time. I also had challenges on set from senior colleagues that look down on upcoming artists, and talk to you anyhow, but I know what I was there for, I just want to get myself in there, so just kept doing my thing. And these same people who looked down on me are now my friends. So it's like there's so much room you can actually see. And for producers, it was hard for them giving out roles because they want to see what you have done except someone had to refer you.
Do you have any movies you have produced?
Yea, I started producing my own films since last November. Currently, I have sold a few of them to Iroko, so they are showing online. Another reason why I started producing is to allow me to decide when my film will be out. I have done several films in the last three years and they are still not out. So, I said let me go into producing so I can have control over my movies, people will call me for jobs. I have produced, Stronger together, One Kind of War, there's Diva, There's Finding Happiness, that I did last December, It just came out. It has Ray Emodi, Bimbo Ademoye and a lot of A-list actors.
Which of the movies shot you into the limelight?
The movie that I will say really gave me that break was the Roadside Chicks. Why I said that was a lot of people after watching the movie, they keep giving several feedbacks. I had done a movie with Emem Isong, titled Zara, where I played the Hausa IDP camp teenager. It was the production manager of that set, Oyinye. The roadside chick was her own production and she called me up, and she said I want you to play the lead in this film after seeing what you've done. It wasn't even related to what I did, because, in Zahra, I had to use Hausa accent, but this was the proper be-yourself type of thing. She sent me the script, I read and I liked it and basically, that was the movie that put me in people's faces.
What is your unique selling point?
I don't really know… but I will say, I know a lot of people will recognize me even without seeing my face; they recognize me with my voice. There was a day I was talking in the supermarket and someone called me, I turned back and they said, ehehen, I know she's the one..they said they could recognize I was the one without seeing my face. So I think my voice is one of the unique selling points for me.
Have you tried the music industry?
No (laughs)… I cannot sing to save my life. I'm the worse; I don't think music is my thing. Well I never know because I once said movie want my thing. But I just know my voice is just a talking voice. It's not the singing one. I tried to sing in my house, but it sounds funny (laughs).
Have you tried movies with local language?
I can! I have been disturbing my colleagues that do Yoruba movies like Niyi Johnson and Rotimi that they should call me for Yoruba film. I know my Yoruba is not perfect, but I really do want to try to be in a Yoruba film.
Aside movies, what else do you do?
Initially, I had an event management company, so I used to manage events. But now its kind of hard to do other things aside from what you do in the movie industry because there is no time. Because I'm literarily on set every week. My life is just film, there's really nothing I can delve into for now.
So there are movies you've done that are not yet out now?
A whole lot, like this month of September alone, I have been to 4 different productions. Like the day of the award, I just landed from Zaria, because I was filming in Zaria. There's a whole lot to come.
What is the situation of thing in the movie industry at the moment? Is it lucrative?
As long as you cut your coat according to your cloth, of what your income, you will be very comfortable, that's the honest truth. For upcoming actors, it is not, because they usually pay you close to nothing, but when you are established, when people know your name, and you can do like three movies in a month, you will be earning more than those who work 9 to 5. But I think a lot of people want to live that fake life and be what they are not. If you can cut your coat according to your cloth, you will be comfortable.
As a producer, it is a lot of work, a lot of consistency. But all in all, it is. The movie industry is a sector that is really booming now. If it's not lucrative, AY will not leave comedy and start doing a movie.
Can you tell us about your marriage?
Wow… I'm not married (laughs) erm… It's a bit of two things. I do have a very serious relationship about 5 years now. I do have a promise ring that I wear, but I'm not married.
Do you have any embarrassing moment on set?
I'm a type of person that doesn't let things embarrass me. I always end up laughing before anybody else so I don't feel embarrassed.
This would be embarrassing moments for other people but I think me I'm just a different type of specie of human being: I was at a movie premiere once and I was actually talking to people and just felt this breeze from behind and I'm like where is that coming from? And suddenly someone called my attention to my dress and said hey, your zip is ripped. So I said, wow and used the dress to cover it up, because the dress is long and just laughed it off, and said 'ermm..okay, I'll have to go now'.
The second was when I had a really bad skin condition, because of set makeup and stuff, I was embarrassed and I couldn't laugh it off, because I was really embarrassed because my skin started peeling. So, imagine having a full face of makeup and it's peeling off, and I was on the red carpet taking pictures and I was just hoping those pictures won't come out, I haven't seen any of those pictures and I'm happy about it. Literally, you could see there were patches on my face because my skin was coming off and I have no idea, and I was still on the red carpet smiling. It was later my friend came and called my attention to my face. I looked at my phone and was like Oh My God, this is actually bad, so I had to leave.
Have you had any rift with a senior colleague in the industry?
Like I said earlier that most of the actors look down on upcoming generally, but a lot of people have actually been quite nice to me. I think I have this 'pity me' face, that makes people just let me be.
But recently, I was on a set and there was a senior colleague there. a guy. And there was this authoritativeness that I have seen from the start of the shoot, so I said I'm just going to do what I was here for. He was kind of directing me on what to do and I'm that kind of person that a lot of instructions can make me lose it. So I was keeping my calm and getting by with the director.
At this point I was supposed to do something, I was supposed to move forward the front of the camera and put my hand out; and the director called out 'action'., and I'm taking my breath before I do, because I like a take a minute and get into what I'm supposed to do.
And then he literally shelved me forward. He pushed me, I'm like 'do not push me'… 'You do not touch me'. And he was just shocked because he didn't expect it. He flared up but I didn't care. I maintained my ground, and we had a bit of an altercation and after like an hour everybody calmed down and we continued and didn't say a word to him, we just did what we were supposed to do and everybody went their separate ways.
Can you count the numbers of movies you have featured in the last 3 years?
Wow..in the last 3 years, I had to do a list some weeks ago..it's a bit over 40. So consistency is key.
Can you give us a brief of your background?
I am from Edo State, I am the second of 4 kids; I have an elder sister, a younger brother and a younger sister. My younger brother is Autistic (I'll get there..)..i grew up in Gbagada, basically over 20 years here. I went to Corona. I went to Grace High School for a year. And then I finally went to Queens College where I finally graduated and went to Bowen University in Osun State. I studied Sociology. After that, I did my NYSC in Ibadan. I was a teacher. I taught CRS. After my NYSC I went to the UK to study Management & Human Resource Management at the University of Chester. I was there for about 2 years before I moved back to Nigeria. So when I moved back, it was a bit hard to get a job initially, but after a while, I got a job at an HR company where I worked for 6 months. I was also into modeling. I quit my job because I feel that's not where I want to be.
I knew in my head that I couldn't make a living from doing just promotions, so when I was about to quit my job I started an event management company, so I used to run SETZY Multi dynamic. I did that for a while going for auditions. I used my cousin's wedding as an experiment and it was very successful. After that, I started doing company events, birthday parties and all. I actually went to proper event school after quit my job..and then acting came in. after a few years of learning, I decided to try producing and it was also a success.
Then I started my production company, it's called SETWERK.
Who are your role models in the industry?
Number one will be Mary Njoku. She is the CEO of ROK studios. She's an amazing actress who has really pushed so many actresses in the industry. Number two is Genevieve, I feel she is the most beautiful woman in the world and she had also been able to take Nollywood to the next level. Look at her film on Netflix.
Send Us News, Gist, more... to citypeopleng@gmail.com | Twitter: @CitypeopleMagz