The Group Managing Director of Africa's fastest expanding real estate company, Adron Homes & Property, Aare Adetola Emmanuelking has been conferred with Nigeria's most envied cultural induction, the Omoluwabi Hall of Fame on Sunday, December 1, 2019, at the Golden Gate Restaurant Ikoyi.
The award is the highest Yoruba cultural honour, which is only reserved for men and women of great repute, who have exhibited immeasurable gesture of humility and respect as established by the Yoruba history and pastime, despite their successes and influence in the social, economic and political space.
Also, Nigeria's young and beautiful Iyaloja General of the market women, Iyalode Folashade Tinubu-Ojo, daughter of the All Progressive Congress National leader, Asiwaju, Bola Ahmed Tinubu, was also in the list of recipients.
The award to Adron boss is in recognition of the immense contributions he has made to the economic development of Nigeria. Aare Adetola Emmanuelking famously started the real estate business in 2012, after he was relieved of his job, following an accident that left him inactive for about a year. He has moved on to build one of Africa's largest real estate and property company, Adron Homes and Property, which has extensive interests in making luxury homes affordable for the low and middle-income earners. The company currently employs a workforce of over 20,000 people spread across Nigeria.
In the bid to ensure perfect running of his housing plan, Adron Homes source his own power, his own security, his healthcare, his road, and his water.
Folashade Tinubu-Ojo is the first daughter and first child of Asiwaju Bola Ahmed Tinubu. She's also the current Iyaloja-General of Lagos and by extension Nigeria, meaning the market generalissimo in Nigeria, a massive position of influence.
Alhaja Abibat Mogaji, who had been the only previous occupier of the post, had reigned supreme as the Iyaloja for 33 years from 1980 till 2013 when she passed on. But she was said to have elected her granddaughter as her successor.
Ever since she assumed the exalted office, Folashade has transformed the conventional market into an enviable trade union that is so formidably knitted to influence, the economic, social and political space.
She has influenced several economic decisions within Lagos State and in Nigeria as a whole.
What shocks most people is the fact that despite the political influences at her disposal and her strongly webbed connects, she treats every market woman as important and never relegates anyone that comes her way. She is an epitome, of Omoluwabi in words and deeds.
According to the Award Governing Board under the chairmanship of Professor David Adeyemo, the OMOLUWABI HALL OF FAME is one distinguished award reserved for prominent sons and daughters of the Yoruba race who have through their life accomplishments, portrayed and extolled the virtues and values of true sons and daughters of the race.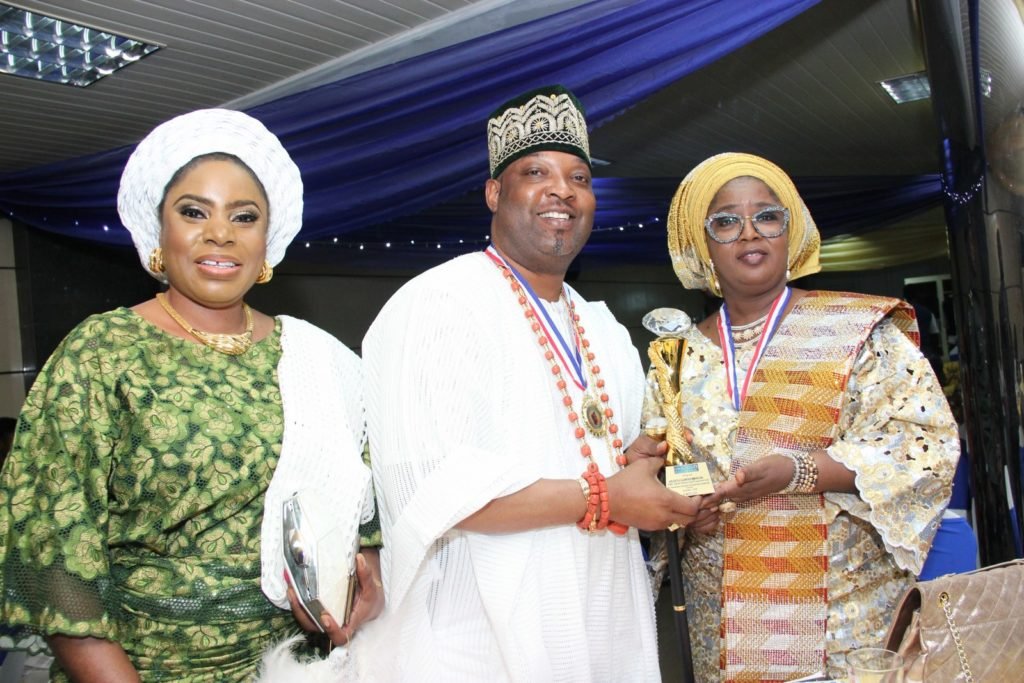 The prestigious HALL was founded as a platform to project the well-deserving recipients to further encourage and sensitize the young coming generations on preserving our rare values as a race through selfless service and conduct that are contributory to the preservation of the Yoruba ancestry as well as the development of the nation.
Speaking on the selection methodology, the Project Coordinator, Omoba Adekunle Ayegbe said it is imperative to establish that the Selection Panel for this prestigious Hall of Fame comprises of well-meaning professionals drawn from all walks of life who objectively considered without bias or favoritism, the public recommendations of Nominees, through a fair and transparent process.
The Omoluwabi foundation, at the event, presented a book entitled EPITOME OF OMOLUWABI, a collection of short biographies of exceptionally gifted Yoruba sons and daughters whose lives are explicitly offered a heroic exemplar for the younger generation"
The induction lecture with the theme OMOLUWABI ETHOS: A CODE FOR CHANGE AND TRANSFORMATION is strategically designed to add an intellectual spice and push the frontiers of conceptual solutions on contemporary national issues, and was delivered by a renown academic facilitator, Prof. Ogunwale Abiodun Joshua.
Other prominent personalities on the list include; Hon. Tolulope Akande-Sadipe, Chairman House of Representatives Committee on Diaspora, NAFDAC BOSS, Prof Mrs. Mojisola Adeyeye and the Chairman House of Representatives Committee on NDDC, among others.
The event was spiced up with glitz and glamour as Lagos State Theatre Group staged a wonderful performance, and veteran Nollywood actor and singer, Yemi Ayebo popularly called "Yemi My Lover" also rendered captivating performance from his evergreen movies.
Send Us News, Gist, more... to citypeopleng@gmail.com | Twitter: @CitypeopleMagz