Reports surfaced yesterday that infamous cross-dresser, Bobrisky was arrested by the police in Lagos State and might possibly be transferred to the Abuja Unit today. With the resons for his arrest being unknown to everyone, Online reports stated that it could be due to his recent profess that he is gay, while Some others argued that the arrest was in connection with a social media war he had with entrepreneur, Toyin Lawani.
New findings reveal the latter is not true, a call was put through to Toyin Lawani, and her personal assistant who  said; "please she has nothing to do with that. You people should stop linking her to it". Another close associate to Toyin Lawani confirms her claim saying, 'Toyin won't stoop so low'.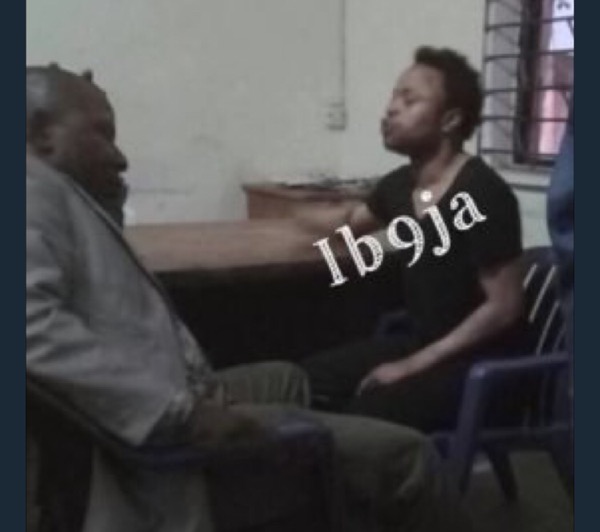 Lagos State Police Public Relations Officer (PRO), Famous Cole, was also reached by phone but he said "I'm not aware of such arrest at the moment. Maybe he was invited for questioning or he went voluntarily to make a complaint'.
From the photos circulating (Pictured Above), Bobrisky is without any footwear and he looks visibly distraught which clearly means he didn't go there voluntarily. He's also not reachable at the moment as his mobile phone is switched off.
If Bobrisky's arrest is connected to his social media post yesterday where he came out as 'GAY', then the cross-dresser is at risk of a criminal offence with a 14-year jail term in Lagos State.
Meanwhile, here are some comments from Nigerians on Social Media, after news of his arrest went viral.
Reactions
"After arresting it. They should just reserve him inside the museum so our children can learn there ones exist a bleached lizard in nigeria whoz stuipidity responds to stimulus of foolishness" –  Kenneth Nwadike
Osegbo Brenda wrote: "Haaaaaaaaaaa! Best news sooo far. Biko make una no keep am with guys ooio before he will fuck their butts out! Dysfunctional sheMale"
Mhizta Gozzy: "Arresting Bobrisky, now my question is this, is d shemale gonna b in d male or female cell because locking him/her in d male cell is like sending him to honeymoon…"
Namso Isong Udoh wrote: I think he made a mistake when he openly admitted to being gay yesterday. Sincerely these guys are bad influence to the younger ones. Some kids now think you can becomes a celebrity by being gay…. Which last I checked remains a criminal offence. No thanks to the media. In fact I don't know if it's Denrele's juju. That awkward moment when you have offended so many people and nobody is sure of the cause of ur wahala!
Meanwhile, where is BAE?
Jonathan Juliet Julacia: When I say 14 years, you say baddest!!!! When I say risky, u say baddest!!! He foolishly admitted to being gay. That is enough evidence. I don't wanna hear dt his snap chat was hacked. #serveshimright
Christopher Isabel: Jacob where is ur boss. aww sorry Jacob she's being arrested chai after all the mouth and squirting rest in the bossom of the cell.
Faith Onoja: So finally we authority don wake up,to all the people always complaining that yabaleft always post any small thing about bobrisky,can you people now understand that it has been a set up all the way? Yabaleft I dey hail ooo,finally finally,authority don read all una post about bobrisky
Phorlahshadeh Eve Demorlah: Lolzzz…pls am in abuja ooo…they should bring him to where I will see him..at least if I wasn't able to see him wen he was a celebrity ,I should be able to see him wen he has been deported from being a gay celeb. Biko nu, am waiting …
Send Us News, Gist, more... to citypeopleng@gmail.com | Twitter: @CitypeopleMagz