Tourism means people travelling for fun. It includes such activities as sightseeing and camping. Places that people go to for tourism are called tourist destinations.
It's beyond a moot point that Dubai is a tourist destination with a difference. This could be because of the technological ingenuity which has practically transformed an area that was a mere desert to a tourist abode of some sort.  
People who have been to Dubai love it, not because it possesses natural tourist attractions per se but because it has been able to bring to life what would rather have been just imaginations and this keeps tourists going back there. The most amazing thing even is they don't plan on stopping anytime soon as you would see new projects spring up every once in a while. This is why we have deemed it plausible to call it the world tourism capital ( Our 2 cents worth though). 
A building boom in the emirate has led to a whole host of chart breakers, in categories including highest apartment, biggest mall, and one of the world's most unique resorts.
Tourism is also being promoted at a staggering rate with the construction of Dubailand and other projects that include the making of mammoth shopping malls, theme parks, resorts, stadiums and other various tourist Attractions. Dubai is determined to be main contender worldwide in the world tourism industry. Dubai is already a top favourites tourist destination and continues with its outstanding never been done before projects.
The early part of the 21st century is quickly becoming known as the age of Dubai. Many of the world's most impressive, breathtaking, and startling architectural projects are being constructed in a city.
Some of the Dubai's engineering masterpiece are shown below as 8 Wonders of Dubai:-
Burj-Al-Arab
The Burj Al-Arab is named as "Tower of the Arabs" in Arabic. It is a luxury hotel in Dubai, in the largest city of the United Arab Emirates, which is marketed as "the world's first seven-star hotel".
In English "Burj Al Arab" means The Arabian Tower. Burj Al Arab was one of the most expensive buildings ever built. At night, it offers an unforgettable sight, surrounded by choreographed colour sculptures of water and fire. This all-suite hotel reflects the finest that the world has to offer.
SKI Dubai
Ski Dubai is the first indoor ski resort in the Middle East and offers an amazing snow setting to enjoy skiing, snowboarding and tobogganing or just playing in the snow. Young or old, there is something for everyone, from the beginner to the snow sports enthusiast.

Ski Dubai is a unique mountain-themed attraction that offers you the opportunity to enjoy real snow in Dubai all year round. Ski Dubai is the Emirates' latest extravaganza.
Dubailand
Dubailand is a part of Dubai Holding. Dubailand is an entertainment complex which is under development in Dubai. Dubailand is a tourism, real estate, hospitality, entertainment, leisure and retail mega project.

Development of Dubailand is divided into six theme worlds. The development is expected to be a full featured city. It is being managed by Dubai Government's Dubai Development and Investment Authority and is being built to secure Dubai as the premier tourist destination in the Middle East.
Hydropolis
Hydropolis is the world's first luxury underwater hotel. It is under construction. Joachim Hauser is the developer and designer of the hotel. He said that Hydropolis is not a project. It is a passion. It has already been compared to both a jellyfish and a sea turtle.

The land on which this project Hydropolis is being built belongs to His Highness General Sheikh Mohammed Bin Rashid Al Maktoum, Crown Prince of Dubai.
Burj Tower (Burj Khalifa)
Burj Tower is the largest skyscraper in the world which is currently under construction in Dubai. Burj Tower is the centrepiece of the Gulf regions most prestigious urban development, entitled Downtown Dubai.

Burj is an Arabic word which means 'Tower'. So, Burj Dubai means 'Dubai Tower' or 'Tower of Dubai'. Its exact height hasn't been disclosed but it is suggested that it will be over 700 meters tall. Its design was influenced by the six petal desert flower as well as incorporating patterns found within Islamic architecture.
Rotating Skyscrapers
The Arab city which has amazing and impressive buildings like palm-shaped islands and the sail-shaped hotel is now going to build a rotating skyscraper.
Rotating Skyscraper is an eclectic skyline and it is a 30-story apartment tower that revolves on its base. The tower will use the Persian Gulf's abundant sunshine to power the building's slow rotation that brings it full circle once a week.
Dubai Sports City
Dubai Sports City is the world's first purpose-built sports city. Dubai Sports city will incorporate state-of-the-art sporting venues and academies along with residential and commercial developments.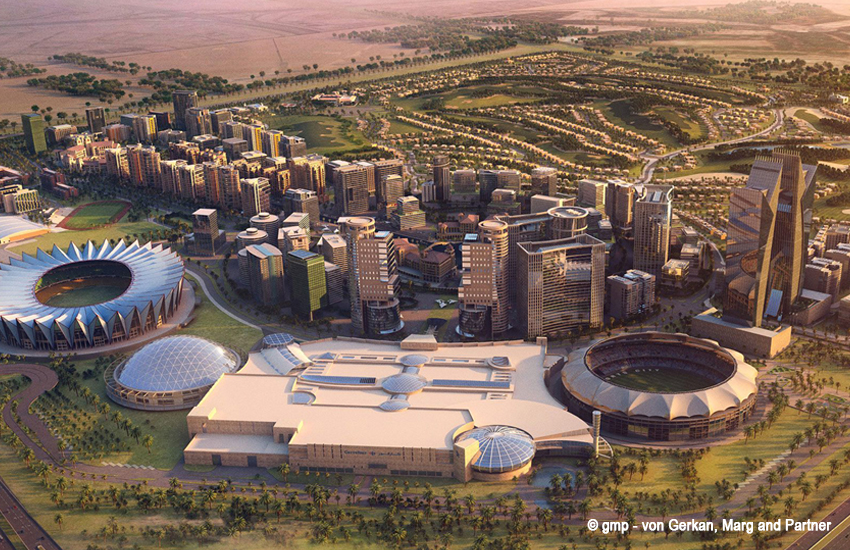 Dubai Sports City offer a world class venue for sports events and activities at all levels with a residential lifestyle unrivalled in the region and possibly the world.
The Palm Islands
The Palm Islands also are known as the Palm Dubai and The Palms. The Palm Islands are the three man-made islands in the world. These Palm Islands are built in Dubai, United Arab Emirates. The Palm islands are considered as the Eighth Wonder of the World.
These islands are built in a shape of a date palm tree and consist of a trunk, a crown with fronds, and are surrounded by a crescent island that acts as a breakwater.
–
–
Culled from flashydubai.com
Send Us News, Gist, more... to citypeopleng@gmail.com | Twitter: @CitypeopleMagz