On the 16th of December 2017, McCoy clothings, a premium fashion brand of sorts which caters for the exclusive demands of people with a high taste in fashion and personal styling and  eventually  goes on to bless them with outstanding results hosted it's customers in a party that sort to give back to them for all the support throughout the year. This fashion party which is taking place only for a second time was called 'Drinks and Discounts'. When customers come, they get discounts of up to 20 percent on products they intend to buy while being treated to chilled drinks, small chops and lively music from a DJ's wheel to improve their mood. Call this McCoy's own 'black Friday' if you may and you will not be totally far from the truth  because many clothes which ordinarily are sold at premium prices are made affordable, especially as the festive period draws near.
The amazing thing about this meet and greet was the fact that security was not left out as the police were in their full regalia to ensure no customer is mobbed or harassed by anyone. The smiles on the face of customers who trooped in en masse to a myriad of choices before them knowing they can take home as many as possible because of the discount placed on them, tells you that perhaps the drinks and discounts fashion party not only lived up to expectations but fulfilled it's purpose.
Award-winning designer and the CEO of McCoy Clothings, Olamilekan Balogun is a fashion trendsetter and the brain behind the Drinks and Discounts fashion party. He looks like one who still wants more out of the fashion industry.
His sojourn into the industry is quite a remarkable one, from having to leave banking for fashion and gaining a client base of different social placing ranging from politicians to celebrities and Nigerians in diaspora.
In this chat with City people's ARINZE AGO, he speaks on the reason he gives massive discount to his customers during the drinks and discounts fashion party and why he has attained quite an enviable height in the fashion industry within a short period of time.
What is the idea behind the drinks and discounts fashion party by McCoy Clothings?
I started this drink and discount stuff last year December to be precise.  People come in buy stuffs and have drinks and all that. I just felt it's a way of me giving back to my customers who have been patronizing me over the year from January to December it has not been easy. I have people who their turnover I cannot even mention with my industry and I have been able to achieve this through my colleagues in the fashion industry, my friends and family, So it's been God. The last one we did last year was very massive, a lot of people came in, celebrities and you can see this is a festive period most of them have a job they're doing, an event they have to attend to. Some of them are still coming, some people came in early while some are still on their way.
It's just for me to appreciate my customers, what they have been doing, the money they have been spending on me it's not like I am the only designer but at least there's one particular thing they actually discovered in me that makes them want to patronize me or maybe it's the way I manage them, I don't even know but they are being loyal to me and they always want to patronize me, they always look out for me and I also look out for them.
I take the relationship above being just a customer, when they invite me for functions even outside the country, I attend. So, this is just to bring them together, give them discount, up to 50 percent discount something you buy for forty thousand naira, you can come in and buy it for 20 thousand. That's the major reason why I'm putting this together.
Tell us about yourself?
My name is Olamilekan Balogun, I am the creative director and CEO McCoy clothing. I am happily married with three lovely boys. This is my seventeenth year in this industry and I started officially five years ago, that was when I resigned from Guarantee trust bank, I used to be a banker but I was doing it on the side as a part time job so it became a full time job in march 2013; next year march it's going to be five years. This is what I've been doing ever since I left the banking industry and it's been God all the way because it is not easy for me to put human beings together and start doing stuffs.
It takes a very dedicated person and someone who is very passionate to do what I'm doing now. This is what is putting food on my table now and it has taken me to everywhere in the world; It has taken me to America and Europe. I will say, I'm a tailor and I'm a designer.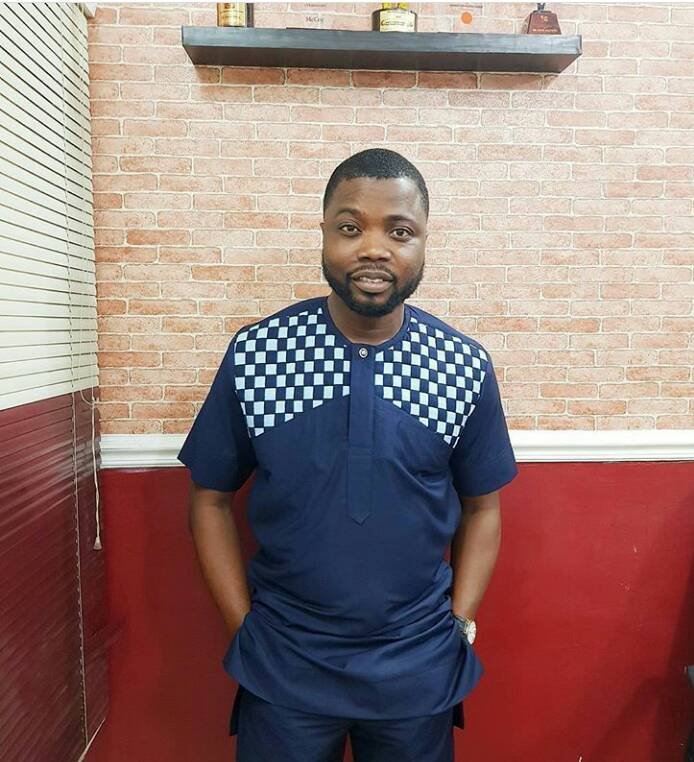 Why establish a clothing line?
My dad influenced me to do this thing I am doing. I was a science student, I was planning to study civil engineering and he just came up one day because he noticed I know how to draw, any time he takes us to his tailor he noticed I was always meticulous telling the tailor I want my own to be like this and that and he was like I think you have this thing for the clothes he wants to wear and he doesn't want to wear anything. So he said I should go and learn this thing, I started very early. My first machine he bought for me was in 1996 and I was still learning then, the machine is still here, I will say it's the machine that made me.
So, it's what I love to do, when I started he said I should go and learn tailoring because then it was tailor, tailor and I didn't want any of it then but he is someone who you dare not argue with, I was telling my mum and she was like maybe you should go and tell him yourself because she knows I dare not. Though he is late now but at least he died three years ago but his memory still leaves on because he's the one that actually made me go into this.
If I'm still in the bank, who knows probably they would have sacked me by now so it's always good to listen to our parents I think they see more than what we can see. Thank God I even listened because right now, a lot of people do it, a lot of people are learning fashion designing, learning hand work. I have bankers that come around, my former colleagues that come around and say I want to learn this. They come around and they are like ah, you are enjoying oh, you have grown because this was not where I started.
I was in Mushin before coming here so it's not a day's job, I've been doing this and because I'm passionate I don't really, not that I don't really look for customers because everyone looks for customers but what works for me is that my customers, my clients they give me customers because people see them and they ask who is your tailor and they keep calling.
What distinguishes your brand from other brands in the fashion industry?
What stands me out is very simple, it's my uniqueness, it's the kind of touch, I don't copy people. My customers know me for one thing, there's one particular trademark on all our clothes and only my customers use to us that know that this is McCoy. So we have one particular trademark that we use and people identify the uniqueness and the fitting. What makes me even stand out more is my ability not to take measurements most times, I don't really take measurements I just sew, I'll call it a gift.
People send me pictures and I work with it, I have couple of customers in Diaspora that I haven't even met and they just call me, they probably stumbled on me from Instagram, Facebook and they just call me. I do strictly men's clothes, for now I do 80 percent men clothing and 20 percent female. You know it's good to have an area of specialization, that's where my strength is.
Anyone or anything, in particular, you draw inspiration from?
Like I said, my dad was the one that inspired me and what actually motivates me is my ability to learn. I want to learn, I want to keep on learning, what I ask my God for is going into the next year 2018, whatever they want to wear, God show me now so before 2018 comes, I'm already there. I make research, when I travel I go to different stores so that gives me some inspiration.
Where do you see your clothing line in 5 years?
I want to have outlet across the globe. I want my product to be a household name and be more successful.
Who are your customers?
My customers include corporate people, socialite, celebrities and everyone who loves class.
Send Us News, Gist, more... to citypeopleng@gmail.com | Twitter: @CitypeopleMagz