•Hon ABIKE DABIRI, Chairman, NIGERIANS In DIASPORA Commission
Hon. Dr. Mrs. Abike Kafayat Oluwatoyin Dabiri-Erewa (OON) is one of the leading female politicians in APC. She is the Chairman & CEO of Nigerians in Diaspora Commission. The big news is that she turned 60 last week Tuesday and that coincided with the day she was honoured by President Muhammadu Buhari, with a national honour.
In this interview with City People Publisher, SEYE KEHINDE, she revealed the story of how she celebrated her 60th birthday.
How do you feel at 60?
Well, I give God the glory, gratitude. Gratitude to be in good health, to be in good shape, and to a large extent to have succeeded in my career, whether in Journalism, whether in politics as a parliamentarian, and whether now as an administrator as Chairman of Nigerians In Diaspora Commission. I give God the glory for the little I have been able to do. And most importantly, I give God the glory for an amazing family. You can say you are a successful woman, if you can say you have raised successful children. And even around your family, nephews, nieces, brothers and sisters who are doing great too. Like I said, it is Gratitude. Honestly, I give God the glory. Like I earlier said, I'm grateful that I am witnessing my 60th birthday. And to have been celebrated. I am grateful to God. I am happy. I feel really happy at 60.
I had a good dance. I had a good time with family and friends. It wasn't about good name; it's about being surrounded by people that you know, with friends, staff and family. I had a fantastic day. I love dancing.
As long as you are a human being and you are still living; you are a student and you are still learning. I can't say everything is perfect or everything is being fulfilled. But, I give God the glory. As a muslim, alhamdulillah! I thank Him for how far He's taken me. As the Yoruba song says "adu'pe bi tia' ti bere, adu'pe ibi ton gbe wa'lo". So, I give God the glory for where I'm coming from, for where I am today, and where He would be taking me to. October 11 tallies with the day of the Girl-Child. So, I have always said I want to dedicate that day and every year to doing something for the girl-child. So, the foundation which I plan to launch will be to support the girl-child, as well as look at the issue of maternal mortality. If the kids are dying before the age of 5, then we have a problem. I remember last year, I was able to take things to Ojora Hospital in Ikorodu to help mothers who have had babies.. I want to be looking at what we can do for the girl-child. And education is important. Let our girl-children go to school. Let's ensure mothers do not die while giving life to their babies. I also have a sister who has a foundation called Focus Girl Foundation. It's about Nigerian girls staying focused. So, October 11 tallies with the day of the girl- child. I will always celebrate that day by doing something with the girl child. This year, honestly speaking, I didn't plan anything for October 11, I had said that I had a programme in the UK. I was to be a special guest of honour at the event on the 9th, so, my plan was to be there on the 9th, chill till the 10th, see a few family members that I have in the UK with my son, his wife, and my grand kids, to just sit down and have lunch with my other sons and other family that will be around. I told you that I will celebrate whenever I can. I am happy to be in the UK on the 11th, and I will celebrate with my family members that are there.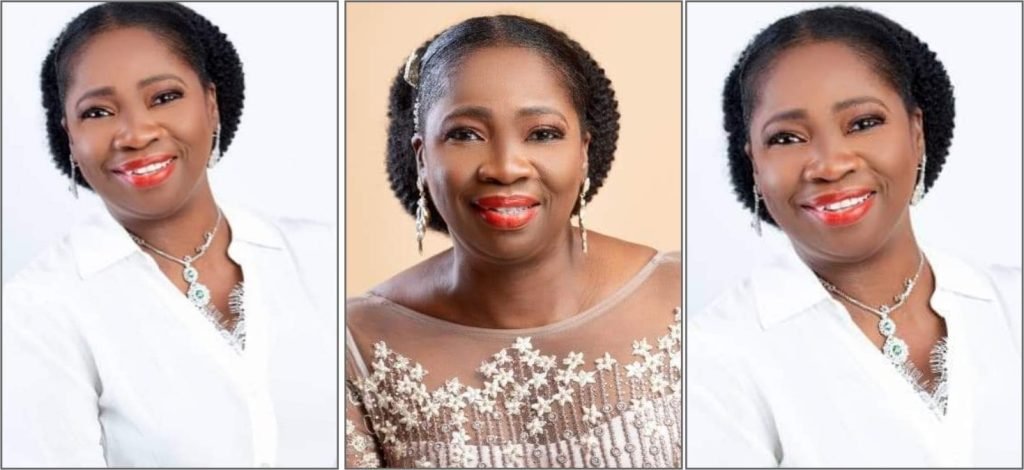 I got to know about this national honour on the 8th of October. I got the text message and the e-letter was sent to me and I was with my whole family. My sister had turned 70 on the 6th of October and they came visiting on the 8th and she wowed. She came with her husband, some of my nieces, cousins, sisters, brothers and kids. The letter came in when we were all seated in the sitting room and I was like, wait! Because my name was not on the first list, so I wasn't expecting any national honour. But when the letter came in, I was like wait and I sent it to my nephew who was sitting in the sitting room to read it and the letter reads "Mr. President had conferred me a national honour on October 11th" which happened to be my birthday. So, all plans had to change. I returned to Abuja on Sunday with my husband. And my second son started saying, 'listen'. But before that time, he had said, 'Mummy you have to do a photoshoot even if you aren't doing anything'. I said, 'Okay'. And he got somebody and said, 'listen people have to sit at home, and let's have something to eat'. Then, my husband called his friend. He was inviting a few people and his friend said 'no, that he had a little garden, I will host you there', and that was it. We put something together for maybe about hundred or two hundred people. And then your birthday mixed with national honour. What a birthday gift!. And that was it. Within two days, we planned something. I got a few of my staff and family and they put something together. It was beautiful. I had a good dance, as well (smiles).
How do you feel that your birthday coincided with your national honour?
Honestly speaking, if my name had appeared on the 1st list, like the Newspaper when the list came out, I would have prepared. But my name wasn't there. I was surprised when I got the letter. It was 3 days before. For me, it was the biggest birthday gift, from the Almighty God, from President Muhammadu Buhari and from my country Nigeria. And I really must thank Mr President for the national honour. I must also thank Asiwaju Bola Ahmed Tinubu who has supported me all my life, throughout my career in Politics. He's been a great mentor, leader and I will put in whatever I can to ensure he wins this election. I thank his wife, Chief (Mrs) Oluremi Tinubu because I remember when I was going to go on this journey of politics, I first approached her. I said to her, 'madam, I want to do this'. She asked me a few questions. She said it was fine and said we got to see 'Oga'. And that was it. I thank Mrs. Aisha Buhari. She has been a great friend and mother to every Nigerian, particularly to my family. My mother is late. I wish she was around to witness this. May her soul rest in peace, but she laid a strong foundation. She is my no1 role model because she raised us to be who we are today. And to my father who is still alive at 96. They have raised us with the virtue of hardwork, diligence, determination, and contentment. Life is not all about money, and it is not about material values. We were surrounded by a whole lot of love and contentment. I'm grateful for that. My children are amazing. They make womanhood so easy for me. My husband is my rock. I have been more successful in my career since I married Mr. Segun Erewa. He's been a solid rock. He is been there for me. My husband will take a bullet for me and I will do the same for him, and we have an adorable family. Children are adorable. In-laws are adorable. Amazing grand children. Amazing friends who have been there for me all the time. My friends who have been there since childhood, Yemisi, Ibrahim, Funmi Ajila- Ladipo, Enitan Allen, Bimpe Ashafa, Barbra Komolafe. We have known ourselves since childhood and we are still friends. And the staff of Nigeria in the Diaspora Commission have been amazing. Working with them has been great. My friends in the media, like you. I am surrounded by a whole lot of goodwill. My extended family, the Erogbogbo family, the Aishat Mumini family, Alamnutu family (that's my mother side), Uncle Lukman and Aunty Julie, in whose house I did all my campaigns for 8 years.
I still want to do my book; my autobiography as I launch my Foundation which I will dedicate to what I want to pursue. Hopefully, before the end of the year. It's going to be a busy year with campaigns and work, combining everything together. I am the Director in the APC Campaign Council and I'm in charge of Diaspora in the women council. There is a lot of work to do. All well and good.
Just walking up a stage and the MC announcing it's my birthday and walking up to the President and the brigade of guards just in time for a birthday song for me. What else can I ask God for? I think have had the best 60th birthday in the whole wide world!
I had no idea. My son just walked in! Throughout that midnight, we spoke. He was the first to call me. Then, his brother in the US also called and then he walked in. That was the biggest surprise of my life. So, the family is everything. Home should be a place you want to go back to for love and comfort. And I'm glad I have such a home. I pray my children are also building that kind of home.
And my deepest condolence to your mum. May her soul rest in peace. My mum died at 91 and I still haven't gotten over it. Accept my condolences. I know that it is tough and let us know when so that we can all be there to celebrate the passage. I used to celebrate her because I know she lived a good life. Pele my brother. I know how it feels.
Send Us News, Gist, more... to citypeopleng@gmail.com | Twitter: @CitypeopleMagz