Nollywood may have over the years garnered a non-flattering reputation for not-so-impressive movie projects, but the truth remains that the industry has raised some of the greatest actors and actresses the continent has to offer.
Ever wondered what will become of the industry when our current giants finally retire? The great news is that an amazing crop of budding actors and actresses exist who have been steadily perfecting their craft and ready to take the industry by storm. One of them is King Flakie.
You only need to see one scene of King Flakie o realize something about her stands out as an actress. She might not be playing lead in your favourite movies, but this is one young actresses that has learned to do so much with so little.
She spoke with Citypeople on how she joined the industry and the journey so far.
What inspires you to go into the profession?
My name is King FLAKIE , born Folakemi 'Temi Sajowa but my pseudonym is King Flakkie. I joined Nollywood in 2018 via the Prodigy and Pens' window and the growth has been incredibly rapid.
Featuring in about 40 movies and having a credit of two productions to myself in the space of 3 years is far beyond what I envisaged but thanks to God Almighty, my boss Abiodun Jimoh, the prodigy team and the entire Nollywood family.
I have featured in movies like LAGIDO (My first appearance), SEREKODE, ERE GELE, AJOJI LAAFIN, IRINKERINDO, AIYE OKUNRIN , TAYA-TALE , BROTHERS, LUWO-GBAGIDA ( a cinema project ) , Esin-inú Iwe , Ira Eketa and THE WEE HOURS to mention but a few .
I have also produced two movies of my own, namely:
IYAWO ALHAJI ROVERS
DIGIOLA.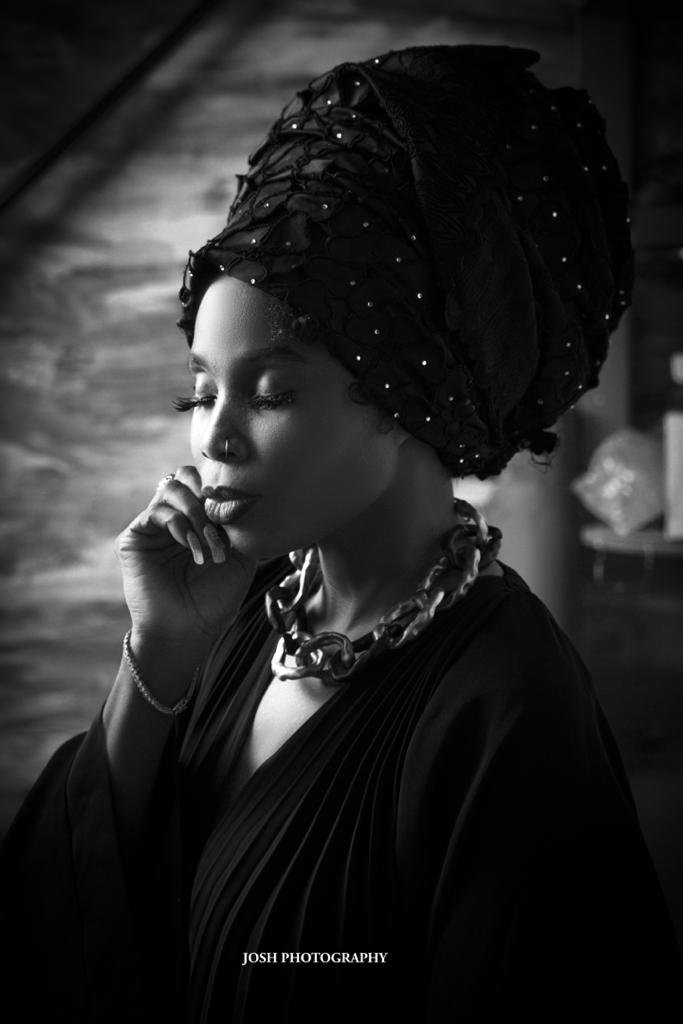 How is growing up like
It's more of who inspires me to go into this profession! And u will say my Mimma (grandma – my mother's mother) .
I grew up under the love, guidance and care of my Mimma (Grandma ) May her soul Rest In Peace . She was always filled and filling me with Yorúba Riddles and jokes , AsÁ atí Asamo , the Music from yester-years and movies produced beyond my years , her favourite , early works of "BABA SALA AND ADISA " and THE early works of Ogunde ….
She would seat me at her feet and tell me stories ( Aló ) to no end after each dinner till I fall asleep . She wowed to make sure even though the world sees an "AJEBO" from the outside, she will make me so rooted n grounded in our Yorúba culture so much so that my core will be as deep and as solid as it is today !  Like any other well trained Yorúba child from the village I, A lagos brought up, a sophisticated AJEBO will stand shoulder to shoulder(laughs). 
My parents would speak all day long to me  in English, at school the same , Infact I dare not speak Yorúba in school except it was a yorúba class – for one , and two because I was "The Senior Girl " from primary to secondary for over 8 years in a roll ( it was a new school and our set was the first set of that school " Sigma Bond Academy primary/secondary so the throne of being the senior Girl rolled in throughout my school days " which implies I must lead by example, and what is the school standard of "a good example " even up till nowadays is A student who i neat, punctual and speak good English!
All through school Yoruba was made alien but for MIMMA !!! She will speak Yoruba to me all day Immediately I step foot in the house ! Being the Only child for both my loving Dad and my late mom, she has All her time for just one Student, me! And Jeez did she use it well!
She thought me how to READ THE TIME with (for instance: agó meji ko já iséju meédogun… atí béébéé ló ) . I learned how to also READ AND WRITE BOOKS with Á B D Ė Ę F G GB!
So that when mom will send me to any supermarket to get little stuffs or I am WALKING PAST A SIGN POST , walking with Mom or in a car  etc , I am reading any thing I see ,first in Yorúba straight up in my head . One event stood out for me ! Mom sent me out to The next building to our then house (A super mart ) to get a bathing soap I was 7! She said to me " Temi" ,that's my lovely pet name from my mother – Temi in yorúba means "hers "  or " my mom's … TEMI , pick any nice one with a nice smell " .
So , I got to the super mart , I kid u not , I wasn't smelling to get the best scent I was in the super market for close to an hour , just touching and reading names off all the beautiful array of items in there , I was alone ,armoured with the baddest weapon " I could fuvking read !" this was all I Needed . And so I walked through and I read and read, I finally settled for a soap I spelled " LI FÉ BÚ YÍ " !! 2 years after that day I discovered this soap rightful spelling was " LIFEBOUY SOAP "!! Ha-ha.
My parents use to tease grandma then and tell her " Mama you and your daughter May God help u both o" ha-ha but look at me now! Every word spelled to me , every sentence she made clear or interpreted, every seed of AsÁ she planted within me , every music and every Aló are all a part of who I am this day and the vow to do so much ,in her honor has got me this far !
Who are your mentors in the industry?
Male Mentor he is a Nigerian/French he is ABEY JOMO Popularly known as Jomo – King Of Fiction. The founder of Prodigy And Pens an academy which I belong to. He is my mentor not because he is my teacher alone, for he has taught me so much which has, aid my feet to be solidly planted in the Nollywood soil and stay firmly so. Mostly because of his selflessness in HARDWORK to see me Succeed my chosen career of being an actor.
A human that derives joy in making a Star not out of himself but his students and doing so , so selflessly with all open heart n open love is hardly someone that will go unnoticed and this attributes are hard to find . I also will love to speak in some other languages in the nearest future ( I am working on it ) like my mentor does .
Funny enough we have quite many things in common as of now already sha, like the books I love to read while growing up " James Hardley Chase, is same for him , his mentor is Wole Soyinka and my other mentor – mentor is the same , I love PROFF WOLE SOYINKA basically because of My love for reading Novels , good stories and good Writers and it so happens I found not long ago that he love the man too , I was amazed .
We both at some times in our lives spend good Amount of time in The Northern parts of Nigeria which help me see most views same way as him, hence "less misunderstanding or miscommunications " ha-ha , etc . . One day I will like to add "MOVIE DIRECTOR " to my resume and there is no better director out there for me now to emulate if not him.
Female Mentor will be Mo' Abdul. She is a Nigerian, one of the most hardworking goal getters females I know. I love her transitioning, from acting roles, to becoming a host of talk shows, eventually owning a TV Channel, then moving on to owning stations, having an Arcade of Cinematic Production Village where dreams are now built and realized not for herself no more but for majority of upcoming artists thereby touching lives and improving them, bringing dreams to reality and contributing her quota to the economy by providing jobs. All these and more is what I AM, and that which I am SET TO ACHIEVE MYSELF!
Do you have any movie coming out soon? Tell us about it
One of my Movies is just set to be released now this month I must say! The movie is titled DIGIOLA! This movie is soulful, i cried n I yawned, I lost and I gained. I wanted but all hopes was lost, I needed but no one was there. I played it all down in that movie, it was an emotional roller coaster while filming it and in the end I was spent !
It took me months to recover and "to get out of DIGIOLA " . This Being the true me , as I am a " Method Actor" which means I love and Always dive into my core to bring out all my sincere and an emotional expressiveness in all my performances if it's a Story That Demands It ! And I love telling stories That are mostly inclined to tell the truth about life, Pain , Friendship, Real life stories, family, happenings in relationships etcs , and DIGIOLA FELL INTO THIS CATEGORY .
Watch out for it! Thank you.
Who have you worked with in the industry and what the experience is like?
I have had a Gucci'ed experiences with the likes of ; Londoner (Muyiwa Adegoke ) , Finest ( Funso Adeolu ) , LADI Folarin , Bayode Babatope-Biggie, My mother in the industry whom I love so much Shajé – tio Lo'gá , Ayo Adesanya , Princess Allwell Ademola, Regina Chukwu , Sikiratu sindodo , Ronke , Foluke Daramola , Jumoke Odétola to name but few !
What else would you be doing if you are not acting.
Funny you ask! Because I am already doing the most as it it ha-ha I mean I am already doing all I can do and all I will like to do if I wasn't into acting !
I humbly Own a BEAUTY AND FASHION EMPIRE, where all we do is about BEAUTY ,LIFE AND FASHION WORLD , so that if I am not ( which is rare ) on the field of acting , I am in My world of fashion and beauty. And in recent years I have Been made to realize through my Hardworking , that between both my careers ,there is a relationship , a link – they both go hand in hand which has made life incredibly fun for me and that comes with this daily contentment that I am home doing all I needed to be doing NOW AND IN FUTURE.
Where do you see yourself in 5 years from now?
5 years from now? I'm stay grinding I believe everything will be even more Gucci'ed by then ( Great And Awesome ) because I believe in HARDWORK and I am the type you call "a workaholic" and even the Bible says ; in every Toil there is the time of Harvest meaning when u work so hard at the end you must reap good! So taking this Gods words ever since I was younger has given the upliftment and The Zeal to want to strive for more, and I am 100 percent sure if I continue this way that I have been fie ages, in 5 years' time, ITS ALL BE GUCCI'ED!
Therefore u am working towards to be more versatile and well known for my beautiful craft in my Acting Career. Own A TV station like my Role model, Mo Abudu. Not stopping never relenting, expanding beyond Acting alone, doing and hosting talk shows, crossing over back and forth to English and Yorúba and touching all areas of Entertainment in general as the Lord leads my feet.
Send Us News, Gist, more... to citypeopleng@gmail.com | Twitter: @CitypeopleMagz