It was a gathering of who is Lagos and Ogun state when Ogun popular businessman, Ibrahim Egungbohun popularly known as IBD hosted a lavish 40th birthday for his wife Omolara Egungbohun, otherwise known as LRD. Although initially, the plan was to treat her to a surprise birthday but as the day drew nearer, the event became bigger and the celebrant was let into the plans, which the birthday till today is still the talk of the town. The event kicked off in IBD's home in Ilaro Yewa part of Ogun state on Wednesday 8th of September with a Muslim prayer to thank God with the celebrant and people were treated to a reception afterwards. On Sunday 12th of September, all roads led to Marcellina Place in Ikeja, Lagos, where the main event was held with top politicians, royal fathers and hip hop artistes in attendance. City People's BUNMI MUSTAPHA brings you a blow by blow account of what went down at the party.
HOW THE EVENT STARTED IN ILARO
On Wednesday 8th of September was the exact day Omolara clocked 40. The family is known to be religious, this explains why a Muslim prayer was held at their Ilaro home in the early hours. Before the prayer commenced, family and friends came early to surprise the celebrant with different packages and gifts, which almost moved the celebrant to tears. After the prayer a reception was held to host friends and families with a lot to drink and eat, the event did not end until 10 pm. It was obvious Omolara is loved by all as they all came out one at a time to talk about her and how she has been a good wife and mother.
SENATOR YAYI FLEW IN FROM ABUJA
Lagos west Senator Adeola Olamilekan Yayi was one of the dignitaries at the event. The Yewa-born politician is close to the Egungbohun family and he hardly misses their family function. Apart from that he is fond of his people back home and always in the know of whatever is happening to them. He came to the event early despite the fact that he just landed in Nigeria the previous night, he still came in to show love to his people, while he spent quality time with other dignitaries at the event.
OLU ILARO IS DENDE'S ROYAL FATHER
The Olu Ilaro and paramount ruler of Yewaland, Oba Kehinde Olugbenle, is IBD's first royal father. Those who are in the know also know that he has so much respect for the king and he sees him as a father figure. This explains why Kabiyesi came all the way from Ilaro, he came early and left very late to witness the beautiful part of the event.
OTHER ROYAL FATHERS WHO CAME
Apart from the OluIilaro, IBD who is known to be close to other kings made sure they all came to celebrate with his wife. The kings who made the event were, the Olu of Itori Oba Fatai Akorede Akamo, the Eselu of Iselu, Oba Akintunde Akinyemi, Abepa of Joga Orile Oba Adeyemi Adekeye and they all spent quality time.
HONORABLE SHINA PELLER CAME IN STYLE
Aquila Group Boss, and Oyo politician, Hon. Shina Peller also graced the event. The new Oyo Chief stormed the event in style with his Arabian scarf style which made him stand out at the event as he was seated with E-money.
E-MONEY SHOWED LOVE
Emeka Okonkwo otherwise known as E-money also came. The five-star music boss, showed real love when the celebrant was on stage. He came on stage alongside Shina Peller, the duo made it rain as CDQ gave a wonderful performance for the celebrant and the guests.
IYALAJE OODUA NOT LEFT OUT
Chief Mrs Toyin Kolade, the Iyalaje Oodua also came to celebrate with Omolara, and she came bearing gifts, apart from coming to merry, she also gifted guests goodie bags.
SOCOPAO FOR IBD
Alhaji Akeem Adigun Socopao was one of the guests who came early. The popular Yewa-born businessman and IBD have a cordial relationship, Socopao came early and he spent quality time at the event.
IBD DENDE A PERFECT HOST
Ibrahim Egungbohun IBD is known to be a hard worker, a successful businessman and a philanthropist, but not many people know that he is also very good when it comes to organizing events. It was expected that he was going to be seated and order people to help with guests but not in this case. IBD has been involved in the planning of his wife's birthday since day one. At the event he was everywhere, welcoming guests and making sure everyone was seated and attended to accordingly, he is no doubt a perfect host and a caring husband.
ASABI ADESHINA AND OLOORI BARAKAT AKAMO STEPPED IN TOGETHER
The Oloori of Oba Fatai Akorede Akamo, the Olu of Itori, Oloori Barakat and wife of Ogun popular businessman, Adewale Saranda, Yeye Temitope Adeshina are best of friends. The duo meet through their husband many years ago and since then they have been inseparable. They both stepped in into the event looking fabulous in their beautiful dinner dresses.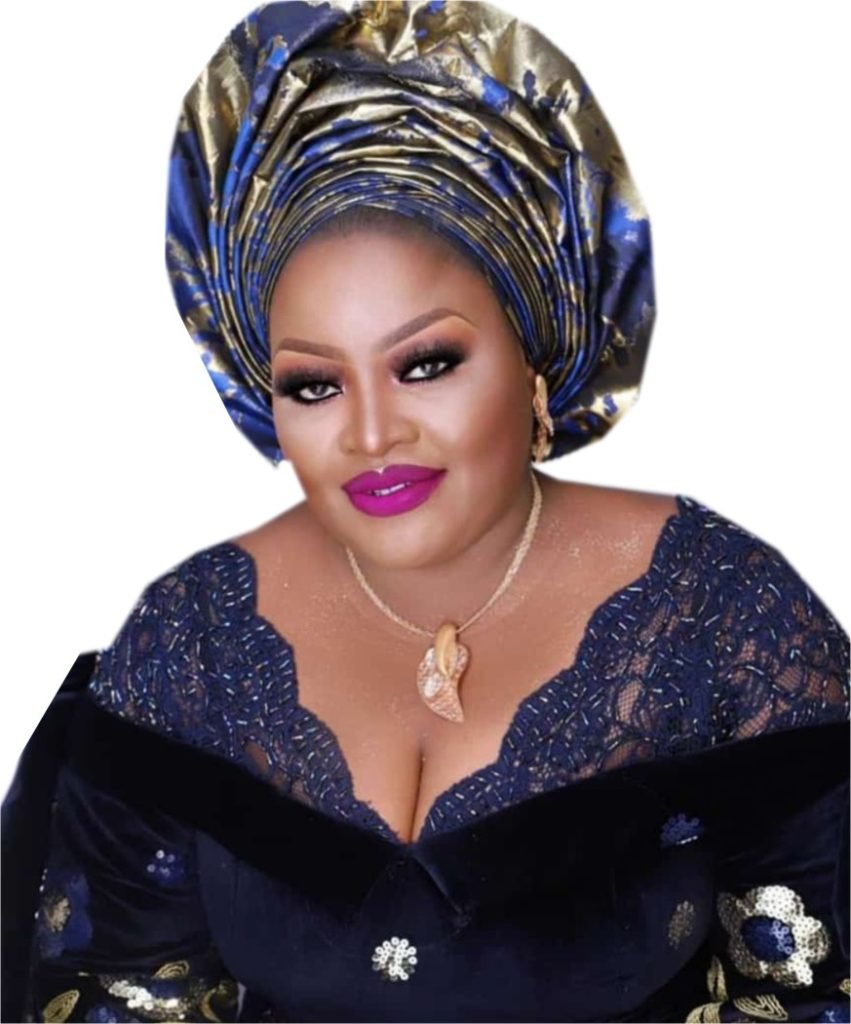 HON. ADIJAT LOOKED STUNNING
Ogun former House of Assembly Member and now the Special Adviser to Ogun State Governor, Dapo Abiodun on women affairs and social development, Hon Adijat is known to be a fashionista who turns heads at parties. Coming to this event in a beautiful red jumpsuit showing her perfect body was extraordinary.
ADEJOKE EWA EDE TOOK CHARGE OF THE CELEBRANT'S EULOGY
TikTok queen and Yoruba language promoter, Adejoke Ewa Ede was also at the event to give a special number. She eulogised the celebrant with beautiful oriki from her home town and for a being good wife.
SLABB BOSS LEADS INUMIDUN SQUAD AS SMALL DOCTOR PERFORMED FOR THEM
For those close to IBD, they know that the popular businessman has a group of friends that they have been together and later formed a club squad which they named Inumidun Squad. This group of friends have been together for many years, they are like minds who share business ideas together and their wives are close too. Inumidun Squad was lead to the event by Alhaji Sulaimon Omidina Ceo Slaab Group, a successful businessman who is into oil and gas in Abeokuta the Ogun State capital. When it was time for Small Doctor to come on stage for his performance, the stage was dedicated to Inumidun Squad, their wives and the celebrant, and they all sure enjoyed the moment as they were in a smooth celebration mood.
OTHER HIP HOP ACTS WHO CAME
It is no news that IBD has been a philanthropist and he is close to music and movies stars. They always show him love, even when there is no event, they take time out to visit him in his Ilaro home. This explains why the likes of Oritshe Femi, Lyta, Destiny Boy, 2Tboys were at the event to perform as Dj Jones was on the wheels of steel.
MEET THE MCS OF THE DAYS
The event was anchored by the best and top masters of ceremonies in town. It was not a surprise for such a beautiful event to have more than one compeer as the family is close to many of them. Dr Smile thrilled guests with his mind-blowing performances, Hush Baby hyped the event fabulously while Mc DVD co-hosted the event.
ABOUT THE CELEBRANT
Omolara Egungbohun nee Asogbon was born into the family of Thomas Asogbon, the founder of Cherubim and Seraphim Church, Ilaje, Ondo State. She attended Holy Trinity Anglican Primary School for her primary education. She was a student at Ilaje high school from JSS1 to JSS3 then later finishing at God's Grace Grammar school in 1997.
She studied accounting at the Ondo State Polytechnic (now Rufus Giwa Polytechnic), Owo, Ondo State.
She worked with the sales department of FLOUR MILLS OF NIGERIA Plc as an Industrial training attaché before finishing her HND in accounting from the Federal Polytechnic Ilaro where she was also an Honorable in the Department of Accounting. She served her motherland as a corp member in Zamfara (Oceanic bank) where she also got her certificate from the Nigerian Institute of Management (NIM). She also has a postgraduate diploma in Business Finance from the National Open University and has worked with the marketing department of UBA for three years before assumption of her role at Ibd international hotels.
Omolara Judith Egungbohun met the love of her life Alhaji Dende in 2007 during her HND send forth party and they have continued their journey together since then. Their union is blessed with two wonderful children and several adopted children who are now graduates.
Omolara is a philanthropist and a socialite. She is also the founder of The Ibd Foundation and a board member of lifestyle Innovations Ltd which is her way of giving to society and extending a helping hand.
READ ALSO: ABOUT THE SACRED AARE CROWN
Send Us News, Gist, more... to citypeopleng@gmail.com | Twitter: @CitypeopleMagz