Investiture Holds In MAY 2017
Iyalode Alaba Lawson is a respectable woman in Yorubaland. She is the Iyalode of Egbaland, which is a great title. She is also the Iyalode of Yorubaland which is also another big title.
The big news is that this educationist who owns and runs the LAWSON group of Schools in Abeokuta is to be installed the new National President of the Nigerian Association of Chambers of Commerce, Industry, Mines and Agriculture (NACCIMA) on the 25th of Many 2017 in Abeokuta by that very investiture she will be the first female to occupy this exalted position in Nigeria since 1960.
Many people who know her say she deserves the honour. She has over the last 3 decades contributed her own quota to the growth and development of Commerce in Abeokuta, through the setting up of her schools and her Iyalode title which confers on her the right to lead all the Egba woman.
Who is Iyalode Alaba Lawson? For those who don't know lets quickly tell you she is a woman with a rich pedigree. Iyalode Alaba Oluwaseun Lawson was born on the 18th of January 1951 to Papa and Mrs. Emmanuel Abiona Jiboku in Abeokuta. Her late father Pa. Emmanuel Abiona Jiboku was a Technician with then E.C.N. [now PHCN where he served diligently for 39 years. He was known by the nickname Jiboku Tanna – Tanna which means "Jiboku the harbinger of light". In recognition of his hardwork, the Queen of England bestowed on him the prestigious M.B.E. award in 1957.
Her late mother Ruth Jiboku was daughter of the famous Aderupoko Coker of Itesi who was a renowned merchant in her days.
ALABA had her Primary Education at St. James's African Primary School, Idi-Ape, Abeokuta, between 1957 and 1962. Her teacher Mrs. E.O. Dasaolu described her "as a very sharp and bold pupil who could never be intimidated to tell a lie.
Alaba also detests cheaters. A good organizer who gives great attention to orderliness". From here she proceeded to the Abeokuta Girls' Grammar School, also known as Anglican Girls' Grammar School where she obtained the West African School Certificate.
She started her teaching career in 1969 and later left for St. Nicholas Montessori Teachers' Training College at Prince's Gate England in 1973 for further studies where she obtained a 1st Class Diploma in Education with distinction. The first African student to be so rated at the institution.
A testimonial issued and signed by the co-principals in 1975 attests to this. It reads and I quote: "Mrs. LAWSON was outstanding in her ability to master her academic studies.
She worked with enthusiasm and intelligence. Therefore, we are sure Mrs. Lawson will make good use of these gifts for the benefits of the children and Young people in Nigeria. We shall miss her in the College, but we look forward with confidence to hearing about the work she will accomplish".
During her stay in England, she taught in quite a number of well-known Nursery Schools, including the famous Queen's Gate Montessori Nursery School and Mill Hill Nursery and Junior School.
True to the remarks in her testimonial, ALABA came back to Nigeria, taught for only one year and in 1977 established her own school known as LAWSON'S CHILDCARE NURSERY AND PRIMARY SCHOOL, which she started with just three students. Since then, she has not looked back. The little mustard seed has grown into the LAWSON'S GROUP OF SCHOOLS consisting of: • Lawson's International Private School – 1977 • Lawson's Continuing Education Centre -1992 • Alaba Lawson Royal College Abeokuta – 1995. (A Secondary School) Alaba Lawson School of Advanced Studies – 2003.
The contributions of Iyalode Alaba Oluwaseun Lawson in the area of Commerce & Industry are no less outstanding. She established a trading/distributing firm known as Capricorn Stores Ltd – 1968-1996. She ran the business successfully which she combined effectively with the running of Lawson Group of Schools.
Iyalode Alaba Lawson had chains of distributing outlets with Nigerian Breweries Ltd. Nigerian Bottling Company Ltd, Guinness Nigeria Ltd, West African Portland Cement Ltd etc. she is a major distributor in Abeokuta and other cities in the South West of Nigeria.
She became the President of the Abeokuta Chambers of Commerce in 1995 and it was during her tenure that she was able to secure a permanent building known as the "COMMERCE HOUSE" as secretariat for ABEOKUT A CHAMBER of COMMERCE (ABEOCCIMA) from the Ogun State Government. She ensured that the private sector in Ogun State came together tospeak as one in advocating for, business development She became the President of Ogun Council of Chambers of Commerce in year 2000 and headed it till 2002. Her robust sense of industry and justice are summed up in the words of the late Alhaji Adeolu Balogun, former Deputy Governor, Ogun State and NACCIMA Executive who asserted as follows-: "Iyalode is an embodiment of industry, unalloyed loyalty to a just cause, transparently honest on issues, no double speak, a philanthropist of no mean order, a committed Egba Woman, an unrepentant custodian of Yoruba culture and above all a great mother.
Her unalloyed loyalty to principle and integrity is peerless".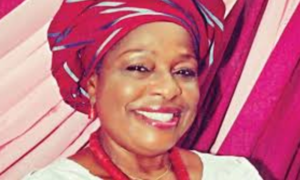 As a good team player, she championed he approval of ODUA International tradefair. When she became the President of the Odu'a Chambers of Commerce, she secured an independent office for the chamber and resuscitated most of the moribund members.
From 2013 till date she has been the Chairman Board of Governing Council, Moshood Abiola Polytechnic. Ogun State (MAPOLY). She has also from 2015 till date, being the 1st Deputy National President of Nigeria.
Association of Chambers of Commerce, Industry, Mines & Agriculture (NACCIMA). From 2012 to 2015, she was President, Odu's Chambers of Commerce between 2000 and 2002, she was President, Ogun Council of Chambers of Commerce between 1995 and 2000, she was President Abeokuta Chambers of Commerce since 2005 till date, she has been Chairperson NACCIMA Business Woman Group (NAWORG).
Since 2010 till date. She has been President, Federation of ECOWAS Business Women Entrepreneur. ECOWAS FEBWE.
Since 2010 till date, she has been a Member, Institute of Directors (IOD). Since 2008 till date, she has been a Member Lagos Chamber of Commerce & Industry (LCCI).
Since 2011 till date, she has been a Council Member Nigeria British Chambers of Commerce (NBCC).
She has just established a Microfinance Bank known as ABESTONE MICROFINANCE BANK to boost SMES. She is the Chairman of the bank.
Unequivocally, Iyalode Alaba Lawson's strongest point however is in the area of philanthropy especially as it concerns the grass-root and the under-privileged. As a demonstration of her passion for academic excellence, she awards scholarships to indigent but brilliant students on a yearly basis. She also founded the Iyalode Egba foundation, a non-profit making organisation that caters especially for women in general and seeks to assist them economically, socially and morally. She has distributed locally fabricated machines to women groups to help alleviate the condition of female traders in Ogun State, South-West of Nigeria, The Egba chapter of which is known as Association of Ogun State Traders. She has built this association into a formidable socio-economic programme through the use of her personal resources and influence to propagate cooperative lending amongst rural women and the needy for their personal development and economic empowerment.
Iyalode Alaba Lawson is mostly seen by other members of the grass-root as someone with a high sense of justice, fairplay and empathy; as such she is the matron to a lot of societies which includes, the Butchers; Blacksmiths, Welders and Iron Benders; Palm Oil Sellers; Fresh Fish Sellers; Herbs and Roots Sellers and the Ogun State Union of Journalists, among others.
Above all, Iyalode Alaba Lawson has demonstrated herself as a beacon of hope, educationist, philanthropist, industrialist, community leader, opinion leader and a tower of strength for womanhood. A clear attestation of her sterling qualities is captured in the remarks of our former President and Commander-in-Chief, His Excellency Chief Olusegun Obasanjo GCFR who observed inter-alia that "Chief Mrs. Alaba Lawson is not only of philanthropic disposition, but of extremely sensitive character, who will render assistance when needed, without regard for such divisive notions as tribe, language and religion. She has used her sense of justice to influence and settle disputes". (Foreword to the book titled: Iyalode Alaba Lawson. The making of an Amazon, 2001). In February 2017, in recognition of her enthusiasm and mobilization of the women entrepreneurs, Iyalode Alaba Lawson was decorated as an Ambassador of the United Nations Sustainable Development Goal. A mobilizer of the informal trade sector, she encourages them to form trade associations and be affiliated with the chamber ofcommerce and also form coorperatives to enhance access to finance.
Send Us News, Gist, more... to citypeopleng@gmail.com | Twitter: @CitypeopleMagz