For MC Oluomo, family is key! If you know him well, he is someone who does not joke with his family, be it his wives or children.
He is known to have 3 wives who are now very popular within the social scene. They are now the toast of many parties. Hardly will a weekend pass that these 3 women are not invited to any Owambe. Many Lagos socialites now want to be close to them and this is just because they are MC Oluomo's wives.
These 3 women and their children were living with him even before he became popular. Not too much was known about his 3 wives until few years ago when his own popularity soared . Also, he keeps bringing his women to the limelight. The 3 wives, Medinat, Temitope Adunni and Aisha Ajoke kept a low profile for a longtime but when MC Oluomo became the Chairman, NURTW Lagos Chapter, the 3 wives also shot to limelight. They began to attend events with their husband. People suddenly started having interest in knowing who they are or what they do.
These 3 light in complexion women are now the toast of some society ladies who curry their favour to get their husband, MC Oluomo to be invited to their parties. Infact many Lagos society women, want MC Oluomo's 3 wives to be at their parties as well.
The socialite has been able to build a happy and united family with everyone in the household living in peace and caring for each other. There has never been a time any of them had issues with each other.
And, these women are enjoying largesses from their husband! There was a time he bought all of them the same brand New Jeeps. When they go out, they go out in a convoy. They have their personal trading businesses that they do and not too long ago, the news of the 3 mansions MC Oluomo built for them hit the Internet. Not only do these wives follow their husband around, they sit together at parties and he spoils them silly with the good things of life.
MC Oluomo rose from humble beginnings in the Oshodi area, and this was where he started his life before he moved to Isolo with his 3 wives and children.
Alhaja Medinat Adunni Akinsanya is the first wife, Temitope Adunni Akinsanya is the second, while Alhaja Aisha Ajoke Akinsanya is the third wife.
The three beautiful women live happily and the Chairman of Lagos State Parks and Garages, has been seen on many occasions having a nice time with his adorable wives. The beautiful thing is that all the three women are using their husband's name, Akinsanya, which gives them more honour and respect in the public as the wives of the popular MC Oluomo.
The 3 mansions he built for them were dedicated in the first month of January 2020 and MC Oluomo did not forget to throw lavish parties in celebrating the housewarming ceremonies.
The 3 wives are known to be very calm, with no rumours of fights or rifts between them. When they go out, you see them in the same beautiful attire. They have succeeded in living in peace with each other. One other thing you will also notice about the wives is that they are always supportive of each other.
Gone are the days when they shied away from the cameras or publicity. These days, the advent of social media has encouraged them to thrust themselves in the limelight and also to share their personal lives directly with their fan bases.
Prior to to this time, they were not really popular in social circles and remained physically unknown to many. But with their fast growing popularity on social media and their presence at parties, this has become history.
Their husband is also fond of posting their photos during their birthdays, anniversaries, or Valentine's Day. Mc Oluomo never seizes to celebrate his wives on social media.
One of such was when he posted a photo of him and his beautiful wives with the caption: "happy home." Also on Valentine's Day, he wrote, "Happy Valentine's Day to you my lovely wives. I really bless the day Almighty God gave me beautiful angels like you. I would never disappoint you or make any one of you cry. We shall be successful and live happily for life. I thank you all for keeping peace in the family. I love you all. Happy St. Valentine's Day to my beautiful angels".
Dubbed the king of Lagos Owambe amongst his contemporaries, MC OLUOMO is living it big with no apologies to anyone. Even if you are not a regular Owambe person, you must have seen the big boy, MC Oluomo attending one party or more in one weekend.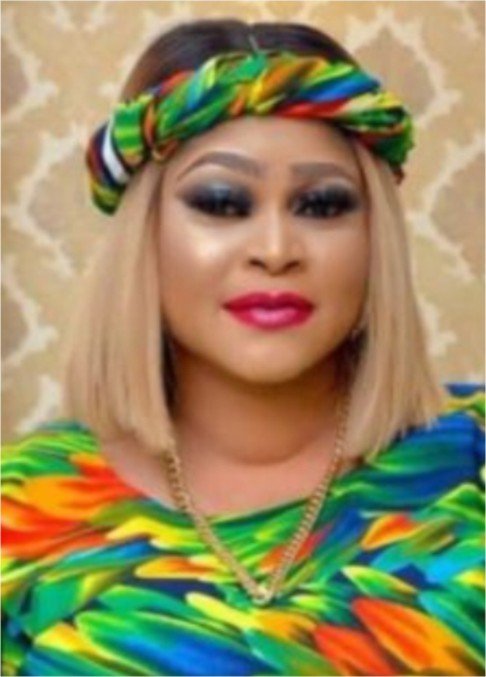 He is a socialite per excellence. He knows how to party hard and loves to enjoy himself. He has become a regular face at major parties, especially in Lagos. When MC gets to any party, you can be sure that the tone of the party will change! everything moves in his direction. In fact, musicians at the parties always sing his praises till he leaves the party.
So, what endears MC to many of his fans? It's his friendly nature and deep pocket. When it comes to giving, MC is an incredible philanthropist.
He spends hundreds of thousands of naira for guests, musicians, and most especially celebrants at the parties he attends. He is also well loved for his calm nature. Anytime you see MC at events, you will always see him with an entourage of big boys. He has a huge followership and this can be traced to his position as the former Lagos Chairman of the National Union of Road Transport Workers and current status as the Chairman of Lagos State Parks and Garages. He has supported and made all these guys.
He does not move alone, he moves with this legion of big boys who are top members of his group while some are not members.
When they storm any party, they light up the party. They appear in expensive outfits and spend lavishly as if money is going out of fashion. They sit together and many people struggle to get their attention. They always want to snap pictures with them and connect with them. They are the toasts of many musicians at parties. On their table, you are sure of sighting the most expensive cognacs. They drive expensive cars and live life to the fullest.
This is the attention his wives also get at parties right now.
– TAYO OYEDIJI
Send Us News, Gist, more... to citypeopleng@gmail.com | Twitter: @CitypeopleMagz