•Cash Madam, Chief Mrs. BISI EDIONSERI
In the next few days, a big event is going to take place at Joga Orile, in the Yewa North part of Ogun State. Popular business woman, Alhaja Bisi Edionseri will be officially installed the Iya Oba of Joga Orile at a ceremony that will take place at the palace of Oba Adeyemi Adekeye, the Abepa of Joga Orile who is celebrating his 20th coronation anniversary and his 65th birthday anniversary.
It is a big title, and the ceremony will attract a lot of dignitaries. The event which is slated for the 17th will shut down the sleepy town of Joga Orile, as other prominent Nigerians will also be honoured that day.
Why is she accepting that title which had been offered to her years back? What is currently going on in her mind, as she prepares for this big event. These and many more questions were the questions City People put to her, a few days back at Joga Orile, when she came to rub minds with Kabiyeesi on the planning of the event..
"I feel happy," she says. "I feel very happy. Before Kabiyeesi became king, I was the Iya Oba. I am related to him. His real mum is my aburo (younger sister). So, I have always been Iya Oba. But right now, I want to take up the title officially. By taking up the title, I am doing what I am supposed to do. It is my right to do so. I am entitled to it. I am very happy because since he ascended the throne 20 years ago, we have been together. All the good things we want him to do, he has been doing. He doesn't do the wrong things. He is a well taught, well cultured, well mannered person. That is why we are all happy with him. I am very very happy. What thge people of his community want him to do is what he is doing. What the state want him to do is what he is doing. What Nigerians want him to do is what he is doing. All our children who are doing well as well are well loved. We love Kabiyeesi. With Kabiyeesi we knew that God has answered our prayers. That is why I have accepted to receive the chieftaincy title".
What sort of a person is Kabiyeesi, Oba Joga Orile? "Omo daada ni," she says. He is a nice man, very kind to a fault, forthright. He has done well. Omo gidi ni, Oba Adeyemi Adekeye, Abepa Joga Orile. There have been many Kings before him at Joga Orile, Yewa North, but he is a different kind of Oba. They have not seen a person like him in all the other ruling houses. Omo daada ni. Eeyan gidi nii Olotoo ni. He is not greedy. He is a straight forward person. It is the respect I have for him, that made me leave my house in Abeokuta to come and visit him here at Joga Orile to discuss arrangements with him. I am 88. If he is not an Ogidi Omo I wouldn't have come. Omo daada ni. God will let us have many of such great men in our society in Joga Orile and Yewa as a whole. If we have good men like Oba Adekeye, Nigeria won't be the way it is now."
"If we have good men like Oba Adekeye Nigeria won't be this bad. I am happy. I have faith in him. I am so sure, he would do more. My mind is at rest. I am so convinced and satisfied to be his mum. (Iya Oba), to play the role of his mum (Iya Oba) to stay with him till I grow old and I will go to where old people go to."
Let's tell you more about this great woman of means. She is an illustrious daughter of Yewa and Egba Alake, Alhaja Khadijatu Kuburat Adebisi Edionseri was born at Ibara Abeokuta Ogun State to Chief Sanusi Elegbede and Sabitiu Elegbede (Mrs) Alhaja Khadijatu Kuburat started her education at St Andrews School, Ibara but realised earlier in her life that she had a flair for business.
Subsequently, at a very tender age of 10, Alhaja Khadijatu Kuburat opted for tutelage in the sales and marketing of basic products, by joining her late sister Princess Bilikisu Akewusola at Badagry in 1945 to understudy the trade. This trading experience took her to Aganna, Olorunda, Idiagbon, Ilogbo, Ota, Coker, lju, and Ishaga Onilado.
Within a very short time, she developed a good marketing skill. This resulted in her being the most result oriented sales person in Badagry and its environs in 1954. She was appointed Dealer by John Holt in Ijebu-Ode area of Ogun State, The rapid growth of her business resulted in her being subsequently appointed as a dealer by UAC, CFAO and GBO by 1958 as a whole seller for the Ibadan area of the old Western Region.
When the Ogunpa River disaster of 1960 in Ibadan, resulted in an enormous loss from the flooding of her warehouse and shops, her dynamism and quick thinking were instrumental to her decision to register with the Ministry of Works and Ministry of Water Resources as a supplier of gravel and sand. Her business instincts and managerial skill were once again in the forefront, as she was able to grow into one of the main contractors of both Ministries. Within a period of 6 years, she was involved in the majority of drainage works for roads constructed in the old Western Region and also the construction of the majority of water reservoirs within the region.
Her commitment and zeal were instrumental to her being invited to become a contractor of the Ministry of Defence. During the Civil War of 1967-70, she was appointed one of the major food suppliers to the Nigerian Army between 1970 – 1995. she built several businesses which including road and Building Construction Company, specialized sales and Distribution Company, Farming, Advertising and Public Relations Company, and a Telecommunications Company.
Notwithstanding her very busy schedule, she gave various humanitarian causes her complete dedication.
So far over 2000 young deprived youths have benefitted from scholarship scheme for primary, secondary and university education.
About 200 others have also been sponsored for post-graduate studies within and outside Nigeria. She enjoys Giving because she believes that Giving is Living. Her ability to give without any reservation resulted in her being christened "CASH MADAM". She has over the last Sixty (60) years supported various good humanitarian causes like hospital project, educational development projects within schools and universities, religious projects etc.
In honour and recognition of her service to humanity, she has been appointed Matron of several associations and clubs like the Abeokuta Sports Club, Ogun Prestige Social Club, Club 20 Ayetoro, Metro Club Yewa, Big Gate Social Club, Abeokuta City Club, Club 85 Ijebu Mushin, Crown 88 Club of Nigeria, Ayo Club Ayetoro, Olowolagba Ladies Club, Alowo Mafisegberaga Club Lagos, Ifelodun family, Ibara Young Star Club.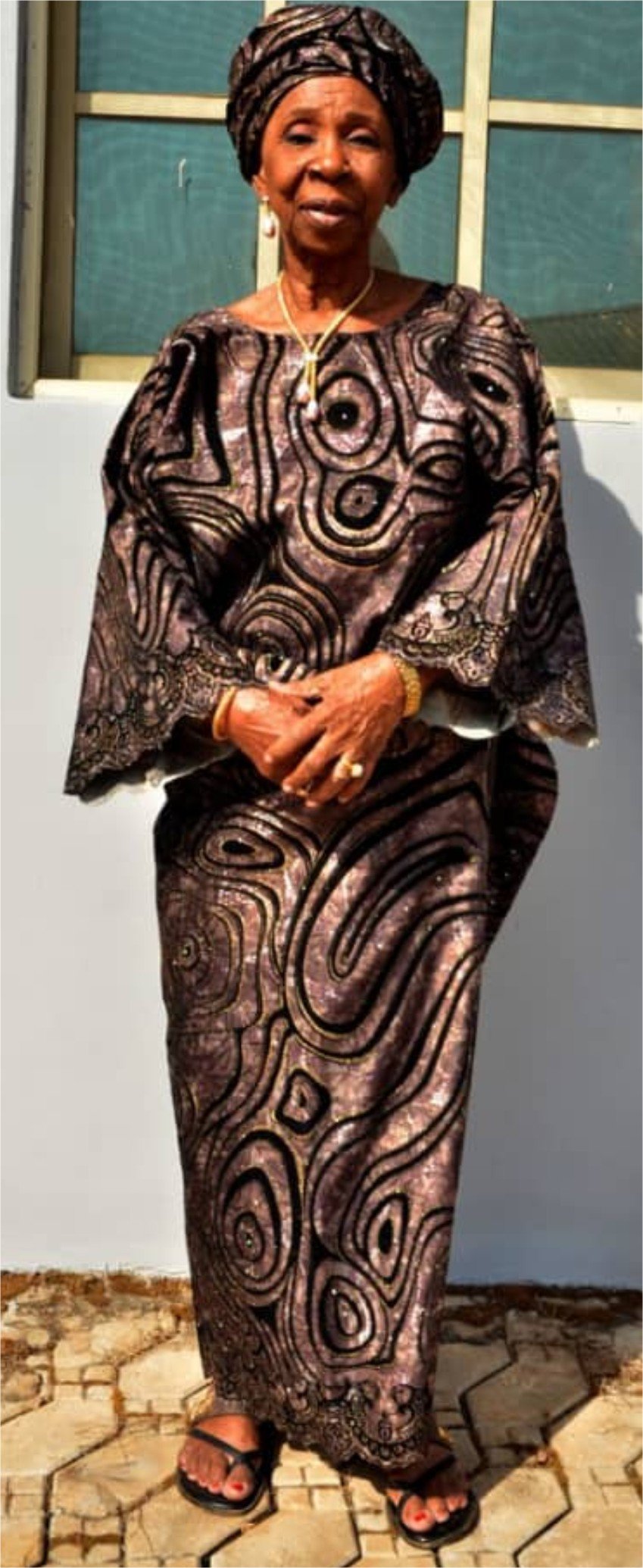 Others are: Diamond Sisters Club, Sunshine Ladies Club Egba, Crown Sisters Club Egba, Iya Egbe Ogun Prestige Social Club of Egbaland, Club 12 Ayetoro Yewa North, Osupa Egba Youth Wing Idiroko, Classic Sisters Club Iya Egbe Metro Social Club Yewa Land, Iya Egbe City Club, Iya Egbe Irepolodun Social Club of Egbaland, Iya Egbe Bobagbimo Asiwaju Okunrin Akile Ijebu, Iya Egbe Bobajolu Basiri Obirin Akinle Ijebu, Iya Egbe Gbobaniyi Ashiwaju Obirin Akile Ijebu. She is also the Yeye Oba of Ayetoro, Arowo Sadinni of Aiyepe, Iya Suna Ibara, Iya Suna Ijeja, Iya Egbe Adinni of Ayetoro, Yeye Oba of Eruwa, Iya Egbe Anobi Loniigba Alasalatu, Iya Egbe Shamsu Quoran of Egba Land, Iya Egbe Alaluqurian Obirin of Egba Land, Iya Egbe Alhaja Sanmori of Egba Land, Iya Egbe Ajijola Anobi of Egba Land, Iya Egbe Alasalatu Anabilonigba of Nigeria Ijebu Branch, Talented Gents Club of Ijebuland, Iya Egbe Alasalatu of Nigeria and West Africa (AKOREDE), Matron Saaddatul Abaddiyat of Nigeria, Iya Egbe Adinni Ayetoro Yewa North.
She was also bestowed with several titles which include Iya Suna of Yewa Land, Iya Alaje of Yewaland, lyaAlaje of Egbaland, Iya Suna of Egbaland and now the Iya Suna of the Umbrella Islamic body of Ogun State The Muslim Council of Ogun State. At 82, Mama is a fulfilled woman. She is blessed with children and grandchildren. She retired at an early age in 1995 and has continued her Service to Humanity within Nigeria especially her home state, Ogun.
Send Us News, Gist, more... to citypeopleng@gmail.com | Twitter: @CitypeopleMagz