Are you Looking for a professional printing company in Lagos or a printing press in Nigeria that can handle all quality printing of annual or seasonal Diaries, brochures, flyers, business cards, stickers, books, Roll-up banners, and other large format displays? City People is glad to inform you that there's a new Sheriff in town.
High Q Studios Limited owns a high-tech printing press in Lagos that provides you with printing solutions that are first of its kind in Nigeria, to meet your printing needs… High Q Studios Limited prints on virtually any surface and offer the intimate one on one customer service that ensures your satisfaction.
What's new is the fact that High Q Studios Limited engraves images and patterns on diaries, a feat that has never been tried anywhere in the world until now.
High Q Studios Limited believe in continuous investment in top of the range print industry expertise and technology. If it's new, revolutionary and comes with value-added capabilities, our print Research & Development team knows about it.
City People's GM Production, Wahab Bashir, and Online Editor Seun Joseph recently met with one of the brains behind the brand, Mr. Patrick Oduone who talked about the inspiration behind the innovation and what makes High Q Studios Limited. different from others. Read excerpts from the interview..,
Tell us your story briefly about the printing and production of dairy?
After I left Multinational Concepts about this time last year August 2017, I decided to form a partnership with a friend, a colleague and a brother Sylvester. He called and said why not come together and do something, I know you are capable of doing some stuff. Come let us start now, I'm interested in this diary of a thing so I went with him we sat down and here we are. But again, because we are both creative minds, he is a painter and a Graphic artist. I am a Graphic artist. We went to Yaba Tech together. So, we now said when two creative minds come together, what can we do, because everything you see in the Nigerian diary, there is no creativity, there is no innovation. It is the only replica. Whenever they see any samples from China, they will just try to reproduce it and that's it. But we said to ourselves, we are creative people. Even if we see China sample, what can we add to it to make it different?
I just said to myself, I worked in Multinational Concepts for 4 years. And I discover that there was a lot of limitations. You cannot innovate new ideas. It was just all about the MD and the chairman.
So what I did was to ensure that my time of stay was worthwhile in creating a new structure for the company to perform better in the delivery of products. But I was not getting enough because my creativity was being limited to an artist. I knew I need to get out of that environment and reinvent myself.
So I joined my friend and begin to brainstorm, what can we do differently, because apart from Printserve, Multinational Concepts is the next in the Diary production market.
One day. It was the first year remembrance of Olanihun Ajayi, my partner's client. So we said what are we giving this man as a gift. We were brainstorming and we thought let us try and see if we can come off with a face on a diary with leather material. It was a bit difficult. For many weeks we were brainstorming on how to bring put portraits on leather. At the end of the day we were able to put Olanihun's face on the leather and when the production sample came out, it was mind-blowing.
So when we gave the client, he was equally amazed and excited. From there we decided to push further, we started with the likes of Atiku Abubakar, Tony Elumelu and a whole lot of others, an at the end of the day, Covenant Christian Centre gave us that push to the limelight.
We did about 19 faces and each recipient displayed it on their Instagram pages and people were commenting in awe.
Again, we also pushed further to see what we can do with the pattern. Let's look at any design and create it in pattern and put in on leather which nobody has done. What we can see in the market is the normal Ankara wrapped around the diary, we went ahead to introduce the Ankara pattern into the market and it was highly accepted too.
Now when people want to do engagement or marriage, they come to us and request that we use their Ankara to form a Notepad for them. That's what we are doing now. People who are doing birthdays come to us and use their faces on the gift and some pages with their pictures and that's what's in vogue right now.
Apart from this special aspect of Diary production, we are also into the regular diary making, notebooks, journal for conferences. But what distinguishes us between multinational and any other brand is our finishing. When people see our finishing now, they confuse our product for that of China because if the way it was carefully perfected.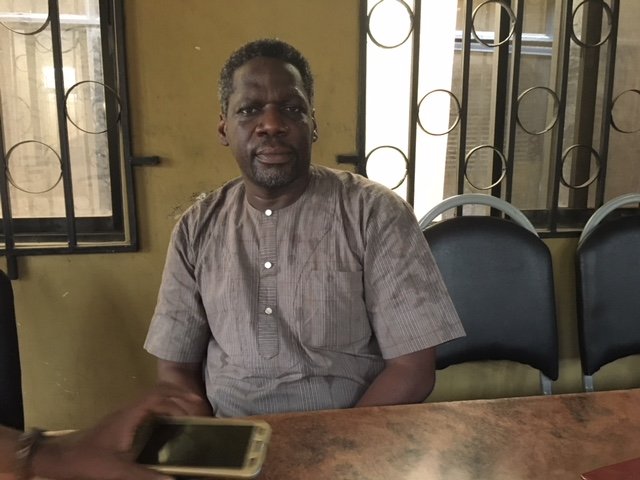 What I have been able to do is to consider the flaws of other companies and then put a perfecting touch to what we do now. You know most people pay much attention to detail and we handle every diary or whatsoever it is individually because it is a piece of art. So when you see it, you will be impressed to carry it around. The creativity will bring the new thing in town, to give quality to those who can identify and appreciate quality finishing.
We are in the Diary season now, so we want people to patronize us and see the difference.
I showcased some of my products in a Whatsapp group and everyone was wowed. Someone had to slide into my Whatsapp and requested that I visit his office.
We also did one for the Vice President, Prof Yemi Osinbajo and he loved it.
It's good for the campaign, anniversary, and presentation and so on.
If you are talking about the quality product, are you considering locally sourced materials so as the cost of your product can be affordable?
While I was still with Multinational Concepts, we were made to believe that these materials are so expensive, but when I left the place and begin to source for materials myself, I realized that 80% of these materials are actually sourced locally. And when the local suppliers see what we make out of them, they are also surprised. There was a time we sent one of our boys to collect some samples at the raw material market when one of the guys there saw our diary, he didn't believe it. He had to follow our guy down to the office to confirm if the diary was actually produced in Nigeria.
Like I said, we handle each production in detail and individually, unlike the regular mass production. That's why we are different.
What are the challenges you face in the course of the production so far?
The challenges so far are, you see for every new product you want to launch out, immediately they see the quality, they just run, because they thought it will be expensive.
Also, the volume of materials we use is usually not in stock in the local market
What other innovation on the diary personalization do you provide apart from debossment?
Apart from being innovative and qualitative, our finishing will also stand us out. There is always an attraction, especially when two creative minds are at work, you must notice it. So that's our advantages over some of these people, it is the publicity that we need now and we than City People for giving us this opportunity to showcase our products.
It is not hearsay, put our product, side-by-side with that of all the big companies we have, you will see the exceptional difference. Although they have the capacity to produce more, they lack innovation because of the mass production they do, but we pay attention to every detail.
We have quality finishing machine that is being operated by a highly motivated paid staff that are so committed.
What is the time frame to deliver a job of a very high volume?
We have a variety of product that we do. We have a different time frame for a different product. Now there are some jobs that are just getting the notepad without a jacket, sometimes we do a thousand copy within a week. There are some we sleep in office to meet the target urgency.
All we do is planning. We have meetings to deliberate where we need to get more hands and where we need to work with what we have. But over time, we have not disappointed any company we work for.
How do you intend to manage competition?
You see, for every product in Nigeria, immediately you launch it, every Tom, Dick will be interested in the business. You can imagine when the pure water business came to Nigeria, the whole market was flooded.
Once this product hit the market, people will want to give it a try, but creativity will continue to stand us out, it's not a thing that you will get a machine and do.
The platform that has just exposed us is the Covenant Christian Center, we intend to launch fully soon on all social media platforms with samples and copies of our products.
Where do you see this brand in the next 5 years?
In the next 2, 3 years, I know a lot of people will like to copy this idea, but as innovative persons, we would have added one or two things in this brand and make it several years ahead of our potential competitors. We are already exporting our diaries abroad. so, while others try to copy our products, we will have moved several steps ahead. I am putting into play several errors and failures from my former company. Standard; Principle; We won't bite more than what we can choose. We believe our product will speak for us. If you want us to deliver jobs for you within a short period of time, we check our pipelines and see the capacity we can execute. We won't rush to take all jobs if we can't deliver them.
Send Us News, Gist, more... to citypeopleng@gmail.com | Twitter: @CitypeopleMagz