•Makes Him BOBAKEDE Of Oke Ona Egba & Wife, Erelu
He is a big player in the Marketing Communications sector. He is also a PR guru. Yomi Badejo Okusanya is a celebrity Big Boy who recently turned 60 and was celebrated by many. He is an achiever. And an accomplished professional.
The big news is that Prince Abayomi Badejo-Okusanya was a few days ago honoured by Oba Dr. Adedapo Tejuoso, the Osile Oke Ona Egbaland.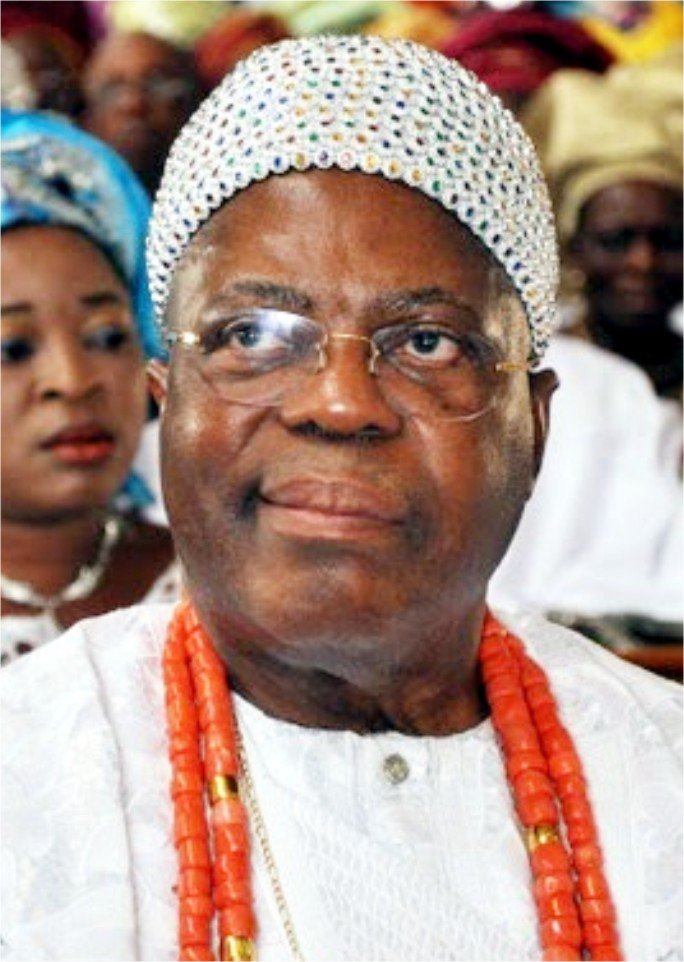 Yomi is now an Oke Ona Egba Chief. He is the Bobakede of Oke Ona Egba.
He was one of those who Oba Tejuoso conferred with Oke Ona Egba Chieftaincy titles on Sunday 19th February, 2023 to mark his 85th birthday.
His wife, Oyinkansola, was also honoured with the title of Erelu Bobakede of Oke Ona Egba. Let's tell you more about this adorable couple.
Oluyomi Bodunrin Alade Badejo-Okusanya – "YBO" as he is popularly known, was born on the 24th of December 1962, to the late Chief Emmanuel Badejo Okusanya of Imodi & the late Mrs. Olasumbo Amoke Olanrewaju Badejo-Okusanya (nee Omololu).
He attended Grange School, Ikeja before enrolling at the prestigious Igbobi College, Yaba for his O/Levels and later at the Federal Government College, Kaduna for his A/Levels.YBO gained admission to the University of Benin, from where he obtained a B.A (Hons) degree in History. Several years later, he enrolled at the Lagos Business School as a member of the sixth session of the Owner Managers Programme (OMP 6).
After his initial work experience at CT& A, an advertising agency under the tutelage of Mr. Cornelius Olanrewaju Tay, YBO set up what has now become known as CMC Connect LLP (Perception Consulting), in June I 992. His firm has been one of the market leaders in public relations and the strategic communication business in Nigeria, for three decades and counting. CMC Connect is the exclusive Nigerian affiliate of BCW, the 3rd largest Public Relations global network in the world and a member the world renowned WPP Group.
YBO has held several industry positions including Chairman, Lagos State Chapter of the Nigerian Institute of Public Relations; Council Member, Nigerian Institute of Public Relations and Secretary General, African Public Relations Association (APRA). In 2016 he was
elected President of APRA and is currently serving his 2nd and final term. His tenures at APRA have significantly contributed to Africa's increased and increasing recognition in the global public relations space.
A passionate and committed member of the Igbobi College Old Boys Association (ICOBA), YBO has held several positions on its Executive Council, culminating in his current position as the 1st Vice President of the Association. In 2020, he was appointed as a member of the Governing Council of the College.
YBO is an Anglican by birth and is actively committed to the work of the Ministry through his service as an Assistant Pastor in Grace Assembly under the leadership of Pastor Olufemi Paul. He also sits on the board of many other voluntary bodies like the Eye Bank for Nigeria, Goldcrest Family Centre and the African Cancer Centre (ACC). He serves as secretary to a community hymn singing group – Harvest Singers, founded by his late father-in-law, Professor Olufolabi Olumide.
Very proudly Ijebu, YBO is an active member of the Ijebu Heritage Group, an assemblage of prominent Ijebu professionals who are Significantly impacting their homestead, under the guidance and leadership of His Royal Majesty Oba Dr. Sikiru Kayode Adetona, Ogbagba II, the Awujale and Paramount Ruler of Ijebuland.
How he finds time to be diligent and committed to all these worthy causes, whilst making it look like a stroll in the park, is a constant source of wonder! Clearly, the grace of God is upon his life!
YBO is married to his wonderful & goal-getting friend of over thirty years, Oyinkansola (nee Olumide) and they are most blessed with a delightful son, Olaoluwakiitan, a Law graduate who is currently studying for a Master's degree in law.
His wife, Erelu Oyinkansola Badejo-Okusanya, (nee Olumide), was born on the 15th of January 1967, to the family of the late Professor Olufolabi Olumide of Kemta Okejigbo and Mrs. Clara Folasade Abiodun Olumide (nee Solarin) of Ikenne Remo. She comes from an illustrious family of firsts – Her father was the first Vice Chancellor of Lagos State University (LASU), and her mother was the first female Registrar of the University of Lagos.
After her primary education at the University of Lagos Staff School, she was admitted into the Methodist Girls' High School, Yaba. Thereafter, she earned a Bachelor of Arts Degree, Major in English at the University of Lagos.
Determined to reach for greater heights, she returned to the University of Lagos for a law degree, graduating in 2001. She proceeded to the mandatory Nigerian Law School training and was called to the Nigerian Bar in 2002.
She joined the prestigious law firm of Olaniwun Ajayi LP – a leader in commercial law in Nigeria. In 2007, she rose to serve state and country, joining the government of Babatunde Raji Fashola, SAN as Senior Special Assistant to the Honourable Attorney-General & Commissioner for Justice, Mr. Olasupo Shasore, SAN.
In 2011, she was appointed General Counsel to the Governor of Lagos State, Babatunde Raji
Fashola, SAN – working directly with him on various policy initiatives. She left the Fashola
Administration of Lagos State in May 2015, having served meritoriously for 8 years. In May 20 17, Oyinkansola Badejo-Okusanya together with three illustrious lawyers – Olasupo Shasore, SAN, Uyi Giwa-Osagie and Aisha Rirni formed the Africa Law Practice (ALP NG & Co.) The firm has grown to become one of the foremost commercial law practices in Nigeria with affiliate offices in other parts of the African continent. Oyinkan is co-Head of the firm's Dispute Resolution Team.
A professional to the core, Oyinkan is a notable and well-regarded barrister, a highly sought after speaker and very resourceful person. She is active in every professional association she belongs to and serves her alma mater through the Methodist Girls' High School, Old Girls Association (MGHSOGA) in the capacity of Publicity Secretary. She considers this an honour and a privilege.
Oyinkansola sits on the Board of the Lagos Court of Arbitration, and sings in the Choir of Emmanuel Chapel, Methodist Church Nigeria. This high-flying daughter of Egbaland has been happily married to her husband and soulmate, Oluyomi Bodunrin Badejo-Okusanya for nearly thirty years and they are blessed with a wonderful son.
Send Us News, Gist, more... to citypeopleng@gmail.com | Twitter: @CitypeopleMagz