Princess Moradeun Ogunlana is a popular naija celebrity woman who lives in Houston, with operations in Dubai & Nigeria. The big news is that her beautiful daughter, Bolade Tinuola Shonowo will be getting married next month in the US. She is the daughter of Oloye Owopele Shomowo of Ilishan, Remo, Ogun State. She will be getting married to Bidemi, the son of Elder Gbadebo Elijah and Evangelist (Mrs.) Comfort Oyelakin.
The Traditional Engagement Ceremony will hold on Thursday 20th October, 2022 at the Trinity Event Centre Ballroom in Houston while, the wedding ceremony and reception will hold on Saturday 22nd October, 2022 at Grace International Church in Houston. Cocktail Hour and wedding reception follows at Grace Event Centre.
Let's tell you a bit more about the Bride and Groom, and their love story. How did they meet? We can tell you.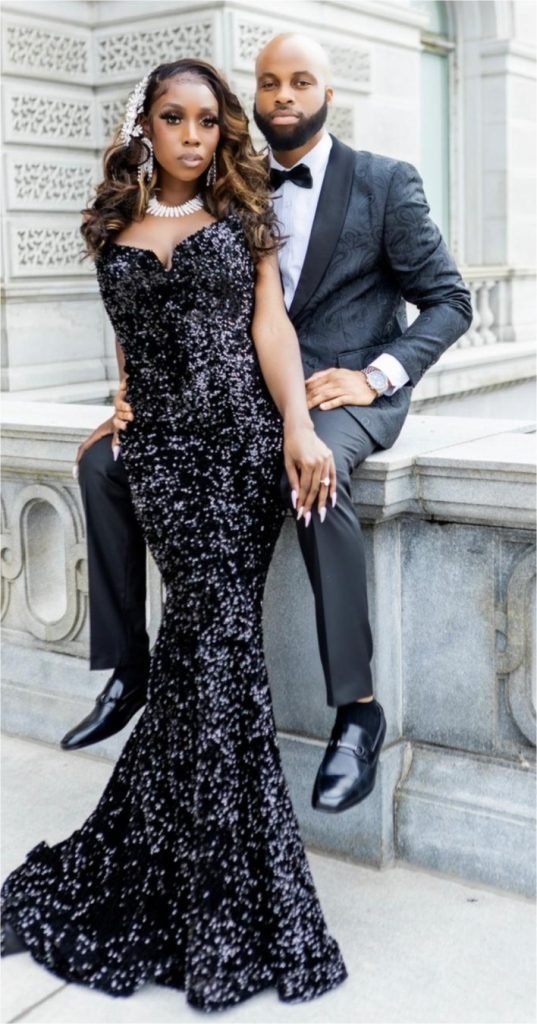 THEIR STORY
In search of wanting to hear from God, Bidemi (David) prayed and fasted for 30 days. During that time, he did not ask God for anything, except to hear from Him. God, in turn, revealed many things in the form of dreams, one of which revealed a new life and beginning for him and the family he would create.
Unbeknownst to Bidemi, 2 short months later, he would meet a woman, who would soon become like family. Her name would be Bolade.
While at a night lounge with his older brother, Bidemi saw Bolade leaving the same venue, and confidently approached her by saying, "How're you doing?" He paused and stared into her eyes briefly, and said, "You look like my wife."
Bolade, startled and skeptical, responded by saying, "Umm.. I've never heard that pick-up line before, what's your name? I'm Bolade."
"I don't know why I said that." Bidemi replied, "But my name is David, and when I saw you, that's just how I felt."
After exchanging pleasantries and numbers, the pair began to have deep conversations about their beliefs, interests and wants out of life. The pair remained friends while they became better acquainted, and eventually realized that their gravitation toward one another was undeniable.
The two would soon discover that their relationship was uniquely ordained by God as they learned that their connection to each other dated all the way back to 1971, in Ibadan, Nigeria.
As a school-aged child, Bidemi's mother, Minister Comfort Oyelakin, and her older sisters supported their mother by working in their family restaurant.
A family friend, who was also a businessman, took interest in how bright and intelligent young Comfort always appeared to be, and approached her mother as to why she was not in school.
Comfort's mother explained that Comfort's father did not have enough money for the school fees. Upon learning this, the businessman offered Comfort's father a job at his company, in an effort to assist her father in paying for young Comfort's tuition.
By God's grace, Minister Comfort went on to complete primary and secondary school, but always wondered why the businessman took such a keen interest in her education. It was not until Minister Comfort met Bolade's mother, Princess Moradeun Ogunlana, that she began to realize why it was so prophetic that this businessman invested in her family's life so long ago.
Minister Comfort and Princess Moradeun would soon learn that the businessman, whose name was Awolesi, was in fact, Bolade's great great uncle, on her mother's side, who later became king of Remo: Oba Akarigbo, Shagamu in Ogun State, Nigeria.
Although Bolade and Bidemi already knew their union was destined, when they heard this story, it was all the confirmation they needed to know their union was ordained by God!
#BecomingOye2022
#OyeSho22
THE PROPOSAL
On February 3, 2022, Bolade and Bidemi flew to Tulum, Mexico to celebrate Bidemi's birthday. Bidemi had been planning to ask a very important question for a while.
After two (2) days of exploring the city ruins of Tulum by: visiting archeological sites; riding bikes around the city; drinking margaritas on the beach; zip-lining across an alligator swamp; canoeing; and driving ATVs,
Bidemi suggested the pair get dressed for dinner.
Bolade, exhausted, recommended they just order in, but Bidemi insisted that they had to take advantage of everything the ancient city had to offer. Bolade, still tired, reluctantly agreed.
Believing they were just going to an ordinary dinner, Bolade was met with a dim and romantic setting, where an enchanted rose and an 'I love you' sign was nestled in the upper left corner, next to Bolade's seat.
At this point, Bolade was still not fully aware of what was happening. You see, Bolade and Bidemi had previously discussed plans of marriage and creating life together, but Bidemi had previously thrown Bolade off the proposal trail by saying that he didn't have plans to do any ring shopping until later in the year.
"After all, this is David's birthday," she innocently thought. "He's not gonna propose on his birthday trip. He hasn't even shopped for a ring."
At the dinner, Bidemi began to speak seriously about his immense love for her, how patient and perfect he believed her to be, and how he was ready to take their relationship to the next level.
Suddenly, Bolade's favorite song "We Belong Together" by Mariah Carey began to play in the background, and a waitress appeared with Bolade's favorite dessert, chocolate-covered strawberries. On the plate, a chocolate written-inscription said "Will You Marry Me?"
Once Bolade looked up, Bidemi was kneeling with his right knee, and posturing upright with a show-stopping, oval-shaped engagement ring. (the exact ring Bolade had been eyeing).
Bidemi asked, "Will You Be My Wife?"
Bolade's face was flooded with tears and she replied, "Yes!"
#BecomingOye2022
#OyeSho22
Send Us News, Gist, more... to citypeopleng@gmail.com | Twitter: @CitypeopleMagz