Talk of one property firm that currently sells affordable land and turns ordinary Nigerians into landlords with little money, Salescraft Property Limited will be mentioned. Mr Obi Stanley is the MD/Chairman of this impactful real estate firm. The Young man has carved a niche for himself, as he provides affordable on it land. He is popularly called Apostle Landlord because he has been able turn thousand of Nigerians into landlords within the 4 years of the company's existence. Presently, Apostle Landlord is on Inspiration FM, every Wednesday and Thursday (8:30am) and Rhythm 93.7, every Tuesday (8:30am).
Two weeks back, City People's Senior Property Reporter, ISAAC ABIMBADE was in 5th Avenue, R close house, 11 Festac town, where the Corporate head office of Salescraft Property Limited is situated and he spoke to the MD of the company.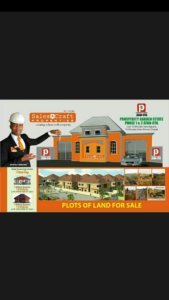 Why do they call you Apostle Landlord?
Apostle landlord is a man on a mission. And my mission is to see millions of Nigerians  home and abroad become landlords. We are passionate about this. It's a drive, it is a calling. What we want to see is that, people who run helter skelter, from morning to night have somewhere they can relax and they can have something or somewhere they can call a home. And it starts by acquiring a land and that is where we come in. We can help you to own a piece of land and also cross the second hurdle of building. So our mission is to see millions of Nigerians own piece of land through affordable land. Our land are very affordable, we have some that is as low as 4 hundred thousand naira per plot.
Can you briefly tell us the man behind Salescraft property limited?
The company name is called Salescraft Limited, while the MD is Mr Obi Stanley, popularly called Apostle Landlord. We came into this industry four years ago and within four years we have done exceptionally well. We started with prosperity garden estate in Atan Ota phase 1, now we have phase 2. From there, we moved to Ibeju Lekki Phase 2, there, we have Lekki premium estate. We have also moved to Ikorodu.
When you went into real estate 4 years ago, what were your aims and target?
Before then, I was into HR. I actually stopped HR because we now decided to build an internal HR structure. One of my motivations is that, my father didn't have his own house in Lagos before he died. I was born and bred in Lagos. So, it was something i always told my friends that, when I grow up I won't just have a home of my own but also wants to create a platform where millions of Nigerian can own a home and that was what actually drove me into real estate, and since last 4 years it has not been a bad experience.
We started with just one estate and in 4 years we have over 8 estates  and some of them are under constructions, like our Atan Ota phase 1, customers are already building. We have been doing well so far but we want to do better.
Tell us about your products, how affordable are they?
We have different estates; we have very close to the Lekki Free Trade Zone, very close to Dangote refinery and that Property currently sells for 6 millions per plot but we have affordable payment plan, where they can pay as low  4 hundred and twenty thousand naira only and it comes with global C of O. Anybody who is buying should know is buy a genuine property, we make sure every of our property in Ibeju Lekki has either C of O or excision or gazette.
We have another one, very close to Eleko beach junction, we call it Lekki Palace phase 2, it had an excision documents and that Property goes for 4.5 million naira. We also have another one very close to Pan Atlantic University, which is very close to the new airport, and we have Precious estate. We also have Precious estate phase 2, very close to Adron Homes at Imota and it goes for 9 hundred thousand naira, prototype goes for 7 hundred and fifty thousand naira only. We also have one in Atan Ota, very close to Adron Homes, it goes for 4 thousand naira only and for our brothers, who want to acquire landed Property in Asaba, close to the Delta State Polytechnic, as  i speak to you we are developing the site, we are doing the fencing and we have graded the roads,this property goes for 1 million. Once you can pay 30 percent of the money, we will give/allocate your land to you and you can spread the balance and pay up within six months. That is what we do in all our estates. In all our estates we do 50 percent down payment, collect your land and spread the balance under six months, which no other estate in Lagos does and you pay the remaining under six months without interest. This has enabled us to penetrate the market. Some people who have bulk money pay for  3 months, 5 months. So, once they pay 50 percent of the money we give them their land. Some of them even bring their friends, we have a lot of them in our Ikorodu and Atan Property, they have collected their properties and we are the one reminding them with text messages to pay up their outstandings, so that it won't attract interest after six months.
Apostle landlord has become a brand. We do radio programmes on Inspiration FM every Wednesday and Thursday, we are also on Rhythm FM with Toke Makinwa every Tuesday. So, we are like a brand name. We just recently introduced Mega Investor Programme, where people who have raw cash and wants to invest in real estate and within one year gets their money back. I won't like to give details of that until they come down to our office. Salescraft is the pioneer of this initiative, where you can invest in real estate and get your money back in one year. Before, people thought real estate is a long time investment, so we have created a product where you can actually do a short time investment. You can invest with minimum of 1.5 million to 3 millions. It is not that you are investing in the company but you are investing in our products and estates, and in less than one year you make your money.
How do you compare the challenges in the real estate sector to last year?
Basically, I won't say business has been very terrible, just like every business that has challenges. Though, it has been so challenging interms of economy of the country but we have made our products affordable to the point that people can key in even as low as 20 thousand naira. What we do is publicity, not that our sales has really slowed down, it just requires us to do more publicity and publicity cost money.
We spend a whole lot of money for radio, internet and trying to promote Salescraft brand, Apostle Landlord brand but so far so good, despite the challenges we have been able to break through. The recession has also encouraged the business because people know that the cash is losing value, so people and a lot of our clients are now looking where to invest their money instead of leaving it in bank. So, when they see affordable properties they go for it and our real estate products are not costly, they are affordable.
How have you been able to impact society within the short years of Business?
When we started this company, we started with less than 10 staff strength and now we have over 150 staff, and 150 staff have families, some of them are mothers, fathers and sisters. So, it's obvious we have been able to engage this people.
Can you tell us more about you and your educational background?
Let me start with church; I'm a product of Pastor Chris Oyakhilome, his messages have shaped me and makes me a better person. I started my career as a sales representative. When i finished from Nnamdi Azikwe University, Awka in 2005. after my NYSC, I came to Lagos. I picked my first job as Sales executive, at corporate mobile firm in Ijesha, Lagos. After a while I moved into Dana water also as sales executive, from there I moved to where they sell UPS, Inverters. So over time, I noticed I have flare for marketing, so I decided to stop but before I stopped I said to myself what would I do, so I thought about entrepreneurship , and I know that, the only thing I have love doing most is marketing, 'I can market anything marketable', that was my  resource and it was everything I had. So I said, let me go into consulting. I recruit for companies and all I do was to give them my bill and i recruit their workforce and that was where the name Salescraft came from. I never knew it was a big industry then until I went in and I noticed that every company were looking for Salescraft, looking for somebody who could recruit  marketers for them. So, I did that for a period of 3 to 4 years before i set up my real estate firm. As a matter of fact, I learnt real estate business from some of my clients, those are the early people who started early. I learnt the rudiments of the business from them while I was  recruiting marketers for them, from there I set up my own
Send Us News, Gist, more... to citypeopleng@gmail.com | Twitter: @CitypeopleMagz