Light skinned beauty Tana Adelana is best described as a bundle of talents. The seasoned actress made her debut in the entertainment industry about 2 decades ago and has grown to become a major force to reckon with in the industry. She studied and obtained a B.Sc. in Urban and Regional Planning at the University of Lagos .She is a TV Presenter cum actress.
For six years Tana was the face of Channel O where she hosted the interactive O-BOMA show. With Channel O, she also hosted the magazine-styled 100% Naija show. Tana also worked with the Big Brother Africa reality series for three (3) years as the Nigerian correspondent. Also hosted the eviction parties for Big Brother Nigeria and West African Idols Reality TV shows. She hosted DSTV's Mnet's Let's Dance  reality dance series.
Tana, in 2007, hosted perhaps the biggest entertainment event, Hip Hop World's Award with arguably the biggest name in Nigerian entertainment, D'banj. She has also gone on to work as host with other events, such as MTN Y'ello, LG karaoke Mega Star Show, Coca Cola Fc TV Show and Zain Naira Rain Promo. Few weeks back, she won the Best Supporting Actress of the Year and in an interview with, VIVIAN ONUORAH, she speaks on her acting career.
Can you briefly tell us more about you? 
My name is Tana Egbo- Adelana, I was born into a catholic home in the 80's. I am the last in a family of 10.

  

I am an Ibo girl from Nara Unateze in Nkanu East LGA of Enugu State. I am an actor, Television presenter and an entrepreneur. I'm married and I have been blessed with two adorable children.
How did you get into acting?
 

I did a little stint on Kayode Peter's flatmates in 2005 before continuing my career as a television presenter. After marriage and kids and a few more years on screen as a Tv presenter,

  

I wanted to try something new, I did and fell in love with it and as they say, the rest is history.
What was the inspiration? 
Angelina Jolie (I adore her) and Terrence Howard. I remember watching the Hollywood movie "hustle" and I thought to myself; "this actor is so underrated". He was exceptional, he made me cry and I could feel every emotion on his face even with the volume turned down. I thought it was absolutely interesting to get into a character, completely internalise it, forget who you are for that period of time and interpret that role. That was when I decided to give it a shot.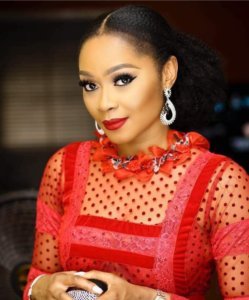 How long have you been acting? 
officially, five (5) years. 
How has the journey been so far?
 

I've totally had the good, bad and ugly but Its more stable now and I'm loving it.
How did you get your first role in a movie?
 

My friend Yvonne Nelson told me back in 2012 that she had this role for me in her movie "single and married" and she wasn't sure if I'd like it, I said I'll read the script and when I did, I fell in love with the character because it was quite a challenging character for me, it wasn't a major role but it was worth it. 
Which movie would you say shot you into limelight?
 

SINGLE AND MARRIED and THE KINGDOM
How has acting experience been for you so far?
  

I find it very interesting to enter the lives of random people and try to think or act like them, for me, it's just another proof that God does exist and how wonderful He is. Its hectic, its demanding but it's worth it.

  
What are some of the gains and pains of being an actor for you? 
The pains for me is basically that I do not get enough time to spend with my family these days as I have gotten busier on the job. The gains are a lot I must confess, the perks, the recognition, the endorsements, the love, the awards and nominations! 

  
What else do you do apart from acting?
 

I have an Ngo (Lend-a-hand with Tana Adelana), I try to pay attention to the needs of others as much as I can, especially women and children. i also own and run a beauty business ( a beauty bar and a mini day spa). 
What are some of the movies you have worked on recently?
 

Body language produced by Emem Isong which is set for cinema release on the 20th of October 2017, purple hearts produced and directed by Andy Amenechi which is an official selection in the fourth coming Abuja film festival where I also got a best Actress Nomination. 
How financially rewarding has acting been for you? 
As with every business, it's never lucrative in the beginning. You must pay your dues, work hard and the rewards will come rolling in. I have paid my dues to a reasonable extent, so now, it is financially rewarding for me. 
What kind of role appeals to you most and which would you find very challenging?
 

I find roles that are not cliché appealing, roles that will enable me show my acting prowess, my ability to be show my versatility. My role as Amber in the soon to be released Body language movie is my most challenging role yet. Amber had multiple characters and one of those characters is a stripper.
What's your educational background?
 

I did my nursery and primary education at Treasure Land Nursery and primary school surulere Lagos. I attended Saint Francis Catholic secondary school, Idimu also in Lagos and I went on to University of Lagos where I obtained a Bsc in urban and regional planning. In 2005, I obtained a special diploma in make up and aesthetics from the make up art school London (south African campus). I also did a special executive master's program at the Metropolitan school of business and Management Uk in Leadership and Management. 
What are your challenges as an actor and how do you cope with it? 
The challenges are basically what most of my colleagues can relate with. Lack of funds, Lack of power, improper planning etc, but, we cope with it, the industry has come a long way from where it was and its even getting better.
How do you feel winning City people Movie Awards for Best Supporting Actress of the year?
 

I am completely elated. It's good to be recognised for the hard work and endless hours, effort and time I have put into my work over the years. It makes me feel I'm doing something right.
What are some other nominations or awards you have received in the past? Future awards nominations and Award for on air personality of the year, grind awards on air personality of the year, Giama Best Actress nomination, Ghana movie awards Nomination for Best supporting Actress and Now, Abuja film festival Best Actress Nomination.
What would you attribute your success in the industry to?
 

Without a doubt, God's Grace.
Send Us News, Gist, more... to citypeopleng@gmail.com | Twitter: @CitypeopleMagz