Dame Okah-Donli is one of Nigeria's brilliant and beautiful women doing exploits on international platforms. She has proven beyond doubt that she's not only a leader but a change-maker. Her doggedness and resolute commitment have rewritten the narrative that belittles or undermines the strength of a woman.
She was DG Naptip till 2020 and currently chairman board of trustees United Nations voluntary trust fund for victims of trafficking in persons and Executive chairman Roost Foundation an NGO focused on issues relating to human trafficking , sexual and gender based violence
During her tenure at NAPTIP, she successfully lobbied the government of Nigeria to extend its whistle-blowing policy to human trafficking issues, positively impacting the reporting of this crime in her home country.
Brilliant and beautiful Dame Julie Okah Donli was interviewed by City People Business Development Manager. Bunmi Durojaiye, and spoke about her new career in humanitarian service. Enjoy excerpt
Congratulations on your new job. Tell us about it.
I am the Chair of the board of trustees, United Nations Voluntary Trust Fund for Victims of Trafficking in persons. The Trust Fund offers financial, legal, and humanitarian support in the form of grants to victims of human trafficking and non-governmental organizations involved in offering such support. Basically, my job is to ensure that such support is given to the right NGO and to ensure the proper utilization of such resources alongside other functions peculiar to the position.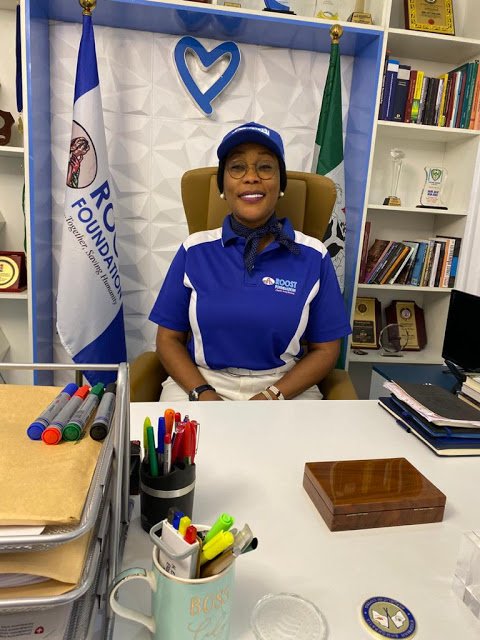 As the Executive Chairman of Roost Foundation, I am saddled with the responsibility of ensuring that the Foundation keeps up with its mandate of offering financial, humanitarian and legal support to victims of human trafficking, sexual and gender-based violence. Roost Foundation also has a skill acquisition centre, guidance and counselling unit, etc and alongside other members of the board of trustees, it is my duty to ensure that we provide a safe haven for victims of human trafficking, sexual and gender-based violence.
Which of the jobs is more demanding and why?
I would say that both jobs are equally demanding. From my job as the Director-General of NAPTIP to my job as the chair, board of trustees of UNVTF and as the Executive Chairman of Roost Foundation, all jobs have their truckload of responsibilities and sacrifices. For me, the job description is what matters and not the office or portfolio attached to it. NAPTIP, UNVTF and Roost Foundation have similar areas of thematic concern which is fighting the scourge of human trafficking, sexual and gender-based violence and therein lies my job description.
As the Director-General of NAPTIP, although the agency has a national outlook, I have had experiences where we have had to travel outside the shores of the country for seminars and even rescue operations. The United Nations Voluntary Trust Fund for Victims of Human Trafficking is a more decentralized platform because the trust fund can be accessed all over the world and so it is right to say that we deal with victims at the international level. Roost Foundation is also limitless in its scope. This means that the Foundation has the capacity to attend to both local and international cases. This is quite capital intensive and this comes with lots of challenges and sacrifices.
Politics is around the corner, what is your take on more women in Politics?
Having more women in politics is a great idea as long as the motivation stems from a genuine love for the masses and the need to offer selfless service to the country. Women are natural leaders and homemakers, they are compassionate and goal-oriented and goal getters and these are some of the core virtues that leaders should possess. In Nigeria, I believe that we have many women of substance who will make awesome political office holders and so such women should be encouraged to leave the comfort zones of their homes and seek elective positions.
On the other hand, women should also, learn to support their fellow women when they indicate interest in seeking elective positions. Every woman cannot become a political office holder but all women can offer support to those who are bold enough to take the bull by the horn. Women must resist the syndrome of women pulling down women and focus on cheering other women to victory rather than allow the men to manipulate them by convincing them that women cannot support or work with other women, we must change the narratives and mindset
You have a unique and exceptional style statement, describe your fashion sense.
Fashion for me is not just what we wear. It is how we wear it and how it reflects our personality. That is why you can have more than one person wear the same thing yet one person stands out. This happens because it is not just about what you wear but how you put it together and carriage
In simple terms, I will describe my fashion sense as simply elegant, classy and comfortable. Elegant because I like to dress well because how you are dressed in most cases influences how you are addressed. I like dresses that suit the occasion and of course, the weather and I like to feel comfortable and unique. Also, I see fashion as an art that can be used to pass across different messages. That is why some of my dresses and fashion accessories scream against human trafficking, sexual and gender-based violence. I have my style and signature, I do not copy others I just create my style. That is what stands you out all the time. I see some people trying to copy my style eg tying a scarf around the neck etc I just smile because it means my dress and style sense is being noticed and appreciated
Please tell us about your hobby
My hobbies are easy to identify. I like to serve as the voice of the voiceless in society. I like to fight for justice and ensure that the human rights of the less privileged are not violated. This is what motivated me into studying law. I also like to read and write and travel because it gives me the opportunity to meet new people and learn about other peoples' way of life and how I can influence them positively love to dance and cook and play golf.
About Roost Foundation
Roost Foundation is a non-governmental organisation that is committed to preventing all forms of Human Trafficking, Sexual and Gender-Based Violence,
OUR FUNCTIONS:
To Liberate and uplift the vulnerable
To provide access to justice
To prevent and eliminate the scourge of Trafficking in persons and sexual and gender-based violence in Nigeria
To provide Medical, Financial, Legal, and humanitarian aid and to ensure their rehabilitation and integration into the society,
OUR AREAS OF WORK INCLUDE:
Human Trafficking victims, Women, men, and children
Victims of sexual exploitation, Victims of domestic and gender-based violence
Global outreaches, Victims of social injustice.

HUMAN TRAFFICKING:
Human trafficking is a crime against humanity because it infringes on the victims right to freedom of movement and association.
SEXUAL AND GENDER BASED ABUSE:
This involves all types of sexual, physical, emotional, psychological and domestic exploitation, Child labour and female genital mutilation.
VIOLENCE AGAINST PERSONS:
• No to sexual abuse • No to slavery and forced labour • Freedom of movement • No to child trafficking
• No to female genital mutilation • No to organ trafficking
YOUR RIGHTS YOUR RESPONSIBILITY:
You have the right to freedom of movement and association but this must be done without
Infringing on the rights of others. Be responsible by reporting any suspected act of human trafficking and violence.
IF YOU SUSPECT SOMETHING SAY SOMETHING AND DO SOMETHING
If you suspect any case of human trafficking or any form of abuse, please send a complaint to:

OUR SERVICES:
• Public Outreaches and community engagements, • Awareness/Sensitisation
• Guidance and counseling services • Pro bono Legal services for victims
• Humanitarian Aid • Complaints desk/E-complain • Rehabilitation
• Skill acquisition • Radio talk show • Public and community health programmes
• Psychosocial support • Social, educational, and economic empowerment
ROOST FOUNDATION and the relevant authorities Complaints can be sent to Roost Foundation Office:
No. 6, House, 1OB, Cairo Street
Wuse II, Abuja. +2349070343838, +2348037870683
roostfoundation@gmail.com
Send Us News, Gist, more... to citypeopleng@gmail.com | Twitter: @CitypeopleMagz