•Realtor Max Global Ltd. CEO, MIKE ADEYEMI
One of the wave making real estate firms in Lagos right now is RealtorMax Global Ltd. The company is gradually gaining attention in the sector. Mike Adeyemi is a sales and marketing entrepreneur who is known for building global sales network across the globe. He holds a Doctorate Degree in Business Management and leadership. He started his sales and marketing career in 2005 and went on to work with several other marketing companies across the globe.
His experience in sales and marketing spans over 15 years, establishing him as household name in the industry and he is one of the most sought-after sales and marketing entrepreneurs in Africa and the world at large. He has built a sales team of over 500,000 entrepreneurs spread across over 10 African nations. He is driven by a burning passion about growth and development of people especially youth and women.
Mike Adeyemi is the President/CEO of RealtorMAX Global Ltd – a real estate and investment company currently expanding in Africa and redefining luxury in real estate business. We are not just building houses, we build you a home that exceeds your expectations. We don't just sell landed property but we give you the best landed property in choice locations without any encumbrance, and with proper documentation.
Mike Adeyemi, also sits on the board of 2 other companies – Freedom Tribe Academy: a business academy for entrepreneurs with the sole purpose of helping her members grow financially through a structured, positive training and mentoring program that enables them to tap into ideas, opportunities and system that allows them to live life on their own terms. His dream with this project is to create 100,000 millionaires by 2030. He is also the CMO of Tajiri Global – a Pan African business ecosystem created to solve Africa economic issues digitally and solve cash remittance issues in Africa and create financial inclusion for African youth through the Tajiri business ecosystem which includes a Digital bank and Creative monetization portal.
Mike Adeyemi believes with real estate, technology and the right education for our people in Nigeria the nations economy will soon begin to look good. He spoke about this and many other things in an interview with ISAAC ABIMBADE and FERANMI AYOADE. Enjoy the excerpts.
We have heard so much about your real estate company, RealtorMax. Can you share with us some of the things you have done in the last few months?
My name is Micheal Adeyemi. I'm a serial entrepreneur and I'm also the CEO, Founder of Realtor Max. Realtor Max is a real estate company. We specialize in building luxury homes because we believe that if you want to create luxury, you must focus on quality. We want to create quality and luxury at the same time. Affordable homes for everyone. We are into luxury homes, we are into construction and we are into land banking, just like every other real estate company does. So we sell land and anything property is what we do at Realtor Max.
We started the journey about 5 years ago but it first started from a personal angle of doing real estate businesses. Having done a lot of business and was able to carve my niche in those businesses and succeeded, I started looking at the area where I can invest money and that was when I began to think about real estate. I started a private real estate business. I was buying land and I would just fence it and leave it. As at that time I hadn't registered a real estate company then. I bought a couple of properties in Abuja and I started developing them. After development, I would put them up for rent. At that point, I began to connect with other people in the industry and I saw what they were doing. I started thinking to myself why don't you start taking this as a real business? So we went ahead to register a real estate company about a year ago called RealtorMax.
What set us apart from other real estate companies is we are combining technology with real estate. Aside from the fact that we are building luxury homes, selling land, and buying property, we are also combining technology. We want to make real estate investment seamless for investors. Where people can easily invest in real estate and at the same time track their money on the project they are investing in, using applications, etc. Meaning that, if I come to RealtorMax and I invest with you guys, I can go home and monitor the progress of my money on my phone, at any time. I can even look or monitor all your projects at any time. If we are telling you we are building something in Epe, from the comfort of your home, you can see everything going on that we are doing in Epe. And as money is coming into your account, you can also track it, in real-time.
We are currently building our applications but by the first quarter of next year, they will be ready.
Why did you start with luxury homes and I hope it won't choke you up at some point.
One of our core values is excellence, execution. Execution means you are able to bring a team of people who know what they are doing to a table. As a CEO you can't do everything alone and you can't be everywhere at all time. What you can do is to bring good guys around you who are committed to the execution of the job. When we say we focus on luxury, we have guys whose focus is designing the luxury and going to the site to execute it. We have people who are in charge of finance. What they do is raise funds to execute our projects. And on the area of selling property: we have guys who stand dedicated to selling land.
Where do you have some of these properties?
One of our low budgets we are selling now is Brookview in Ikorodu. 300 square meter is selling for 6 million, while a full plot is sold for 9.5 million naira. It's at Igbo Olomu, by Agric Bus-Stop, Ikorodu. We have registered survey on this property, while C of O is in process. We have another property in Epe. It's at Ilameja. Epe is fast developing now and any smart investor should be looking at investing in Epe. And the reason is simple, we have the airport coming up in Epe. We have the coaster road about to be constructed. We have the seaport. The entire of that axis is the real deal now. It is the hot cake, right now. We have 1.75 million landed property for 300 square metre. While we sell 600 square metre for 3.5 million naira. We have payment plan: with the initial deposit of 500 thousand, you can own land and begin to spread the rest within a year. We have global C of O for the property. We have have registered survey. It is the hot cake now because alot of people are buying.
We also have Eko Akete GRA. It is just 3 minutes drive from Lekki/Epe Expressway. The estate is called Lagrande Maison and it's selling for 13 million naira for 300 square meter. While a full plot goes for 25 million naira. This estate is not just an ordinary estate; it's a beachfront property and that makes it hot cake. The reason why we are still selling at the low price is because we have not started with the development of the estate. Once we start a project, the price will triple. There are many amenities in the estate. We have a road network, shopping mall, 24 security system etc.
What's your strategy?
First, we want our projects to speak for us. If we create something that hasn't been seen before, that's going to give us a name. That's going to give our brand a good reputation. Customer satisfaction is another thing. If our customers are satisfied with what we are offering, people will know us. Of course, we don't neglect the media. The media is part of it especially social media. Social media is there. Normal advertising is there. Billboards are there. All the media that you can think of is what we intend to use.
Why the name RealtorMax?
First, realtor simply talks about real estate, then maximize the wealth of real estate. That's why we call it RealtorMax. The goal is to conquer; to come into that arena to dominate and to win. We are there to win and maximize the potential of the industry and our vision and mission is to build a community of wealthy real estate investors.
Can we get to know more about you sir
I came from a humble background. I wasn't born by any rich parent. My father was a teacher and my mum a trader. While growing up, I discovered that my family was lacking in many areas and I began to tell myself I should be able to do something differently. After secondary school you want to go into University. I sat for JAMB (UTME) like five times. I dropped out of school twice but I didn't relent. I was later admitted to Lagos State Polytechnic. I studied Business Administration. I graduated 2005. I did a lot of businesses in sales and marketing, for about 5 years. There's virtually nothing I haven't sold. I sold clothes, and shoes in Ikeja, here. I approached lots of office guys and those who want to have their weddings. I wasn't even a tailor but I will go to a tailor, learn how to measure and I would go to the office to measure them and then take those measurements to my tailor to sew for me. I did that for a period of time. At a time I was introduced to petroleum marketing but I was't able to close any deal. I left there to start a network marketing business and I was only there for two years. At this point I made up my mind to travel. I was able to get to Malaysia. There was nothing in Malaysia and I left there to start ice cream business. I left there around 2012 because it wasn't giving me my desired result, so I started thinking of what I could do with my life.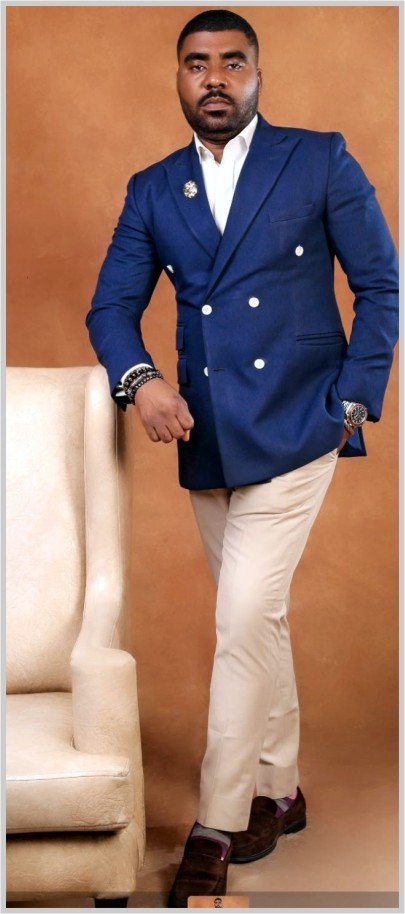 Send Us News, Gist, more... to citypeopleng@gmail.com | Twitter: @CitypeopleMagz