•RICH-HOODS Homes & Property Ltd. Boss, ADEMOLA IFAGBAYI
Mr. Ademola Ifagbayi is the president and CEO of Rich-Hoods Homes and Properties Limited. The company which was established in 2022 has risen to prominence and is fast becoming a formidable force and big player in the real estate industry. In less than a year of operation, Rich-Hoods Homes and Properties Limited has stamped it's feet firmly in the business of land sales and property development. It is currently working on 5 estate projects; 3 of which are at the stage of land sales while the remaining 2 have gotten to property development level. Acquiring lands and developing properties in these estates are made affordable and convenient for people low- and middle-income earners in the society.
City People had an exclusive interview with the President and CEO of Rich-Hoods Homes and Properties Limited, Mr. Ademola Fagbayi in his office located in the highbrow area of Ikeja, Lagos. The exceptional administrator and prudent finance manager narrated his over 20 years journey in Insurance, how he rose to become the MD of Mutual Benefit Life Assurance Limited and why he left insurance to set up his real estate company, Rich-Hoods Homes and Properties Limited. Below are the excerpts:
Can you take us through your career journey?
I'm a graduate of Obafemi Awolowo University. I studied Education, specializing in social studies. But one thing I discovered is that just like the background is, you'll always be interested in looking out for what exactly you want to do to achieve more in life. And majorly for those of us that graduated in the early 90's, you know things were a bit very rough. So, we were just trying to rediscover ourselves. Even coming to Lagos, we have very few private schools that we can teach so if you are unable to get job In the public institution, things are always very tough so out of providence, through a friend of mine I got the opportunity to join Amicable Assurance Company which was the leading life assurance office at that time and we have a couple of people there too. I started my career then in 1995 as a Marketing Executive. I worked there for about five years before I moved to Industrial and General Insurance Company (IGI) and it was a very exciting experience and that's the major training school where we have all the exposure and I was able to rise from Marketing Executive to Senior Analyst and then it was equivalent to Senior Agency Manager and I was given the responsibility to manage the eastern region. IGI was very new in life at that very material time, they were focused more on general business and we were trying to expand the life business out of the business as the eastern regional manager. My responsibilities covered Rivers, Abia, Bayelsa states and the rest. I was the one who set up those offices then, training marketers and the rest of them. So, in 1999, I moved from IGI to Mutual Benefit Life Assurance and that was the time they got the benefit to do life assurance business. I was their pioneer Agency Manager. So, I was majorly the number one life assurance salesperson on the mutual benefit. So, to the glory of God, I was able to work very well for mutual benefit for almost twenty-one years, this is where I rose from the post of Agency Manager to become the Managing Director, that was in 2019. And I eventually exited the system in 2022. It has been on my mind that becoming the managing director of a company happens to be a providence because all my life, I desire to be an entrepreneur because all the work I've been doing right from the beginning was not a salary job but a commission based arrangement but because of my qualifications and the zeal I was able to rise to that level. I started writing my professional exam and got qualified but even with all that one I believed there's something in me I need to drive my own business, looking at it, once you're 50, your time is approaching even a couple of my friends that are into real estate business are equally doing consultancy by the side. So, I do consultancy for them, build business for them, even I help other people to set up their own team, build a very viable team in the real estate end so it's an area that I've shown interest.
Why did you leave trading insurance for real estate business and how easy was it for you settling in?
Like I said I've been a sales marketing and management person because I was the manager of the Lagos business school all along. I equally do consultancy. Just like some of my friends that we finished from school together, they are into the real estate business. They often invite me to come and help train their staff. And even as a consultant, when you go to them, you ask questions and by doing so they are telling you everything about their company. By doing so, I was grabbing some vital information from them. I learnt from their mistakes. I have where I jot those things. More so the whole essence of any business is sales and all my life after university, everything I have ever done apart from working briefly with my cousin in Owode Onirin, Lagos where they sell spare parts. I have been a salesperson all my life. I was able to sell intangible products so moving from intangible to tangible it's like a pig in the mud. So, it is very easy because in insurance what I'm selling people cannot see. I'm selling a promise to deliver something that may or may not happen. But when I say for instance, Mrs Awa come and buys land, the first thing they say is 'where is the land'? The land is in Mowe Ofada, when are we going to visit the land? It's very easy to do. When you get there, you will see the land, you will see the Omo onile (land owners), you will see the bale (Community head) coming around to hail and welcome you. You would be convinced that this man is not a stranger here. Then the discussion would now be 'how do I pay?', 'Can I pay in instalments?', 'What are the documents?' How do I get the government's consent, C of O and the likes? All these documents you can get by going to the government agency that's concerned to do your independent verification. To me, real estate business is so straightforward and practical. It is a tangible thing that people can see. For someone like me, moving from marketing of an intangible to something that's tangible is an interesting and exciting one.
What is your assessment of the real estate industry in Nigeria?
If you look at the economy, real estate is one of the most reliable businesses because of the shortage of housing facilities. According to the world bank report, even as of today, Nigeria has about fifty million gap in housing provision whereby we discovered that it's a capitalist system but we started to run it like a socialist system whereby we focus on government doing things not on the private sector but small, medium and big ones are coming in the economy and there is no way the economy can grow and if you look at what has been going on the real estate sector in Nigeria, we have a great real estate company doing a lot of things, empowering people, making people to focus, repositioning the mind of people because everybody wants to congregate. Where we have people, nobody wants to go outside to the inter land again to build cities. Now, the revolution in the industry today where we have people starting by buying one or two plots of land now moves to the extent of buying and building an estate. Now the business has gone to a level that real estate company are now thinking of building cities just like the way they did in advanced countries like Europe and America so if you look at the expansion we are seeing now in both axis of Lagos like Ibeju Lekki, Badagry, Ifo, Ewekoro side and the interchange, you'll see that new cities are springing on a daily basis. The focus now Is what we want to do, our objective because it's just to solve a problem and the problem we're solving is to make sure that people have access to affordable homes. We have all it takes to go and start from Ajah or Lekki, if we look at the system here, we have a lot of middle- and low-income people that form over 70% of the society. How do we do something to empower them? How do we come with something that is going to be affordable and convenient for them to do? To be in this business, we started early this year and to the glory of God, we've been able to get patronage from people both locally and internationally.
What aspect of the real estate business are you focusing on; is it land sales or property development?
For now, we are combining the two because presently we have about five estates we are working on. Out of these five, three of them are land while two are property development. You know the way we do in the real estate industry that we collaborate together but for the land that is under us, we have one directly behind redemption city called King Solomon Gardens, it's a complete garden for about 100 plots. It is an estate that's going to stand on its own. Another one is far away in Shimawa. People call that axis Shimawa but it's not the same thing because Shimawa is a bit farther down so we have another estate down Shimawa. We call that one Buckingham Gardens and it's also going to be an estate on its own. We have another one on the Ewekoro axis in Itori side. So, that one is called King David's court. All these are lands we are selling for people and when we sell those lands then they are going to develop it but we have our prototype though we have an area that is having 3 bedrooms flat, if it is either bungalow, 2-bedroom or duplex. In the Ibeju Lekki axis, we have some lands we are developing with our partners Samovic Homes and Property Limited which is called Green Brooks Estate in Ibeju Lekki. For the property development, both of them are on the Mowe-Ofada side, we have one Rich-Wood Court Estate, it's a luxury apartment. We have discovered that people want to live in a very good environment and things are changing very fast. Gone are those days when people wanted to live in a very big compound, they wanted to live in a community with decent people. We want to bring Lekki to that axis because we know the best area to live here is on the mainland but high migration to that area is making it difficult. Look at the axis of that interchange. You know it's an industrial area now, international buildings are already springing up there, several Chinese organizations are going to that end. So, we want to cash-in on those areas. That is why we are building luxury 2-bedroom, 3-bedroom apartments in the Mowe-Ofada area. They are quite very cheap. Our 2-bedroom apartment is going for just 10 million naira and our customers have the privilege of paying over 24 or 36 months whichever one is convenient. we have done our structure and costing and decided not to make it to be much more expensive for them. We equally have another one directly behind the new auditorium, we call that one Dove Smart Estate. It comprises 4-bedroom duplexes and those ones are going for 47 million naira each. What we are trying to do now is that we are looking at both. If it is land that you want and you are a low-income earner, we have places as low as 1.5 million that we can sell to people and you can spread the payment for over 24 or 36 months. We have an area where you can get our land for 3 million naira. We have one in that King Solomon garden. Land in King David's Court is sold for around 1.5 million naira while the one we have in Lekki is around 10 million naira. We are looking at the economy, whichever area that people are interested in and whichever strata of the society that we belong to, there's something for us to be able to offer to the people.
What are you doing in the area of partnering with mortgage banks to make properties affordable for people?
We are looking forward to working with some specific mortgage banks, there's a recent directive that contributor under the national pension scheme there's a law that is formulated that you can use up to 5% of their depositor savings as mortgage and these mortgage they cannot collect the money direct, they have to go through a mortgage bank, but they don't know how to handle the Omo Onile people. What they do is to partner with those of us that already have our structure on ground as corporate organization to public organization.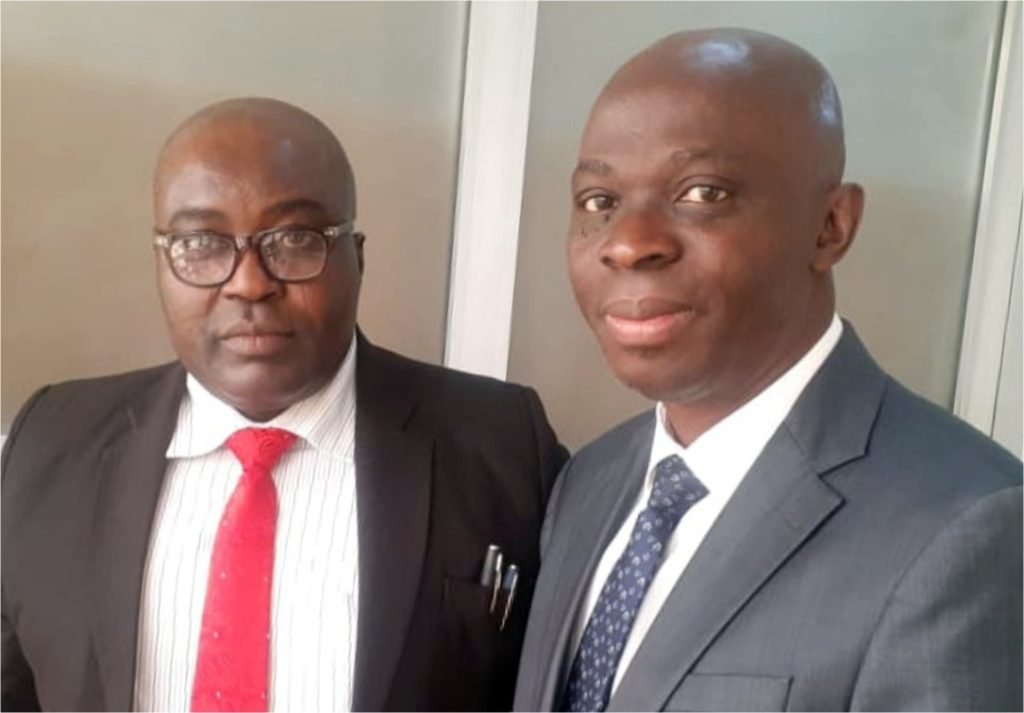 MEET TOP EXECUTIVES WHO RUN RICH-HOODS HOMES & PROPERTIES WITH ADEMOLA IFAGBAYI
Olawale Mudashiru-Executive Director, Seun Daramola-Director USA, Olowoyeye Stephen-Director USA, Prince Adenle Adeyera-Director UK.
Jamiu Abubakar
(08085185886)
Send Us News, Gist, more... to citypeopleng@gmail.com | Twitter: @CitypeopleMagz