It's no more news that almost all movie stars now venture into other businesses to make money since the movie business is no more as lucrative as it used to be years back, most especially the Yoruba movie industry.
Besides running their personal businesses, they are brand ambassadors to different brands. They also influence for top brands in and outside the country.
Lately, it was revealed that lots of gold merchants in and outside the country now prefer to use these pretty actresses as the faces of their brands. These stars are naturally gold lovers and each time they step out for events and parties they adorn themselves with gold.
Guests can not take off their eyes away from the gold they adorn their necks with. This has helped lots of the gold merchants make more sales compared to before.
City People's Showbiz Reporter, BIODUN ALAO brings you 10 pretty actresses who are now faces of gold business.
The very beautiful Sotayo Sobola is one of the most successful movie stars in the entertainment industry. She started her career as a model before she began acting in the English and Yoruba movie industry. Besides being an actress, she is also an enterpreneur and founder of Clean Stitches, a clothing firm she launched in 2018.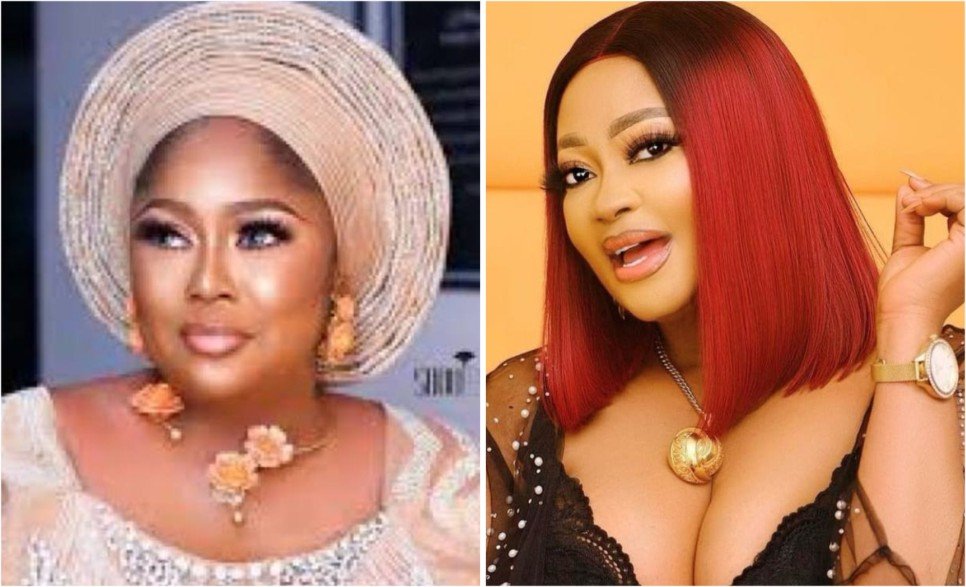 Sotayo has influenced for many reputable brands, from real estate to skincare products and many others. She is among the star actresses many gold merchants love to use as the face of their brand. She is currently the face of gold wholesale, they deal in gold jewelleries.
Lately, she prefers to step out for events in native outfits, to suit her position as the queen mother of Uke Kingdom in Nasarawa State. Her accesories is one thing many always look forward to seeing, as she always wears breathtaking gold for different event.
The very curvy Biodun Okeowo a.k.a. Omoborty is one of the sexiest stars in the entertainment industry. In the last few years this pretty mother of two made huge money from influencing for brands and rarely features in movies.
She keeps her fans updated on her page. She influences for different automobiles, clothing, skincare products amongst so many others.
She is also one of the faces of gold merchants. Her latest deal is with Young Alhaja Gold. Besides influencing, she is one actress that loves to wear gold. She spends heavily on gold and loves to wear special designs to events and parties.
Wunmi Toriola is a multiple award winning super star, producer and entrepreneur. Her acting prowess is one thing a lot of fans love about this lady. She makes every role in a movie look as real as possible.
Lately, this mother of one stepped up her fashion game big time. When she steps out for events lately, she always stands out, from her style to her jewelleries and other accessories. It's always top-notch.
A lot of gold brands love to use Wunmi to market their products and she is equally a gold freak who always looks gorgeous rocking them.
The ever pretty and stylish Mercy Aigbe is one actress that looks good in everything she wears. Many brands will do anything to make Mercy influence for their products, and she has influenced for many brands from skincare, to clothingline and others.
Despite running her personal business, a lot of brands still prefer Mercy to be the face of their brands. She has influenced for lots of gold merchants, and many are still on the waiting list.
She is very good at what she does, and gets results.
She is one of the few actresses many gold merchants prefer to work with.
Star actress, Tonto Dikeh might not be the regular face we see in different movies, like she was few years ago, but she is still very relevant in the entertainment industry. She is rated as one of the power dressers in the movie industry. She is also one of the few stars brands will gladly pay any amount just for her to influence their products. She is currently the face of Luciano jewelry by Mrs. Lucy Destiny.
Tonto Dikeh is among the few actresses that many admire a lot because she always looks good in basically everything she wears or puts on.
The ageless Tiktok queen, Iyaba Ojo is no doubt one of the best influencers on social media, and this explains why a lot of brands stay glued to her always. She does her job passionately and makes sure brands get positive results from her deal. She enjoys looking good and often makes the best dressed list at events.
A good number of gold merchants prefer her to many of her contemporaries in the industry.
Lizzy Anjorin is a gold and diamond merchant on her own and she is the face of all her products from skincare, to clothes and jewelleries.
She always steps out looking good in different sets.
The very curvy and beautiful Anita Joseph Olagunju a.k.a. Mother Hen, is one of the best, when it comes to influencing brands and many enjoy to engage her.
She is among the few actresses that are the faces of gold business in Nigeria.
Multiple award winning actress cum musician, Dayo Amusa has made huge success from her career as an actress, and she is not slowing down in attaining more in life. She is also an award winning influencer. She is currently the face of popular gold merchant Dodonda Afolashade who deals strictly in gold business. She has been the face of this brand for a while now, and their relationship keeps going stronger.
What about the very hardworking and talented Tayo Odueke popularly known as "Sindodo"? Though, she has her personal business, but a good number of gold merchants depend on her to influence for their brand. And she has achieved a lot of success doing this so well and this is why many of them keep coming back to engage her.
Send Us News, Gist, more... to citypeopleng@gmail.com | Twitter: @CitypeopleMagz