Nasrul-Lahi-L-Fatih Society (NASFAT), Oyo zone 2 has announced Alhaji Salaam OyebanjiI Moshood as the new Chairman, Oyo Zone 2
Alhaji Oyebanji's emergence was sequel to series of painstaking and rigorous interviews by both external and internal panels organised for the several candidates that applied for the vacant position.
The Board of Trustees and the Council of Elders ratified the selection report based on the integrity of the panelists and transparency in the selection process.
Alhaji Oyebanji is known for his doggedness, commitment and dedication to the NASFAT movement and has proven to be a good example of a true disciple whose life has impacted many and has inspired the youths.
In his acceptance speech, Alhaji Oyebanji expressed his appreciation to the entire NASFAT movement and counted it as a privilege to be elected as the chairman of the noble cause.
He implored that the tasks would be harder and demand would be enormous on the chapter which is a baby Zone but encouraged everyone to be focused and have faith in Allah.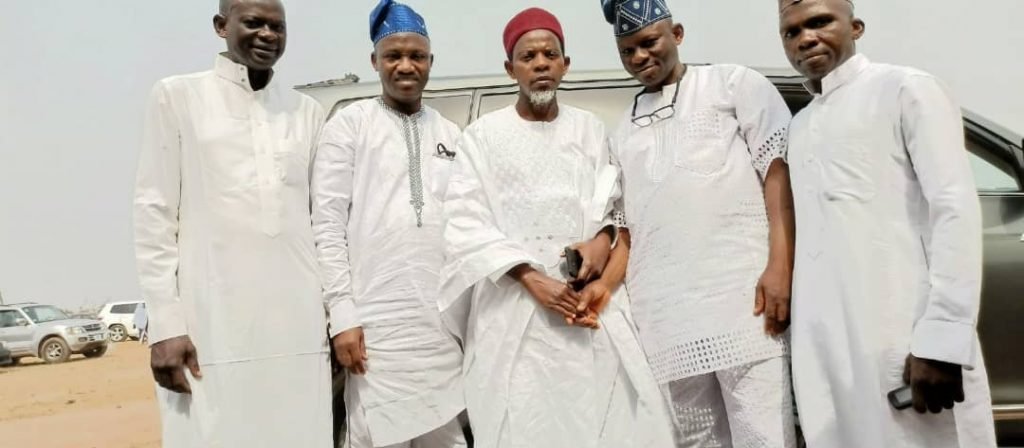 Read the full speech below:
BEING A SPEECH DELIVERED ON THE OCCASION OF THE FORMAL INAUGURATION OF NASFAT OYO ZONE 2 TODAY SUNDAY, FEBRUARY 6TH, 2022 BY ALH. SALAAM OYEBANJI MOSHOOD, ZONAL CHAIRMAN, OYO ZONE 2.
Protocol
Alhamdulilahi Robbil Alamin.
I seek refuge in Allah (SWT) against the accursed, shaytan and I begin in the name of Almighty Allah, the beneficent, the merciful.
All adorations and praises are due to Almighty Allah (SWT) who spares our life till today, we glorify Him and seek His help and forgiveness. May His blessings continue to be showered upon the noblest soul of mankind, Prophet Muhammed (SAW), his household and all Muslim ummahs who follows his path till the day of accountability (Amin).
It is my humble pleasure to welcome you all to this noble event with the noblest of greetings:
As salaam Alaykum Waramotullahi Wabarakatuhu.
It is also indeed a distinct pleasure and rare privilege to stand before you today Sunday, 6 February 2022 as the Zonal Chairman, NASFAT Oyo Zone 2, at this epoch-making event of the official inauguration of pioneer Zonal Executive Council, Oyo Zone 2 after the splitting of the existing Oyo Zone into two – Oyo Zone 1 and Oyo Zone 2. As the first Executive Council to paddle the affairs of the new Zone, it is indeed an enormous task. But to Allah alone belongs the throne and authority, He only entrusted whom He wishes to occupy the position of leadership, whereas leadership is all about trust and influence, without mincing words, we are not the best among the members of Zone 2 but it is the wishes of Allah to test us on our steadfastness and faith in Him. May He continue to guide us and endow us with the required wisdom and understanding to navigate through a successful administration.
To start a new Zone, might not be that easy but as leaders, we will not be complacent since we know that much is expected from us. The ZEC under my leadership will focus our priorities on TECH: Transformation, Consolidation, Employability/Empowerment and Hardwork (TECH) as cardinal points with a view to strengthening the mission statement of the society and achieving the goals of our founding fathers.
Transformation: presently, we have four (4) branches and almost 18 prayers groups, we will ensure that within 2 years of our administration, at least 8prayer groups will become inaugurated branches and more prayer groups and outreach will spring –up in line with the society's policy on NASFAT branch and prayer group formation. We will so much advocate for the full compliance of the society directives as enshrined in the society's constitution. We will also seek to further strengthen the communication and relationship with our stakeholders within our Zone as now that administration and coordination is closer to them, so no more excuses of communication gap.
Consolidation: we will strive to consolidate on the HELD Agenda – Health, Education, Livelihood and Dawaah of the present NEC and work towards achieving the standardization of finance and administrative procedures and operations, ditto to the re-integration system of 2019- 2021 ZEC Agenda of Oyo Zone. We will strive to develop a working system for the new zone in terms of policies and programs and also revamp some lotful programs that are peculiar with the region which will improve the diversity and peculiarity of the Oyo Zone 2.
Employability and Empowerment: we will work earnestly with NEC, government agencies and individuals to assist members in terms of training, mentoring, providing soft capital, jobs opportunities and engaging more in farming based on the peculiarity and talent density of the Zone.
Hard Work: we will strive to engage stakeholders more on our administration and get members involved in designing new initiatives for the Zone which will require personal sacrifices, total commitment, absolute loyalty, and higher dedication from all members irrespective of the positions or ranks. We shall partner with all organs of the society in order to move the Zone forward. We shall put in our very best to achieve the desired goals and mission of NASFAT.
APPRECIATION
My sincere appreciation goes to Almighty Allah for making us Muslims and making today a reality. I must appreciate the National Executive Council, NAZOOC, and my people of NASFAT Zone 2 for giving me the opportunity to serve Allah.
My gratitude also goes to the planning committee of this occasion led by Alh Bashir Wale Bello, the two desk officer; Alh. Muftau Balogun and Alh. Badmus Olayinka and all committee members, all sub-zone heads: Alh. (Dr) Adejare, Alh. Amzat Taiwo Adeola, Alh. Ilias Adeniran, Alh. Bashir Wale Bello. Also, Alh. Alli Balogun and Dr. Rasaq Adefabi and also the council of Elder representative: Alh. Tesleem Olawuwo, Mission Board, Women Wing, Youth Wing, all committees members and entire members of Nasfat Oyo Zone 2.
In conclusion, the tasks would be harder and demand would be enormous on us a baby Zone but let us be focused and have faith in Allah. Together we shall succeed and build a great society.
May Allah make the task easy for every one of us (Amin).
Jazakumuulahu Khayran.
Alh. Salaam Oyebanji Moshood
Zonal Chairman
Send Us News, Gist, more... to citypeopleng@gmail.com | Twitter: @CitypeopleMagz