The Assoociation of Friends is a popular social club in Lagos. It is also called UpAsso Club. On Sunday 13th November, 2022, the club had its Presidential Gala Night & Induction of new members at its club house in Maryland.
For those who don't know about the club lets tell you a bit about UpASSO which started with some young men who were then struggling to find their feet in life. They were friends with the same vision: to excel both at home and abroad. What happened was that sometime in 1978, these Gentlemen that have seen life together in their formative years came together, even though they belonged to different social clubs, but in their quest to keep bonding, the idea of forming an organized club was not only thrown up at a social event, hosted by one of them, but was well received by all those in attendance.
Consequently, a date was fixed for an inaugural meeting at the residence of Alhaji Sulaimon Onabiyi (now the Okanlomo of Egbaland and the Life Chairman of the Club) on Ezekiel Street, Ikeja, Lagos.
The first meeting was truly historic as in the stride of democracy, a new club named Association of Friends was birthed with the following Protem but later Pioneer Executive Members appointed to run the affairs of the new baby whose name was carefully selected in order not to lose the conviviality among the friends: (1) Alhaji Sule Onabiyi – Chairman, (2) Otunba (Arc) Festus Adeleke Adesina – President, (3) Engineer Akinlawon Abiola – Vice President, (4) Otunba Kunle Adesanya (Late) – General Secretary, (5) Alhaji (Kabyesi) Fatai Irawo (Late) – Treasurer, (6) Prince Ayinde Adesiyan (Late) – Social Secretary, (7) Apostle Sunday Adigun – Member, (8) Evangelist Kola Sanyaolu – Member.
As the club progressed, other like minds that were dominating the social scene in Lagos also joined, in the persons of: (1.) Prince Gabby Yadua (now late) (2.) Mr. J. B. Aremu Amusan (3.) Alhaji Rasaki Adebiyi (4.) Dr. Foluso Badejo (now late) (5.) Barrister Adewopo (now late) (6.) Mr. Sola Adeyemi (7.) Otunba Yomi Nubi (8.) Otunba Oyewole Johnson Fasawe (9.) Mr. Salisu Raji Fuja (now late).
Within the first few years of its establishment, the club became the toast of socialites; standards were set for not only membership. but ethics which are still kept till today through the club Constitution.
MEMBERSHIP
Membership of the club is open to all male adult of very good character, resident within the boundaries of the Federal Republic of Nigeria, who on the date of application for membership shall not be less than 30 years old irrespective of his religion; tribe and political leaning provided however that he accepts the aims and objectives of the club.
Although membership can only be on individual basis but there exists in the club four categories of membership viz: (i.) Full membership (ii.) Country membership (iii.) Distant membership (iv.) Temporary membership.
AIMS AND OBJECTIVES
OF THE CLUB
The principal aims and objectives of the club includes among others: (1.) To promote and foster a sustained spirit of friendliness and mutual understanding among members (2.) To promote intellectual, social and recreational interest of its members (3.) To show genuine interest generally in the social activities of its members and particularly where necessary, assist both morally and financially (4.) To seek or accept, wherever desirable and possible, reciprocal membership with other clubs having similar aims and objectives.
THE ASSO COMPLEX
Hitherto, meetings were being held in individual homes on rotational basis until a point when Oba Fatai Irawo gave an apartment in his Onigbongbo residence to serve as a temporary club house. The need for a permanent club house therefore became paramount and Otunba Yomi Nubi was saddled with the responsibility of searching for a piece of land on which today Asso Complex was built through the collective and selfless efforts of members without any recourse to bank facility. The complex situated ar Plot 88, Ikorodu Road, Maryland, Lagos was formally opened on Sunday, 28th May 1995 with pomp and pageantry and the maintenance of which is being made possible by members through generous donations realized from the hosting of Suya Nights every Friday inside the same complex. Lately, the complex was blessed with an ultra modern sport center created for the physical and emotional well being of members.
MEET THE MANAGEMENT COMMITTEE MEMBERS
There are 16 Management Committee members runnign the club led by Dr. Adedeji Adetokunbo, the President. The Vice President is Dr. Afolabi Abiodun; the General Secretary is Engr. Adetayo Banjo; the Financial Secretary is Prince Adeboyega Akinyemi; Asst. Gen. Secretary is Chief Tayo Shenaike; Treasurer is Alhaji Ola Shittu Biobaku; Alhaji Hameed Soyemi is the Auditor; Aare Rotimi Ishola is the Facility Management Secretary.
How about Babatunde Wilkey? He is the Social/Publicity Secretary, while Chief Olanrewaju Liadi is the Assistant Chief Whip and Mr. Ernest Ajasa is the Welfare Officer. Capt. Kasim Braimoh is the Chief Whip and Mr. Sunday Ojo is the Sport Secretary. Barrister Supo Famuyiwa is the Legal Adviser and Alhaji Dr. Oluropo Owolabi (the Past President) is an Ex-officio member and Engr. Tunde Awe is the Asst Social/Publicity Secretary of the club.
LIST OF MEMBERS OF THE CLUB
The following are members of the club. They are made up of eminent members of the society like: Alh. (Chief) Adebodun Suleman Onabiyi – 1, Otunba Festus Adeleke Adesina – 2, Engr. Akin Abiola – 3, Otunba Oyewole Fasawe – 11, Otunba Yomi Nubi – 16, Alh. Musbau .A. Alebiosu – 22, Mr. Tayo Amodu (Blacky) – 23, Dr. Eyitayo Olaleye – 27, H.r.m Oba Femi Ogunleye – 29, Otubaakin Osiyemi – 35, Prince Abiodun Oyesanya – 37, Mr. Akin Majaro – 43, Pa. Ayo Oluyemi (Jp) – 45, Mr. Jimmy Afunso – 48, Otunba Idowu Adenuga – 49, Dr. Ademola Onifade – 50, Otuba Dr. Sunday Adeniyi Adegeye (Ksa) – 51, Alh. (Prince) Isiaka Adedeji – 56, H.r.m Oba Isiaka Balogun-Oyero – 57, Alh. (Chief) Niyi  Adegbenro – 59, Hon. Saka Shenayon – 63, Otunba Ademola Afolabi – 64, Aare (Dr.) Kola Oyefeso – 65, Chief Samuel Olaniyi Bolarinde – 66, Alh. Oluropo Owolabi – 70, H.r.m Oba Adeleke Idowu – 77, Mr. Dele Banjo – 80, Mr. Sola Agbelusi – 82 Engr. Akolade Sanusi – 83, Mr. Remi Caxton-Martins – 84, Mr. Taiwo Talabi – 85, H.r.m Oba Sakiru Kuti – 86, Chief Tunde Fahm – 91, Dr Adetokunbo Adedeji – 92, Oba Lateef Adams (Latris) – 96, Alh. Chief Sherif Folami – 102, Chief Olayiwola .A. Adenipebi – 103, Capt. Kazzim Braimoh – 104, Hon. Oyinlomo Danmole – 107, Mr. Sunny Soneye – 111, Otunba Kole Olatunji – 112, Arch. Sola Adesina – 113, Otunba Wasiu Oyebola – 116, Hon. Kayode Amusan – 117, Hon. Dave Salako – 118, Otunba Henry Akinwumi – 121, Chief S. B. Bakare – 122, Alh. Lateef Abayomi Oloyede – 123, Chief Sule Olanrewaju Liadi – 125, Otunba (Engnr) Sikiru .A. Salami – 127, Otunba Shakiru Bello – 128, Otunba Dipo Orepitan – 129, Mr. Babatunde Wilke Y – 130, Mr. Femi Aina – 131, Alh. (Chief) Rabid Amusa – 132, Chief Paul Erinne – 135, Aremo Adebla Ojugbele – 137, Mr. Adetayo Oludare Banjo – 138, Alh. Waheed Afolabi Odusanya – 141, Mr. Oyetola Adeniyi – 142, Chief Okpaka Johnson Ubaka – 143, Mr. Feyishitan Fashola – 144, Engr Mayowa Omosebi – 145, Deacon Martins Fakoya – 146, Arole Micheal Olufemi Awotedu – 147, Mr. Akolawole Adebayo Oyekoya – 148, Mr. Abayomi Okundalaiye – 149, Alh. Hakeem Shokunbi – 150, Mr. Ernest Mauyon Ajasa – 151, Otubaadebayo Babatunde 152, Mr. Musbau .O. Makanjuola – 153, Alh. Ola Shittu Biobaku – 154, Dr. Afolabi Abiodun Tajudeen – 155, Mr Sunny Rashidi Adesina – 156, Dr. Adewale Ayuba – 157, Mr. Kesington Adegbuyi – 158, Chief Fredrick Abayomi Lewis – 159, Alh. Hameed Soyemi – 164, Mr. Sunday Olajuwon Ojo – 165, Mr. Kayode Akinola – 166, Engr. David Setonji – 167, Prince Oyeniyi Taiwo – 169, Mr. Segun Bashorun – 170, Mr. Adebola Fagbule – 171, Mr. Abiola Ilori – 172, Hon. Mudasriru Obasa – 174, Otunba Wale Okesola – 175, Cp Dejo Oyelowo (rtd) – 176, Acg Tunji Aremu (rtd) – 179, Engr. Femi Abolarin  – 180, Mr. Bamidele Awolo – 181, Dr. Oluseyi Adefowope – 182, Mr. Gbenga Ladipo – 183, Mr. Adebiyi Adeleke Robert – 184, Mr. Temitope Liadi – 185, Olowu Oriade-Niyi Olanrewaju – 186, Dig Adeniji Adeola Adeleke (rtd) – 187, Aare Rotimi Ishola – 188, Barr. Olasupo Stephen Famuyiwa – 189, Mr. Samuel Babatunde Fagbemi – 190, Otunba Olufemi Oyebanjo – 191, Mr. Bambo Oyedipe – 192, Mr. Toyin Elefontuyi – 193, Engr. Odefemi Alidu Abayomi – 194, Alh. Mukailakanniajao – 195, Mr. Ayodele Akinyosoye – 196, Otunba Lateef Shekoni – 197, Mr. Olayiwola Idowu Oyegunle – 198, Mr. Aliu Muhammed Olurotimi – 199, Dr. Samuel Oduselu – 200, Hrm Alayeluwa Oba Kabiru Adewale Shotobi – 201, Adegorushen V, The Ayangbure of Ikorodu Kingdom, Otunba Justus Gbenga Daniel – 202, Engr. Babatunde Awe – 203, Mr. Omotayo Shenaike – 204, Adeniyi Oluwaseun – 205, Otunba Olatunji .A. Sosanya – 206, Alex Olugbenga Bankole – 207, Olowude Akintayo Olu – 208, Chief Kunle Owonifari – 209, Captain Fola Akinkuotu – 210, Prince (Dr.) Akintunde Ishola Ayeni – 211, Otunba Stephen Abiodun Ojo – 212, Prince Adetayo Adereti – 213, Mr Fola Adeyemi – 214, Engr. Layi Taylor – 215, Oluwasina Adeyeba – 216.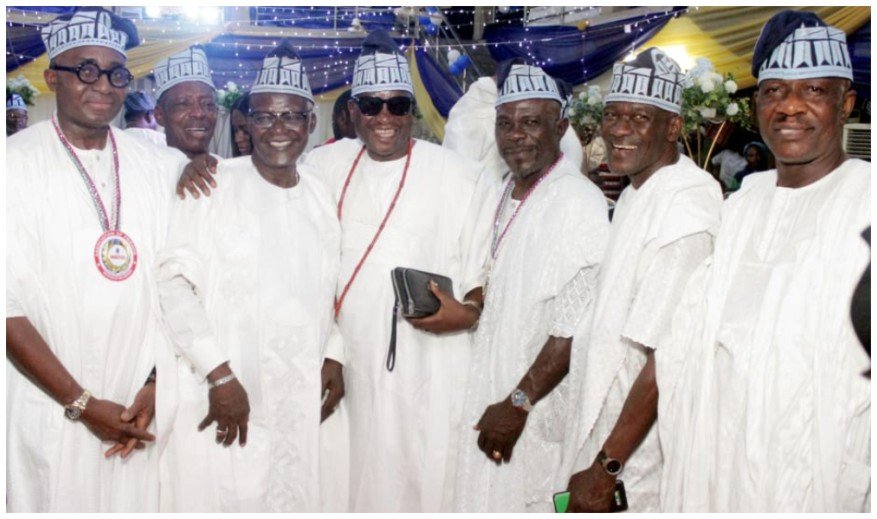 Send Us News, Gist, more... to citypeopleng@gmail.com | Twitter: @CitypeopleMagz