•Why Many People Go There To Eat Amala
What's Ibadan without Amala and Abula?
Amala is a very common delicacy among the Yoruba ethnic group. It is often said that a trip to Ibadan is not complete without having a taste of Amala, Ewedu, and Abula soup.
People travel down from different states just to have a plate of Amala in Ibadan not because there's no Amala in their state but because Ibadan is known for that special brand of Amala that comes with a difference from their own state.
Amala could either be black or white. The black variety is usually known as 'Amala Dudu' while the white variety is referred to as 'Amala Funfun".
Most Nigerians who eat Amala love it because of the light weight morsel.
Amala can be made from dried plantain, cassava or yam which is grounded then eaten with diverse soups such as Ewedu, Abula, Egusi, Efo-Riro, Ogbono, Gbegiri and Okro soup.
You can have Amala at any time of the day. Many enjoy eating Amala at night paired with Ewedu and Gbegiri soup garnished with assorted meats and fish with ponmo.
Below is a list of the best Amala joint, you will find in Ibadan compiled in no particular order.
OSE OLOHUN
Popularly known as Amala Skye, because of its very close location to Skye Bank in Bodija. Even if you don't live in Ibadan, there is no way you wouldn't have heard of the popular Amala Skye.
Amala Skye is one of the most popular Amala joints in Ibadan and it is mostly patronised by students, bankers and people who reside around Bodija. They are known for their delicious meals, some people even rate them as the best in Ibadan as they are not just known by residents of Ibadan but also by people from other states in Nigeria. Whoever visits Ibadan always wants to visit Amala Skye to have a taste of their Amala.
The fact that their meal is affordable and they always have lots of assorted meat also catches the attention of their customers.
INASTRAIT FOOD CANTEEN
Inastrait was founded by Alhaja Muslinat Akanke Tijani of blessed memory, which is now being managed by Alhaja's daughter.
This is one of the ancient Amala spots in Ibadan. It has been in existence since the 70s and since then, it's remained one of the best Amala joints in Ibadan, cooking tasty meals. The main menu is Amala and Ewedu.
The ancient indigenous people of Ibadan rate them as the best because of their well blended Gbegiri and different kinds of bush meat.
The canteen itself is also spacious, with about three sitting areas. Inastrait has 3 branches in the ancient city of Ibadan.
The first one is located at the cultural centre road, Mokola Hill, Ibadan and the second at the Polytechnic Road, Ibadan while the last one is on Iwo Road, near Arisekola Central Mosque, Ibadan.
MAMA OPE RESTURANT
This is one of the official Amala joints in Ibadan. Have you ever thought of a corporate Amala joint? Mama Ope is one!
Their waiters are always dressed in corporate wears and are easily regonised in their lovely uniforms. Mama Ope restaurant has been in business for over 20 years. The restaurant has fancy decors with three accomodating sections VIP Lounge, The Floor and The Main Hall.
It's located in Jenbewon area of Mokola, Ibadan. They actually offer value for your money and the environment is clean and tidy.
IYA ADIJA EATABLE AMALA SPOT
It is home away from home for many. In fact, those who have had a taste of their Gbegiri can attest to it. It is located on the Ring Road, not far from the popular Adeoyo Hospital.
With more than two decades of experience in the bukateria business, Iya Adija Amala Spot is very hot in Amala business and her eatery, has become a tourist centre of a kind, due to the number of top celebrities, movie stars, entertainment buffs that throng the place on a daily basis. People love her original black Amala and Ewedu and Gbegiri. Her soups are always fresh and delicious. Coupled with the fact that all kinds of meat, fish, snails, dry fish and all, are always available. Not only that, Iya Adija also caters for big parties with her Amala Specials.
Top celebrities engage her for their parties and she has taken it to virtually all major cities across Nigeria. She recently upgraded her business by acquiring a space behind her old canteen and built it to taste. Iya Adija operates six days in a week, from Monday to Saturday.
IYA ILA
Iya Ila is one of the most popular local joints in Ibadan, with over two decades of experience in business. Despite its location, beside a huge drainage around Molete area of Ibadan, the calibre of people who eat at Iya Ila is amazing. The joint is made of strictly planks and that doesn't stop top celebrities from patronising the Buka. What sets the canteen apart from others is the fact that no matter how late, you will still get hot soft Amala at the joint. Even up to 12am – 3am the place is still full of life and that is why it is the favourite of all travellers. The sight of their varieties of meat is always tempting.
The snail, dry fish, goat meat and assorted meat. Apart from Amala, Iya Ila's pounded yam is also special.
IYA DUNNI FOOD CANTEEN
The list will not be complete without mentioning Iya Dunni's Canteen. It is one of the prominent and popular Amala joints in Ibadan. It is located at Challenge area of the town and has been around for decades.
Their Gbegiri and Ewedu have a unique taste and that has been their selling point. Iya Dunni is one of those who have modernised canteen business in Ibadan. She recently relocated to a more spacious place, two buildings down the same street where the former shop was. Iya Dunni is also the President, Owners Association of Nigeria (COAN), Oyo State Chapter, located at MKO Abiola Way, Challenge Roundabout, Oluyole-Ibadan.
FANAWOLE
Though not many people who at one point or the other have eaten in this canteen know it as Fanawole, it is popularly known as Iwo Road Canteen due to its location. It is located beside the major motor park in that axis. People seem to love their goat meat, as a high number of goats are slaughtered daily. Their Amala is also fluffy and made of the real brownish dark Saki Yam Flour.
Fanawole has another branch at Apata area of Ibadan and some other places.
OLA MUMMY
Located at Secretariat Oju Irin, Bodija, Ibadan, this is strategically located behind Aedrome GRA, adjacent Methodist High School, Bodija.
Ola Mummy is another popular Amala spot. The food is prepared in the most amazing way and reminds you of what you might eat at home on a good day. It also enjoys huge patronage due to its large compound and space.
IYA META
She has been around for so long. She is inside the popular Bodija Market. Though her restaurant is located in the inner of the market, she enjoys huge patronage. In fact, a Fuji maestro is said to be one of her customers.
ABOKUSORO
This is inside the University of Ibadan, not far from the Central Mosque and Chapel of Resurrection.
It is 'Abokusoro' or 'Cemetary' by some because it is bordered by the National Archive and UI Cemetary.
It is run by a man who is believed to be an alumnus. It also enjoys huge patronage as members of the academic community visit the place on a daily basis.
-Ayo Bolanle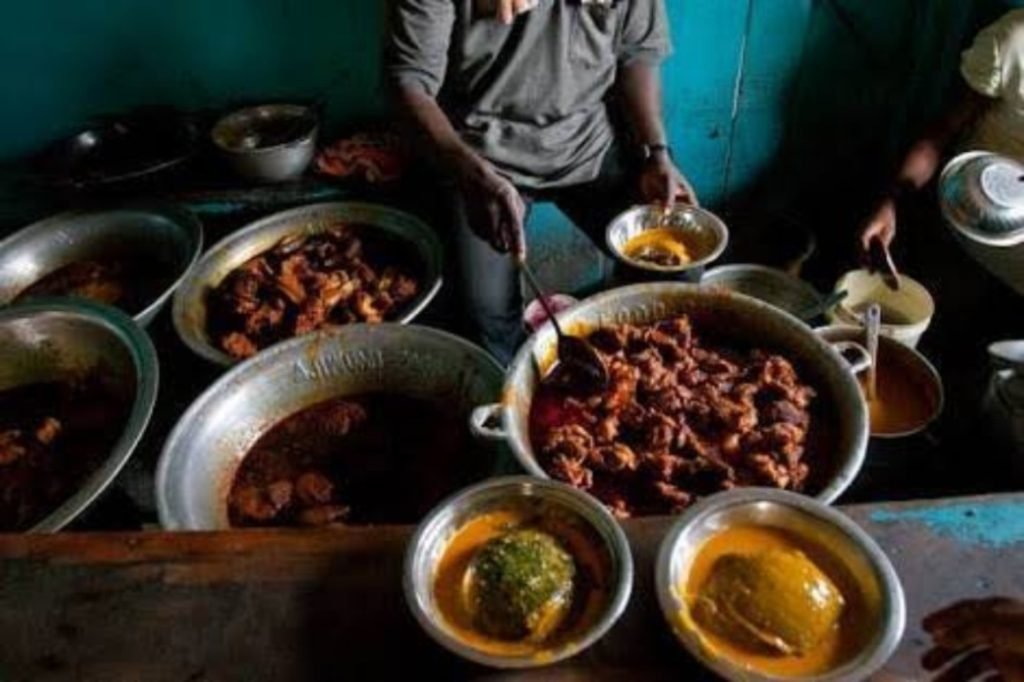 Send Us News, Gist, more... to citypeopleng@gmail.com | Twitter: @CitypeopleMagz