•Last Wife, RONKE INAOLAJI & Kids Speak
•How He Built His Construction Empire

On Tuesday 31st March, 2020, the Ibadan social establishment, the business world and indeed the society generally received news of the sad exit of a prominent busineseman, Chief Jimoh Oyedele Ibrahim popularly known as Inaolaji.
The Ikire-born business mogul, we exclusively gathered, died at his Oluyole Extension country home around 2.30am of the day, after a brief illness. He was aged 85 and survived by wives, children and grandchildren. Prior to his death, Chief Inaolaji was said to have been battling with a heart-related issue apart from old age, which has taken him off the social scene for a while now.

Interestingly, though Inaolaji was off the social scene but was never out of business. If there was anything the late business mogul loves doing, it was how to turn one naira to fifty naira within a short period of time. No wonder he was said to have still been discussing and having business meetings till he breathed his last.
Chief Inaolaji seemed to have possessed a Midas touch, as everything he touched turned gold. He lived a fulfilled life both as a businessman and a family man. He was an institution when it comes to running businesses and a loving father and great husband to his wives.
Inaolaji was one of the colourful socialites in Ibadan and a well respected mam in the business world. He was style personified, having come from a very prominent family in Ikire.

Despite the fact that Inaoji died at a very ripe age, his death is seen at some corner as unfortunate, especially within his immediate family and well wishers. His business and managerial skill, care and love would be greatly missed. He was a rich and highly connected busineseman both in Nigeria and abroad and above all, a philanthropist.
But how did the late business mogul made it so big in life despite his humbled background?
Chief JimohOyedele Ibrahim also known as Inaolaji was born on 17th May, 1934, at Olupele compound, Oke Ada, Ikirein Osun state. He was said to have started off as a Forest Guard before venturing into Cocoa business. He was later to become a big time Cocoa Merchant with properties here and there at his Ikire home town.
But unfortunately, he lost everything to the 'Operation Wetie' crisis in 1963. As all his properties were burnt down.

That incident of the 60s was what led to his relocation to Ibadan. Where he picked up the pieces of his life together and bounced back big time. His first registered company as a construction contractor, Inaolaji Enterprises is today a household name in Ibadan and has since given birth to many other businesses.

Some of his companies include Inaolaji Enterprises Limited; Arcom Nigeria Limited, which is affiliated to the Romanian Governerment; Inaolaji Builders; Tri Star Nigeria Limited and many others. Late Inaolaji's businesses cut across Quarry, Shipping, Construction, Manufacturing, Hospitality, Property just name it.
He was so rich with properties scattered all over Ibadan, Lagos, Abuja and abroad. He had a replical of his Ibadan mansion in his hometown, Ikire. One of his many legacies is the popular Inaolaji Shopping Complex at Agodi-Gate, Ibadan.
In fact, Inaolaji's life and time could best be described as a fulfilled one. He was a great teacher and an embodiment of knowledge and wisdom not only to his biological children but also to those who he had come across in life.
As he was a good manager of his business, so also was late Chief Inaolaji able to manage his family.
Despite the fact that it is very large family, the Inaolajis are one good family. The late business mogul married about 9 wives and had 26 children and they all living in peace and harmony.

Below are the exclusive interviews of late Chief Jimoh Oyedele Ibrahim's last wife, Chief (Mrs.) Ronke Ibrahim popularly known as Ronke Inaolaji in Ibadan social circle; his first daughter, Busola and his two sons Jelili and Biola Ibrahim. As they shared what they will miss the most about late Chief Jimoh Oyedele Ibrahim aka Inaolaji:
"I WILL MISS HIS LOVE AND KINDNESS''- WIFE, IBIRONKE IBRAHIM
How would you describe your late husband?
He was a loving, cheerful religious and hard working man. He did not discriminate. He was there for everybody, irrespective of their background.

What would you miss most about him?
The love we shared and his kindness. There was nothing too much for him to give. He was such loving husband and a wonderful family man.

Share your best moment with him?
There was never a dull moment with him. Even when we had differences, he was still the same Jimoh. Despite the age difference between us, I called him Jimoh and he would reply he was old enough to be my father. I would then tell him he should have been arrested for child abuse. We laughed a lot.
You are very close to him, what did he cherish most?
He cherished his relationship with God and believed in prayer. (started crying).
"MY DAD WAS A LOVING FATHER"-SON, JELILI
What is your position in the family?
I am number 14.

What was your relationship with him when he was alive?
He was a caring father to everyone of us and we loved him so much. It is a big loss to us but there is nothing we can do about it.

What Kind of Person Was He?
All his life since he was young, he had been a hustler, he struggled, which of course I know. He puts us into a lot of his businesses. Ever since we were young, we have been working with him, if we are on holiday he would ask you to do something. Since we were young, when we were in secondary school we started working with him. He would take us to his office and teach us how to do bill of quantity and other things related to his construction business..

Having grown up with such a man, what was the biggest lesson you learnt?
I learnt a lot of lessons. Well, to God be the glory, after leaving his house I moved to my own house. I have never rented an apartment in my life, it was all due to the training he gave us. If he has not given me such training may be I would still be struggling by now if you know what I mean.

Are you also into construction?
I was born into it and I know a lot about it. Presently I work with the National Examination Council NECO, but I still do construction by the side.

What would you miss about him?
I will miss his care and love, because we were always together. I never left him for a minute. There was no week I will not see him, I will miss that a lot .
What was his last moment like?
I was with him a day before, but the day he passed I was in my house. I and my brother talked about him before I left, but I was called by 2am that he died.
Was he at the hospital?
He was at home because the University College Hospital (UCH) was already locked down. My brother took him to a private hospital where the specialist that attended to them asked us to take him to the UCH, that we should call him when we get there but unfortunately, he passed on before dawn.

How would you describe him?
He was a lovely man and he jokes a lot. He is caring, before you know it he will make you laugh. Again, he doesn't keep secret. He is a very straightforward man.

What was your most memorable moment with him?
I will never forget when I told him I was moving to my house, he was happy, he was very happy because he believed I used to drink a lot, he never thought I would build a house.
"I HAVE LOST A BEST FRIEND AND CONFIDANT"-SON, BIOLA IBRAHIM
What's your position in the family?
I am in the 23rd child. I am a farmer, I do agriculture and a little bit of construction as well, I do what is known as Building Development.

Where were you when you heard the news that he passed?
I was at home, I was called by his private nurse at about 2am, I got up and went to his place immediately.

How did you feel?
I felt very bad because of the weight of losing a father and a best friend.

Was he your best friend?
Yes, he was my confidant, we were always together and we speak freely about anything. He has always been my confidant.

Having lost your best friend and confidant, what would you miss most about him?
I will miss the moment we spent together, sharing ideas and talking. Days before he died, we had a very vast conversation about business, life and everything. The moment we spent together every two, three days sitting down and having a chat is what I would miss so much.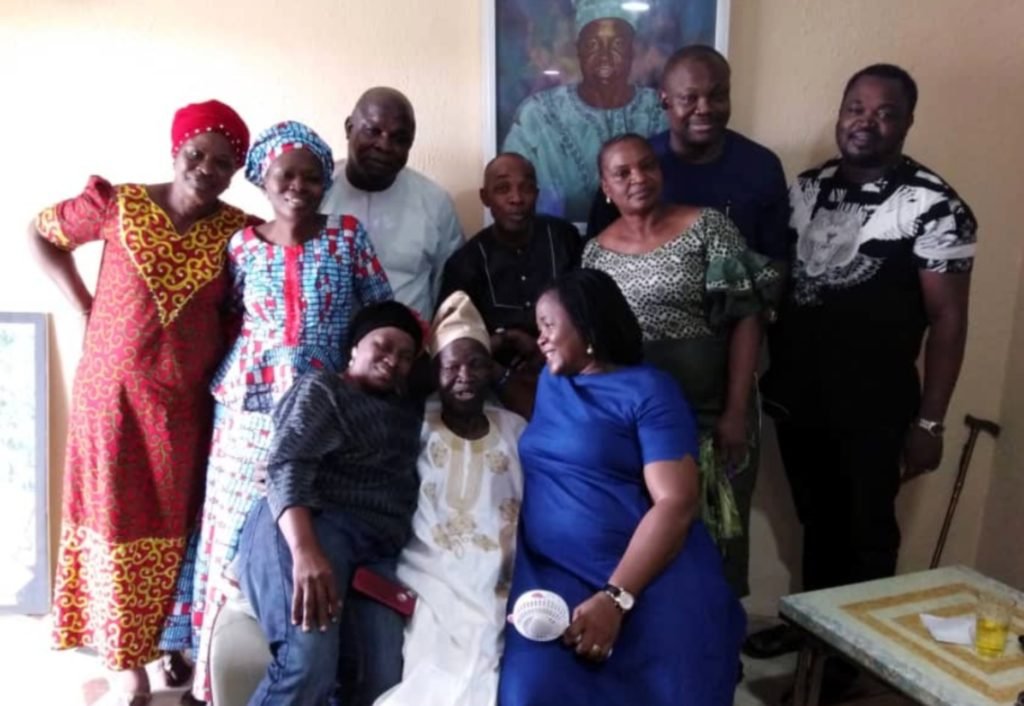 Out of his 28 children, you chose to be close to him. What were the qualities you found in him?
My father has always been a stern man and he has the qualities of a great father. I remembered when I was in Command, being a very busy man that he was, he always made out time to see me in school and would chat, at least he was always there every other month. He always took out time out of his busy schedule to make out time for me.

Can you share some memorable times with him?
There were so many of them that I don't even know which one I should tell. I remember some years ago, I was applying for the US visa. I went to the embassy and whoever was interviewing me said the visa was denied, I laughed and I said you don't have to be sorry. He called me and asked what my father does, and I said 'everything' , he said I should come with him tomorrow, i told him that if I say my father does everything I have mentioned he can't be here tomorrow, that I don't even know when I can get a hold of him to be here.
As I was leaving the place he gave me a letter and said make sure you come with him before the end of one month. So, as I was going home I called my father that they asked me to bring you and they gave me one month but I don't know how we are going to do it.
My father called me exactly a day to my appointment and asked me to meet him at Eko Hotel that we were going there together for the appointment.
We went there and even when it was taking long time I told him to go back home because we had already waited for hours but he said no, I came here for you today and he made sure that we finished what we came to do there. I was given the visa and we left together. I can never forget that day because he was fresh out of a surgery, he wasn't meant to stress himself or go out t but he still made that huge sacrifice for me.
Your family is big, how was he able to fester love and unity among you?
I realized that he has always been able to have a personal relationship with everybody. The relationship is give and take, and I noticed that he was able to manage the relationship regardless of the next person. So, we had our own relationship and I know that he had relationship with all of us.

How has being an Inaolaji affected you?
It has affected me in so many ways, it has opened so many doors. In fact, it has taught me so many principles, it has taught me what hard work can do. My father was a hard working man, he rose from being a forest guard to a multimillionaire. He changed the narrative that with hard work anything can be done.
"HE WAS A FATHER INDEED"-DAUGHTER, BUSOLA
How would you describe your late dad?
My dad was a father indeed! Though he had 26 children, 13 men, 13 women, he touched our lives as individuals. He was my friend and gist partner. By virtue of my profession as a Legal Practitioner, I am the secretary of the family-the Ibrahim Inaolaji Foundation. He taught me some boardroom politics of how to achieve results.

What would you miss most about him?
His calls and gists, the care and love.

Can you share any memorable moment?
There's a lot to share. The encouragement and support he gave when I was an undergraduate. He ordered for my wig and gown within 24 hours when I was called to the bar. There was the time I had my last child who used to cry a lot and my dad offered that I leave the baby in Ibadan so that she won't disturb my work. I have a lot of memories.

You come from a large family, what was your childhood like?
He taught us to love ourselves and ignore the differences between our mothers, that is why up till today you would not know who is the mother of this and that. We love ourselves and can be very playful. These are things he taught us.
Send Us News, Gist, more... to citypeopleng@gmail.com | Twitter: @CitypeopleMagz