With multifarious brands and models of smart phones in the market these days, it could just be confusing to the average trendy phone user to make a decent choice. This is made more difficult by the fact that the difference between many of these devices is infinitesimal. Yet, a lot of people are nostalgic and still wilfully lost for some of those good old days. We have some good news for you. Even as we await the much touted iPhone X aka iPhone 9, you can be trendy and also classy with these latest phones you should have.
Samsung Galaxy S9
There are camera phones and there are camera phones but we know that a lot of them are still far from equating the functions of dedicated digital cameras. This is one lapse the Samsung Galaxy S9 has addressed significantly. This phone has been touted as the best low light camera phone in the market, thereby almost eliminating one the biggest shortcomings if camera phones.
The Samsung Galaxy S9 boasts of dual aperture lens and captures at 960 frames per second. It also boats of the latest technology like rear fingerprint sensor and facial unlocking.  The Galaxy S9 comes in two variants depending on the screen size you choose. There is the standard Galaxy S9 and the Galaxy S9+. The edge to edge breezeless, 4K super AMOLED display with capacitive touchscreen puts this phone in a class by itself.
The display is protected by Corning Gorilla Glass 5. The phone powered by Android 8.0 aka Oreo has a 12 megapixesl main camera and 8 mega pixel selfie camera and the speakers are stereo capable. Other features of this phone include Iris scanner, accelerometer, gyro, proximity sensor, compass, barometer and heart rate monitor. It has a battery endurance rating of 78h. The phone comes in several colours, including midnight black, coral blue, titanium gray, lilac purple, burgundy red and sunrise gold.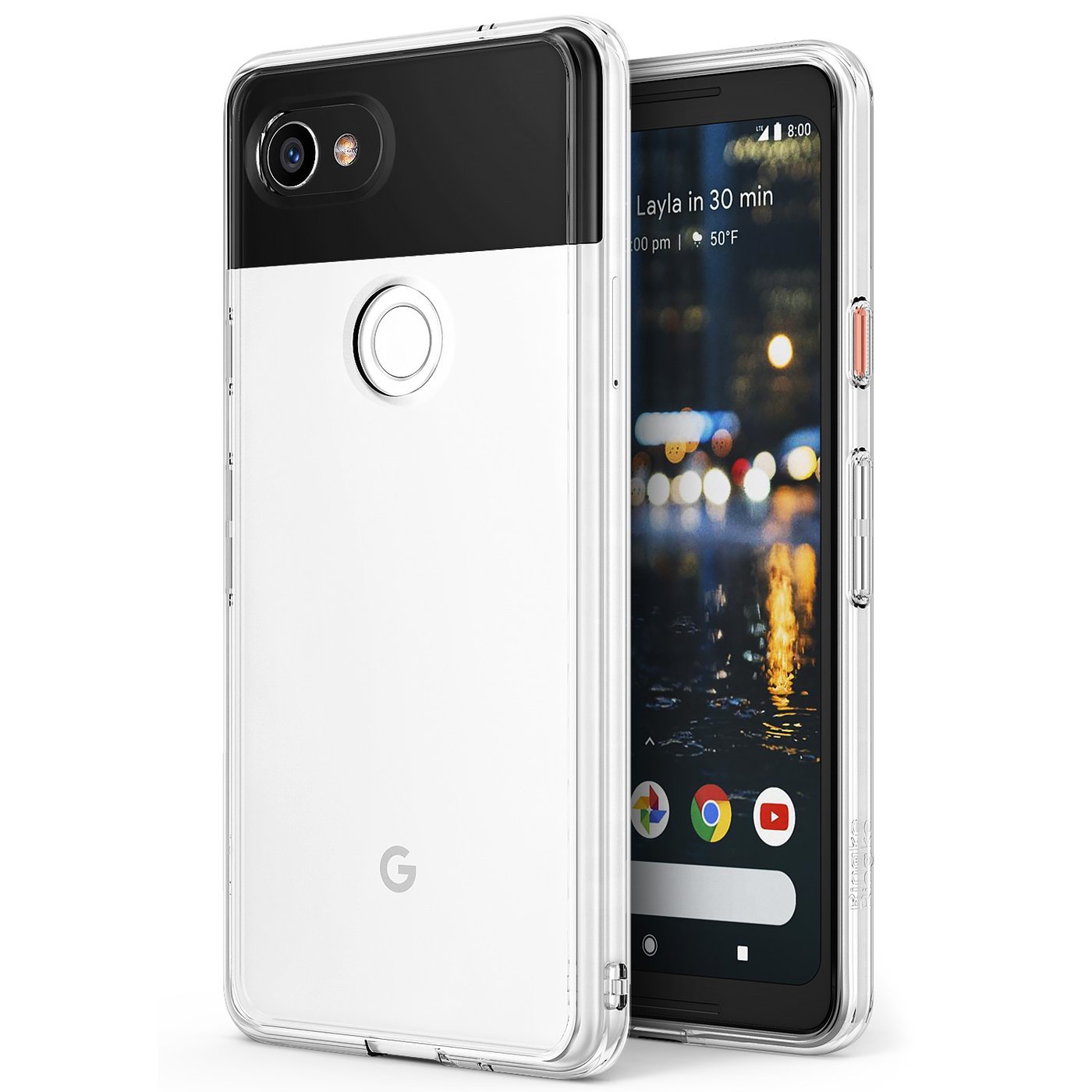 GooglePixel 2 XL
The internet search engine giants, Google has continued to impress in the technology sphere with its offering. Despite having its hands on so many pies, Google has endeavoured to impress on all of these. The Google pixel phones have improved with every iteration and the Google Pixel 2 XL should be one of the best phones in the market.
The phone boasts of a back-facing camera of 12.4 megapixels and works with the Google assistant. It is also compatible with the Google DayDream virtual reality. With a powerful Snapdragon 835 processor, this phone is powered by a 3520mAh Li-ion battery, making it one of the longest lasting battery life in the market. It weighs 175g and measures 157.9 x 76.9 x 7.9 mm. The P-OLED capacitive touchscreen boasts of 16M colours.
It also boasts of Corning Gorilla Glass 5 with 100% DCI-P3 coverage. The phone runs on Android 8.0 also known as Android Oreo and has internal memory of 64Gb/128Gb. The selfie camera of the phone is 8 MP rich and sensors in the phone includes rear mounted fingerprint, accelerometer, gyro, proximity, compass and barometer. The phone comes in just black as well black and white.
HUAWEI P20 PRO
Huawei has excelled in telecommunications equipment and in especially the past year, the company has surpassed Apple iPhone in very significant metrics as far as smart phones are concerned. Enter the Huawei P20 Pro.
This phone is touted as the best phone Huawei has manufactured and it is rightfully trending in the market. This is one phone that has a low-light back facing camera that competes with the Samsung Galaxy S9 and S9 Plus as it is complemented by a triple camera setup that leaves out only a little detail. This phone released just about 5 months ago, comes in two variants of both a single and dual SIM models.
The AMOLED capacitive touchscreen is capable of 16M colours and the Operating System is Android 8.1. The triple main camera of the phone is a monster 40 megapixels, 20 megapixels and 8 megapixels. The selfie camera is also a monster at 24 megapixels. Other features of the phone include fingerprint scanner, accelerometer, gyro, proximity, compass and colour spectrum.
BLACKBERRY KEY2
If you are one of those who love blackberry to the point of finding it difficult to let go, do not worry, you have company. There used to be a time in the not distant past when the Canadian phone giants used to rule the market with their device but not anymore. The iPhones and the Android phones of this world have since taken over and you are viewed as some antediluvian species if you still carry a blackberry.
However, there are some latest models of Blackberry phone you can carry and still remain trendy. Blackberry Key2 is the real deal. This phone is classic blackberry style and at the same time, it is trendy.  The phone boasts a powerful 12 megalpixels dual camera which competes with some of the best in the market. Not to be outdone in the market and to keep it up to date, Blackberry Key2 comes with Android 8.1 Oreo Operating System and a distinctive design which sets it apart from the rest.
In Blackberry Key2, you actually have everything you wished for in terms of modernity and classic Blackberry look that you have always loved and let no one tell you that you are not trendy because the phone boasts of all the features of competitors in the market. Security has always been paramount for the makers of Blackberry and this model is as secured as you can get and they have no apology for that. With a full QWERTY keyboard, Key 2 features an IPS LCD display and protected by Corning Gorilla Glass 3, boasting a Qualcomm SDM 660 Snapdragon Octa-core processor. The selfie camera is 8 Megapixels and it comes in black and silver.
NOKIA 8 SIROCCO.
If you are old enough to know when Nokia ruled the market, you might wonder how it is that the company fell from grace. However, the brand name now owned by HMD has been making a lot of efforts to catch up and possibly take over the market once more. One of the devices with which it is making this headway is the Nokia 8 Sirocco.
This phone boasts 5.5 curved display and features water protection capability. The phone has Snapdragon 835 chipset and 125GB of onboard storage and microSD of of up to 256GB. It has a dual back-facing cameras of 12 megapixels and 13 megapixels and a selfie camera of 5 megapixels. The non-removable 3,260 mAh battery is another strong point.
The phone also boasts of the latest Android Operating System which is Android 8.0 Oreo. The display is protected by the lasts Corning Gorilla Glass 5 and it has a stainless steel frame. The P-OLED capacitive touch screen is capable of 16 million colours. The phone also features rear fingerprint mounted scanner, accelerometer, gyro, proximity sensor, compass and barometer. The phone has a standby time of up to 495 hours.
Send Us News, Gist, more... to citypeopleng@gmail.com | Twitter: @CitypeopleMagz