…At National Population Commission, ABUJA
Dr. Ipalibo Macdonald Harry is the Rivers State Representative, serving as a Federal Commissioner in National Population Commission (NPC) in Abuja. He is now the chairman in charge of generating and Managing Demographic Data for the 2023 CENSUS Committee of NPC.
His childhood was very egalitarian though rustic from Obuama in Harris-Town in Degema Local Government Area of Rivers State. This saw him attending Harry Memorial State School Obuama, where he bagged First School Leaving Certificate in 1976 and his brilliant performance saw him gaining admission to the prestigious Enitona High School Port Harcourt where in 1982 he came out in flying colours with General Certificate In Education GCE Ordinary Level.
The well-focused young lad quite unlike other children of his time who lacked drive for higher education applied for admission into the then Rivers State University for Science and Technology Nkpolu Orowurokwo Port Harcourt where in 1985 he obtained Diploma in Estate Management.
With an eye for a professional career, he went to Polytechnic Calabar now Cross River University of Technology Calabar where he earned Higher National Diploma (HND) in Estate Management in 1987. In February 1987 he passed all professional competence certification as a qualified Estate Surveyor and Valuer (ANIVS) at the age of 28 years.
Having completed his mandatory National Youth Service Corps Scheme-NYSC at Plateau State in 1987 where during that period he was at Daniyan and Associates (Estate Surveyors and valuers) for his Primary assignment deployment. His excellent performance at this outfit earned him automatic employment at Daniyan and Associates where his organizational skill brought him a leadership position as Plateau State Publicity Secretary of the Nigerian Institution of Estate Surveyors and Valuers (NIESV) in a duration of 3-years. In 1991 Dr. Ipalibo Macdonald Harry was appointed Branch Manager Omuojine and Associates, (Estate Surveyors and Valuers) which he left in 1993 as he took another offer in 1994 as associate partner in the service of Akujuru Associates, (Estate Surveyors and Valuers).
His quick rise to positions of responsibilities has been linked to his early preparation for such positions by acquiring necessary academic attainment such as in 1999 where he obtained Post graduate Diploma PGD in Petroleum and Environmental Law, from Rivers State University of Science and Technology, Nkpolu Orowurokwo Port Harcourt now Rivers State University-RSU. From this step he proceeded to obtain a Master of Philosophy M.Phil. in Environmental Management graduating in 2004. Thus, armed with this high grade he went on to register for Doctoral degree in Environmental management as he earned Doctor of Philosophy Ph.D. degree in 2007.
In public service Dr. Ipalibo Macdonald Harry showed great knowledge of management as from 2004 to 2007 he was appointed Chairman of Rivers State Environmental Sanitation Authority as well as Special Adviser to the Executive Governor Dr. Peter Odili on Environmental and Sanitation. His tenure revolutionized the innovations in converting waste products to wealth. Again, in Public Service as a Commissioner for Economy and Employment Generation, he empowered the youths of Rivers State through policy thrust of that administration. In this period the restive youths were able to undergo reorientation from being unemployed to gainfully employed able-bodied youth and the physically challenged persons were also included in equal opportunities initiatives of the administration which Dr. Ipalibo Macdonald Harry anchored as a successful administrator.
Dr. Ipalibo M. Harry is a core professional person who immediately went to operate his private enterprise as a real Estate Consultant skilled in Asset Management, Investment Valuation, Environmental Awareness, Environmental educator, and Facility Development expert after he left office, being a Fellow of Nigerian Institution of Estate Surveyors and Valuers (FNIVS). He is an alumnus of Aston Business School, Birmingham, United Kingdom Leadership programs. Before his appointment as a Federal Commissioner, National Population Commission where he is representing Rivers State he has been Managing Partner, Ipali Harry and Associates, (Estate Surveyors, Valuers and Real Estate Consultants) Managing Director of Waste Masters Nigeria Limited being a Waste Management Consultant). He has also been a Consultant on Compensation Valuations, Property Developments, Facilities, Project and Environmental Management for NEXIM (Nigerian Export and Import) Bank and Access Bank, State Governments, Government Agencies and Corporate Bodies. His political career enabled him to have been nominated as Deputy Governorship candidate under the platform of All Nigerian Peoples Party-(ANPP) in 2003 general election.
As a scholar he belongs to many professional bodies both national and international scholarly associations which include Member Nigerian Environmental Society; Fellow, Nigerian Institution of Estate Surveyors and Valuers (FNIVS); member, Waste Management Society of Nigeria; being a Chartered Environmentalist (CEnv), Society For Environment United Kingdom; Member Registered Surveyor and valuer (RSV); member Estate Surveyors and Valuers Board of Nigeria (ESV); A Chartered Waste Manager, Chartered Institution of Waste Management, United Kingdom (MCIWM); Member National Registry of Environmental Professionals (NREP), The USA and member International Solid Waste Management Association, (MISWA) Vienna, Austria.
Dr. Ipalibo Macdonald Harry is a prolific writer and having been a publisher in 1995 of The Estate Journal now defunct which then was a Monthly Magazine specializing on Real Estate. In Rivers State Dr. Ipalibo M. Harry came out with a Comprehensive Business Directory which he authored comprising information on businesses around Rivers State and environs. He was a Consulting Editor on Home and Environmental page of the first coloured Newspaper print in Nigeria being The SUNRAY Newspaper as well as Editor of The Property watch a column in the then Plateau State owned The Nigerian Standard Newspaper based in Jos Plateau State.
Due to his intellectual and scholarly attainment Dr. Ipalibo Macdonald has been one of the most sought-after Conference Speakers in Nigeria. He has also written papers which include seminar papers one of which is entitled Environmental Practice in Nigeria, Challenges and Prospects (A Paper presented at the 41st National Conference/Scientific Workshop of the Environmental Health Officers Association of Nigeria, held in Yenagoa Bayelsa state in 2008. He also presented a Doctoral degree Dissertation paper titled Production of Bio-Solid from Faecal sludge in Port Harcourt, using drying beds and assessments of The Stability of Bio-Solids in Maize (Being an academic work for the award of a Ph.D in Environmental management in 2007). He also wrote Beyond the Limits of Statutory Provisions for Compensation Valuation assessment, published in The Estate Journal.
How not to waste your waste: A Useful Guide For The Waste To Resource Approach being a paper he presented at World Environmental Day in May 2007. Another quality paper presentation he delivered included An Examination of OMPADEC In Meeting the Socio-Economic Needs of The Niger Delta (Being an unpublished Course Work required for the Award of a Post Graduate Diploma in Petroleum Environmental Law in 1998. Another work of his being the Impact of Oil in Ogoniland being a Postgraduate research study for the Award of Post Graduate Diploma In Petroleum and Environmental Law in 1998. Not done yet with his writings, Dr. Ipalibo Harry has this Assets Sharing between states: The need for the prior valuation exercise this was published in the Sunray Newspaper edition of 12th October 1994 and in The Estate Journal 1997.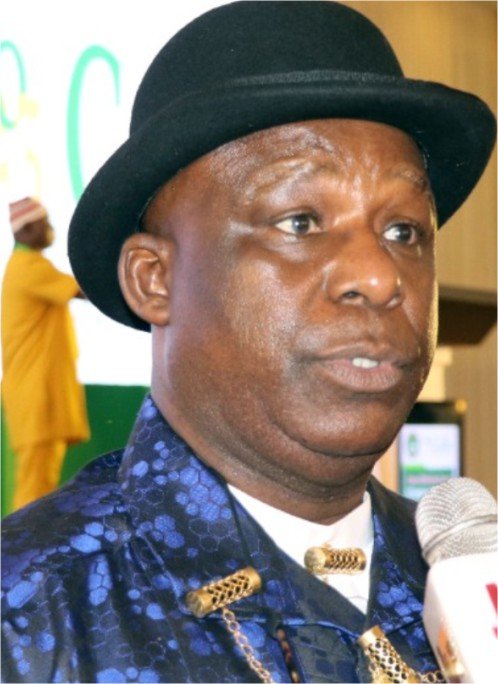 He came up with a paper entitled Imperative of New Towns development in Rivers State, an undergraduate Thesis published in The Estate Journal 1987. His contributions to academia include this paper entitled Causes and Remedies of Building Failures This was published in Sunray in 1994 and in The Standard Newspaper owned by Plateau State Government in 1995.
In his kitty are arrays of recognitions for hard work as he was awarded one of the best members of NYSC Plateau State in 1998. The Times News of Excellence in 2005 was bestowed to him.
Gentle, intelligent and serious-minded public administrator, Dr. Ipalibo Macdonald Harry is a family man with children. His hobbies include swimming, writing and travelling plus singing. He earned his political experiences while working with late Dr. Marshal Harry, first Chairman of Rivers State Chapter Peoples Democratic Party PDP.
-Emeka Amaefula
+234(0)8111813069
Send Us News, Gist, more... to citypeopleng@gmail.com | Twitter: @CitypeopleMagz