•Mrs. GLADYS IGBEKELE, CEO Edyglad Catering Services
Mrs Gladys Igbekele is the lead consultant and Chief Executive Officer of Edyglad Catering Services, Edyglad Cakes and Events, Edyglad Catering and Event Management Academy. She believes in continuous learning both in personal and business development. She is an associate member of women in management, business and public services associate, member of APPOEMN and a mentor of other women groups.
Recently in an online chat, she spoke to City People Magazine Reporter, TITILOPE OSHUNLALU about Edyglad Cakes and Events. Excerpts.
Ma, who is Igbekele Gladys?
I am Mrs Gladys Igbekele. I am the Creative Director of Edyglad Cakes 'n' Events, the lead consultant at Edyglad Catering Services and the Director of Edyglad Catering and Events Management Academy. The academy, being a registered one also integrates NABTEB modular trade certificates for all vocational skills. Registration for March/June and December examinations is open.
How can I bring out harmony between catering and the NABTEB course?
Yes, there is a bold and seamless harmony in-between. Catering shares same orientation with technical vocations and youths in the society, especially, crave for government certification of attainment as verification to meet up a standard and demand in any organization.
So, under your academy, you also register candidates for NABTEB vocational skills like catering craft practices, hairdressing, carpentary and other technical courses?
Exactly.
Can you tell us more about all these business holdings?
Edyglad Cakes 'n' Events is a company that offers full catering services, events planning and management. We also run a cake store where you can walk in and buy cakes on a go.
Edyglad Catering Services has grown over the years and we have the capacity to cater to about 3,000 guests right now.
How long have you been in the business?
I started events planning and helping people to cook while I was in the university in the late 90's.
I had worked both in the public and private sector before starting the business as my profession in May 2008.
How did you start?
I planned my sister's wedding in 1997 seamlessly and everyone around appreciated the efforts I applied to make it elaborate and colourful despite the fact that the wedding didn't take place in the city. If I heard that someone I knew was preparing for wedding, I always volunteered myself to execute the plan .
I did this not for money but moral appreciation like 'Thank you' and this puts smiles on my face. So catering for me is born out of passion.
Why did you choose event planning business?
I have just told you it's because of the passion I have for event planning. I did lots of trainings to get certifications and I have invested alot in personal developments. I have a Masters Degree in Tourism and Hospitality Management.
I'm a certified Member of Association of Professional Party Organizers and Events Managers of Nigeria (APPOEMN) Associate Member of Women In Management, Business and Public Services (WIMBIZ), Alumni of Enterprise Development Center, Assev, ICES, BACN just to mention but a few.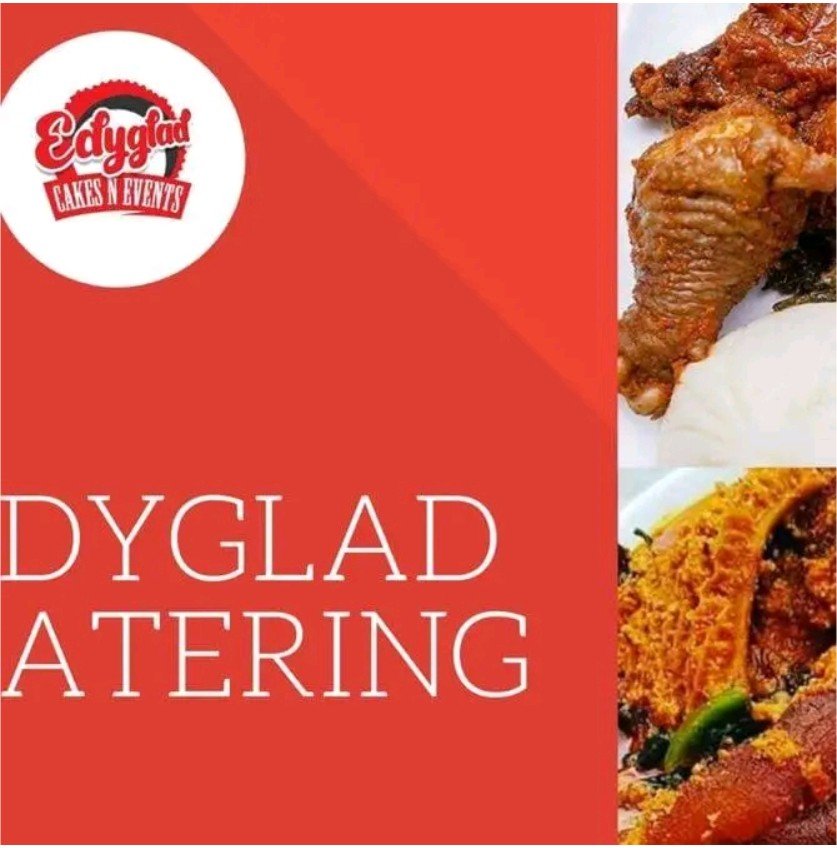 Where is your workshop located?
Our workshop and office headquarters is situated at 2600B, Phase 3, Nigerian Navy Mammy Market, Navy Town, Lagos.
What event brought you into the limelight?
It was a wedding that held at Yaba in 2009. I was given a backup catering service for 100 guests.
The set up of the main caterer at the event was superb and intimidating as she displayed a 40 roll top chafing dishes for 300 guests capacity whereas my team had 4 regular rectangular chafing dishes with dividers on our stand.
I do remember one of my waiters telling me that I should let us just serve menus directly from our warmers and I laughed. I told her that we were back-up caterers and that we needed to wait until there was a need for our intervention.
But God showed up for us and our food was served steaming hot and the salad we had was very chilled. The first 10 people that tasted our food were impressed and informed others how delicious the food tasted.
That was how we started serving everyone who demanded our food.
The food we brought to the venue was enough to feed like 200 people.
That's was how people were asking me for my business card and God has been so faithful to us since then.
What was your best event and where?
My best event so far was at a final burial ceremony that took place at Ijebu Ode.
We planned the event from A-Z. I mean from the beginning till the end.
It was a 1,000 guests capacity.
My clients and their guests were so happy during and after the ceremony and they referred me to a lot of people.
Do you do all catering services?
Edyglad Catering Services is a full catering company. We offer everything relating to foods for all occasions.
We also sell food and soup in bowls.
How do you rank in the catering circle?
I'm a Food Safety Consultant for caterers and I help people to stay healthy by eating right.
I train upcoming caterers about food safety, food hygiene and food costing.
Do you also do trainings?
We have a training academy where we train on cakes, confectioneries, and cooking skills.
How are your charges? Are they affordable for all social classes?
I mean the low, the medium and the high?
Our charges are reasonably determined by the prevailing economic circumstances and consideration for the feelings of the people.
Send Us News, Gist, more... to citypeopleng@gmail.com | Twitter: @CitypeopleMagz