•Alaafin's Daughter, Princess FOLASHADE ADEYEMI
Saturday 29 October, 2022, Princess Folashade Adeyemi, the first daughter of late Alaafin of Oyo, Oba Lamidi Olayiwola Adeyemi 111, held the 6th edition of her Arewa Cultural Festival. It was done in honor of her late dad, particularly to celebrate his 84th posthumous birthday. The event, held at the historical Atiba Hall of the ancient town of Oyo, attracted not only top dignitaries but also traditional rulers/chiefs, traditionalists, cultural troupes from different parts of south west Nigeria, as well as entertainment icons. Members of the Oyo chapter of the Fuji Musicians Association of Nigeria (FUMAN) were fully on ground and made the event a memorable one. Meanwhile, few days to the program, City People's Correspondent, Dare Adeniran (08057639079) engaged the charming princess of Oyo, Folashade Adeyemi, in a brief but interesting conversation during which she spoke on life without her father. How she has been coping and what's the next thing for her. She also spoke about her acting skills and involvement in the newly released blockbuster Yoruba movie, Elesin Oba (The King's Horseman) and many other issues. Enjoy the excerpts from the interview…
Its been 7 months that your dad, Alaafin Lamidi Adeyemi passed on. How is life without him like?
7 months without my father has been extremely rough with a lot of changes and adjustments. His death, no doubt, has dealt me a big blow.
Was there any sign that Baba was going to die? Maybe he called you together as family or something?
No sign. He never called us together to let us know he was going.
Share with us his last moments or any encounter you had with him before he passed on?
The last moment we spent together, he spoke about the festival he was supposed to attend in Zimbabwe. But he said he would send some delegates to represent him. He couldn't go because of the preparations for Honourable Speaker Gbajabaimila chieftaincy installation. He gave a short history on how Oyo and Zimbabwe are connected.
What do you miss the most about him?
His words of wisdom and his dancing steps. He was knowledgeable and vast in Yoruba tradition and culture. He was a phenomenon.
What is the greatest lesson that his death has taught you?
His death has taught me quite many lessons. But of them all is the fact that when life gives you opportunity, you use it well and don't procrastinate.
Was there anything you should have done that you didn't do in his lifetime?
Not really. I'm very grateful that I spent a whole lot of quality time with him.
Alaafin Adeyemi meant different things to different people. How would you describe his personality, private life and reign as king?
Baba, as he was fondly called, was one of the most progressive kings of his era, both in Yorubaland throughout Nigeria and internationally. Deeply rooted in the Yoruba belief system, traditions, and history. He was able to prove that education must be combined with culture to produce knowledge. He was known for his diplomatic and strategic approaches to political affairs. He drew his friends close and his enemies closer. He has humble personality, very principled with high management skills. He is very witty and had high tolerance level. There was never a dull moment with him.
What was the unforgettable moment you spent with him while growing up?
There are so many unforgettable moments with Baba. I can write a while book on it. Moment such as, jogging with me when I was growing up.
He trained me how to write and how to use dictionary effectively with sound of the words. Cooking for us his children when we went on vacation out of Nigeria. Sitting with him, reading & learning about Yoruba history.
Did Baba give a kind of hint on his likely successor or was there a particular person close to him out of the princes?
No. He didn't give any hint but he said, he knows who will be next Alaafin. He took that information with him.
As a spiritual person has Baba talked to you since he passed on, maybe in the dream or something?
Of course, he has visited several times both in dreams and thoughts. I have heard his voice clearly on several occasions. Recently, he also came around during my festival, Arewa Cultural Festival in honour of his 84th posthumous birthday and the guests at the event witnessed his presence. There was a brief storm right in the centre of the venue while the program was ongoing.
Your brand, Arewa House of Culture, is believed to have been built around your late father. What is the next thing now that he is no more?
You are very right. Arewa House of Culture is centred around my late father. I created the brand as a consultant company to package cultural events for Baba. As the saying goes, "charity begins at home". I started by rebranding all the cultural festivals and other cultural events in Oyo with my company. And in his lifetime Arewa House of Culture has done a lot within and outside Oyo and even on the international scene. So now that he's no more, his legacies live on and we'll continue doing what we know how to do best. It is inbuilt.
You recently made your debut in Elesin Oba, a blockbuster movie, tell us more about your experience?
It was a great privilege working as Costumier and Head of Wardrobe for the movie Elesin Oba. It was very demanding, I had insufficient sleep and all that. The costume have to be at the location by 5pm and I had to get everyone ready for filming which starts by 7pm and ends 5am everyday for a month. I gained more knowledge in film production. It was wonderful experience working with Ebonylife.
What inspired this your new love in acting and do we expect to see more of you in Yoruba movies?
As I said before, when life gives you opportunity, you have to grab it, especially if someone believes in you. I got the Wardrobe contract through a good friend and a veteran actor, Wale Ojo. I was made Head of Wardrobe Department, recommended by the producer, Judith Audu and approved by Mo Abudu.
Yes, expect to see more of me in Yoruba movies in area of production.
You are many things rolled into one; a cultural enthusiasm, politician, public commentator and now acting. Tell us how these phases of your life evolved?
It is easy to blend all except being an actor. Prayerfully someone will discover me and bring out acting talent in me
I grew up surrounded by culture and traditions. So it is very easy for me to love and embrace culture and to a culture promoter. Of course knowing my environment, being close to people in the grassroot and understanding what they need and advocating for these needs turned me to a politician.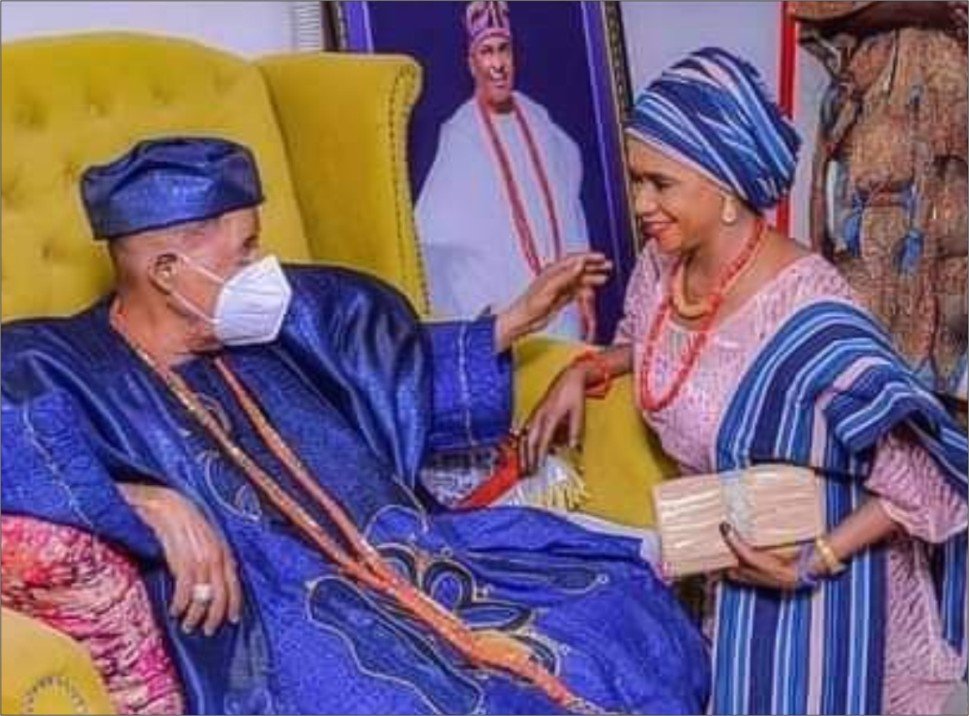 Send Us News, Gist, more... to citypeopleng@gmail.com | Twitter: @CitypeopleMagz