•Veteran Actor, Alhaji ABDULAZEEZ AKANNI BELLO (Baba Samu)
Feyikogbon was a popular Nigerian Television Drama series that made waves in the 80s and 90s. The Play which was first aired on the defunct NTA Channel 7, Lagos is considered one of the country's longest running Yoruba language television series. It is a drama series many people grew up to love and have fond memories of back then. The weekly sitcom was shown on Sundays on a few NTA channels in Southwestern Nigeria in the 1980s. Feyikogbon was so unique a play that it used a storytelling style similar to another popular Nigerian TV show, Tales by Moonlight and ends with an advice to the audience. Each episode of Feyikogbon consists of a realistic story and play that draws the attention of the TV audience who would like to know the outcome and moral of the play. Most of those who were lovers of the series then would remember how the show usually starts at the home of Ayo Mogaji, the head of Feyikogbon village. The mogaji is seen seated in his compound and begins to tell the villagers stories imbibed with Yoruba proverbs which are intended to teach a lesson on how to ethically navigate through life. At the end of the show, there is usually a moral message for the audience then followed by the character of Ayo Mogaji entertaining the audience by dancing to traditional Yoruba beats.
Speaking to City People on how the masterpiece of a play began, veteran actor and one of the brains behind the concept of Feyikogbon, Alhaji AbdulAzeez Akanni Bello who starred as Alhaji Samu in the TV drama series revealed how it all started. It would interest you to know that ALH. ABDULAZEEZ AKANNI BELLO is one of the very few veteran actors who are still very much around and active in the movie industry till date. He is part of the golden era who set today's generations of movie stars. At the mention of his stage name "Alhaji Samu" those who are conversant with screen play in the 60s and 70s would vividly recollect plays like Feyikogbon where the actor starred and made his name. Alh. Akanni has come a long way in the industry and deserves some accolades. He was a founding member of the waving Abalaye Theatre Group in 1979 under Pa Ayo Mogaji. He was also part of the pioneer cast of the Feyikogbon drama series which began in 1982. After spending 6 years with the Abalaye group, he proceeded to join another popular group known as Oluomo Theatre. He is still very much around in the industry and has worked with quite a number of actors; the likes of Yinka Qaudri, Ajala Ajalingo and many others. When some of them want to shoot, they still call him for jobs because they enjoy him a lot. Many of them hold him in high esteem as they have taken him as a father figure while he has also adopted them as his children literally.
We asked him to tell us about his journey into acting. "I learnt the job when I was in Osogbo. I joined Kola Odukola travelling theatre then. They were the ones who taught me professional acting. I learnt it very well to the point that I was certified and I had freedom. When it got to a point I came to Lagos".
How did he find life as a trained actor in Lagos? "When I got to Lagos, I was working as a salary earner. I am from Ila Oragun in Osun State. I have some friends in a house called "Agboti iku yo", I always visit them there. There was someone there who was also an artist. We were talking one day when I told him I was an artist too in Osogbo and that I just relocated to Lagos. Then he told me that we should form a group and he took me to their Chairman, who was the popular Ayo Mogaji of blessed memory. From there we gathered ourselves and formed the group called "Abalaye theatre". We continued acting to the point that we went to one television in Lagos. They liked our play and said they wanted to give us a slot for a play called "Feyikogbon". So, we thought within ourselves that we needed names and we gave ourselves names. Because when I was with Ogunmola, I was fondly called
"Samu" I decided to stick to the name and that was how I became 'Samu' in Feyikogbon.
Aside from acting, what other things did he do back then? "I am a Typist, I worked as a typist at the Lagos State Ministry of Commerce and Industry. I did that for about 20 years and that was between 1970 and 1990. That was when I was in active service in the ministry. I have been living by the grace of God since then."
We asked him to tell us a bit about his educational background…
"I read Modern 3 at Baptist School in my home town. After I finished, I went to Oshogbo to stay with my Mother's elder sibling where I learnt photography. It was during that time I met Sunny Ade. I lived in Gbemu, that's where Sunny Ade was also learning painting. It got to a point where I saw Kola Ogunmola drumming with cars and going around announcing that they wanted to act in a play, I got interested in that and lost interest in photography. That was how I decided to meet Ogunmola. When I got there, I started working with him but I left for Lagos in 1979. It was a friend of mine who invited me to Lagos assuring me I would get a good job. After searching for a while, I got employed into the Ministry. The industrious course I was given was typing. I learnt typing for six months and became a grade 3 typist. I left the ministry as a grade 1 typist."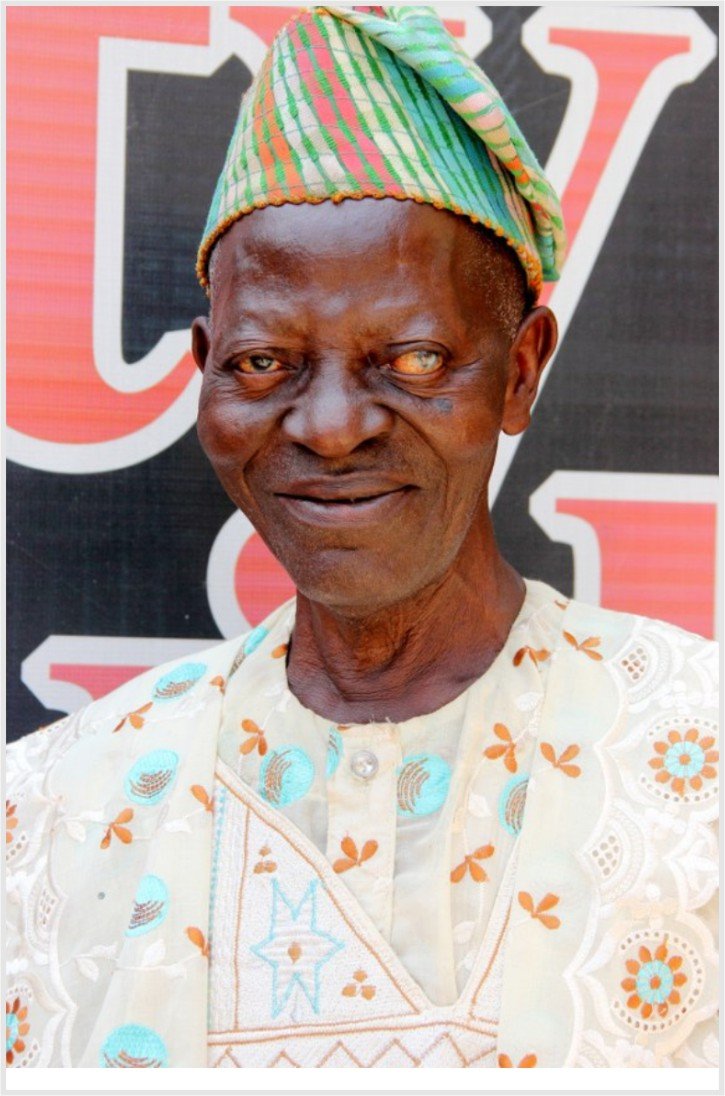 What is the relationship between veterans like him and the younger generations of artists? "Our relationship with the younger actors is not that cordial. Although we usually meet when we have conventions or meetings, we hardly get their support. Only a few of them are generous to us and do come to our aid whenever we need assistance. Few of them come around when they want to shoot movies. Apart from that, there is nothing they offer us."
Can you mention those that have been forthcoming so far? "The first person that comes to mind is Foluke Daramola. She is a wonderful lady. She has been taking good care of me. I always pray that God will continue to bless her. She will prosper in her life. I beg both young and old to help me pray for Foluke Daramola. She has never left me. Ever since Covid19, this lady will bring food herself to my house with money, she will say "my father, my father". She has been taking care of me and she is still taking care of me. All the prayers rendered upon her will come to pass over her life. Among others are the likes of Yinka Quadri, Ajala Jalingo and Toyosi."
Send Us News, Gist, more... to citypeopleng@gmail.com | Twitter: @CitypeopleMagz