Highly talented actor cum producer, Babaseun Faseru is one of the Nollywood actors currently making waves in the entertainment industry. He started his career with stage performance, today he has featured in lots of award-winning series and movies.
In this exclusive interview with City People's Senior Showbiz Reporter, BIODUN ALAO, spoke on how award-winning filmmaker, Tunde Olaoye and superstar actress, Funke Akindele helped his acting career.
For many who don't know, he is the younger brother of KICC Pastor, Pastor Femi Faseru and they both share a striking resemblance. He talked about how his brothers have encouraged and helped him achieve his dreams. How Pastor Femi would introduce him to his celebrity friends and his immense contribution to her career.
He recently produced 2 indigenous movies "Dieko" and "Ebiti" with A-list stars on the set. He also shares his challenges and fears in the movie industry. Below are the excerpts.
How did acting start for you?
Well, let me say I started acting when I was 15 years. I have a cousin who studied Theatre Arts at the University of Ilorin. In the final year, he had to do a project based on a movie in my home town Ijebu Ijesha, so he came home gathered some of us. I auditioned and I got a role and that was my first appearance ever in 1995. After then around 1999, I was in the University of Ado-Ekiti.
This same cousin of mine wanted to do another movie at that time. He called me to come around. We had the movie at OAU. We were there for about 6 to 7 days and it was there I met with the lead actors of Papa Ajasco.
Then after my service year, I started doing stage plays for church and concerts. Later I was invited to feature in the movie titled "Married But Living Single" a cinema movie that parades A' list stars such as Joke Silva, Funke Akindele, and lots of others. And that was my first opportunity of meeting these great stars one-on-one. The movie was directed by Tunde Olaoye. I played a minor role. From there, Tunde Olaoye invited me for another television series, then he invited me for another series "Shadows", where I played the role of a boyfriend to Kehinde Bankole. Afterwards he invited me for yet another series "Crack In The Wall". Then we did another series titled "Number One".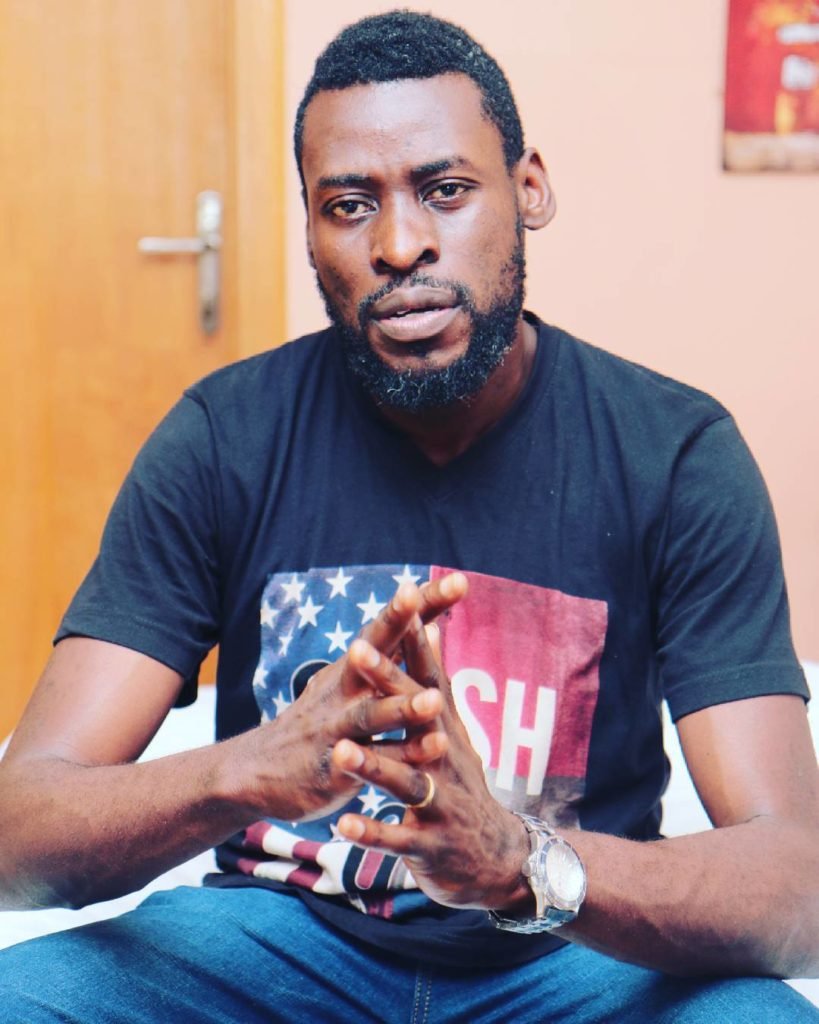 After a while, he called me up for an audition at Tade Ogidan's office. There I met veteran actress, Sola Sobowale. It was her production; a television series where I played a Personal Assistance to the great actor, Keppy Ekpenyong.
I was later invited to the set of Tinsel, an M-Net series. That was in 2014 and I was really excited. I enjoyed every bit of it.
After Tinsel, I moved on. Then Tunde Olaoye called me again for an audition and lo and behold, it was "Jenifer's Diary". I saw Funke Akindele and I was picked and I played Toyo baby's boyfriend. It was a huge role and I was surprised such a role could be given to someone like me who is not yet very known in the industry. I put in my best so I won't disappoint their trust in me.
So I did feature in lots of television series, after Jenifa's Diary, I did Industreet.
In 2017, I got a call from Funke Akindele's P.A. to come for a movie project they are working on. I got there and met lots of big names in the industry. I was surprised when I was told I would be playing the lead role in "My Siblings & I". It's an M-Net project and that was how I started my journey in "My Siblings & I". I also went for an audition for Superstory and I played the lead role of Donaldo in Superstory. So as I was doing my siblings and I, I was equally doing Superstory "Donaldo".
In 2018, I decided to produce my own movie titled "PWD", which features stars like Kunle Coker, Afeez Oyetoro, Jide Kosoko amongst others. Directed by Tunde Olaoye it was all about drug abuse. After then I have done lots of movies. I was also called to feature in the award-winning movie "Battle Within".
I also feature in "Royal Outlaw". I did "Tomorrow Is Now".
Though I would say I have feature more on series than feature movies.
I also featured in the record-breaking award cinema movie which is still showing in all the cinemas at the moment, like Omoghetto the Saga, where I played the character of Pluto. A movie which was produced by Funke Akindele and directed by JJC Skillz. Also, I just produced 2 movies this year which were indigenous movies. Dieko, is another one, I played Dieko the serial rapist, and Ebiti, in which I played Idowu, the unsuspected murderer.
What are the challenges you have been faced with?
I think the first challenge I had as an upcoming actor was during my first audition in Lagos. Probably because I was not a popular face. The producer decided not to pick me to play the role. Because I was supposed to play the lead role but he didn't pick me. I was supposed to act Ben at 20, Ben at 30, and Ben at 40 and as at that time I was already 30 but had the 17 years old look, so the guy didn't believe I could play, he just didn't want to know how good I was, even when the producer tried convincing him. He said no, probably because I was not Igbo. I can never forget that audition. It got to a point that he told the producer he would stay off the project if he insists on using me.
Eventually, I didn't hear from them to date. I told myself I don't have to belong to a clique to be featured in a movie. Apart from that, another challenge I face as a producer is that there's no compensation for the hard work we do. Like if you produce a Yoruba movie now, the best place you can take it to is Africa Magic Yoruba no matter what you spend on your movie no one cares. If you spend 5 million in your movie, the best you can get back is 1 million.
So just imagine the movie one can make with just 1 million naira? By the time you collect camera, pay accommodation, pay articles. You won't have anything left. I am really sorry but that is why you see lots of substandard movies on Africa Magic Yoruba. Those are the challenges we face.
And many young producers who are coming up now don't want to be at the mercy of any company, especially if you know that they are taking advantage of the monopoly, so we are eagerly waiting for other platforms to break that monopoly.
Basically, I think that is the challenge I have. We have fantastic crew members, good scripts, fantastic actors, and locations. We have all these.
Do you have any regret so far about being in the industry?
So far, no regret. I think the only regret I have so far, is not joining the industry early enough. Apart from that, it is been an amazing year. within these 9 years, I have done lots of big movies such as "Shadows" Jenifa Diary, even though I pulled out in Season 9. The series has done well overall in Africa and other countries as well.
Even Tinsel, though it didn't give me the fame I envisaged but starting with Tinsel gave me good morals. Superstory, anywhere I go to, people always talk about my character, so I am super grateful to Almighty God. So no regret at all.
Has your famous brother in any way helped or influenced your career?
Yes, it has helped my career. I have other brothers who are equally famous but because Pastor Femi Faseru is always on the screen has made him more famous. I have another brother who is a commodity exporter. He is the President of Cashew Association of Nigeria. My brothers have been so supportive, I have another one who is in America now. He is a professor at the University.
Yes, Pastor Femi has been very supportive; most of the clothes I wear, even on set are given to me by him. The fact that he knows I am into showbiz, he always floods me with clothes. He knows that it is what I need. Several times, he has introduced me to celebrities who visit him. He enjoys seeing me on the stage. He has contributed immensely to my career. His fame too has helped me, because once I mention my surname "Faseru" is a golden name with that name favours comes, so it's been awesome being his brother.
Who do you look up to in the industry?
The truth of the matter is that I don't really have anyone I am looking up to in the industry but I have people I admire a lot. They inspire me. I enjoy watching their jobs. So, I have several people that inspire me and I watch their work a lot.
Right from when I was in Ijebu Ijesha and that was when I got the inspiration to become an actor. Someone like RMD. How would you watch RMD and not fall in love with his works. I have always watched his movies even a few days ago. I went back to movies like Isakaba, Desperado and I was like if these people could do these movies at that time the resources were very scarce, then they are the real filmmakers.
Another person I admire as a producer is Tunde Olaoye. I admire his creativity how he works. I love Funke Akindele's energy, creativity, and skills. I love the fact that she is so close to domestic things; you can always relate well to her movies.
What about Tade Ogidan, an exceptionally good and highly talented filmmaker. I said earlier that if you are looking for the best of producers, then they are here in Nigeria. Fantastic actors are all here in Nigeria. All these people inspire me a lot. RMD progression is amazing. No scandal, just doing his things peacefully. Even after the break to join politics, he still came back and ruling his world peacefully. I love Ramsey Noah. He is been consistent over the years.
Desmond Elliot is another fantastic filmmaker I admire a lot. Just the way these people have inspired me, I want to inspire people too.
If you talk about a female who is hardworking, determined, rugged, creative who doesn't take less and doesn't go below standard, that is Funke Akindele. She pictures something and brings it up in reality. I owe her in high esteem and she inspires me a lot. I have worked with her and I know how she works so I am not just saying this. ",
Send Us News, Gist, more... to citypeopleng@gmail.com | Twitter: @CitypeopleMagz