On Saturday, 26th May, 2018, popular Lawyer and Real Estate guru, Barr. Kayode Filani and his siblings buried their beloved mother, Madam Afolake Ige Juliana Filani (nee Ajayi) in Ikole Ekiti. She slept in the Lord on 14th April, 2018.
In her lifetime she was an epitome of a real mother, a caring and hardworking woman who laboured to make sure that all her children became best in their life and their chosen carrier. She bore her struggles with equanimity and did all the hardest works  single-handedly. It was also gathered that Madam Juliana was a Philanthropist, a dangerous giver for that matter.
According to her son, Kayode Filani his mother is a gentle, kind, humble woman. In his words "Eye Funmi, with all sense of responsibility, I considered myself very blessed to be your son".
"Since your demise, I have been inundated with so many testimonies of your goodness to people and your sterling qualities. You have been variously described as gentle, kind, humble, easy going, virtuous, God fearing, accommodating, humane etc".
"As your son, I attest to all the qualities people have mentioned about you, some of which are enumerated above, but I never knew you have touched and impacted so many lives. At your twilight hours, you told me to imbibe the spirit of forgiveness at a greater dimension and that I should never keep malice with anybody no matter the level of the hurt and to always allow God".
Funmilola Mustapha, one of her daughters also testified to what has been said so far about her mother. In her words "Maami, God saw that you were getting tired…
and a cure was not to be, so in the early hours of Saturday, 14th of April 2018, He put His arms around you and whispered "oh daughter of Zion, come home and be with me". In a twinkle of an eye, there comes a great uproar in the sea as a big  fish entered, alas! A golden heart stopped beating, the hard working hands put to rest and host of heaven ushered in a great icon among the women folk into the great beyond. Although our heart is broken but God prove to us that He only takes the best".
"Who could have thought Maami will leave so soon like a lighted candle in the wind but we are consoled in the fact that she lived a fulfilled life and she has gone to be with her creator".
"Maami you are an inestimable jewel, an epitome of beauty, coupled with good characters. You  stand as a symbol of peace, love and unity to our family, yours and many others that come around you. You are a woman of faith and you strongly believe in the efficacy of prayers and God's supremacy.
According to the funeral arrangement, Christian wake keep was held on Friday 25th May, 2018 at Filani compound, Omodowa, Ikole. Then funeral and thanks giving service was held on Saturday, 26th May 2018 at Methodist Church Nigeria, Ikole. The interment was held at her residence at Irode Titun Quarters, beside Olo Saw-Mill. Followed by reception at St. Thomas Catholic Nursery and Primary School open field Ikole Local Government Area, Ikole.
AT THE WAKE KEEP
The wake keep for late Madam Afolake Ige Juliana Filani as held in Filani compound, situated at Omodowa in Ikole on Friday, 25th May, 2018 and it started by 5pm.
OFFICIATING MINISTERS, WERE ON GROUND
Officiating ministers  from Methodist Church Nigeria Diocese of Ayedun Ikole circuit were an ground at the venue for the service of song for late Madam Juliana Filani.
ABOUT THE COLOUR OF THE DAY
The colour code for the service of song for Late Madam Juliana Afolabi was White/Mint or Army Green though, some groups were seen wearing uniform Ankara, probably some of the groups or societies late Madam Juliana belongs to when she was alive.
ABOUT THE SERVICE OF SONGS
After a minute silence, the opening prayers were said by one of the ministers, Hymn 134 (I know that my redeemer lives) and Hymn 660 (Forever with the Lord) were sang consecutively before the first bible reading (Genesis 1:1-3, 26-27) while Hymn 619 (Hark! The sound of Holy Voice) and Hymn 456. (Lead, Kindly Light) followed. The Second Bible reading was taken from the book of Job 19:23-27b while 2 other hymns were sang before a Minister prayed for the family and friends.
After the prayer, another 2 hymns were sang. Followed by the 3rd bible reading and another 2 Hymns before people were given chance to share their various testimonies about the deceased, late Madam Afolake Ige Juliana Filani.
The last Bible reading was read from the book of Revelation 19:1-16 followed by short exhortation and thanksgiving.
OFFICIATING MINISTERS @ THE CHURCH SERVICE
Rt, Rev'd Dr. E Oluwasesan Abejide Phd (JP), Very Rev'd Micheal O. Omotayo, Very Rev'd J. Olu. Adeyefa, Very Rev'd Eriola Olabamerun, Very Rev'd J.A. Fasakin, Very Rev'd E. Ayomiku Alabi, Very Rev'd J.O Olanrewaju, The Rev'd R.D. Fadunuye, The Rev'd Dr. O.M.A Jesuyon, Ordained J.A. Omokanye, Evangelist Tola Adeyanju, Evangelist H.O. Falade, Evangelist O.C. Alao and Rev'd Ikoro (Bishop's Chaplain).
REV'D ABEJIDE PHD (JP) DELIVERS MESSAGE
What legacy are you leaving for your children? What would they say about you when you are gone? What manner of man are you? What manner of person are you? As it is difficult to know a man. Many have lost the sense of eternity. Those were his words after reading some of the testimonies and tributes about late Madam Juliana Filani.
MEET LATE MADAM JULIANA FILANI'S CHILDREN
Barrister Kayode Filani, Funmilola Mustapha, Busuyi Filani, Niyi Filani (Oloye), Oluwabunmi Afolabi and Babatunde Filani: These were the children of late Madam Juliana Filani.
AND MAMA WAS LAID TO REST
Late Madam Juliana Filani was finally laid to rest, her residence Irode Titun Quarters beside Ola Sawmill, Ikole.
AT THE RECEPTION
The reception that witnessed the presence of many dignitaries and celebrities from all walk of life was held at St. Thomas Catholic Nursery and Primary School open field, Ikole.
The Venue was filled to the brim as the guests from Abuja, Lagos e.t.c also indigenes both friends and family were trooping in gorgeously dressed in the Aso-Ebi that was chosen for that day.
ABOUT THE VENUE AND THE COLOUR OF THE DAY
The venue was beautifully decorated by Rostal Flowers under the supervision of Mrs. Funmibi Oduwole who is the C.E.O with the touch of purple and white that makes the Hall looks classy.
KING SUNNY ADE ON BAND STAND
Chief Sunday Adeniyi Adegeye popularly known as King Sunny Ade, a Nigerian musician, singer-songwriter, and multi-instrumentalist thrilled the dignitaries that were present that day with his Unique and indigenous performance as it is characterized by his instruments and the talking drum.
SENATOR OMISORE HONOURS KAYODE FILANI
Among the dignitaries present on that day was Senator Iyiola Omisore, the former deputy of Osun State and former Senator for Osun East, was at the event to honour Super K.
HON. BIMBO DARAMOLA TOO
Bimbo Oluwafemi Daramola, a member of the House of Representatives representing Ekiti North Federal Constituency 1 was also at the event with his friends. He was first sighted at the church dressed gorgeously in his white Agbada and later changed to the chosen Aso-Ebi for the party.
2 MCS DAZZLE
The event was compered by Kayode Jegede and Erugale. Kayode Jegede welcomes the guests one after the other in English while Erugale interpreted in Ekiti Dialect. The duo indeed contributed immensely to the success of that event as it was well compered and coordinated.
TAIWO AFOLABI LED SIFAX GROUP
Taiwo Afolabi, a Nigerian business magnate, a lawyer and the current C.E.O of Sifax Group, a conglomerate that deals in shipping and oil and gas was not just at the party alone, but led member of Sifax Group to Ikole Ekiti to honour their very own, Super K. with the Vice Chairman of Sahcol and the director of Sahcol, a Skyway Aviation Handling Company Limited  (SAHCOL) that is 100% owned by the Sifax Group.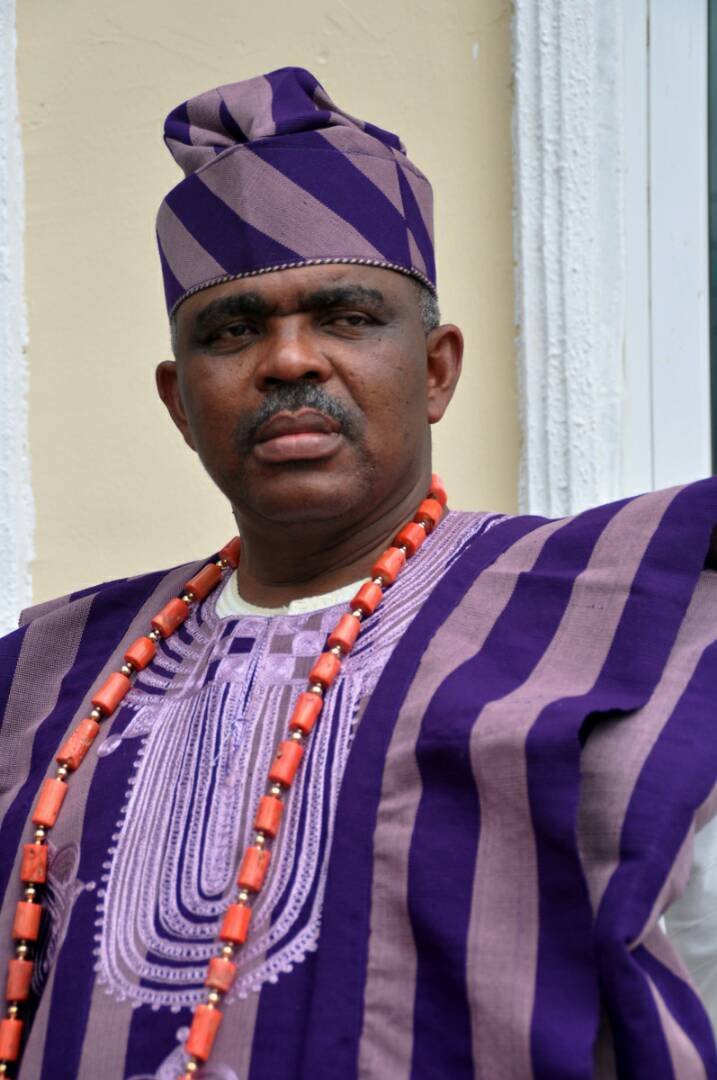 ABOUT MADAM JULIANA AFOLAKE IGE FILANI
Madam Juliana Afolake Ige Filani (Mummy Ikole) was born in November, 1944 to the family of late Chief D. A. Ajayi (the Olomodara of Ara) and late Chief (Mrs) Ogunmiluwe Ajayi (nee Arowosegbe) of Irerun. Both of them hailed from Ara-Ekiti in Ikole Local Government Area, Ekiti State. Her maternal grandmother late Madam Jemirohun was from Awolusi family of Orin Odo, Ikole and this informed her affinity to the people of Orin Odo.
Madam Juliana lived with her elder brother, Chief A. B. Ajayi, the present Olomodara of Ara, who was a teacher then. Mama moved with him to the different towns he was posted to during his teaching career. They were both in Ijesha Isu, Orin Odo, Ayegbaju, lIoro and Ido Osi just to mention a few. She completed her standard six education at Our Saviour's African Primary School, Ara. Though mama was brilliant, she was unable to further her education due to certain
constrains. Some of her school mates were Mrs. F. O. Adeleye, Madam Lucia Osalusi and late  Madam G. O. Ogundana. Mama decided to learn tailoring under the tutelage of Chief (Mrs.) C.O. Famoroti (a.k.a Yeye Olotin). Mama was diligent, hardworking, humble and trustworthy. These qualities endeared her to Yeye Olotin such that their relationship continued till her time of
death.
Madam Juliana Filani got married to late Chief Samuel Owolabi Filani (the Rawa of Ikole -Ekiti) more than 50 years ago. She happened to be the 11th and last wife of her husband. She was caring, loving, dedicated and hardworking. She assisted her husband in cocoa produce business until his death in 1981. This of course left Mama with challenges of having to cater and bring up her children but with the assistance of God, friends and family members, Mama was able to surmount the challenges. Mama was a trader who dealt in corn, yam and later kerosene. She was a member of kerosene dealers association Ikole, Egbe Onisowo Ikole, and Egbe Agbobaleye Ikole.
Mama was a devoted Christian all through her time. She got confirmed at Methodist Church in 2001. She was a member of MCN Ikole women's fellowship and Igba Temiadara society where she became the flag bearer (Alaga) of the society during the 1997 harvest and emerged the highest donour. Mama was equally given an award by the Methodist Church, Ayedun Diocese for her generosity and sterling contribution towards the growth of the church and welfare of humanity. She served God wholeheartedly till her time of death.  Mama was a seeker of peace and lover of all. She was blessed with many children and grandchildren.
ROLL CALL
Otunba Iyiola Omisore, Aree Shogo Agboola (MON), Mr. Ayo Aroso, Pastor Daniel Omowunmi, Engr. Segun Olaniyi, Olufunmilayo Enitan (Iyalaje gbogbo Agege) Akin Onadeko, Ada Okafor, Christie Nwogbo, Taiwo Olatunji, Eleishe Olanipekun of Ulara, Orisasona Jumoke, Yewande Anowo, Nike Nasiru, Bukola Akiniranye, Folashade Afolabi, Abiodun Aluko, Bamike Aridunnu, Tunde Komolafe, Juliana Ojo, Oluwatoyin Atobatele, Bisi Shogo, Joke Ashiru Balogun, Moji Abdul, Chief Bode Olatunde, Chief Ayo Adebiyi, Chief Wole Farinu, Chief Gbenga Akinrinade, Prince Abiodun Odunsi, Chief Ben Ogunleye (C.E.O Pinnacle Hotel). Anaele Marry. Hon. Princess Folake Fakoyede, Bose Balogun Princess Bunmi Oguntiebeju, Hon. Adebusola Kola Balogun, Bose Ajayi, Lion Tonia Adenle Towobola Johnson, Olumide Ashaolu, Tolu Ayodele, Justice Adeleye, Chief Ola Faromika, Gboyega Oyewole (SAN) Dele Adesina (SAN) Pro Chancellor Ekiti State University.
Bola Mercy Adesina, Kunle Ogunsakin, Deacon Gbite Adegoke, Aree Ayanlakin (Royal Ambassador to Alaafin Oyo), Kupoluyi Ayodele Amuro of Temidire Ekiti, Chief Tunde Ogunleye, Chief Adeyanju, Aree Ayoola of Omu Aran, Chike Ogbeah, Ken Opara, Micheal Owope, Ayeni Abiodun, Shola Oyo, Akomolafe Wole, Akomolafe Tope, Ajah Abiola, Ayotunde Alabi, Yetunde Isola, Deola Williams, Abiola Oredein Olatunji, Abimbola Oladugba, Aremo Tunde Ogunleye, Kayode Ogunleye. Olumide Ogunleye, Gbenga Adeyeri, Kayode Afolabi, Tope Abe, Hajiya Bola A.A, Kenny Ogunde, Yetunde Akensola, Bolatito Salami (Zanzee) Olabisi Faola, Pelumi Olusola, Zainab Ogundana.
-Sunday Adigun
In Ikole-Ekiti
Send Us News, Gist, more... to citypeopleng@gmail.com | Twitter: @CitypeopleMagz