•How Over 100 Celebrity Women Stormed Her Party
On Sunday,13th of November, Lagos celebrity woman and top fabric merchant, Omolara Akinsanya turned 60 and she celebrated it amidst pomp and pageantry. She had a birthday thanksgiving in the morning followed by a classy reception at Apple Hall, Amuwo Odofin Lagos.
It was payback time for the celebrant as many celebrity women and men gathered together to celebrate with her on her day especially many of her clients who patronise her numerous businesses . City people Society Editor, TAYO OYEDIJI was there and brings you all the gists from the celebration.
CLASSY RECEPTION AT APPLE HALL
The reception proper for the birthday celebration took place at the Apple Hall event centre in Amuwo Odofin, Lagos. It was a beautiful and quiet environment where guests had a lot of fun. Also the venue was massively built and it contained over 500 guests that stormed the party. It was also well decorated as well.
CELEBRANT
DAZZLED IN EXPENSIVE HOH LACE
The beautiful celebrant is a very stylish woman with poise. She is the CEO of Affordable Fabrics, Affordable Catering and owner of Affordable Shopping Mall. She is the Iyalaje of Oodua Market in Lagos. The choice of Black and Pink color outfit was what the celebrant wore for her day. It is generally not a commonly used colour except for the white, it takes only someone that has style that can rock both colors together. Give it to the celebrant, she looked very stylish in her outfits. She looked good in an expensive HOH lace with grandmaster gele to match it.The high premium fabric was sewn into her usual Iro and Buba style and she matched it with a gold jewelry.
CELEBRANT'S HUSBAND AS PERFECT HOST
Lara Akinsanya's husband of many decades, Dr Lawrence Akinsanya was the Perfect host. He was on stand by and made sure his wife enjoyed her day all through. The affection that exists between the 2 was put to bear at the party when they both loved up in the presence of all guests.The husband revealed his wife's best sides and all the beautiful moments they have shared together. He also praised her for her numerous business acumen and conquests having been the CEO of four lucrative businesses. He further pledged his love for her and prayed for her.
CELEBRANTS- IN THANKSGIVING MOOD
Turning 60 in this clime is such a big deal because many do not live to celebrate their Diamond birthdays. For the celebrant, Lara Akinsanya, she was very thankful to God for keeping her till that moment to witness and celebrate her 60th birthday. She was full of gratitude in her thanksgiving remark that she gave all glory to God who kept her all through and made her live to celebrate 60 despite all the health challenges that she had. She was very grateful to everyone who came in to celebrate with her and inturn wished them well and prayed for them.
AWESOME DANCE MOVES BY THE CELEBRANT
What would the celebrant have done if not to dance graciously and endlessly on her day? But it was not just an ordinary dance that the celebrant danced, she danced her heart out. She was engaged in a very prolonged dance which showed that she is truly grateful to God for saving her life.She is a very lively person who loves to associate and celebrate with people. No wonder many people joined her in praising God with a dance offering.
REMOL DECORATORS WAS IN CHARGE
The beautiful but unique décor was done by no other than the celebrants friend, Remi Akinterinwa, the pretty wife of the former commissioner for finance, Ondo State, Wale Akinterinwa both of whom have been married for over 30 years. She was all out for the party making sure all was in place. She did a good job with her expertise put in the right place and the hall looked lit all through. She sits aboard a decorating company, Remol Event Managers.
TOP FABRIC MERCHANTS IN ATTENDANCE
The fact that the celebrant is a top fabric merchant justifies why there were many fabric merchants at the party. They all trooped out to celebrate one of their own. Many of them looked good in their Aso Ebi picked for the event and they made the event colourful.
BETWEEN ALHAJA RIKAZ AND PASTOR JUMOKE KOSOKO
These 2 women are very close. From time immemorial, they have always been an item together. We have been seeing them back to back in the last few months. For those who don't know the 2 society women, let's tell you that they have transformed their friendship into a family one such that you will rarely not see them together. Alhaja Bola Owoyemi is the CEO of Rikaz Fabrics and the wife of Lagos Billionaire, and chairman of Radisson Blu hotel. Pastor Jumoke Kosoko is also a top fabric merchant in Lagos Island who shut Island down few months ago for her daughter's wedding. They are both good friends of the celebrants, hence their presence.
CELEBRITY WOMEN DAZZLE IN WINE ASO EBI
Celebrity women are parties delight any time. When you see them at parties, you can be sure that the party will be brightened up. The party was 60 percent full of women, why? Because Lara Akinsanya has many friends that cut across. Many celebrity women stormed the party in their beautiful Wine and Gold Aso Ebi with a Pink colour headgear picked for the Party. Almost all the women wore the Aso Ebi because the party was more or less a show of class. The celebrity women are usually the life and soul of any party because with women, you can be sure of having unlimited fun. This set of women are big time textile merchants, due to the fact that the celebrant is a textile merchant who runs Affordable fabrics. Some guests are into haulage business, some are upward and mobile career women in top places while others are behind some money spinning companies. They cherish to look good and this was what happened at the party, most of them stepped out in their best attire. One significant thing about all of them apart from wearing the same outfit is that their neck did all the talking with their expensive jelweries in diamond and gold. Some of the women who graced the party were Alhaja Bola Owoyemi, CEO Rikaz fabrics, the likes of former NPA topshot, Nana Yakubu, Betty Elegba. Nana Yakubu is the pretty society woman who is in her 60s who love to live life quietly but a sight of her at any party will tell you she's is a classy woman. Her friend of many years, Ola Aladesuru was also looking stunning for the day. She was one of the people who spoke glowingly about the celebrant.Not forgetting the pretty wife of Ondo former Commissioner for finance, Remi Akinterinwa, she is the boss of Remol Event Managers, her team decorated the hall in a beautiful way. She also looked lovely in her aso ebi. Other society women spotted were Motunde Dosunmu, CEO, Motties Food,, Mrs Toyin Onanuga, Tundun Omolayole.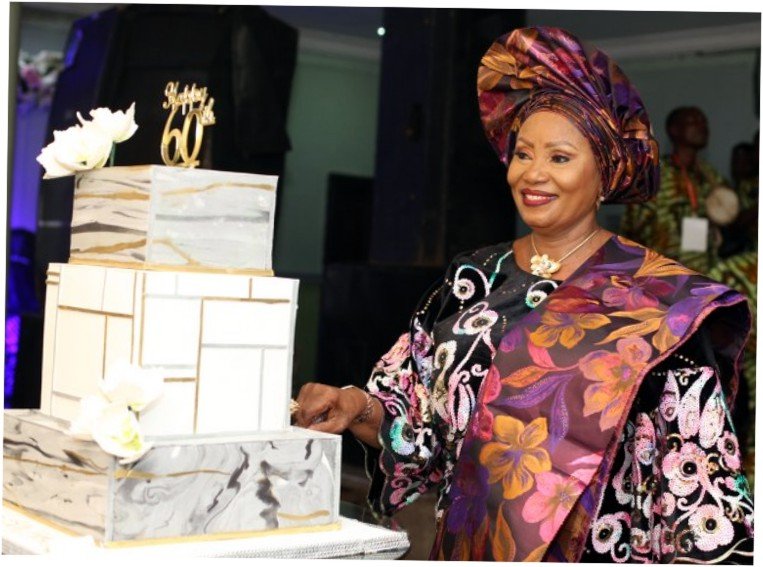 -TAYO OYEDIJI
(08111811219)
Send Us News, Gist, more... to citypeopleng@gmail.com | Twitter: @CitypeopleMagz