As Awujale Endorses New Age Group
List Of Members Revealed!
Ijebu age grade group, Egbe Bobamayegun Okunrin is the newest age-group to be officially recognized by the paramount ruler and Awujale of Ijebuland, Oba Sikiru Kayode Adetona and penultimate weekend they had a classy reception after the official recognition.
This new age grade group, Egbe Bobamayegun Okunrin Akile Ijebu falls between the age-bracket of 1974-1976 and is headed by Giwa Adeyemi Kazeem, the hardworking dude behind Kazeem Popoola Commercial Stores.Some of the key members who run the group alongside the Giwa are Bimbo Adetola, Azeez Kanimodo, Abolore Balogun, Ayo Badejo and Abiodun Oyelaja. On the other hand, the Egbe Bobamayegun Okunrin Asiwaju Akile Ijebu is anchored by a financial expert, Giwa Oladipupo Ogunlana. His kitchen cabinet include Opeyemi Oduwole, Ayo Osisanya, Siraj Ajisebutu and Dapo Rennaiye.
The age-group came into existence few years back with the Publisher of Ijebu News extra magazine, Dayo Rufai, leading the pack. However key people who played significant role in the emergence of the Regberegbe include Prince Adeyemi Kazeem, who is now the Giwa of the age-group, Abidemi Rufai, Bimbo Adetola, Taofeeq Mebude, Saheed Owodunni, Dapo Renaiye (now a member of Bobamayegun Asiwaju) and some few others.
The first meeting of the group was held at Grand Inn & Suites at GRA, Ijebu with only 11 people in attendance. However, the Paramount ruler and Awujale of Ijebuland, Oba Sikiru Kayode Adetona several months back gave his nod to the group at an elaborate event in Ijebu-Ode. While Prince Gbenga Fetuga, is the Baba Egbe of the group, Chief (Mrs) Ibironke Ogundimu is the IyaEgbe. Most of the members are big boys who run thriving businesses. The Balogun Egbe, Mayegun Abidemi Rufai is from the famous family of late industrialist, Alhaji Abdel-MajeedAyodeleRufai. The one everybody knew as Mayodele. He is the CEO of OmoMayodele Global Investment and also Omo Mayodele Educational Foundation. He is also into real estate development. Another titled officer is Dayo Rufai, a Prince from Ilara. He had his elementary and secondary education there before he later left the town in 1992 at the conclusion of secondary school. He was in Ogun state Polytechnic, now Moshood Abiola Polytechnic Abekouta and also Olabisi Onabanjo University, a celebrity journalist of many years and the Publisher of Ijebu News Xtra magazine.
Otun Giwa, Mayegun Abiodun Oyelaja is a native of Apunren in Ijebu North East Local Government of Ogun state. He started his education at United Primary School Apunren from where he proceeded to Isonyin Grammar School where he became the Head Boy in 1994.He  had HND in Accountancy from The Polytechnic Ibadan in 2000 and a BSc in Applied Accounting from Oxford Brookes University, United Kingdom in 2008. he also bagged a MBA degree from Obafemi Awolowo University, Ile-Ife. He is a fellow of the Institute of Chartered Accountants of Nigeria (ICAN) as well as an associate member of Association of Chartered Certified Accountants (ACCA) and Chartered Institute of Taxation of Nigeria (CITN). He worked with Prudent Bank Plc and then Skye bank Plc where he rose to become an Assistant Manager.
While in Skye bank, he was the head of various units including Branch Service, Settlement, Assets Management and Clearing. He left Skye bank in 2012 for Ren money MFB Ltd as the pioneer Vice President in charge of Operations. He left Renmoney (MFB) Ltd to start Motion Yield Ltd as the Chief Executive Officer. He is also on board of Flont Technologies Ltd.
Maiyegun of BobaMaiyegun, Alh. Tajudeen Ayodele Badejo is the son of Alhaji Bashiru Ayodele Badejo of Imepe, Ijebu Ode and Late (Mrs) Sidikat Mobisola Ayoka, of Rade family, Ijada, Ijebu Ode. born on the 14th June 1976, attended Government College Lagos, Eric Moore road, Surulere and Yaba College of Technology before proceeding to the University of Ibadan where he bagged a B.Sc. in Zoology.
He completed a M.Sc. Degree in Hydrobiology and Fisheries also from the University of Ibadan in the year 2003. He started his banking career in January 2004 with the erstwhile Standard trust Bank Plc (now UBA Plc) from where he moved to Equitorial Trust Bank(now Sterling Bank Plc) in 2005 and returned to UBA Plc in 2006. By December 2007 he was appointed the Business Manager of the Agbeni Branch of UBA and later to open the OOU, Ago Iwoye Branch of the same Bank. he joined Skye Bank Plc in 2010 and was the Business Development Manager of the Agbowo branch, Ibadan up till October 2015 when he resigned his appointment to proceed on a M.Sc. programme in Accounting and Finance at University of Aberdeen, Scotland, UK.
He qualified as a Chartered Banker in October 2016. He is married to Alhaja Kudirat Abiola Badejo (Nee Baruwa) of Balagada Compound, Epe and Mrs. Rasheedah Oluwaseun Badejo of Ijebu Ode. Mayegun Bariu Abujade is from Idowa Ijebu, his friends fondly call him fafa. He presently works with Sterling Bank in Lagos. He is a pioneer member of the Egbe Bobamayegun Okunrin Akile ijebu as the first Interim Secretary of the Egbe and also member of the first 11 that started the age group.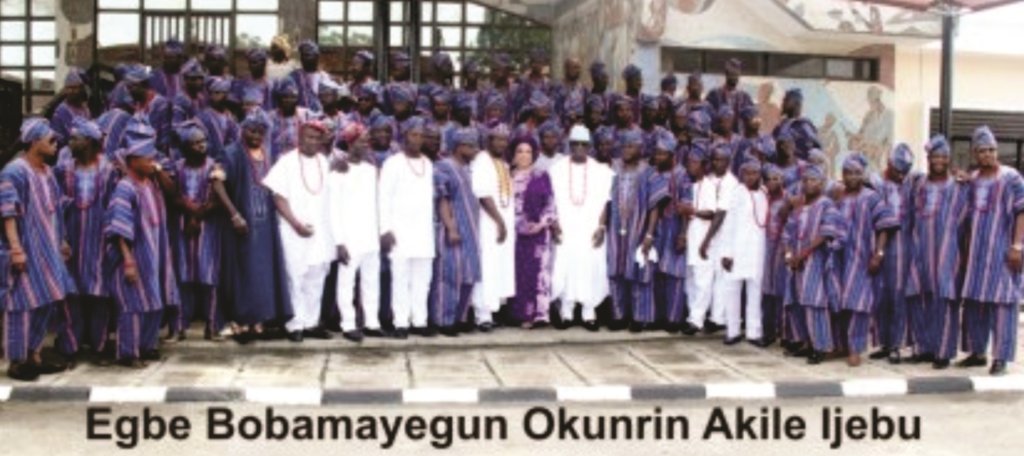 Other members of the Egbe Bobamayegun include Ogundele Adewale Samuel, Salaudeen Olatunde, Onabanjo Hamed Cleared, Odunsi Lateef Olasupo, Adeyemi K. Kazeem, Adetola Abimbola, Otubu Abolore, Tanimowo Alaba, Odutola Abiodun, Fatal Ogunneye, Adeleye Kehinde M., Kuku Fatal Kehinde, Agaba Yusuf Olatunji, Abidemi Rufai, Agbetu Olalekan, Dolapo Balogun, Olalekan Olubajo, Fatai Balogun, Abiodun Onakoya, Kunle Alaga, Badejo Tajudeen Ayodele, Sanusi Olalekan Saheed, Odulaja Ayoola, Okuwa Rasaki A., Ologbonori Babatunde, Kanimodo 0. Azeez, Adekoya Quadri Omoyeni, Alaga Sikiru Kolawole, Owodunni Adebayo, Sikiru Kazeem Adeleke, Odutola Musediku 0., Owodunni Saheed, Ajijola Anobi Hameed, Olugbode Olatunji, Idera Lanre, Olanlege Y. Omotola, Ogunjinrin Olalekan Johnson, Adesanya. Muftau Adekunle, Odubona Olarotimi, Odunoku Kayode, Ajetunmobi .R Olawunmi, Odueke Femi Wahab, Osiyemi Wale, Ogunnupe Oluwole 0., Yussuf Shamusideen A., Banjo Kehinde, Adeniji Olanrewaju M., Odutayo Abdulwasiu , Ashiru Hameed, Femi Adeleye, Ajayi Jimoh, Odugbesan Jamiu Adetola, Owolabi Adeniyi Omotayo, Olanrewaju Aina Sunday, Saka Olayinka Asiwaju Cleared, Saka Ahmed Oriolo, Tunde Adenola, Adekogbe Felix Adedayo, Olabinjo Babatunde, Awonusi Ayodeji Rasheed, Rufai Yusuf Ayolaja, Rasaq Eniola Bajo, Lawal Ganiu Taiwo, Baruwa Kayode Bariu Cleared, Adelaja Sesan, Onisesi Afeez Aremu, Ogunbowale Oluwasesan, Adeyemi Kazeem Ademola, Abass Abolore, Sennuwa Olabisi Opeyemi, Ogunsanwo Rotimi Babatunde, Mojeed Omotayo Taoheed, Towoba Surakat Kayode, Odusanya Adekunle, Oloko Adewale Ibrahim, Odunayo Olusola Sosanya, Sikiru Lateef, Fasina Oriyomi Shamsudeen, Adelalu Adetola Emmanuel, Dongo Abayomi Wasiu, Rufai Dayo Afeez, Odufejo M.Oluwaseye, Balogun Abolore Adekunle, Balogun Rasak, Adesina Olayinka Oladipupo, Otubu Obafemi Jmiu, Willoughby Mayowa, Oyelaja Abiodun. K, Mebude Taofeek, Isiaka Ariyo Olalekan, Yusuf Lookman Adebambo, Raji Lukman Asewale, Olowo Fatai Titiiota, Odunaya Adesola victor, Baruwa Adetolani Lukman, Badru Hammed Abiola, Adenola Adesina Adeyemi , Olabanjo Olusoji Olabisi, Adesanya Adewale, Adenuga Solomon Adewale, Yusuf Olagoke Hakeem, Okuwobi Oluwatoyin Rajh, Ibrahim H. Adeniyi, Ajetunmobi Kabiru Titilayo, Mebude Hammed Gbolahan, Kuye Adeleke AI'vval, Oduntan Omotayo Olalekan, Awoye Abiodun Adekunle, Juwon Oduwole, Oduwole Abolore Abiodun, Adeleye Taiwo Musibau, Adetunji Rufai, Omotayo Oduntan, Salami Lateef Olanipekun, Isheagba Saheed Abolaji, Adebayo Odukoya, Salabiu Abiodun Taofeek, Odunsi T.Olasubomi, Olatokunbo Olabode L and Ikuyajesin Shamsideen k.
Send Us News, Gist, more... to citypeopleng@gmail.com | Twitter: @CitypeopleMagz