The Surulere national stadium was thrown into a hilarious session when big players in the comedy industry came together in football tournament tagged Lagos Base Comedian Face Off, on Thursday, August 29, 2019.
The pitch was filled with various A-list comedians who came in their colorful jerseys to display the other side of their humorous talents. The jerseys exposed artists with pot bellies, as they could not control their speed on the pitch of play.
Popular comic act, MC Shaggi, who claimed to be too fit to join the team, was on the sideline as a commentator.
The comedians were divided into four major areas in Lagos, namely: Okokomaiko, Ikorodu, Mainland and Island.
The Ikorodu team was lead by Mc 90s, while Omobaba stood as both Coach and Captain of the mainland team.
MC Shakara was the Skippo of the Island team, while Akpororo led the Okoko Maiko team,
MC Shakara also acted in the capacity of commentator, coach, and captain to the Island team who lost 2-0 to the Mainland team.
Omobaba also stood at the sideline to serve as a coach for the mainland team but was forced to join the team in the second half, after mainland was already 2 goals ahead in favour of Mainland against the Island comedians.
Akpororo proved to the spectators that he was not only good on stage as a comedian, but also skillful in the field of play. He was the instructor, the head coach, the trainer, and the captain. He scored two goals into the first half of the match after he was denied a penalty against the Ikorodu team.
MC Always also showed his skill for the Okokomaiko team, as he held the Okokomaiko's defense so tight that the commentator (Shaggi) begged the referee to hand him a Red card so that the Mainland team will have a goal.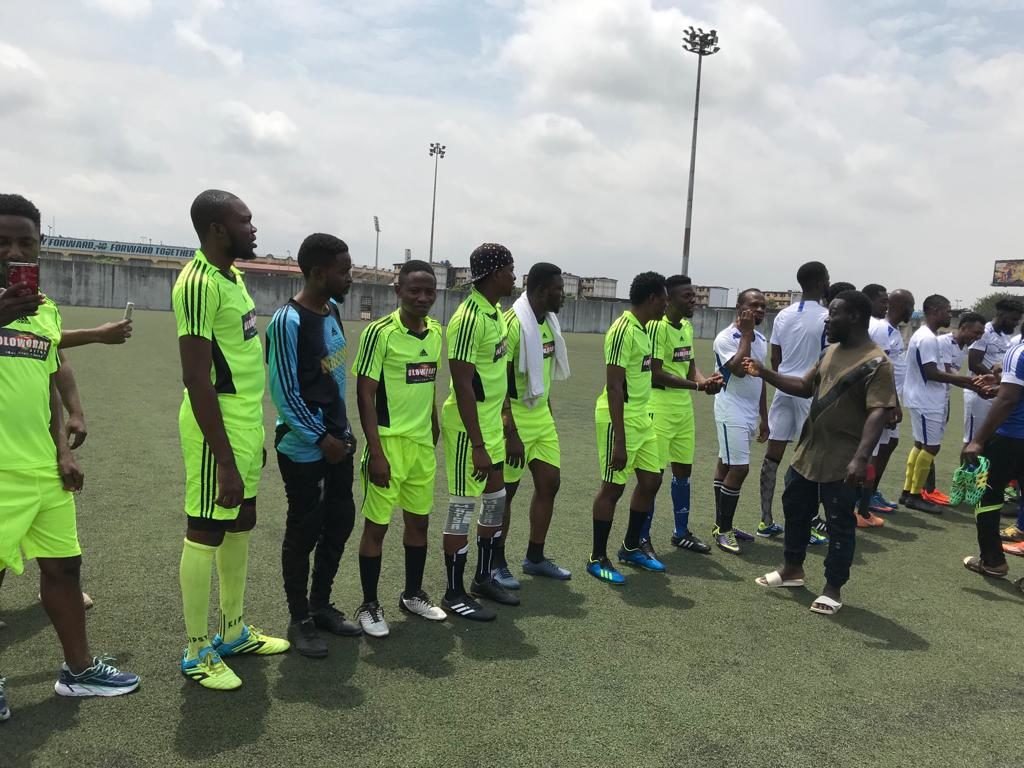 At the end of the Tournament, Omobaba-led team from the mainland won the Okokomaiko team to clinch the first Position, while Okokomaiko got the Second Position. MC Shakara reluctantly accept his fate and embraced the third position, and MC 90 whose team got nothing demanded that there be a rematch. It was a wonderful moment for the artists who showed love to one another on the pitch, amidst all the comic shades. The participants were;
Korede Crep, MC Always , Omobaba No1. Peteru , Akpororo , Mc Shakara , Mc 90s, E Don Do
Mc Martins, Whyd Maut , Calibird, Mc Natu , Mc Jamo , Secure, Mc Voicemail, Markceerhymz
Mc Ojemba, Elder O, Mc Flizzz , Mr Perfect, John Joshua , Mr Makati , Mc Shaggi, Mc Matmot
Mc HOD. Mc Xsod Brown, Prince Phelar , Bunmi Davies , Mc Jimboi , Openteeth, Mc Rems
Dread Apostle, Mr Solution, Comically Judicious , and Spicy Mouth,

Send Us News, Gist, more... to citypeopleng@gmail.com | Twitter: @CitypeopleMagz