Valentine's Day, all over the world, is a day set apart for lovers to reignite their love and passion for each other. It is also a day families, friends, remind each other of how much they value their friendship. Generally, it is a day of fun, merriment and romance. But not so for Primate Ayodele Elijah, the founder and leader of INRI Evangelical Spiritual church whose birthday falls on this very special day.
Primate Ayodele is a unique personality. He sees things differently. He does not believe in celebrating his birthday, neither does he believe in spending millions of Naira to organise a big birthday party. According to him, that is not what will bring him joy or fulfilment. Rather than throw a loud and lavish party, this enigmatic man of God whose popularity has continued to soar well beyond the shores of Nigeria, prefers to gather people, particularly the needy and downtrodden in the society, and put smiles on their faces. That is what brings him true joy and happiness. And last Valentine's Day, two days ago, was no exception.
Traditionally, every year, this is the way the very consistent prophet of God, Primate Ayodele, celebrates his birthdays. Every year, he shares his widow's mite with people. He supports and empowers his church members who are in need of one thing or the other, he supports those in his immediate community and appreciates the media support he gets from media practitioners by also empowering several journalists. It is always a moment of unbridled joy and Thanksgiving to God and everyone looks forward to it every year. But, there were fears that this year's edition may not hold owing to the prevailing situation in the country. The infuriating CBN redesigned naira policy had plunged the entire nation into near chaos and no one was sure anymore if the Primate would be able to get sufficient resources that he will need together. It was a huge relief to many when they got information that, despite all odds, the event would hold. Those who know Primate Ayodele closely know that he is a man who does not give up easily on whatever he has set his mind on.
It was a very emotional
moment for many of the guests who watched as recipients shed tears of joy and were hugged and congratulated by friends and family members. Many of them were overjoyed as they were not expecting the sort of gifts or cheques they were presented. Several students also got scholarship support, exam fees and school fees were paid and all the young students and their parents were ecstatic and thankful to God and to Primate Ayodele for bringing them succour.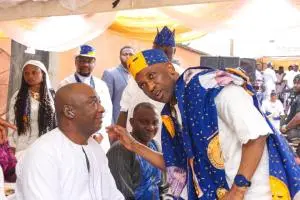 Ib the end, it was clear to see that, at the end of the day, everyone was happy. Even those who were not lucky enough to have gotten anything this year were happy for those who got something and were grateful to the great man of God for spending so much money to put smiles on the faces of people. And the one question everyone was asking is, why can't other men of God take a cue from Primate Ayodele? Instead of expending their resources on expensive automobiles and mansions in Lekki and Banana Island, why can't they reach out to the needy and downtrodden within and outside their church and empower them?
What many do not know is that if Primate Ayodele wants to own mansions in Lekki and drive the best automobiles today, he can do that because he can afford it. But material things to him mean nothing. He detests any form of using your God given resources to oppress those around you. He wont stand for that. Rather, he is more interested in how those around him can be lifted out of poverty and given a lifeline to turn their lives around. He is not a prophet that oppresses his own people, he is a man of God, who, apart from churning out staggering prophecies that have consistently come to pass for decades running, he is a man who's biggest source of happiness is giving unto others. That is what he stands for. That is what his entire life has been about. And from what we saw on February14, 2023, Primate Ayodele is not even thinking of slowing down yet on his philanthropic activities, the man is more determined than ever to continue his legacy of kindness and giving, not just on every February 14, but everyday. He does not wait till its February 14 before he supports and empowers people, with Primate Ayodele, his desire is to touch somebody's life everyday. That is his second calling and, scarcity of money or not, this great man of God is not about to stop now.
Send Us News, Gist, more... to citypeopleng@gmail.com | Twitter: @CitypeopleMagz