Ambassador (Dr) Olatokunbo Awolowo-Dosunmu, the Chairman, African Newspapers of Nigeria Plc. (Publishers of the Tribune Newspaper) today unveiled a new look for the newspaper. It was at the Sheraton Hotel, Lagos. In a speech titled: The Nigerian Tribune: Mission To Renew & Transform delivered by Ambassador Awolowo-Dosunmu, she explained why the newspaper had to be renewed and transformed
'In the private sector, there is always innovation… There's always improving productivity, and if you're not leading that, you'll be passed and ultimately go out of business. So there's an urgency to constantly update and renew and to rethink your enterprise' (Mitt Romney).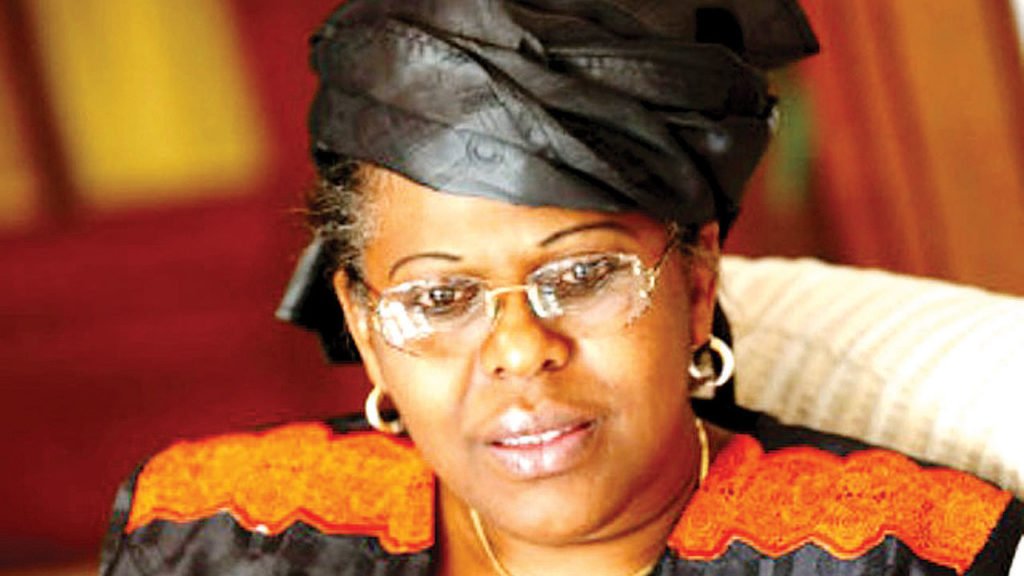 This morning, the African Newspapers of Nigeria Plc, publishers of the Tribune titles, is taking yet another bold step as we continue to celebrate our 70th year of existence. On November 16, 2018, we launched our bid for a significant presence in Lagos, by laying the foundation of our very own, first ever Lagos office.
Today, we are here to unveil the new-look Tribune Newspaper. By so doing, we acknowledge the fact that ideas, even ones as great as those behind the vision for this company, need constant renewal. And we go further because we also use the opportunity to renew our commitment to the world around us.
You will notice that we have changed the colour of our masthead back to red, a high-visibility colour which, as you know, is associated with, among others, courage, energy, power and determination – attributes that are associated with our founders and which, therefore, remind us of our roots. The page layouts have also been improved upon.
So, by reverting to symbols of our illustrious past, we use that past to renew the present. We cherish our legacy of courage and determination in the defence of justice, fairness and freedom from oppression and exploitation and we not only renew that legacy and build upon it for the present, but we also use it in preparation for the future.
However, we know that as we move into the future, we can only continue to grow if we keep trying to improve upon our business model. We must retain our traditional readers, but we must also be attractive to potential, future loyalists. I refer to the young ones, the millennials, whose natural habitat is the internet.
In this regard, we have established a significant presence in all the online social media platforms, including Facebook, Instagram and Twitter. We have also set up a studio from where our online television programmes will be produced.
We constantly improve the quality of our hard copy in every respect and I am proud to say that the quality of our print is second to none in Nigeria.
With regard to content, we remain strong in the areas of politics and editorial comments. Indeed, we are current leaders in these areas, as attested to by our award-winning record. We have also added, over the years and to the delight of our readers, other specialised pages including business, leadership, entrepreneurship, the environment, property, education, health, community and entertainment pages, to name just a few.
The Tribune has a history of parading journalistic and literary 'greats' among our line-up of columnists. Who can forget Chief Bisi Ọnabanjọ's 'Aiyekooto', Justice Adewale Thompson's 'Megaforce', Chief Bọla Ige's 'Uncle Bọla's Column', Dr Tai Șolarin's 'State of the Nation', Chief Wunmi Adegbọnmire's 'Ọmọ Ẹkun', Akọgun Tọla Adeniyi's 'Aba Saheed', and Chief Ebenezer Babatọpẹ's 'Periscope'.
Currently, we parade equally brilliant in-house columnists such as, Lasisi Ọlagunju (Monday Lines), Sulaimon Ọlanrewaju (Borderless), Bọla Bọlawọle (On the Lord's Day), Taiwo Adisa (Lynx Eye), Lanre Adewọle (Gibbers) and Chief Afẹ Babalọla (Afẹ on Thursday).
More recently, we are proud to have attracted to our stable of brilliance Festus Adedayọ (Flickers), Yinka Odumakin (Voice of Courage), Farooq Kperogi (Sunday with Farooq Kperogi), Pius Adesanmi (Injury Time), Ẹbunolu Adegboruwa (Learned Expressions) and Obadiah Mailafia (Veritatem).
In order to attract our younger readers to the hard copy of our papers, we have dedicated our back page, twice a week, to the youth. Named 'Youth Speak', this column affords many young guest writers the unique opportunity to showcase their talents, and air their views, in a national newspaper. It is being coordinated by Toyọsi Akerele-Ogunṣiji.
As regards our reach, we are, truly, national, with significant presence in all the six geo-political zones of Nigeria. We also have a global reach through our website and social media platforms.
And to improve our customer experience, we have introduced a system of subscriptions, which our guests can avail themselves of, here today.
Conclusion
I pay homage to the founders of ANN Plc, Chief Ọbafẹmi Awolọwọ and Yeye Oodua H. I. D. Awolọwọ, for their vision, courage and determination. Today, "… sitting on the shoulders of (these) giants, we see more, and things that are more distant, than they did, not because our sight is superior or because we are taller than they, but because they raise us up, and by their great stature add to ours." (John of Salisbury)
The least we can do, therefore, is to constantly renew and redefine, in order, not only to transform the African Newspapers of Nigeria Plc, but also to become reputable influencers and leaders in the media industry.
I thank you all for your attention.
Ambassador (Dr) Ọlatokunbọ Awolọwọ Dosumu
January 29, 2019
Send Us News, Gist, more... to citypeopleng@gmail.com | Twitter: @CitypeopleMagz