Going by the saying, music is life, the phrase has now been changed to Owambe is life. That is the new slang of many society women right now. The party game has changed totally from what we used to see before. Owambe has become a full time job for many celebrities who see it as a must to go and party. Every day of the week has become party days unlike years back when parties started only on Thursday through Sunday.
Yes! We are in the era where celebrities would have over 5 to 7 events to attend every week. Did you ask if that is possible? Sure, some celebrities attend over 5 to 7 events every week while some attend more. It's your relevance that determines how you get access card or invites to most of these events.
The most significant thing for most women who attend parties back to back is to go and dazzle at those parties. They love to make heads turn in their direction so they go for whatever it takes for them to look good. In achieving this good look, they inturn spend so big.
Some of them spend millions of naira to make sure that they look their best not minding if they will have to drain their purse to achieve that gorgeous look that will make guests turn 360 degrees at Owambe parties. It may amaze you to know the amount these celebrity women spend on their look everyday to attend Owambe parties. Make them 'green' with envy and "all for the gram" are some of the popular phrases used by these women to showcase how beautiful they are looking and to achieve this, you need to really spend big.
For those who don't know what Owambe is all about, let's quickly tell you.Owambe is a lavish and flamboyant party, which is usually thrown and steeped in a show of luxury, lavish spending, colour, extravaganza, lots of food, music, dance and networking. It has its origin in Western Nigeria, particularly among the Yoruba. Such parties are usually thrown during birthdays, house-warming, naming ceremonies, reunions, and most especially during weddings and sometimes, funerals.
Generally, the larger the Owambe party, the more successful it's perceived to be. In all of these, give it to Lagos Society Women, they sometimes dress more than the celebrant. Lagos celebrity women are known to be big spenders as they will go as far as getting a diamond necklace and Aso-Ebi that are worth hundreds of thousands just to look good for a party.
Well, celebrity women don't spend anything less than millions to appear at this Owambe on each outing. Let's tell you how we arrived at that conclusion. Let's gist you that some celebrities buy aso-ebi as expensive as half a million (500,000 naira) In fact, in some cases, the celebrant will choose special lace known as Aso Ijo for their close friends and mostly it is the expensive HOH fabric they will choose which costs over 500k to appear at an Owambe. Yes, some aso-ebis are even over 500k these days where aso-ebis are sold in dollars for some special occasions and yet celebrities buy.
Some don't just buy one, some buy all aso-ebi lined up for each Owambe for the week and they will attend all.. Some buy aso-ebi for solidarity and support, while some who have exception to buying Asoebi don't buy but they buy fabrics which are more expensive to appear at Owambe.
Some take delight in rocking HOH, HKG or the French lace to stand out at parties. Some of these fabrics don't come cheap, they are luxury collections and yet celebrities buy them to show class at Owambe.
Imagine when they have to buy over 4 of these luxury attires to appear at Owambe everyday of the week. They also have to adorn it with best collections of gold and diamonds to look glamorous. The gold gist will stun. This is a pure case of all that glitters is not gold. Many of these celebrity women will drain their bank accounts to buy 18 carat gold for thousands of naira. It has become a competition sort of.
Of course, gold doesn't come cheap anymore as one gram can go for as high as 22 thousand naira while some go for more if they are "HANDCRAFT" which are always not common designs. They are rare collections which makes it more expensive than normal Gold. Even some are sold in dollars which sometimes run into several millions of naira. These celebrity women would buy a set of gold of over 1 million naira or 750 thousand naira back then with the rate of the dollar to the naira now, this means it costs double the price presently.
To cap it all in the jewelry section, some just want to stand out in wearing diamonds, and we can tell you that diamonds are no child's play. The smallest diamond stud of earrings only cost over 500k talk less of the sets. This big shots patronize the likes of Lagos society woman, Shade Adesoye, the brain-behind Jewelry affairs, Yenetti luxury to mention a few and some buy abroad from international jewellers.
All these women want is just to be relevant and "feel among" going by the popular phrase . For instance, wearing Aso-Ebi has its benefits; several times, it dictates the kind of treatment the wearer gets at the party especially with regards to food, attention and souvenirs.
How about how many celebrity designers cash out on this celebrity women, it's huge we must say. Times without number depending on the type of Aso ebi, some women spend huge amount on designing the Aso Ebi to make fashion statements.. Celebrity women now have a style of spending more than the cost of fabric on designing the cloth, especially if it is Ankara. Their styles speak volume as some would have Swarovski stones all over the Ankara, which is very expensive. Some go for beading all the way and some would buy expensive fabrics to mix with the Ankara, to achieve perfection and to show class when they are asked where they made their dresses. Designers like Deola Sagoe, Veekee James, Tubo Bereni,Teekay fashion, Moofa Designs, Emagine by Bukola, Becca Stitches are always busy 24/7. To sew from this designers, you must definitely spend a fortune.
All these women don't come to play when it comes to spending big on Owambe parties and when they step into a party you will know them with their styles and combination. Don't forget that Gele complements any outfit, some young men have now mastered the art of tieing gele that not only the celebrity women sought their expertise, the make up artist also seek this aspect while they do only make up.
Gele tieing goes from 10k to 80k or more if it involves travelling. Some celebrity women fly in their make up artist and others just to dress up to go for an event in a weekend and they will take care of all the logistics.
Let us also talk about the huge amount of money they spend on makeup. They will not attend an owambe without wearing lovely makeup, and they don't just patronize any makeup artist, they use the best hands. When we say best hands, we are talking about the A-list makeup artistes. The makeup costs nothing less than 20k to 150k for each party and more depending on the makeup artist. And they might have to do this make up 3 or 4 times in a week because that is how much they attend parties in one week, which means they spend an average of 500k on makeup if they are going for the top ones. For instance, inviting make up queen, Banke of Bmpro to do your party make up, you must part with some good thousands of naira. Even her studio party make up does not come cheap. Other make up artists charge below 20k while some charge much more.
Did we mention how they spend big on designer shoes mostly, Saco shoes? We all know that shoes are equally important as other accessories in women's outfit. Infact some wear it as "To Match" which means the shoes and purse come tògether. For this reason, they make sure they buy a pair of Saco Shoes and purse that matche the aso ebi that was picked for the owambe. The latest edition of Saco Shoes is worth nothing less than 500k. Don't be amazed, that is how far they go just to look good for owambes. They always want to be the centre of attraction at every owambe they attend.
At a close quarters, with the women, you will perceive what a designer perfume smells like as they have special perfumes they use when they are attending a party for the weekend and their purse is stuffed with different denominations of naira.
Another way these women spend big is their figure. This one gulps alot of money from them. Though they do it once but they spend big to also maintain the shape. For instance, many of these ladies or women go for bumbum surgery or liposuction or boob surgery which is in millions of naira just to achieve a figure 8 shape which will readily fit into any outfit they will put on. After the surgery, they are placed on medications and sometimes diet to keep up with the shape and these cost lots of money.
Many major in buying waist trainers, body shapers and girdles every other week just to keep in shape.
Despite the rise in parties at every other day, these celebrity women are always on stand by to attend any and if asked how they manage to spend much to attend all these parties, they will tell you that it is to keep being relevant, network, make new friends and mostly dance away their sorrows and problems.
Owambe has come to stay and Celebrity women will always there to keep the owambe parties smoking hot!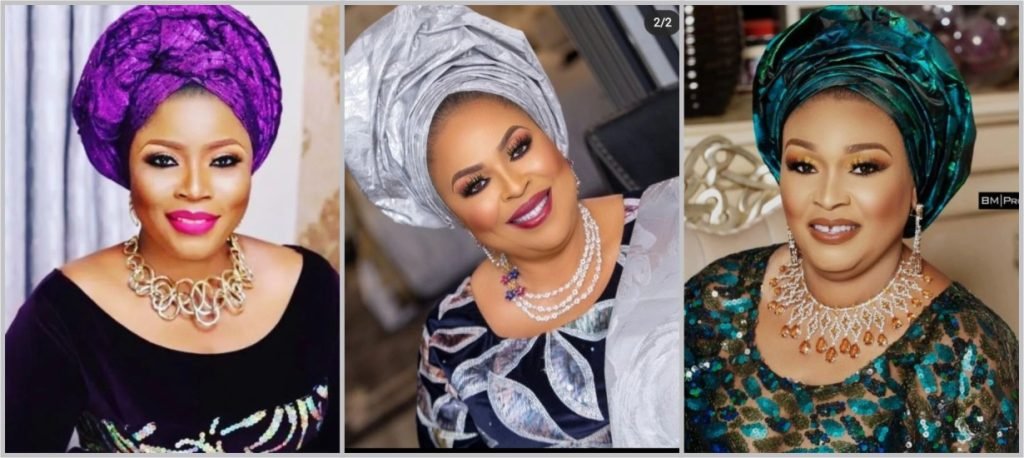 -TAYO OYEDIJI
(08111811219)
Send Us News, Gist, more... to citypeopleng@gmail.com | Twitter: @CitypeopleMagz