She is an Architect. She is a member of NIA and ARCON. She is a Canadian Commonwealth Scholar, who has previously served as the Vice President of the Society of Landscape Architects of Nigeria (SLAN).
She is a Fellow of SLAN, as well as a member of the American Society of Landscape Architects (ASLA) and AARCHES (Association of Architectural Educators). She is also a member of the Board of Children Living with Cancers.
Uniquely passionate about giving back to society and mentoring younger creatives, Dr Nnezi is an Associate Professor who lectures at the CAA-Accredited Department of Architecture, University of Lagos where, along with others, she pioneered the Master of Landscape Architecture programme – a first of its kind in sub-Saharan Africa, and was once a Coordinator of the programme. She was also Head, Department of Architecture, Unilag.
At the Female Architects of Nigeria's anniversary celebration in Calabar in 2013, she was one of the keynote speakers and was among the notable female architects highlighted in the book that was launched that year by FAN, (Nigerian Women of impact: In Architecture).
She was also one of 18 female architects highlighted by the Nigerian Institute of Architect's publication on "Celebrating our women of Distinction" in March 2017. She is enthusiastic about impacting lives, discipleship and mentorship, especially of young minds.
The refrain of Environmental beauty is captured again by the Firm she set up after working in internationally esteemed firms – namely Designedscapes ltd (Currently rebranded to Gardens By Designedscapes Ltd). The Firm that has taken the gospel of landscape architecture across the national landscape from the Eastern part of the country to the North (notably Abuja), to the South West where she lives with her husband and two children, Grace and Josh.
Growing the profession of Landscape architecture in Nigeria has been her ardent desire.
In this interview with CITYPEOPLE's Oyinlola Sale, Dr. Nnezi Uduma-Olugu, CEO of Gardensby
Designedscapes ltd tells us how she became a Gold Medal Landscape Architect.
As a First Class, Chartered Architect and a Gold medal landscape architect, tell us the story behind how you achieved all of this.
Firstly, I give God all the glory! Next comes support from my parents and my husband. Finally, my never-giving-up attitude. God really orchestrated my successes. As a young girl growing up, I was very shy and diffident.I was not at all confident in my abilities and intelligence especially because I grew up in a highly academic, competitive and brilliant family. I felt grossly insecure and not brainy because my siblings were far ahead of me intellectually.
My father ( late Ambassador Ochea Uduma Ikpa) was highly instrumental in drawing me out of myself and my self-inflicted restrictions by always encouraging me and letting me know that being a woman was not a handicap and I could achieve whatsoever I set my mind to do. Likewise my mum, Chief Mrs Miennaya Ikpa. Jointly, they were my greatest cheerleaders at every point in time, giving me every imaginable support required for success. My personal belief in excellence diligence and single-mindedness also helped, but all the opportunities were provided and orchestrated by God Himself and my faith in him. After I made a First Class in Architecture at the University of Nigeria, I had an opportunity to go for the Commonwealth scholarship at the University of Manitoba, Canada. Here, I finished with a Gold Medal in my Master of Landscape Architecture programme. This set me up for all the other wonderful things that have followed. Only by the Grace of God!
In a profession that is dominated by men, how have you managed to change the stereotype?
As earlier mentioned, my father inculcated in his three female children a "can do" attitude. He always stressed to us that being female should not be a problem or an excuse not to excel. So, when I encountered a male-dominated profession, I simply forgot about being of a different gender and faced them as equals. This was also helped by our training as architects that there is no "woman" in Architecture. I decided to outdo my contemporaries irrespective of gender and God helped me succeed. I also have a personal mantra of " what is worth doing, is worth doing well". In that light, I have continuously sought to be excellent and to practice my faith as a born-again Christian – to do all, to the glory of God.
What are some of the challenges you have faced so far in building Gardens by Designedscapes ltd?
Many many challenges! Staff turnover, clients' unwillingness to pay, infrastructural challenges, unfair competition, hostile national economic situation, etc.
How did you manage to finance this business, in its early days?
I got a lot of support from my husband (Chief Uduma Olugu), especially during the early days and even more so now that I have to often do a lot of work-related traveling. The unflinching support of a dependable loving spouse cannot be underestimated. Friends and family helped out too.
Compare and Contrast Landscape Architecture here and abroad, where do we need to bridge the gap?
The gap is quite much. Public enlightenment is certainly the key. Abroad, landscape architecture is well established as a profession and a career path. Unfortunately in Nigeria, it is still relatively new, unknown and unappreciated. Clients are not well enlightened on the practice of Landscape and feel it is something anyone can do, so there are very few opportunities to showcase one's ability.
The few available jobs are fought for with unqualified unprofessional people. However, it is not all bad. Slowly, we are making inroads. The Society of Landscape Architecture of Nigeria (SLAN) is poised to make landscape architecture better known and more popular. On a personal level, it has been a life-long passion to make Landscape Architecture more appealing and appreciated in Nigeria. To this end, I have written two books on landscape architecture ("Idyllic historic landscapes " and " Interrogating landscape by Design ").
Another book on landscape architecture is on the way and will soon be published. I am also an Associate Professor, teaching landscape architecture at the University level. So I both theorize and practice the craft. Hopefully, a meaningful impact will be made along with the other landscape architects in Nigeria.
As a matter of fact, I have published three books. My very first book was the one I co-authored with a friend on Marriage – "To leave and to cleave".
The landscape architecture books followed the one on marriage.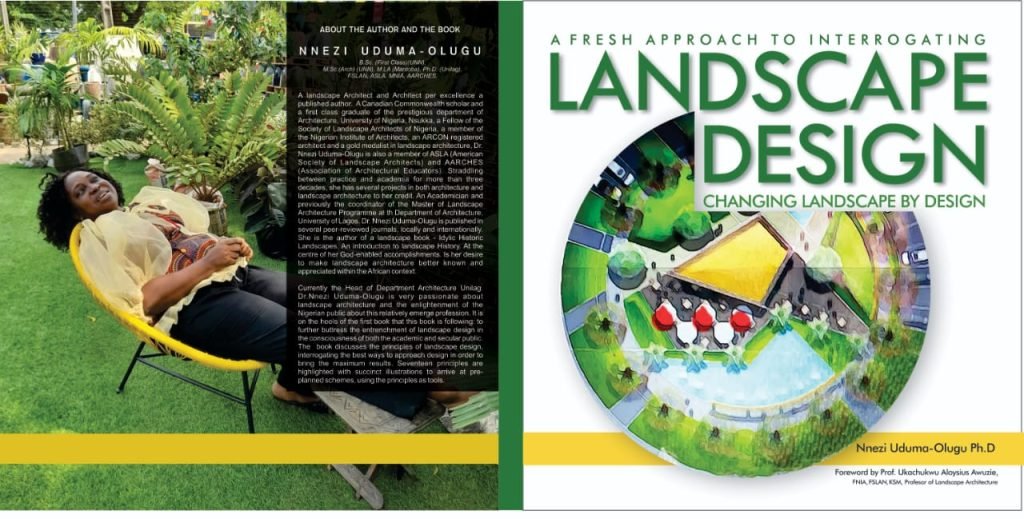 What were some of your fears when setting up Gardens by Designedscapes ltd?
One always wonders if one can survive and excel in this hostile Nigerian business environment with all its attendant challenges. God has been faithful so far.
Now, tell us about the two books you wrote on landscape architecture.
The first one (Idyllic historic landscapes) generally introduces the public (student, professional, general public ) to the subject of landscape architecture by examining and discussing various projects through history. It is both a coffee table book as well as a textbook. It was done intentionally in order to appeal to a wider variety of people.
The second one (Interrogating landscape by design) appeals to people in the built environment, both students and practitioners. The subject matter is the use of principles in design. This cuts across the design discipline – beyond landscape architecture, architecture, interior design, etc. Both books are readily available at the University of Lagos, Department of Architecture.
What is your growth projection for Gardens by Designedscapes ltd in the next 5 years?
To become an African export to the world, bringing about high-quality landscapes of serenity and beauty that positively influence the environment and contribute to efforts that ameliorate the effects of climate change.
Send Us News, Gist, more... to citypeopleng@gmail.com | Twitter: @CitypeopleMagz